As panic over the coronavirus sweeps the globe, much of the focus is on the broader economic effects on businesses or venues that have had to cancel events. But the coronavirus' toll on working musicians is immediate and debilitating. When people speak of the gig economy, they often think of Uber drivers or Instacart shoppers. But for freelance musicians, their patchwork of gigs pays the bills. And in the face of shuttered venues and a self-quarantining public, that patchwork is falling apart.
The median income for musicians in the U.S. was around $20,000 in 2016, according to Alan Krueger's Rockonomics, which examined the economics of the music industry. Live performances, Krueger wrote, are the most common source of a musician's income.
Many venues have been canceling performances out of an abundance of caution. Some have been forced to do so, because their city or state has banned gatherings of more than 10 people. The new ban on travel from Europe has also had an impact. "We're all hurting," said a drum technician in St. Paul, Minn. "This is systemic, from backline techs to merchandise people to drivers to stagehands and everything in between."
Some Temporary Help Available
Several artist organizations are offering emergency grants to artists who have lost work. A new website, COVID-19 Freelance Artist Resources, points artists to possible sources of temporary assistance. But it's unclear how far these emergency grants will go. The Jazz Foundation of America—a Manhattan-based nonprofit dedicated to assisting struggling musicians—has started the COVID-19 Musicians' Emergency Fund to help artists and their families with basic living expenses. Donations of any amount may be made by the public at [email protected]
But that's an anomaly; most canceled gigs mean canceled incomes. In a statement, the American Guild of Musical Artists asked federal, state and city governments to "pass immediate, substantial economic relief" for the arts organizations. "Congress and state and local governments must not turn their backs on the artists, singers, dancers, stage managers, orchestra members, stagehands, and all those involved in putting on a production," AGMA leadership wrote. "Local governments know how the arts benefit and uplift their economies, their communities and the civic life of their cities and states. They cannot drag their feet at this precarious time."
♫ ♫ ♫ ♫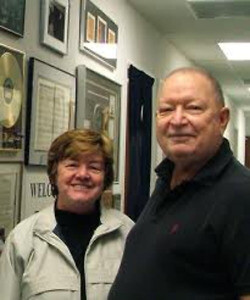 Recognizing their "unique and enduring contributions to the living history of jazz," the late Mat Domber and his wife Rachel are the recipients of the 2020 Satchmo Award presented by the Jazz Society of Sarasota, Florida. The Dombers founded Arbors Records in 1989. Initially devoted to the recordings of their late friend, reedman Rich Fay, Arbors has since released over 450 CDs featuring the top jazz musicians of the past 30 years.
Mat Domber's love affair with jazz had its genesis as a teenager when his father took him to some of New York City's famed jazz clubs in Greenwich Village to hear the likes of Pee Wee Russell, Muggsy Spanier and Eddie Condon. While pursuing a career in law and real estate, he first heard Rich Fay at the Gaslight Club in Los Angeles in the 1960s. When he heard that Fay, who worked for Disney music studios for 24 years, had never recorded in his four-decade career, he got him to put a quintet together and recorded Rick Fay's Hot Five, the first of 13 Arbors recordings featuring the artist.
Mat passed away in 2012. His wife Rachel continues his legacy as president of the independent record company based in Clearwater, Florida. George Wein said of his friend, "Mat really devoted his life to the preservation of music that he loved. He came along at a period when everybody else was only interested in music from the bebop era and he recorded players like Scott Hamilton, Ruby Braff, Warren Vache and Bob Wilber. The music would have disappeared completely if it wasn't for guys like Mat. He put his money where his mouth was."
♫ ♫ ♫ ♫
Bucky Pizzarelli's career as one of the stalwarts of the jazz community encompassed 77 years. He passed away on April 1 at the age of 94. Fellow guitarist Ed Laub best described a performance by Bucky when he was quoted as saying, "It was never about grandstanding. It was always about making beautiful music."
♫ ♫ ♫ ♫
Rossano Sportiello revealed that one of the things his mother and grandmother insisted he know how to do when he was growing up in Italy, besides play the piano, was how to operate a sewing machine. Turns out he was able to make good use of his ability to sew by making face masks for family and friends during the current COVID-19 pandemic.
♫ ♫ ♫ ♫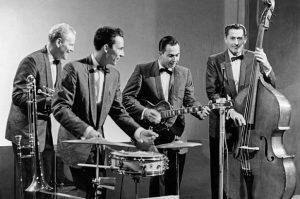 During the 72 years that The Four Freshmen have been around, 27 vocalists-instrumentalists have taken the stage to perform as part of this iconic group. The latest is trumpeter Jake Baldwin, who lives in Minneapolis when not on the road and who signed on in March to replace Jon Gaines. He is a graduate of the New England Conservatory in Boston, where current Freshman Tommy Boynton was also a student and who recommended Jake to leader Bob Ferreira.
In making for a smooth transition, Ferreira will send the newcomer seven of The Four Freshmen's most popular tunes so that Jake, in this case, could learn the third part. Then it's another seven charts and another seven, followed by a week of rehearsals with the other three musicians until Jake was comfortable with the three dozen most popular songs that the group does before going out on the road. "We don't refer to charts when we play, so it all has to be memorized—from vocals to solos to breaks," according to Ferreira. "It happens pretty fast, and any new member has to quickly grasp the Four Freshmen sound and style."
The entire Four Freshmen library involving hundreds of charts is currently being archived at Butler University in Indiana.
♫ ♫ ♫ ♫
A white marine pearl Slingerland drum set played by Buddy Rich in the 1970s, a 1956 Gretsch El Dorado guitar played by Freddie Green for nearly 30 years in the Count Basie Orchestra, and a 1955 Bach Stradivarius model cornet played by Bobby Hackett are the latest instruments acquired by the Musical Instrument Museum in Phoenix, Arizona, for its collection of historic jazz instruments. Opened in 2010, The MIM is the largest museum of its type in the world. Its collection numbers over 15,000 instruments and associated objects from nearly 200 countries and territories.
♫ ♫ ♫ ♫
Ricky Riccardi, Director of Research Collections for the Louis Armstrong House Museum, has just completed a review of the copyrighted version of his latest book, Heart Full of Rhythm: The Big Band Years of Louis Armstrong, which will be published by the Oxford University Press this summer. Ricky authored What a Wonderful World: The Magic of Louis Armstrong's Later Years in 2011.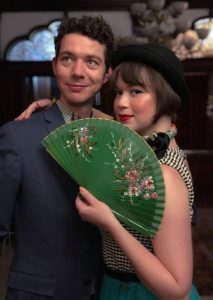 ♫ ♫ ♫ ♫
Evan Arntzen and his fiancée Scout Opatut made the difficult decision to postpone their wedding until the Fall when they planned "a celebration of hugging and dancing, not social distancing and fear." But eight days before their previously scheduled wedding, they decided to tie the knot and on March 13 signed the marriage papers to become a married couple.
♫ ♫ ♫ ♫
The temporary closing of the historic Arizona Biltmore Hotel in Phoenix due to the COVID-19 pandemic recalled the fact that Irving Berlin wrote White Christmas while lounging at the Biltmore's pool when he was a guest in 1942. The Frank Lloyd Wright-inspired building that opened in 1929 has hosted every U. S. president from Herbert Hoover to George W. Bush.
♫ ♫ ♫ ♫
Musicians' Lament:
"But for Mucus, things might have gone fine,
Until this dire need to confine.
But they'd played gigs for a fee
without a Plan B.
So now they're all busking online."