We decided to spend New Year's Eve and 12th night in New Orleans. I was thinking it would be somewhat of a "quiet" visit not realizing the Sugar Bowl (with the Georgia Bulldogs vs the Baylor Bears), JEN (Jazz Education Network) Conference, and CFP Championship between the LSU Tigers and the Clemson Tigers would bring thousands of fans to the city and remove the possibility of a "quiet" visit. I should know that New Orleans is never lacking in participating visitors or celebratory events…ever…!
The NYE celebration at Palm Court was lots of fun and with the fixed menu, service was prompt. The balloons, paper hats, streamers, and paper horns provided ammunition for the many second-lines that traipsed throughout the Court. We saw dozens of Fest goers and enjoyed sharing this event with them. The band: Kevin Louis (cnt), Joe Goldberg (reeds), Fred Lonzo (tb), Lars Edegran (p), Richard Moten (bs) and Benny Amon (dr). Joe announced his engagement to one of the servers (Kimi) and everyone enjoyed toasting the happy couple and wishing them much success!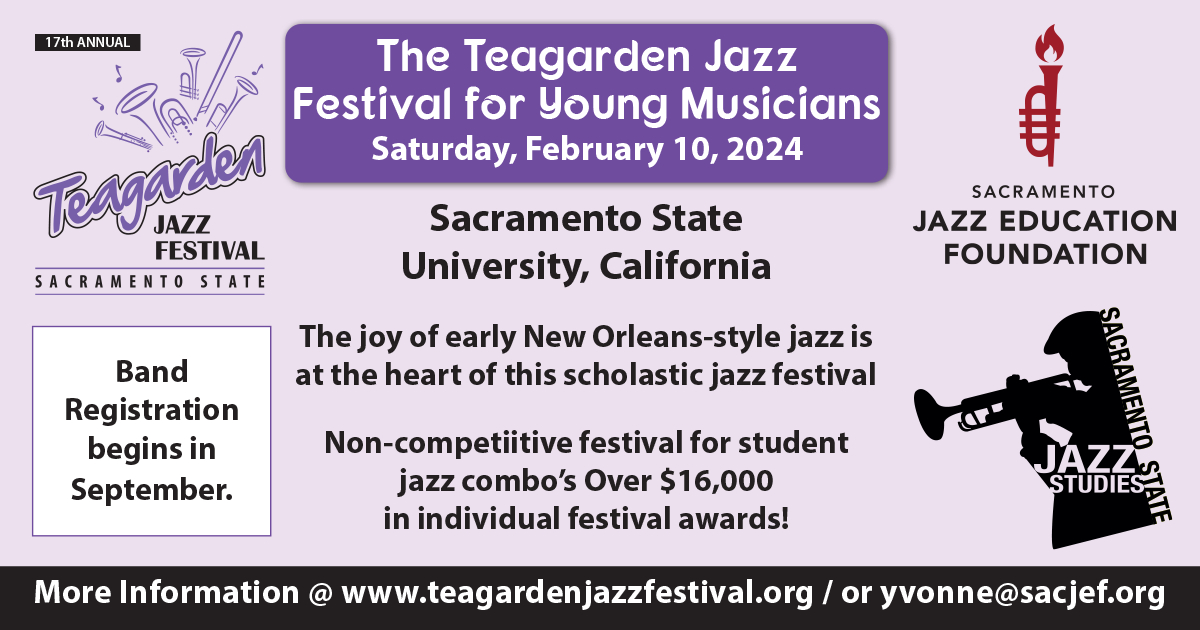 The Roosevelt Hotel is always written up for its decorated lobby that spans the length of a city block. In addition to the 44 fully decorated Christmas trees and 3,328 feet of winter white branches filled with lighting, there are 135,572 twinkling lights, 2,200 ornaments, 698 hand- tied bows, 345 red fresh poinsettias, 390 yards of gold gilded fabric for tree skirts and 312 pounds of flocking! The candy covered steamboat was filled with various frostings, chocolate steam pumps, twizzler railings, cookie trees, snowmen, and marshmallow fences. The security railing surrounding the confectionery wonder was just out of arms reach in case anyone had any ideas! The Fountain Lounge currently has live jazz events and you might catch Richard Scott (p) there with a few others.
Again at the Palm Court a few nights later, we enjoyed Tim Laughlin (cl), Ben Polcer (tp), Benji Bohannon (dr), David Boeddinghaus (p) Charlie Halloran (tb) and Nobu Ozaki (bs) with surprise guest Ray Heitger (cl) visiting from Toledo. It is always a pleasure to see Ray perform. Then a few hours later, more surprise guests included local drummer Herlin Riley with his guests Reginald Veal (bs) and Wycliffe Gordon (tb). Such an esteemed group had everyone in awe, including the regular band members who had previously studied under these touring musicians.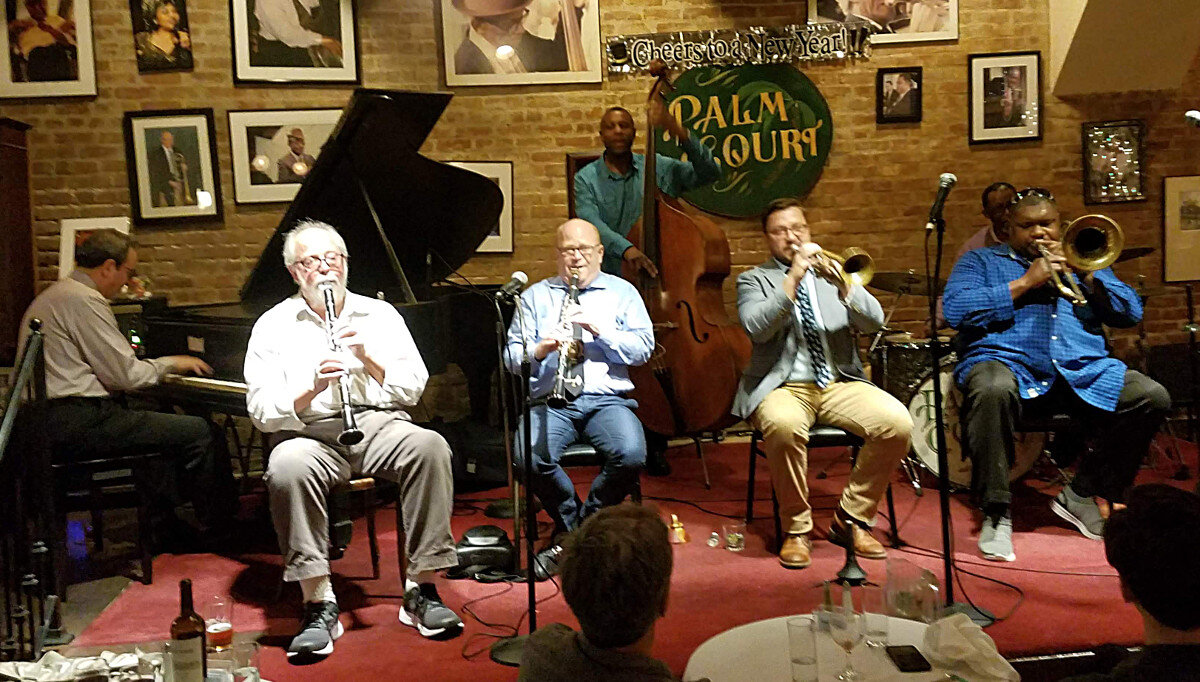 Fritzel's was always a hot spot for the evenings with great line-ups of musicians including Tom Fischer (cl), Josh Gouzy (bs), Bryan Besse (dr), Richard Scott (p), Kevin Clark (cnt), Barry Foulon (bj), Chris Sharkey (bs), Doug Balote (p), Joe Kennedy (p), Cassidy Holden (bs), Colin Meyer (tb), Leslie Martin (p), Mike Fulton (tp), Dave Ruffner (tb), Jim Markway (bs), Joel Zobrist (dr), Lee Floyd (bj) with soon-to-be New Orleanian Jory Woodis (cl), and visiting musician Harry Watters (tb). Always a great band and you never know who will pop up out of the audience to jam a few tunes with them!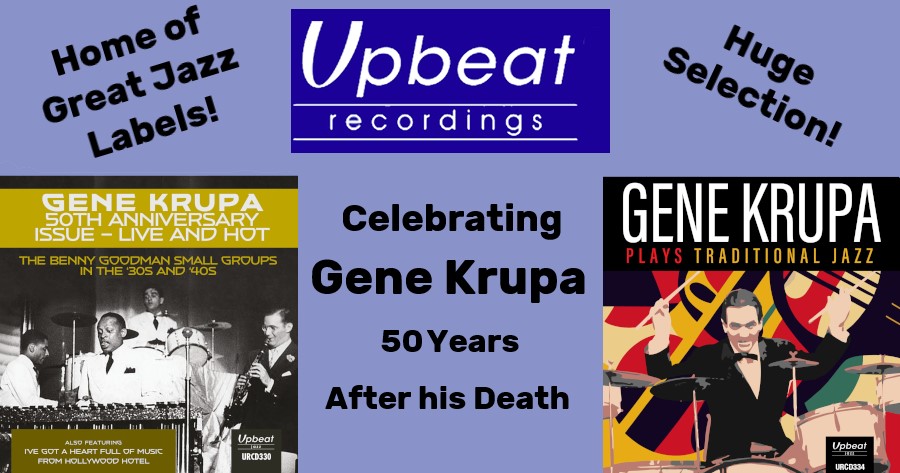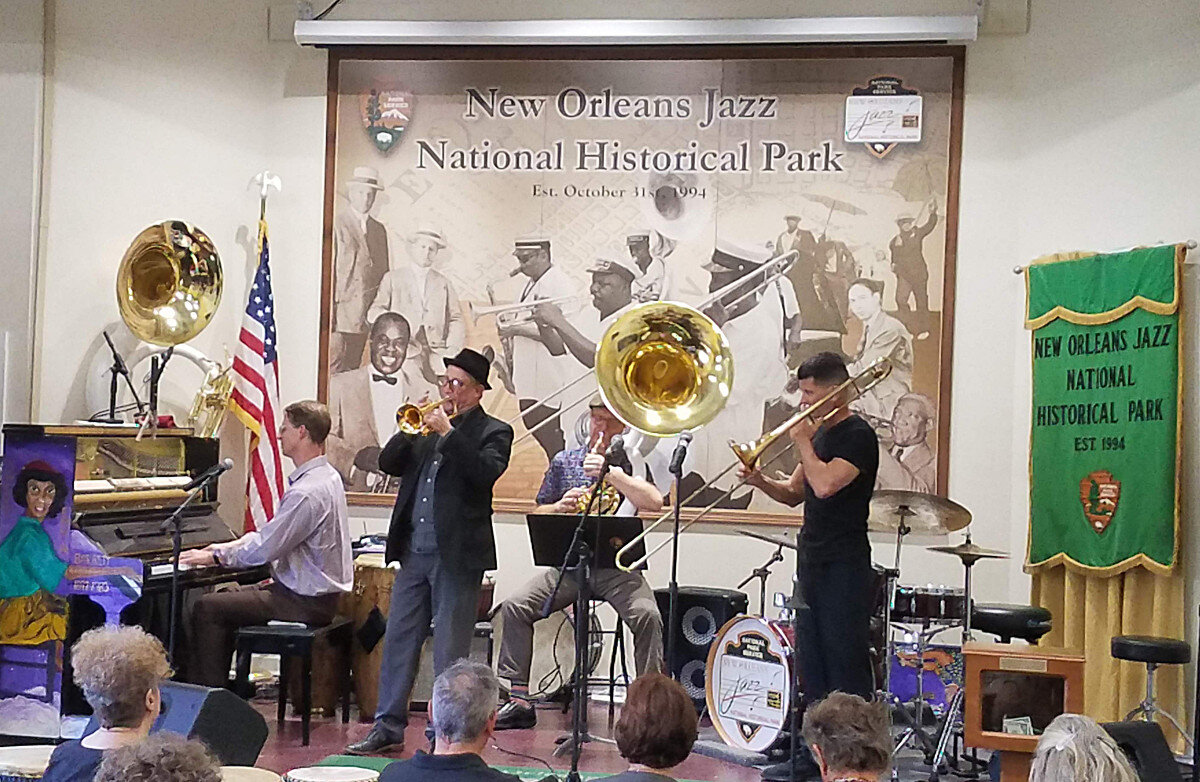 The New Orleans Jazz National Historical Park and the New Orleans Jazz Museum both offer free performances throughout the week. We spent an hour with Kris Tokarskyi (p) and his interpretations of many Jelly Roll Morton compositions and their impact on subsequent pieces. The following day we heard George French (gtr), Gerald French (dr), Andrew Baham (tp) and New Orleans native visiting from Houston, Darrell Lavigne (p). We usually only see George French a few times at Fest so it was a real pleasure to spend time with him in such an intimate and acoustically clear environment. Darrell relocated to Houston after Katrina but it is obvious his roots are still here.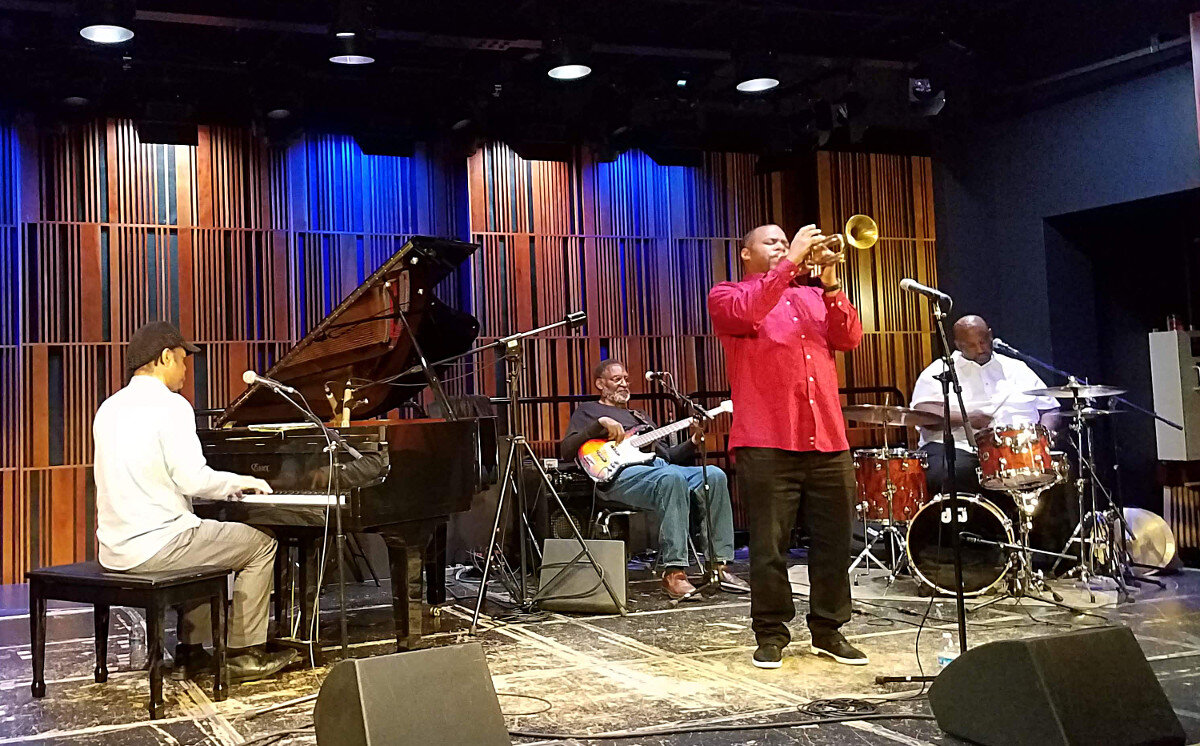 A visit to Frenchman Street and the Maison on Frenchman found Chance Bushman and his Rhythm Stompers. Chance is an extraordinary percussionist and will beat a washboard, shake a tambourine or tap dance to the beat all while singing! With Colin Garcia (bs), Greg Sherman (gtr), and singer/songwriter Ted Hefko (sx), the band puts on a lively performance for a perfect way to spend a lazy afternoon.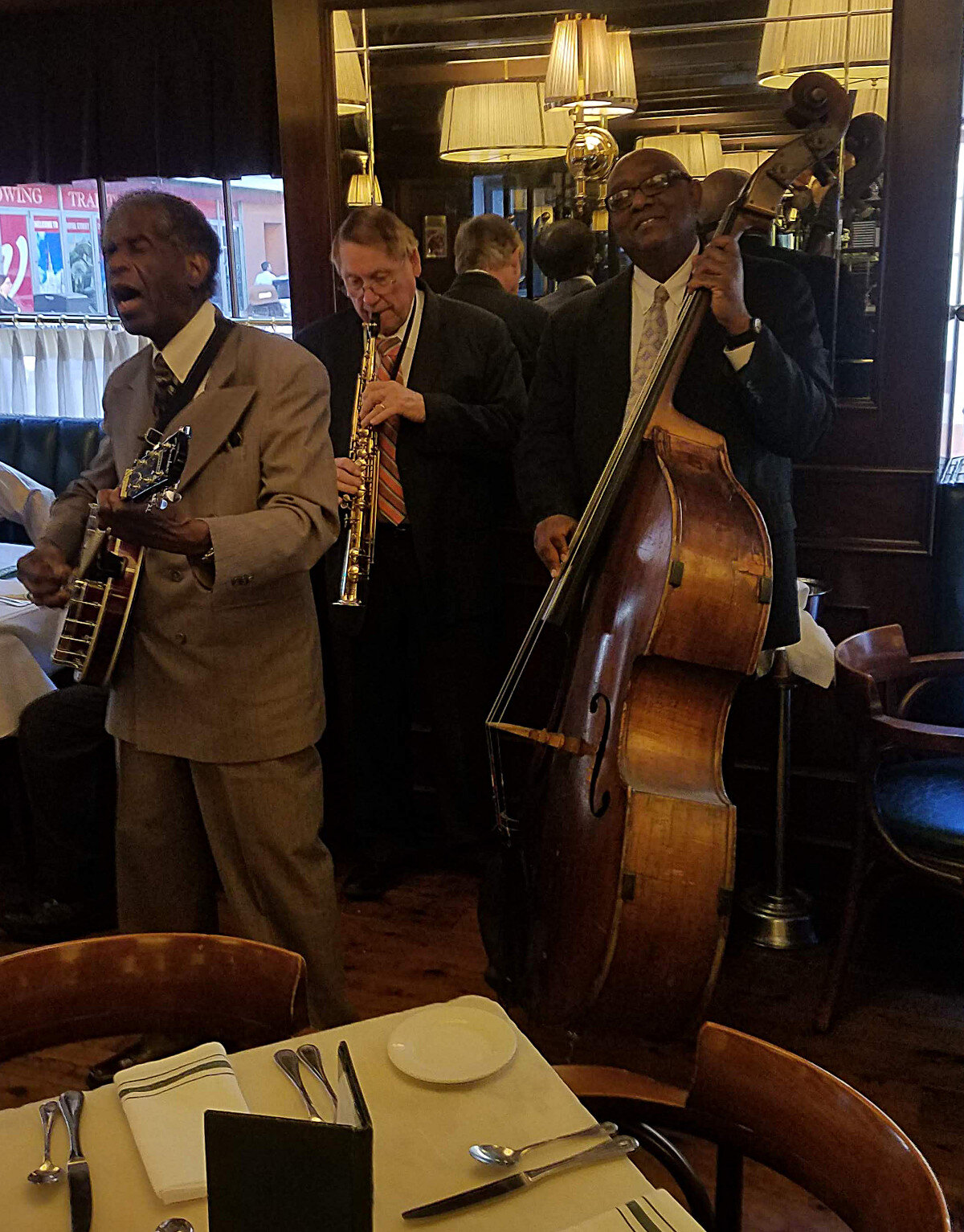 At the Bourbon "O" in the Bourbon Orleans Hotel, Doyle Cooper (tp), Josh Marotta (dr) and Danny Rubio (tuba) lead the band on Friday nights. A lively spot at the exact corner of Orleans and Bourbon, the location is ideal and it is directly across the street from Fritzel's! Another evening featured Joe Goldberg (reeds), Daniel Meinecki (p) and Joel Zobrist (dr).
Mr. B's across from the Hotel Monteleone had a lovely Sunday brunch (there are many in the Quarter!) and we enjoyed our meal accompanied by Mitchell Player (bs), Joe Cushenberry (bj) and Rob Rotherham (cl). The streets of the Quarter were eerily quiet as the New Orleans Saints were playing the Minnesota Vikings for their last bid for the Super Bowl. It was a beautiful day and all of the restaurants and bars had doors and windows open to view the monitors. Clusters of servers, fans and diners were devoting all attention to the last few minutes of the game that unfortunately ended the Saints' seasonal efforts.
On Twelfth Night, January 6th, the season of Mardi Gras begins. It is not only the birthday of St. Joan of Arc, patron of France, but the celebrations included the 100th anniversary of her sainthood. St. Joan of Arc is the unofficial patron saint of New Orleans The walking parade began at the New Orleans Historic Collection entrance and proceeded down toward the St. Louis Cathedral where the actual ceremonies take place. There is a blessing of the sword and various prayers among the groups/floats representing St. Joan of Arc's childhood, activism, and subsequent burning at the stake. The parade pauses a few blocks away at the "golden statue" of St. Joan gifted from France. It is also the official day one can begin eating "king" cake, a traditional Mardi Gras treat that is offered everywhere.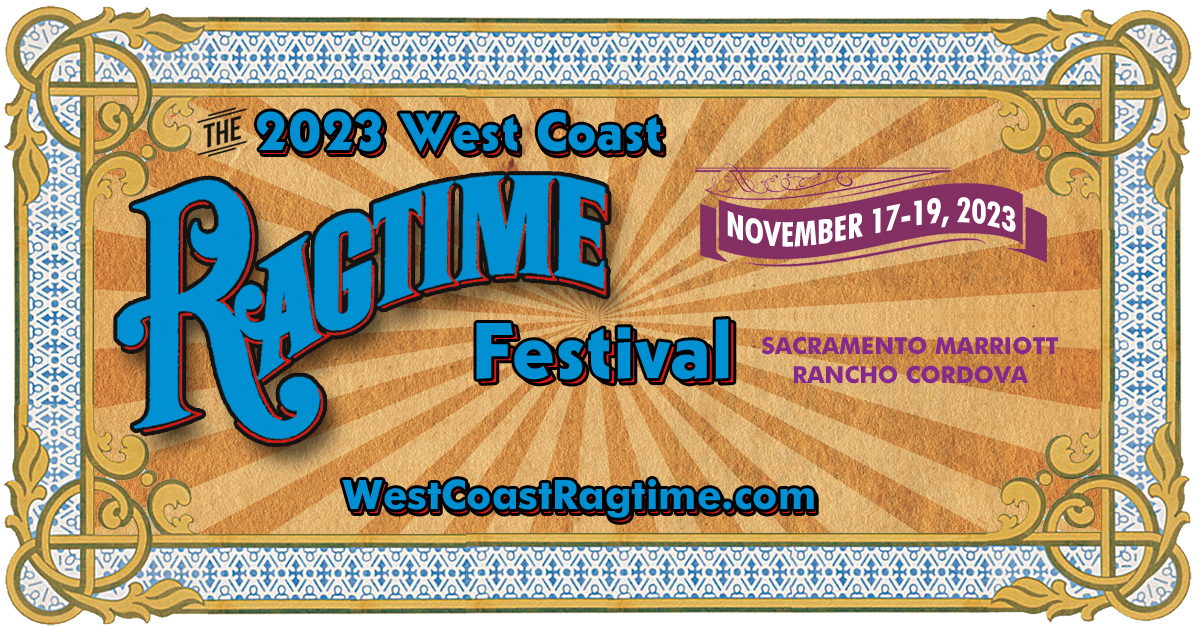 The Starlight has been receiving a lot of attention not only for their Avila Grill (a Venezuelan kitchen fusing contemporary Latin American and New Orleans cuisine) but also for the bands being booked at this venue. The Jazz Vipers have a late night set with Joe Braun (sx), Earl Bonie (reeds), Mitchell Player (bs), Steve DeTroy (p), Molly Reeves (gtr), and Naham Zdybel (gtr). We met up with a friend from Kansas City that had arrived earlier and it was nice to know we would be at some of the same upcoming events.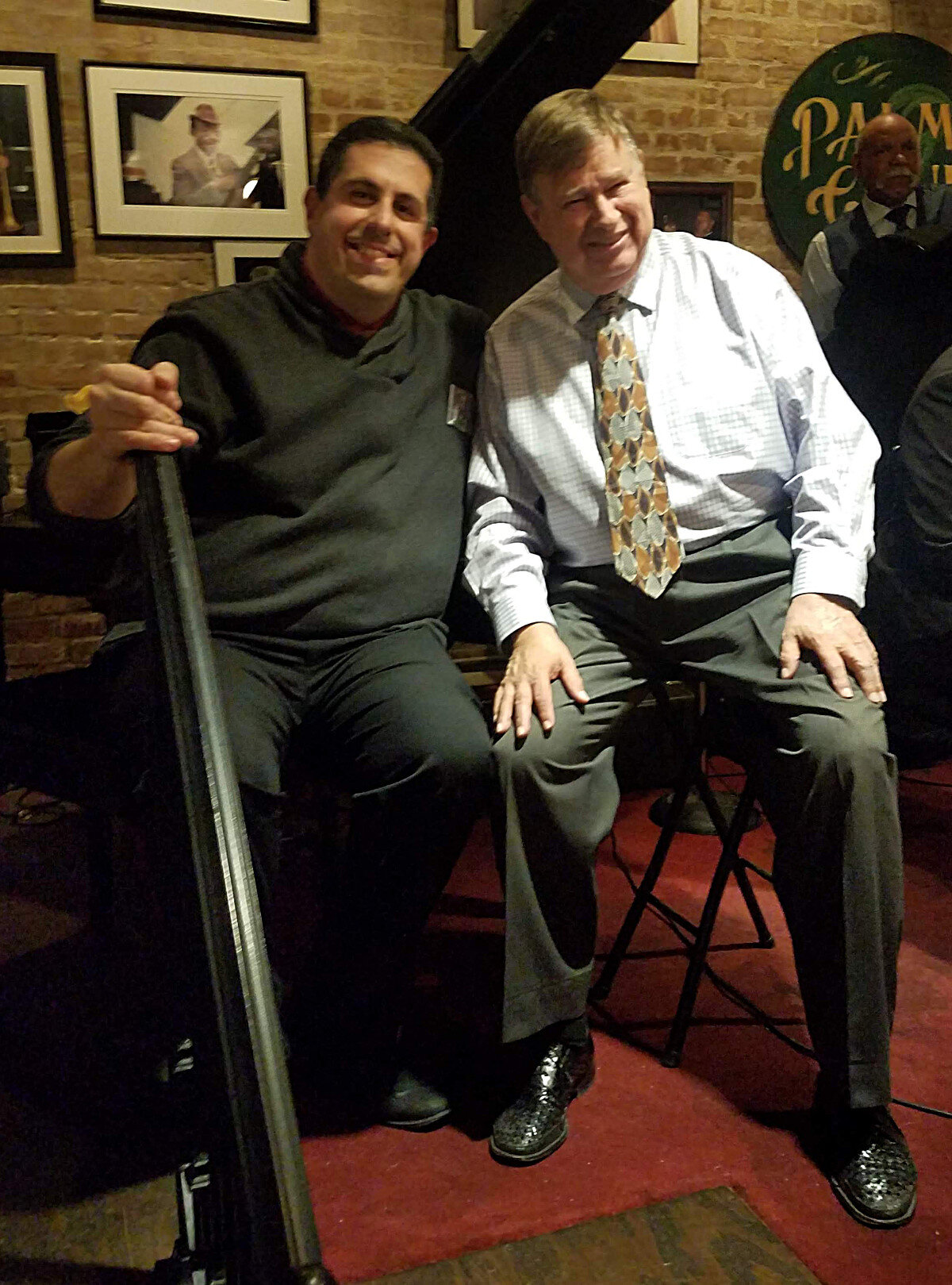 Later that week at the Jazz Park, Richard Scott (p) and Kevin Clark (cnt) introduced us to Harry Watters (tb) and Patrick Sheridan (tuba). View the latter two on their websites to hear how they have transformed a brass instrument into "now for something completely different." The sounds emanating from these two instruments are very unusual indeed. They were both in town for the JEN conference and this was just the beginning of seeing the many performers and educators from that conference seep into existing bands and weave in and out of the many musical experiences. That same group gave a performance the next day at the Jazz Museum and that was really a treat to see them again.
Ricky Riccardi made a surprise guest appearance at the Palm Court one evening with Lars Edegran (p), Topsy Chapman (v), Joe Goldberg (reeds), Gregg Stafford (tp), Robert Harris (tb), Shannon Powell (dr), and Richard Moten (bs). As the Director of Research Collections for the Louis Armstrong House Museum in Corona, NY, Ricky is a well-known, smiling face among jazz lovers and an enthusiastic piano player. So many musicians have volunteered their time when in the area and hundreds of fans have made special trips to enjoy the artifacts in the museum. It was a real thrill for me to meet him and be able to express my appreciation for his work.
We also met Steve Call that evening, also in for the JEN Conference. If you are unfamiliar with his name, you need to "google" Jazz For Cows to see and hear what he once orchestrated on a field in France.
At Snug Harbor, Bria Skonberg (also in town for the JEN conference) and her quartet (Mathis Picard (p), Devin Starks (bs) and Darian Douglas (dr) highlighted her current album Nothing Never Happens, a compilation of original songs and others. Bria has an incredible vocal range. Having literally grown up in the music world (her dad was the festival director of the Chilliwack BC festival) and starting her own band (Mighty Aphrodite) in her teens, we have enjoyed watching Bria progress from one dynamic to the next.
Besides being an exceptional trumpeter, she can belt out a song with changes in pitch, soar from a low note to a high note, change tempo and keys, all without flaw. She has changed her focus slightly from traditional jazz to edgier, contemporary pieces and has found a welcoming home in New York for the past ten years. She is a co-founder of the New York Hot Jazz Camp and manages to keep her hands in many activities that will propel her goals yet hopefully keep her on that edge.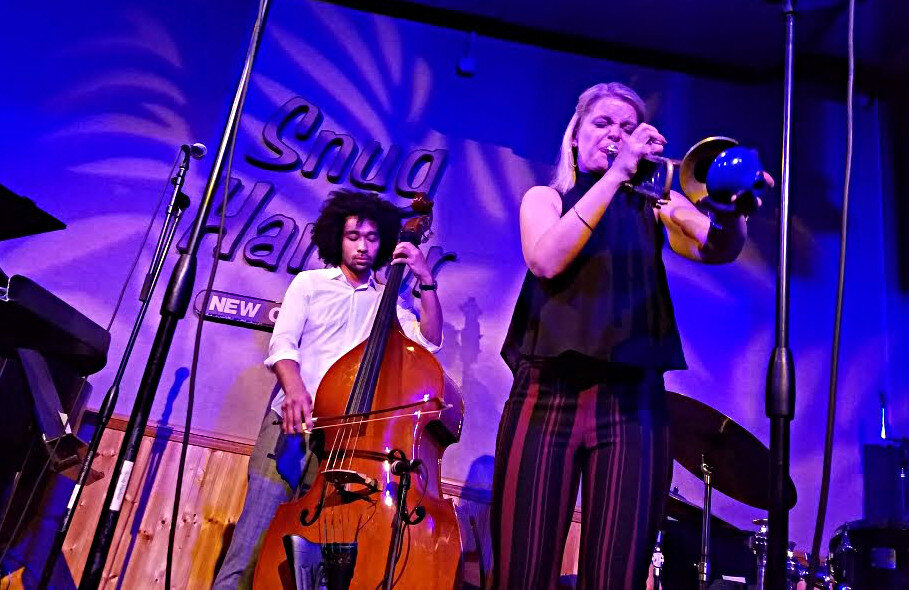 That same evening, there was a jazz jam by Van Laar Trumpets and Greg Black Mouthpieces at the Starlight Lounge hosted by Kevin Clark (tp, cnt). Additional musicians included Harry Watters (tb), Patrick Sheridan (tuba), Mark Weliky (gtr) and Karl Budo (dr). The whole upstairs "speakeasy" provided lots of room for musicians and guests and was a great venue for such an event.
The Court of Two Sisters is always a nice daily brunch and we went to see Tim Laughlin (cl), Seva Venet (gtr) and Taylor Kent (bs) while enjoying a casual meal.
When John Shoup reformed the DUKES of Dixieland in 1974, I would doubt he ever thought he would be celebrating its 45th anniversary! Who would think any band could stay together that long?! But lots of hard work, stressful management, advertising dollars, gig placements (i.e. Dukes Place at the top of the Hotel Monteleone in 1974, the later Mahogany Hall on Bourbon in 1984 and the Steamboat Natchez in 1994) crossover recordings, international tours, celebrity guest appearances and 31 albums later, their strong community ties and persistent networking have us shouting out a HAPPY ANNIVERSARY, DUKES! to this band.
Although two new boats have pulled up to the Toulouse and Poydras wharfs and will be providing music cruises soon, the Natchez has showcased the DUKES for over 25 years, so be sure and enjoy these evening cruises with Kevin Clark (tp), Joe Kennedy (p), Dave Mahoney (dr), JD Haenni (bs), Owen Callahan (reeds) and Wes Anderson (tb).
The Natchez also has morning and afternoon cruises with various groups including Duke Heitger's Steamboat Stompers, Tim Laughlin's (cl) Trio and Steve Pistorious (p) with his Southern Syncopators.
So many things to enjoy during a winter visit to the French Quarter and no better way to welcome a New Decade.