This is part one of a two part series chronicling the Hall Brothers Jazz Band. Their story is an important and essential part of the history of Minnesota jazz. Beginning in the late 1950s, they spent over half a century dedicated to playing the music of New Orleans. This included a 25-year stretch owning their own club, The Emporium of Jazz, which became a stopping point for touring musicians from all over the world.
On the south side of Minneapolis, there once was a record store called Dixieland Record Heaven. It stood as a Twin Cities oasis for anyone looking for the records of early jazz and a nexus for the local musicians catching the wave of the New Orleans revival. According to saxophonist/clarinetist Dr. Henry Blackburn, owner Jim McDonald had definite opinions about traditional jazz. "He played what he thought you should hear. Would play records and talk for hours, being perfectly happy if you went away having purchased one second-hand record."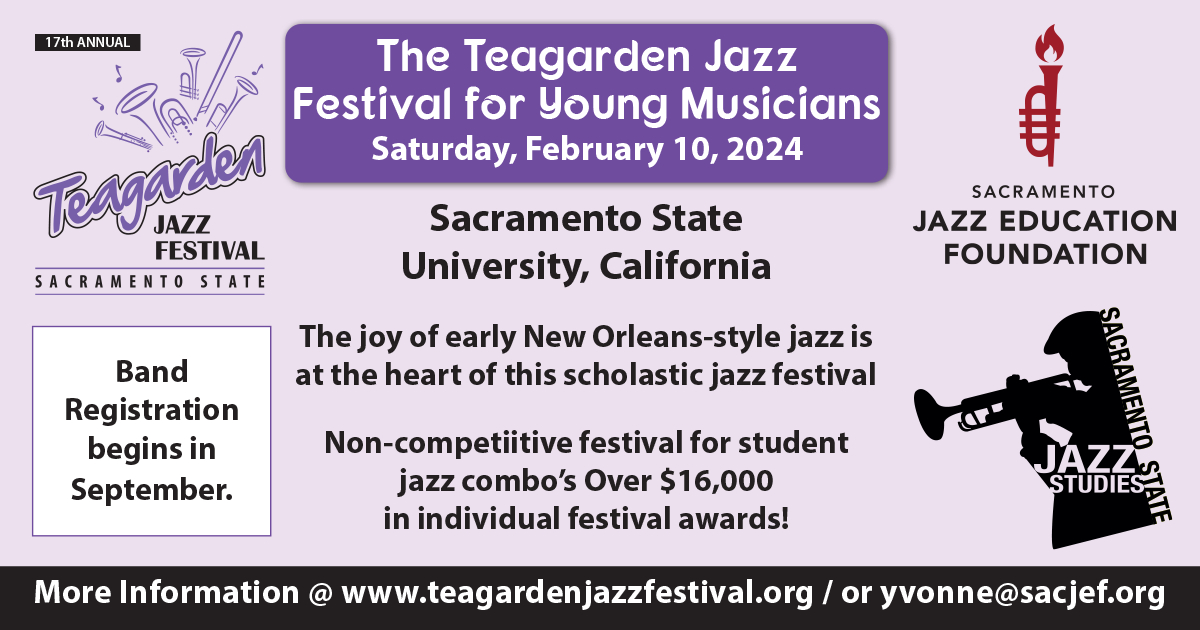 Pianist/clarinetist Butch Thompson remembered, "MacDonald introduced us to Jimmie Noone [recordings]. It was a revelation! He was always excited about ordering stuff from New Orleans. That was his favorite thing." McDonald also sold paint and repaired radios. Butch said, "He was supposed to be fixing radios, but he didn't bother with that much. If you left your stuff there you never knew when you were going to see it again. Months and months."
In the spring of 1958, Jim had a customer, 25-year-old cornetist Charlie DeVore, who had just spent three years stationed with the Navy in New Orleans. Charlie's time in New Orleans was an epiphany. In 1954 he began seeing bands led by Kid Thomas Valentine and George Lewis. He first heard Lewis' band at Club Slipper. When he wasn't out in front of the bands, he tuned into local radio stations.
He recalled station WWL and a program from the Blue Room of the Roosevelt Hotel, the official radio program of the New Orleans Jazz Club. Their theme song was "Congo Square" by cornetist Johnny Wiggs. Sometime in 1955 he bought the 1949 record. On the B-side was a song entitled, "Bourbon Street Bounce." Charlie thought that Wiggs on one side of the record sounded like King Oliver, and "I flipped it over and he sounded like Bix Beiderbecke!" He reached his tipping point, and went down to Werlein's Music store to rent his first cornet. He was on his way.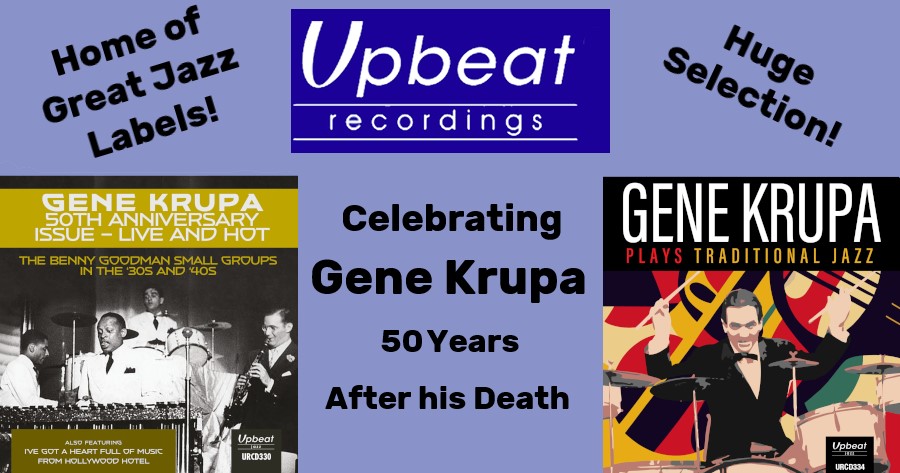 Minneapolis brothers Stan and Russ Hall came to the music early in their lives. According to Russ, they both "had to" take piano lessons as kids. The piano stuck with Stan. He would become inspired by the usual suspects: Fats Waller, James P. Johnson, Willie "The Lion" Smith. But according to Charlie DeVore, "He really zeroed in on Jelly Roll Morton."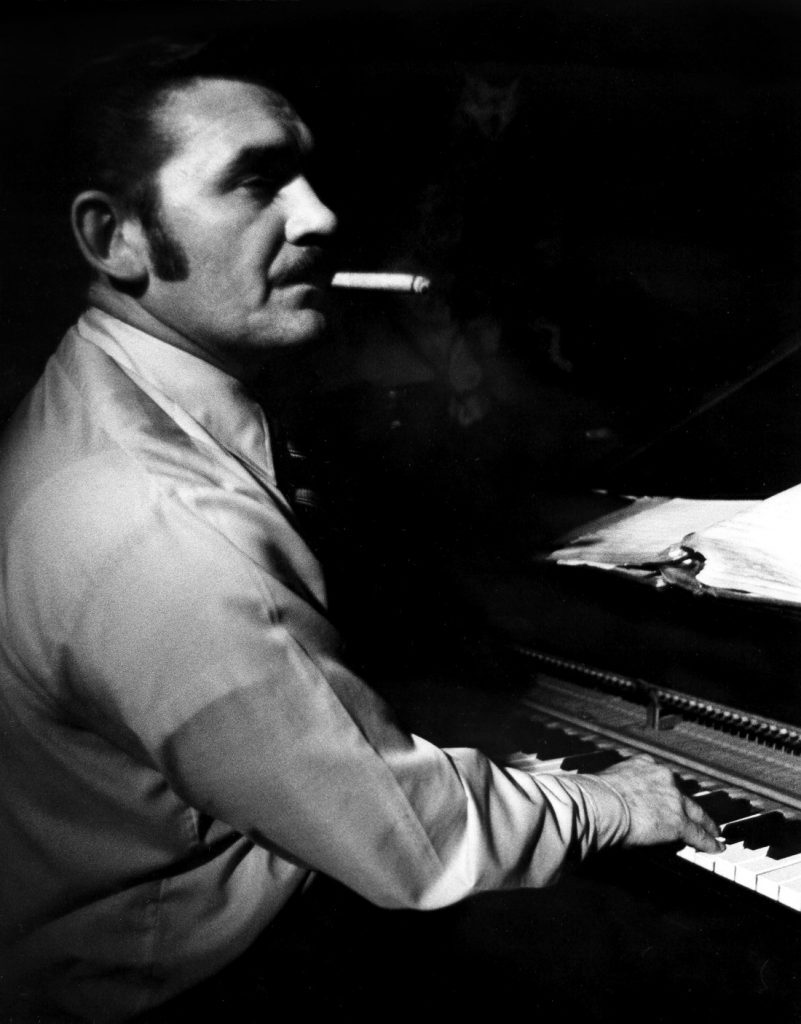 Meanwhile, Russ had moved to trombone. Russ laughingly recalled taking his first trombone lessons from a clarinetist, and later on from his violin-playing middle school band director. But his best lessons came from Kid Ory records. He also loved Jim Robinson, Louis Nelson, and Streamline Ewing, but there was "nothing as good as Ory, because I liked Ory's tone and his ideas. And he wasn't out to change anything."
The brothers were also regulars at Jim McDonald's store, and one day during that fateful spring Jim arranged that they and Charlie were introduced to one another. Not too long after that, when they weren't hanging around the record store, they began to convene in Stan's basement to learn this music they loved so well.
They spent the summer practicing, other musicians passing through in the trio's effort to fill out the rest of the band. Russ fondly remembered his friend Orville Krecklau playing clarinet with them for a short time. "He had a great tone." Krecklau has to be the most self-sufficient clarinetist in jazz history. In his lifetime he built three houses with trees from his own property which he cut down, milled and kiln-dried himself. Not to mention being a machinist who built and piloted his own airplanes! The fact that he could also do handstands and brew his own beer is sort of anticlimactic.
Eventually a solid quintet was formed when they were joined in Stan Hall's basement by Dick Ramberg, a clarinetist who would eventually go on to be a mainstay in the Barbary Coast Jazz Band, and Dave Jackson, a drummer for the Postal Service marching band. When cornetist Doc Evans opened the Rampart St. Club in Mendota, Minnesota, that July, they shifted some of their convening there for educational purposes. Russ recalled their basement practices, "We used to get very discouraged. We would go out to Doc Evans to get revitalized."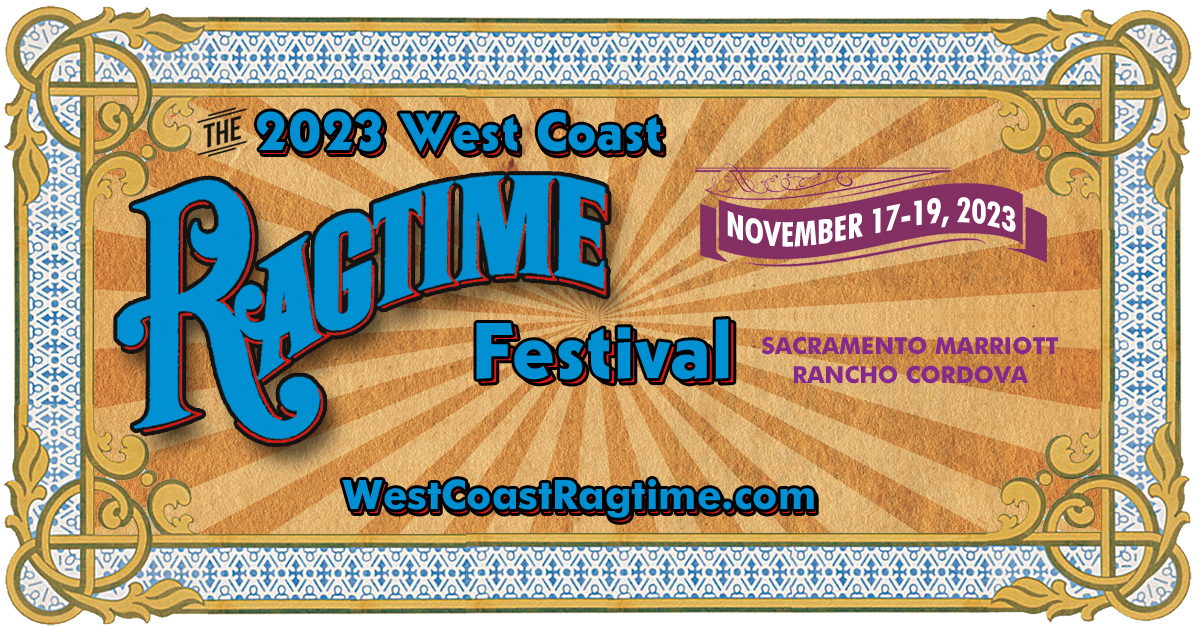 During the day, Russ drove a bakery truck for McGlynn's Bakery. His boss got wind of Russ' musical forays, and asked if he could bring the band to his house for a party. Bert McGlynn had arranged for his housewarming to coincide with New Year's Eve, and so on December 31st, 1958, the Hall Brothers Jazz band played their first job. Charlie DeVore joked, "We were a five-piece band. That's all we knew were five pieces."
Bert wasn't the only boss to play a key role in the early history of the band. Stan Hall worked at Brady Motors near the campus of the University of Minnesota. The band hatched the idea of holding jazz parties right in the shop, and with the approval of owner Jinx Brady, played their first Brady Motors Saturday night concert in May of 1959.
On Saturday mornings Herculean efforts were required to transform the paint and repair shop into a jazz joint. After the band cleared the room of debris, Stan would use the air compressor to clean the floor, and would pull car seats out of cars and line them up to face the stage, which was formed by placing the paint shop door on paint drums. Stan and Russ would then toss an upright piano up there.
There are many stories of the Brothers feats of strength. They were very strong for jazz musicians. For the customers, this was a bring-your-own affair, with setups provided. Jinx Brady was in good relations with the cops on the beat, who were generally in favor of the goings on, and kept an eye out for trouble. Brady Motors received this monthly sprucing up thirteen times over the course of a year, the run finally ending in May of 1960.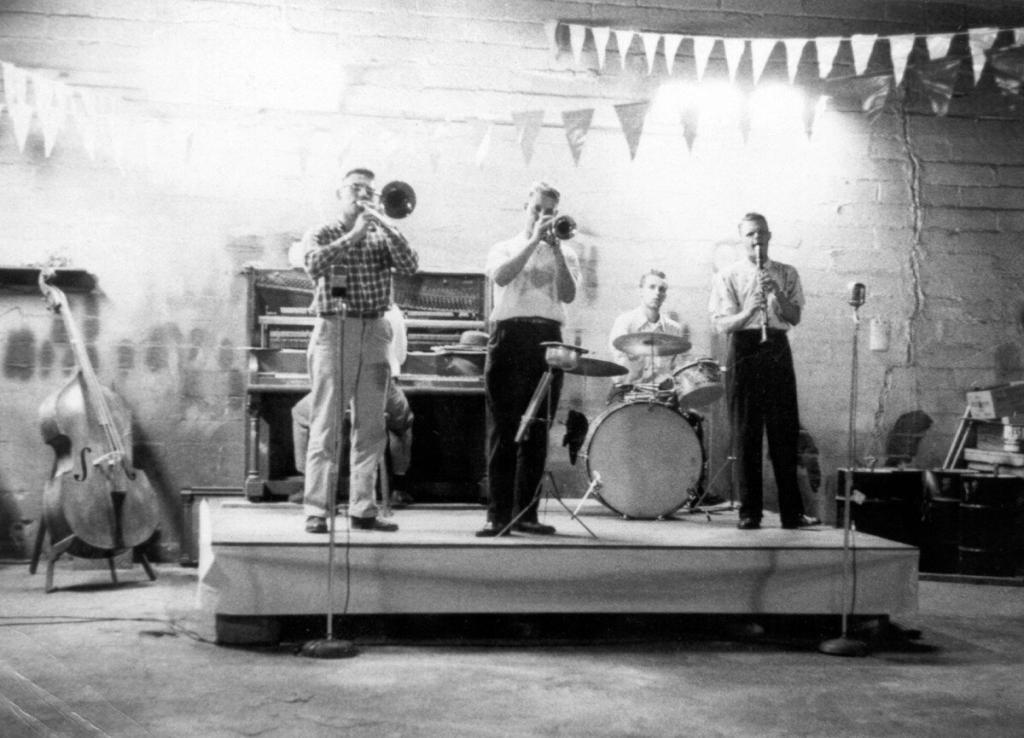 They didn't remain a "five-piece band" forever. In the fall of 1959 trombonist Bill Evans came over from another local band, the Mississippi Counts, to play bass for the Hall Brothers. Bill had also heard about the Hall Brothers from Jim MacDonald at Dixieland Record Heaven. Bill neither owned nor had ever played a bass before. Charlie DeVore worked out a payment plan with Chester Groth of Groth Music in Minneapolis to purchase a $400 bass for Bill. "We got a bass and I started playing with the band," Bill said fifty years later. "Of course I didn't know how to play the thing. Still don't, really. Kind of learned on the job."
Evans also came to jazz in his St. Paul youth. He took piano lessons as a kid. "From there I started listening to jazz recordings." He recalled at age eleven records of Kid Ory, Pete Daly, Sharkey Bonano, Paul Barbarin, etc. He was thoughtful when asked why he listened to those records. "I don't know why, especially, because the popular music of the day, as all popular music is, is never jazz. It's kind of ordinary, corny songs." After a pause, regarding those corny songs he admitted, "Actually the old ones sound pretty good now."
Bill's traditional jazz schooling was in the back seat of friend Al Kirsten's car. "For some reason or another we liked beer," he joked. "We had fake ID cards. Man, in the early fifties you could do anything. You'd buy a wallet, and it would have an ID card in it. We'd fill out a fake address indicating we were 21 years old. We'd use that to get into nightclubs and hear our favorite jazz musicians. Then we'd go to the liquor store and buy a pint of gin and a couple quarts of lemon sour." They would go to parks and with Bill in the back seat with his trombone and Al in front with his trumpet, they'd play duets for hours picking up songs off the radio. "That's kind of how we learned. We never did use music."
This way of learning the songs would extend to the Hall Brothers rehearsals in the early days. Evans, DeVore, and Ramberg would pick songs they wanted to do, and get together to make arrangements without writing anything down. Bill called them "head arrangements," but they still included special intros and codas, maybe modulations just to make them distinctive. "Charlie and Dick Ramberg and I would get together and do the groundwork for all these things and then we'd get to the full band rehearsal and we'd get the rest of the guys zeroed in." In those days, Charlie worked at a gas station until midnight. As soon as he'd get off work on Friday nights, he would rush to Stan's house to rehearse at 1:00 am! "I'd show up completely covered in grease from head to toe! I hated the grease so much, I never was attracted to slick arrangements after that."
The winter of 1960 was spent playing at the Mound Casino in tuxedos Stan purchased at the Salvation Army (Stan's had tails). Summer and fall at a picnic grounds in Bloomington called Nando's Hideaway. The band held that job a couple of summers before a fire consumed the pavilion.
At the end of 1961, Dick Ramberg put in his notice, intent on finishing college. He'd also received an offer to play with Doc Evans. In need of a clarinetist, Stan asked Dr. Henry Blackburn, but Henry, being too busy with his medical career to take the chair, instead recommended Butch Thompson, a teenager Henry had first heard play when Butch sat in with Henry's band at the Marine on St. Croix Fireman's Ball. Henry described a tall, skinny, shy kid who approached the bandstand holding a clarinet. "He's looking at us and [we said] 'Sure, come on up!' I heard Butch play, and it was unbelievable. He was playing like you've never heard him. Benny Goodman licks. And he was tending toward modern chords. I was impressed with his demeanor and talent. And I heard he played piano too!"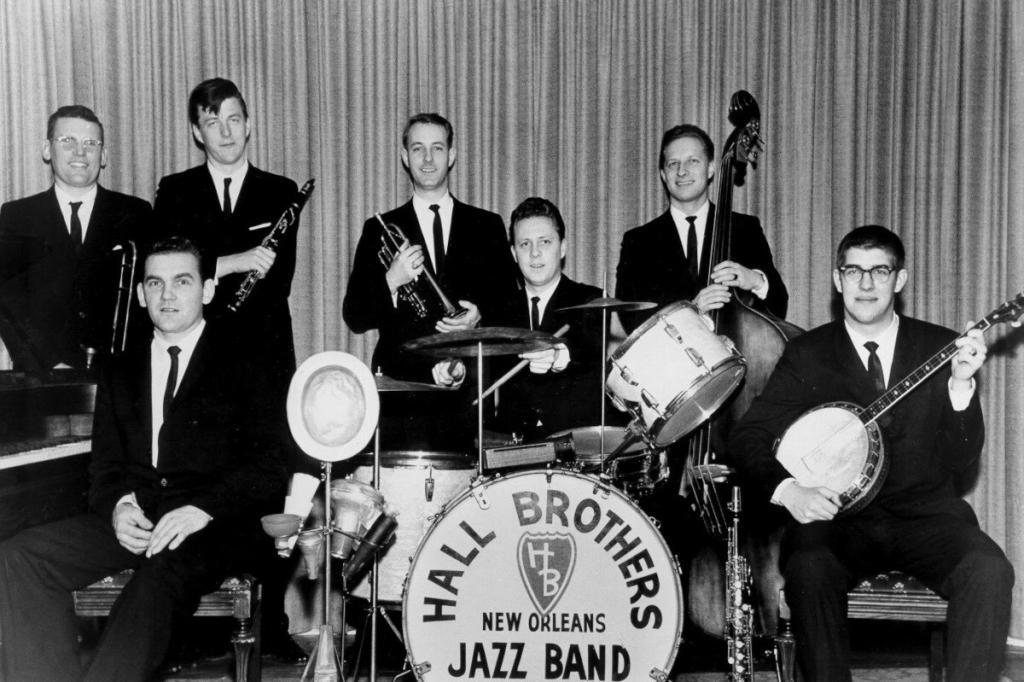 In January of 1962 Dick Ramberg played his last job with the Hall Brothers at a Coffman Memorial Union dance at the University of Minnesota. Coincidentally, Butch and his friend, pianist Mike Polad, both freshmen at the university, were in a small band playing during intermission. Butch said, "We were supposedly hired because the Hall Brothers didn't want to play the Twist contest." It was the first time the Hall Brothers had heard Butch play.
DeVore stood next to Evans and gave his critique. "The kid on the clarinet is kind of like Benny Goodman, but he certainly seems to know what he's doing." After a pause he continued, "The piano player doesn't do anything for me at all. He sounds just like Dave Brubeck." All concerned parties would laugh about this years later. Polad would say he was influenced then by the contemporary pianists of the day.
Charlie enticed Butch to his home with his wife's home-cooked dinners to launch his traditional jazz scheme. "I locked Butch in the attic to brainwash him." He laughed, "I had a small phonograph that played nothing but George Lewis records!" The phonograph was capable, in fact, of playing many other records. Butch left Charlie's attic a changed musician. Henry Blackburn said, "He came out playing George Lewis clarinet and Jelly Roll Morton piano."
In April, Butch played his first job with the band. Since the previous November they had been installed at Brady's Pub (no relation to Brady's Garage) in Minneapolis. Butch was underage, and wouldn't be allowed to work there without a parent or guardian. They got around this by appointing Stan as Butch's guardian. According to Mike Polad, "A document of questionable legal status was drawn up, signed by Butch's father and Stan, put into the safe in the back room, and never mentioned or seen again."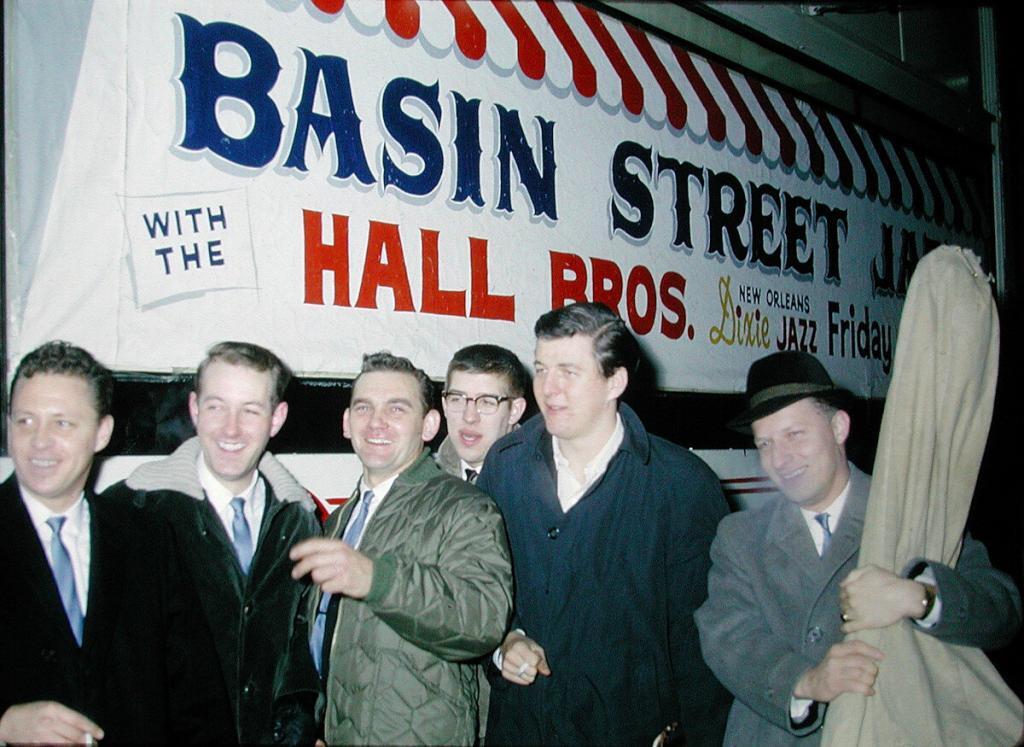 Bill Evans described Brady's Pub, located at 6th and Hennepin in downtown Minneapolis: "It was a shotgun bar, like in New Orleans. The stage on the left when you walked in, behind the bar. You literally had to stand on the bar to step over to the stage. Small stage, you know, built for a trio at the most. But we had a six-piece band crammed up there along with a spinet piano. I remember playing the bass there and I had to stand on the edge, and it was a good thing I was a lot younger then and had pretty good balance because I could have fallen in the sinks anytime."
Bill went on to describe the denizens of Brady's. "It was a rough place, a real cross-section of society." There was an employee, Roosevelt "Rosie" Thomas. "His official title was Men's Room Attendant. Well, Brady's Pub hardly had a men's room, let alone needed an attendant. It was the worst possible place to do your thing that you could imagine. No room." Drily, he added, "You had to go outside to change your mind." Rosie was Brady's concierge, so to speak. Bill said, "If you wanted something he'd get it for you. Automobile tires, drugs, anything else, Rosie was there."
Thompson and Polad roomed together in college, in what they referred to as a series of "hovels" in the West Bank neighborhood of Minneapolis. Hovel #1, Hovel #2 and so on. Though Mike played piano and soprano saxophone, in the spring of 1962 he learned to play banjo because "that's all that was lacking" in the Hall Brothers. He wanted to be in the band, and the band wanted him. Before Brubeck, Mike's youth included listening to his mother's 45s of Bix and Bunny Berrigan, as well as the records of Sidney Bechet. Incidentally, he also received a few saxophone lessons from Frank Trumbauer!
Butch described Mike getting into the band in August of 1962. "Through Charlie's connections he got an old banjo from Lawrence Marrero. Of course it was a great banjo, but not in very good condition." So Stan Hall and Mike got together to recondition it. "I can remember Mike sitting there just rubbing oil into it, days on end. Of course it turned out perfectly! It was beautiful, and he learned how to play it in about five minutes." One day Charlie got a phone call from Butch, who began playing "St. Phillip Street Breakdown" over the line with Mike on banjo. Charlie thought Butch was playing a record. Butch said, "He sounded exactly like Lawrence Marrero!" and added that everyone was "flabbergasted" that Mike could so quickly get the sound and the old style so perfectly.
Around the same time, Donald "Doggie" Berg replaced Dave Jackson on drums. DeVore had met Berg in New Orleans in 1957. They both were sitting in with the "kitty" band at Larry Borenstein's art gallery, which in 1961 became Preservation Hall. The police raided, and the two were arrested for "mixing"—being white men playing with a band of black men—and thrown in the paddywagon. Charlie found out his paddywagon mate was from Wisconsin, and asked him his name. "Doggie," Berg said. After a pause, he continued, "My mother was a cocker spaniel." They appeared in court before a Judge Babylon, (no kidding). The judge let them off with a warning, "You northerners need to understand that down here, we don't mix our cream in our coffee!"
Charlie and Doggie would renew their friendship in 1958 when Charlie travelled to Madison, Wisconsin to see Berg play. He told Doggie that the Hall Brothers were just getting going. They stayed in contact, and a few years later, when the band got the job at Brady's Pub, Doggie would drive over from Wausau, Wisconsin, to hear the band and they'd have him sit in. "The band would sound twice as good with Doggie."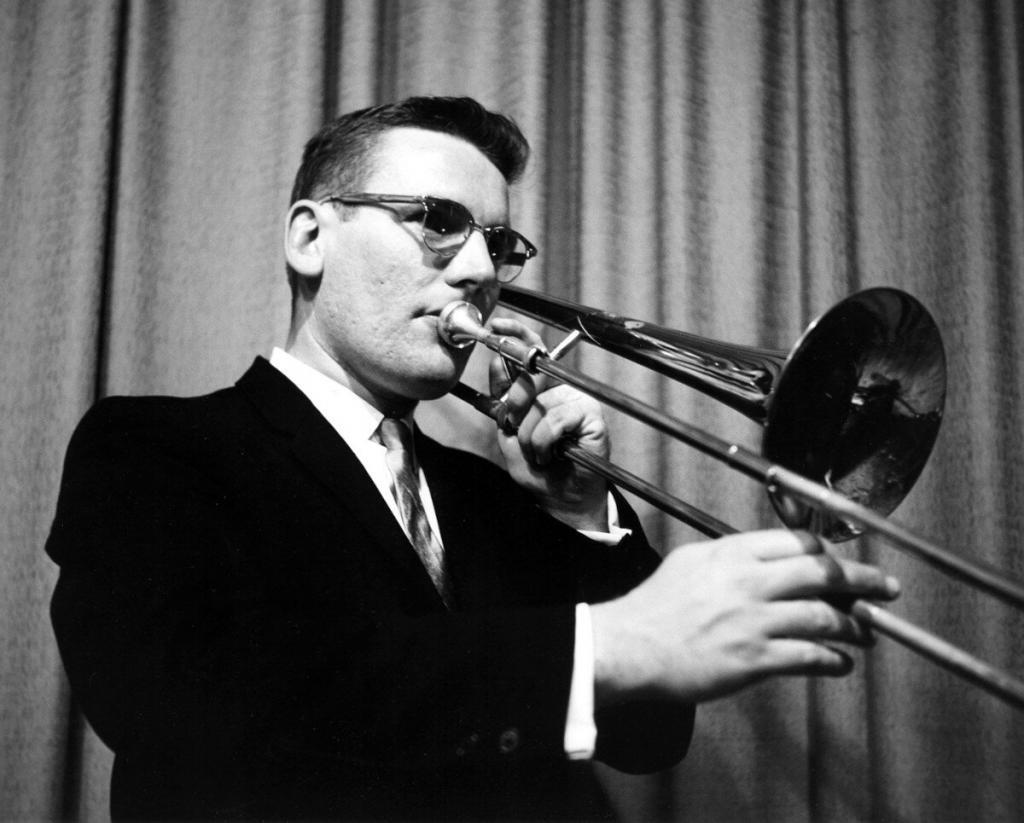 Charlie explained that Dave Jackson was a good drummer, "But he just wasn't as interested in learning the [New Orleans] style. Doggie had the experience and the spark, and then it was just a question of kind of brainwashing him a little bit." But very little of Doggie's brain required washing. His unique approach had woven into it the styles of drummers like Sammy Penn and Cie Frazier. How else does a Wisconsinite get thrown in a New Orleans paddywagon in 1957 for breaking Jim Crow segregation laws? Finally, in September of 1962, the band helped him move from Wausau to Minneapolis to join the Hall Brothers officially.
They were together. These men—Stan Hall, piano; Russ Hall, trombone; Charlie DeVore, cornet; Butch Thompson, clarinet; Mike Polad, banjo; Bill Evans, bass; and Donald Berg, drums—are considered the quintessential lineup for the Hall Brothers Jazz Band. There would be comings and goings through the decades, but this is the group that appears on most of the recordings and was responsible for bringing their club, The Emporium of Jazz, into existence.
When the story continues, we'll hear about the Emporium—its formation, the visiting artists, the Funky Butt Dance Hall. The many recordings, even including that 45 with "We're Going To Win Twins." The other musicians who served a hitch on the Hall Brothers front lines (and back lines). Not to mention pilgrimages to their beloved New Orleans—how about that time Stan Hall replaced a drive shaft on a 1953 Cadillac Coupe De Ville at 2:00 in the morning? Until then…