THIS IS AN OUTDATED ROUNDUP. OUR CURRENT FESTIVAL INFORMATION CAN BE FOUND UNDER EVENTS IN OUR MENU
---
10th ANNUAL BICKFORD BENEFIT (Morristown, NJ) Oct. 1st
Colin Hancock, Albanie Falletta, and Vince Giordano—leader of the country's preeminent 1920s hot jazz orchestra for over 40 years—will make their Bickford debuts as they join forces with "veterans" Mike Davis, Kevin Dorn and Dan Levinson for an evening of sizzling hot jazz from the age of tin horns and Talking Machines. Colin Hancock will also demonstrate his skill as a displaced sound engineer by using century-old technology to record the band on a wax cylinder and play it back before your eyes and ears!
Featured musicians:
Colin Hancock
, cornet/tenor sax,
Mike Davis
, trombone/cornet,
Dan Levinson
, clarinet/C-melody sax, Albanie Falletta, banjo,
Vince Giordano
, tuba/bass sax,
Kevin Dorn
, drums
Thursday, October 1, 7:00PM, Rain Date, Friday, October 2, 7:00PM, $60 for an 8'x8′ block that accommodates up to two patrons.
morrismuseum.org
JAZZ JUBILEE BY THE SEA (LIVE STREAM EVENT) Oct. 22-25th
Jazz Jubilee (by the Sea) is celebrating its 44th year with an Online Only Live Stream Event.
We have started soliciting bands for our virtual festival. Bands that have committed to making a prerecorded video include Tom Rigney and Flambeau, the Midiri Brothers, Holy Crow, Riptide and Crescent Katz. Some of these bands, Riptide, Holy Crow and Flambeau, may actually come in and do a live performance in our "studio", which we hope will be the Vet's Hall. We hope to have a limited live audience attend these performances. Sonny Leyland will be our Master of Ceremonies and will play with special guests including Dawn Lambeth and Gary Ryan. Gary is also available to help out with the hosting duties. Molly Reeves and Naham Zdybel will perform as a duo and submit a video to us, as will Sheri Colby and Matty Bottel from Blue Street. We are also in contact with many other groups and expect many more names to be posted.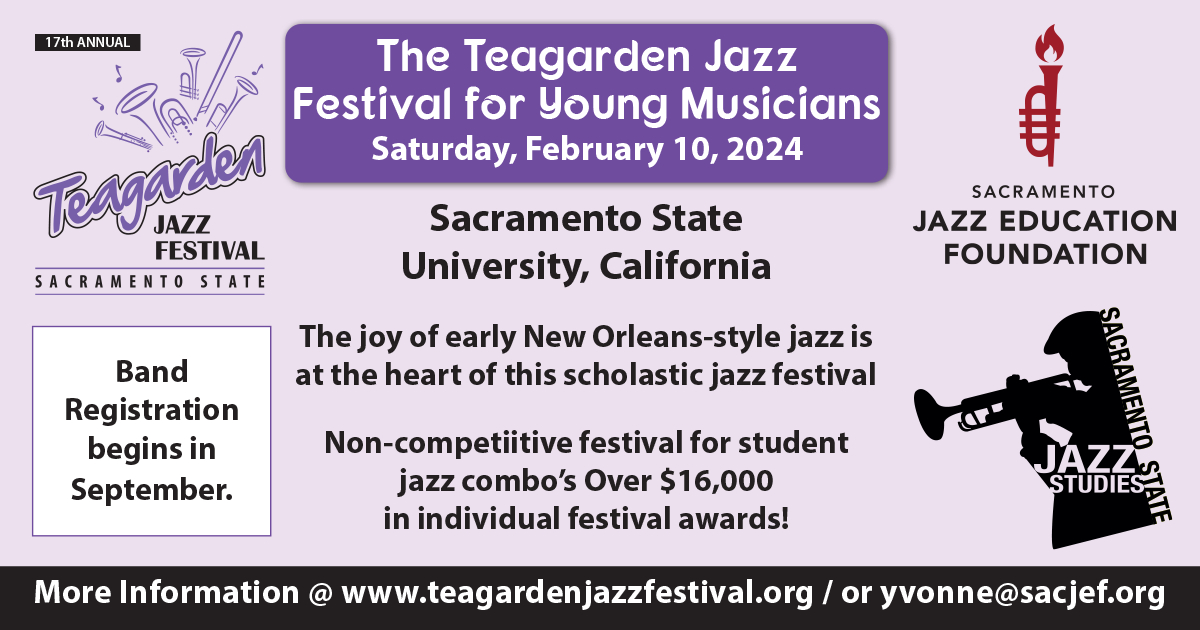 We will be working with Valerie and Simon Mercado from the local "Noble Productions" company to put together the best show possible, both pre-recorded and live. We have refunded the badges that were sold and solicited some as donations. More donations are coming in to support this virtual event.
More details will be forthcoming at pismojazz.com.
THE ARIZONA CLASSIC JAZZ FESTIVAL (Chandler, AZ) November 5-8, 2020
The music starts at 5:30 p.m. on Thursday, November 5, and ends at 5:00 p.m. on Sunday, November 8. In addition, an Afterglow that includes a buffet dinner and music will be offered at the hotel from 6 – 8:30 p.m. on Sunday for a cost of $35.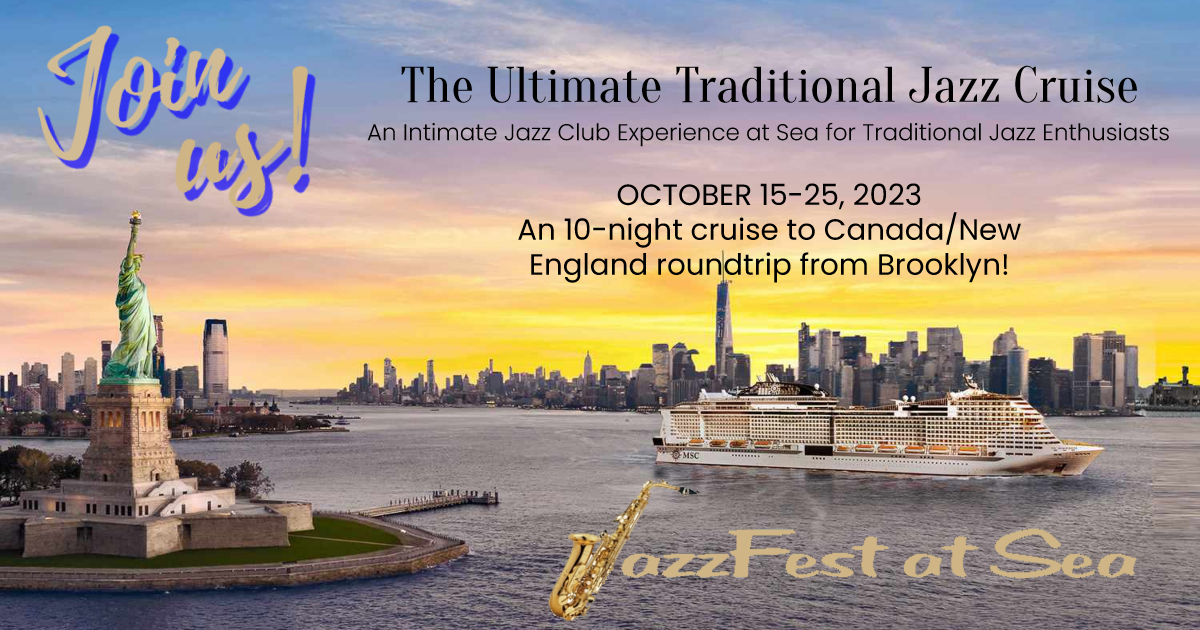 The bands will be: "BIG" B.A.D. Rhythm, the Black Market Trust, Cheryl's Vintage Swing with special guest Dan Levinson on reeds, Cocuzzi Courtet, Cornet Chop Suey, Lynn Robert's Swinging Saxes, Queen City Jazz Band, St. Louis Rivermen, Sentimental Breeze, Stephanie Trick & Paolo Alderighi, Sun City Stomperz, Tom Rigney & Flambeau, We 3 + 1, Wildcat Jazz Band, Wolverine Jazz Band, and guest Howard Alden.
Dabney and Karen Hopkins will be offering dance lessons throughout Saturday and Sunday providing you the opportunity to learn new steps along with the Phoenix Lindy Exchange.
The event is held at the Crowne Plaza Phoenix – Chandler Golf Resort, One San Marcos Place, Chandler, AZ. For rooms, call the hotel at 877-685-5594 before October 6 and be sure to identify that you will be attending this event. Badges may be purchased before October 29 by sending a check or credit card information to ACJF, 10918 E. Michigan Ave., Sun Lakes, AZ 85248 or by calling 480-620-3941. They will be available at the door starting at 2 p.m. on Thursday, November 5. Badges are $110 each if purchased before August 15; $130 after that date. Day badges will be available for purchase at the door: Thursday $20, Friday $55, Saturday $65, Sunday $45. Band sponsorship is very much appreciated. (www.azclassicjazz.org)
SUNCOAST JAZZ FESTIVAL (Live Stream Only) Nov. 21
A Live Stream event is being arranged for November 21st, during the time the Clearwater, Florida, festival would have happened in a normal year. Scheduled so far are Adrian Cunningham and his Old School jazzing it up in Barcelona, Dave Bennett Quartet, Heather Thorn and Vivacity, Tom Rigney and Flambeau, Nate Najar and Daniela Soledade, La Lucha with Diego Figuierido, and Tarpon Spring High School Jazz Ensemble.
For more information as it comes in, please visit www.suncoastjazzfestival.com.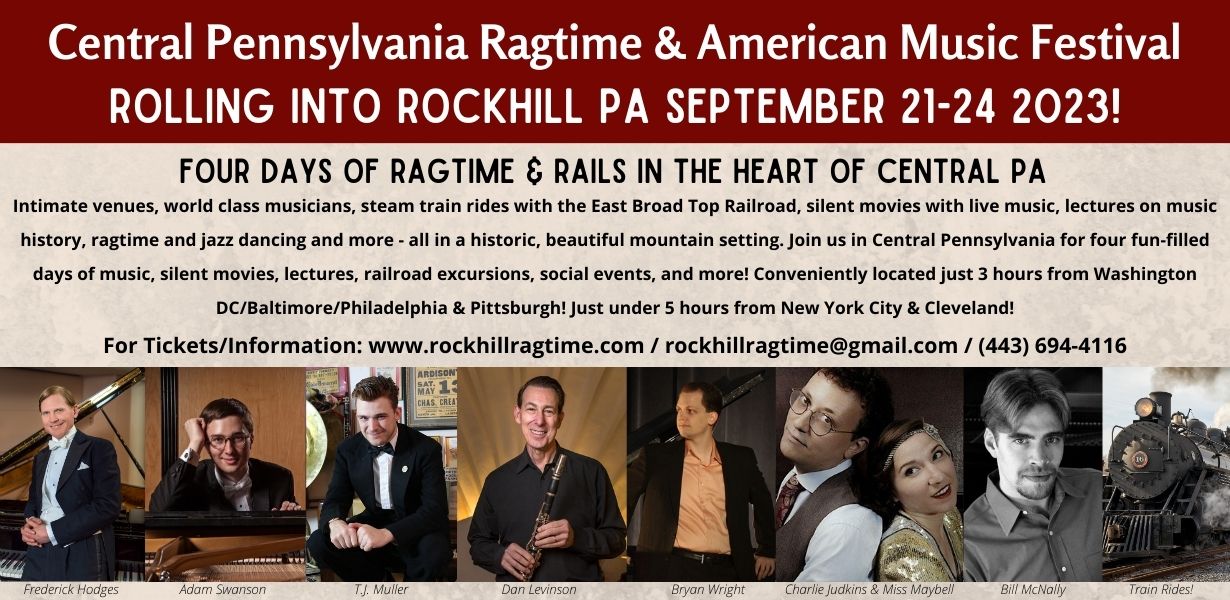 WEST COAST RAGTIME FESTIVAL (Live Stream Only) Nov. 20-22
The West Coast Ragtime Festival in person event has been cancelled for 2020 but there will be some form of Live Stream event to take the place of it that weekend. Please tune in to enjoy some of the same great artists you would have seen as we prepare for 2021.  westcoastragtime.com.
THE SAN DIEGO JAZZ FEST & SWING EXTRAVAGANZA (Live Stream Only) Some portion of Nov. 25-29
Based on COVID-19 related concerns for our attendees and hotel partners as well as mandates from the CDC and State of California, the AFCDJS Board of Directors has made the decision to cancel this year's San Diego Jazz Fest live event, originally scheduled for November 25-29, 2020 at the Town and Country Hotel & Convention Center. We are currently putting together an online, "virtual" event in its place. Details can be found at www.sdjazzfest.org.
NORTH CAROLINA JAZZ FESTIVAL (Wilmington, NC) Feb 4-6
In this rather unsettling time of the Covid 19 virus, we really don't know what the future brings as far as what will be allowed for performances in the months ahead. We do want you to be assured that we are proceeding with our plans for the 41st annual NC Jazz Festival. We are thinking positive for the sake of our musicians and our fans! Of course we will follow the guidelines presented by our governor for the well-being of all! Our musicians have all been contracted and we look forward to presenting them and their music on our stage next February. If there is a need to make a change in plans, ticket purchasers will be given the choice of a full refund or a "roll-over" to the February 3, 4, & 5, 2022 date which has already been secured at the Hotel Ballast.
Confirmed musicians include Ehud Asherie, Herman Burney, Adrian Cunningham, Dion Tucker, Nate Najar, Bruce Harris, Houston Person, Steve Washington, Emily Asher, Kevin Dorn, Chuck Redd, Jonathan Russell, Rossano Sportiello, Lenore Raphael, and Steve Hobbs.
Ticket are $45 for Thursday, and $65 for Friday & Saturday. Each night $25 military, $15 students. Patron tickets are $215, and include Fri. & Sat. evening concerts plus the special patron brunch at 10:30 Sat. morning, where the all-star musicians will play and socialize with patrons, then patron/musicians will be invited to "sit in" with the all-stars. Patrons receive preferred, reserved seating plus their names in the program. The $240 patron tickets include all of the above plus tickets to Thursday evening's Special Event. Tickets may be purchased from the festival website, E-Tix, or at the AudioLab at 5732 Oleander Dr., Wilmington.
For more information visit ncjazzfestival.org, e-mail [email protected], or call 910-793-1111.