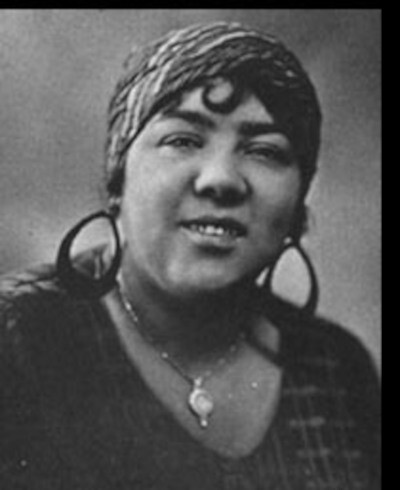 Lizzie Miles
 (March 31, 1895 – March 17, 1963) was born on Bourbon Street and she was singing with the New Orleans Jazz bands of
King Oliver
, 
Kid Ory
 and 
A.J. Piron
 while she was still a teenager. She worked as a song plugger for 
Clarence Williams'
 and A.J. Piron's publishing company and toured the southern vaudeville circuit, worked in a circus and with minstrel shows, before moving to Chicago in the early 1920s. In Chicago she performed with 
Elgars Creole Orchestra
, 
Freddie Keppard
 and with 
King Oliver's Creole Jazz Band
.
By 1922 Miles had relocated to New York where she began her recording career in 1922 and played clubs and cabarets with the Sam Wooding Orchestra and with Piron's New Orleans Orchestra. In 1924 she toured Europe and played in Paris at Louis Mitchell's club Chez Mitchell and other venues for the next couple of years.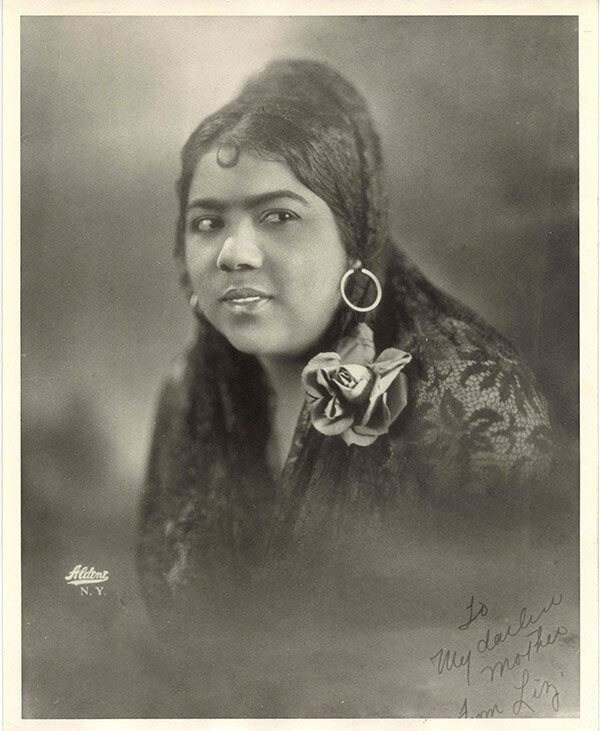 In 1927 she returned to New York where she spent most of the remainder of the 1920s and 1930s. She performed in clubs around the city with numerous acts that included groups led by Fats Waller and Paul Barbarin. In the late 1930s, Miles returned to New Orleans and left show business until the l950s when she resumed her career performing and recording with the Bob Scobey Band until she retired in 1959. Miles died of a heart attack in 1963. Lizzie Miles was the half sister of Blues singer Edna Hicks and trumpet player Herb Morand. Some of Lizzie Miles' records were released under the pseudonyms of Mandy Smith and Jane Howard.
Thanks to Owen Miller for his help with some of the recordings on this page.

| | | |
| --- | --- | --- |
| Title | Director | Year |
| The Stardust Ring | | 193? |
| Tip Tap Toe | | 1932 |

Title

Recording Date

Recording Location

Company

Aggravatin' Papa


(Roy Turk / J. Russel Robinson)

2-1923
New York, New York
Emerson
10586
A Good Man Is Hard To Find (2)


(Eddie Green)

2-29-1928
New York, New York
Conqueror
7185
A Good Man Is Hard To Find (3)


(Eddie Green)

2-29-1928
New York, New York
Conqueror
Banjo Papa
5-2-1928
New York, New York
Domino
Black Man
(Be On Yo' Way)
Piano by Spencer Williams


(Spencer Williams)

6-18-1923
New York, New York
Brunswick
2462-B
Cotton Belt Blues
Piano accomp. Clarence Johnson


(Spencer Williams)

7-19-1923
New York, New York
Victor
19124-B
Done Throwed Away The Key Away


(Harold Gray)

2-27-1930
New York, New York
Victor
23306-B
Don't Let Your Love Come Down


(Andy Razaf)

11-13-1927
New York, New York
Banner
7025
Don't Tell Me Nothin' 'Bout My Man
(Jelly Roll Morton)
12-11-1929
New York, New York
Victor
V-38571-B
Electrician Blues


(Andy Razaf)

1-27-1930
New York, New York
Victor
23306-A
Family Trouble Blues


(Olman J. Cobb)

5-24-1923
New York, New York
Columbia
A3920
Four O'Clock Blues
(Johnny Dunn / Gus Horsley)
2-1923
New York, New York
Emerson
10586
Good Time Papa
1-27-1930
New York, New York
Victor
23306
Grievin' Mama Blues


(Tom Delaney)

3-18-1927
New York, New York
Okeh
8456-A
Haitian Blues


(Lizzie Miles / Spencer Williams)

3-1923
New York, New York
Emerson
10613
Haitian Blues
Clarence Johnson at the Piano


(Lizzie Miles / Spencer Williams)

4-25-1923
New York, New York
Columbia
A3897
He May Be Your Man, But He Comes To See Me Sometimes
(From Musical Comedy "Plantation Revue")


(Lemuel Fowler)

7-1922
New York, New York
Okeh
8037-A
He's My Man
10-7-1939
New York, New York
Vocalion
05260
He's Red Hot To Me
10-7-1939
New York, New York
Vocalion
05325
He Used To Be Your Man But He's My Man Now
Accompanied by Rickett's Stars
2-1923
New York, New York
Okeh
8048-A
Hold Me Parson


(Lizzie Miles)

10-7-1939
New York, New York
Vocalion
05325
Hot Lips
(Henry Busse / Jack Lange / Lou Davis)
9-1922
New York, New York
Okeh
8040
If You Can't Control Your Man
1-4-1928
New York, New York
Banner
7048-B
Conqueror
7084
I Hate A Man Like You
(Jelly Roll Morton)
12-11-1929
New York, New York
Victor
V-38571-A
Keep Knockin' No. 2 (But You Can't Come In)


(Wiggins)

10-7-1939
New York, New York
Vocalion
05165
Conqueror
9357
Keep Yourself Together Sweet Papa (Mama's Got Her Eyes On You)


(Spencer Williams)

7-19-1923
New York, New York
Victor
19158-A
Lonesome Ghost Blues


(Andy Razaf)

1-4-1928
New York, New York
Banner
7048-A
Lonesome Monday Morning Blues
8-1922
New York, New York
Okeh
8039-B
Mean Old Bedbug Blues


(Jack Wood)

10-12-1927
New York, New York
Banner
6117
Conqueror
7182
Domino
1055-B
Mellow Rhythm
10-7-1939
New York, New York
Vocalion
05260
Muscle Shoals Blues


(George W. Thomas)

2-24-1922
New York, New York
Okeh
8031-A
My Dif'rent Kind Of Man


(Jack Palmer)

6-30-1928
New York, New York
Columbia
14335-D
My Man O' War
1-27-1930
New York, New York
Victor
23281
My Pillow And Me
Piano by Clarence Johnson
(Tim Brymn / Chris Smith / Clarence Williams)
6-18-1923
New York, New York
Brunswick
2462-A
Nobody Shows What My Baby Shows


(Andy Razaf)

2-29-1928
New York, New York
Banner
Please Don't Tickle Me, Babe


(Q. Roscoe Snowden)

8-1922
New York, New York
Okeh
8039-A
Police Blues
11-13-1927
New York, New York
Conqueror
7082
Second Hand Daddy


(Jackson)

2-29-1928
New York, New York
Banner
7075
Conqueror
7185
Shake It Down
5-2-1928
New York, New York
Banner
7128
She Walked Right Up And Took My Man Away


(Lizzie Miles / Babe Thomas / Spencer Williams)

2-24-1922
New York, New York
Okeh
8031-B
Shootin' Star Blues


(Porter Grainger)

1-4-1928
New York, New York
Banner
7025
Slow Up Papa


(Andy Razaf / Paul Denniker)

3-18-1927
New York, New York
Okeh
8456-B
State Street Blues


(Babe Thomas / Spencer Williams)

3-11-1922
New York, New York
Okeh
8032-A
Stranger Blues


(Williams)

10-7-1939
New York, New York
Vocalion
05392
Sweet Smellin' Mama
(Poro Blues)
Accompanied by Rickett's Stars


(Trebor Rollins / Bob Miller)

2-1923
New York, New York
Okeh
8048-B
Sweet Smellin' Mama
(Poro Blues)
Clarence Johnson at the Piano


(Bob Miller)

4-25-1923
New York, New York
Columbia
A3897
Take It, 'Cause It's All Yours
9-1922
New York, New York
Okeh
8040
That's Alright Daddy
10-7-1939
New York, New York
Vocalion
05165
Conqueror
9357
Twenty Grand Blues
10-7-1939
New York, New York
Vocalion
05392
Tell Me Gypsy
2-1923
New York, New York
Emerson
10603
The Black Bottom Blues
Accompanied by Rickett's Stars


(Eddie Heywood)

2-1923
New York, New York
Okeh
8050-B
The Man I Got Ain't The Man I Want
2-27-1930
New York, New York
Victor
23281
The Trixie Blues


(Trixie Smith)

2-1923
New York, New York
Okeh
8049-A
The Yellow Dog Blues


(W.C. Handy)

2-1923
New York, New York
Okeh
8052
Too Slow Blues
2-27-1930
New York, New York
Victor
23298
Trifflin' Man


(Bob Miller)

5-24-1923
New York, New York
Columbia
A3920
Virginia Blues


(Ernie Erdman / Fred Meinken)

3-11-1922
New York, New York
Okeh
8032-B
When You Get Tired Of Your New Sweetie


(Lester Miller)

11-13-1927
New York, New York
Oriole
1118 (b)
Banner
6162
Conqueror
7084
Domino
4099-A
Wicked Blues
(Perry Bradford)
7-1922
New York, New York
Okeh
8037-B
Yellow Dog Gal Blues
2-27-1930
New York, New York
Victor
You Ain't Had No Blues
1-27-1930
New York, New York
Victor
You Can't Have It Unless I Give It To You


(Andy Razaf)

10-12-1927
New York, New York
Oriole
1118 (a)
Conqueror
7082
Domino
4099-B
You're Always Messin' Round With My Man
Piano accompaniment – Clarence Johnson


(Spencer Williams)

5-23-1923
New York, New York
Victor
19083-B
Your Such A Cruel Papa To Me
(A.J. Piron)
6-30-1928
New York, New York
Columbia
14335-D
Your Time Now
3-1923
New York, New York
Emerson
10613
Your Worries Ain't Like Mine
5-2-1928
New York, New York
Banner
7128
You've Gotta Come And See Mama Every Night


(Billy Rose)

2-1923
New York, New York
Emerson
10603

| | |
| --- | --- |
| Artist | Instrument |
| Harry Brooks | Piano |
| Teddy Bunn | Guitar |
| Pops Foster | Bass |
| Porter Grainger | Piano |
| Charlie Grimes | Alto Saxophone |
| Harry Hicks | Trombone |
| Charlie Holmes | Clarinet, Alto Saxophone |
| Louis Hooper | Piano |
| Cliff Jackson | Piano |
| Clarence Johnson | Piano |
| Louis Metcalf | Cornet |
| Bass Moore | Tuba |
| Jelly Roll Morton | Piano |
| King Oliver | Cornet |
| Bob Ricketts | Piano |
| Albert Socarras | Alto Saxophone, Flute |
| Elmer Snowden | Banjo |
| Clarence Williams | Piano |