The story of the Ragtimers is short, brilliant, and the wind-up is anything but happy. It starts in a hospital and ends against a dead end. But in-between there were some great times and great music.
The start of the Swing age found Muggsy Spainer with a comfortable chair in Ben Pollack's Orchestra. For two years he lived gloriously, too gloriously in fact, for on January 29, 1938, he collapsed in New Orleans. Only his terrific will to live and the skill of Dr. Ochsner pulled him through a lengthy stay at the Touro Infirmary, although there were times when it was "certain" he'd never leave again, much less blow his horn.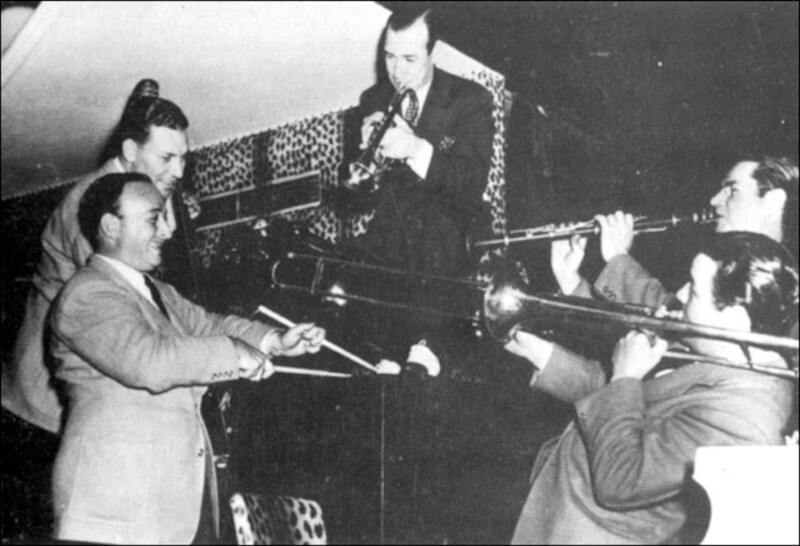 He managed to do both, and the success of his comeback was climaxed when he opened at the Sherman Hotel's Old Town Room on April 29, 1939, with his Ragtime Band. For six months it was wonderful there, but then it was time to move on. They moved to Nick's in New York. But after that there was no place else to go; the band was too small. By 1940 the big, bigger and biggest Swing bands were all the rage, while the Dixieland revival was just cranking up. Muggsy had nothing to do but give in to the times, and he returned to his old meal ticket, Ted Lewis.
"Relaxin' At The Touro", which became the band's theme, was written to commemorate Muggsy's sojourn at that now-famous institution. For many years a myth has been making the rounds about a so-called "First pressing" of the record "Relaxin' At The Touro" being imbedded in a wall at the Touro. Catherine C. Kahn, Touro Infirmary Archivist says that Muggsy was brought into Touro by busboys from the Blue Room, near death, and saved by several fine surgeons: Dr. Donovan Brown, Dr. Gordon McHardy and Dr. Alton Ochsner.
They have numerous memorabilia about Muggsy, photographs taken by Dr. Cohen, when Muggsy returned to the hospital to thank the staff, and Cohen took the famous picture of Muggsy, playing his horn flat on his back on a gurney. What they don't have is a record in the wall or floor. They've never found anyone who has actually seen a record in the wall or floor. They have a plaque on the wall to commemorate Muggsy's stay in the hospital, perhaps that got confused with a record in the wall. —by Verne Buland

Title

Recording Date

Recording Location

Company

At Sundown


(Walter Donaldson)

11-22-1939
New York, New York
Bluebird
B-10719-A
At The Jazz Band Ball
(Larry Shields /Nick LaRocca)
11-10-1939
New York, New York
Bluebird
B-10518-A
Big Butter And Egg Man


(P. Venable / 

Louis Armstrong

)

7-7-1939
Chicago, Illinois
Bluebird
B-10417-B
Bluing The Blues


(Henry Ragas)

11-22-1939
New York, New York
Bluebird
B-10719-B
Dinah


(Sam M. Lewis / Joe Young / Harry Akst)

12-22-1939
New York, New York
Bluebird
B-10682-A
Dipper Mouth Blues
(King Oliver / Louis Armstrong)
11-10-1939
New York, New York
Bluebird
B-10506-A
Eccentric


(J. Russel Robinson)

7-7-1939
Chicago, Illinois
Bluebird
B-10417-A
I Wish I Could Shimmy Like My Sister Kate
(A.J. Piron)
11-10-1939
New York, New York
Bluebird
B-10506-B
Livery Stable Blues
(Ray Lopez / Yellow Nuņez )
11-10-1939
New York, New York
Bluebird
B-10518-B
Lonesome Road


(Gene Austin / Nathaniel Shilkret)

12-22-1939
New York, New York
Bluebird
B-10766-A
Mandy, Make Up Your Mind


(Grant Clarke / Roy Turk / George W. Meyer)

12-22-1939
New York, New York
Bluebird
B-10766-B
Relaxin' At The Touro
(Muggsy Spanier / Joe Bushkin)
11-22-1939
New York, New York
Bluebird
B-10532-A
Riverboat Shuffle
(Mitchell Parish / Hoagy Carmichael / Dick Voynow / Irving Mills)
11-22-1939
New York, New York
Bluebird
B-10532-B
Someday Sweatheart
(Benjamin Spikes / John Spikes / Jelly Roll Morton)
7-7-1939
Chicago, Illinois
Bluebird
B-10384-B
That Da Da Strain


(Medina / Dowell)

7-7-1939
Chicago, Illinois
Bluebird
B-10384-A
(What Did I Do To Be So)
Black And Blue
(Andy Razaf / Fats Waller)
12-22-1939
New York, New York
Bluebird
B-10682-B

| | |
| --- | --- |
| Artist | Instrument |
| Bernie Billings | Tenor Saxophone |
| George Brunis | Trombone, Vocals |
| Joe Bushkin | Piano |
| Nick Caiazza | Tenor Saxophone |
| Don Carter | Drums |
| Bob Casey | Cornet |
| Rod Cless | Clarinet |
| Marty Greenberg | Drums |
| Pat Pattison | Bass |
| Ray McKinstry | Tenor Saxophone |
| Al Sidell | Drums |
| Muggsy Spanier | Cornet |
| George Zack | Piano |