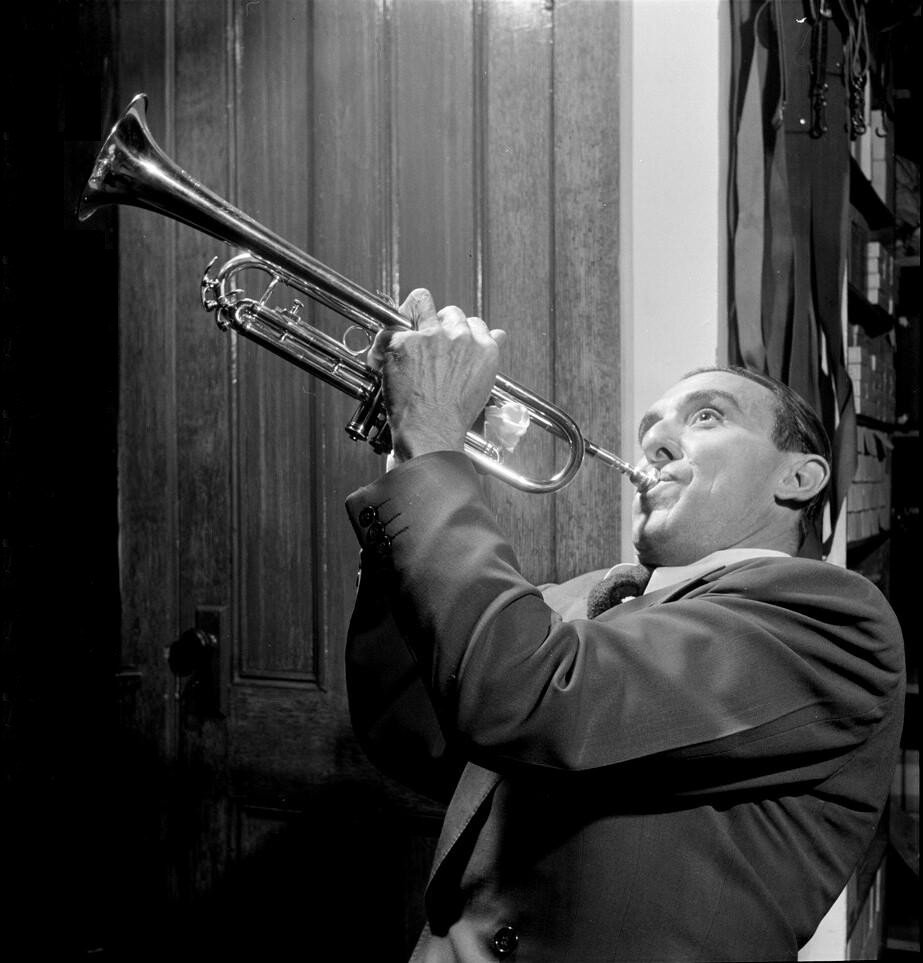 Wingy Manone was a New Orleans trumpet player and vocalist who lost his right arm in a streetcar accident when he was ten years old. He wore a prosthetic arm while on stage performing and used it so well that many never noticed his disability.
He started out playing on Mississippi riverboats and with the Original Crescent City Jazzers. The band later changed their name to the Arcadian Serenaders and he made his recording debut with the group in 1924. He worked in a series of bands (occasionally as a leader) all over the country, before starting his own band Joe Manone's Harmony Kings and recording with them in 1927.
The following year Manone played in Chicago before relocating to New York. In 1929 recorded with Benny Goodman's Boys and then moved back to Chicago and led a band called the Cellar Boys at a club called My Cellar. His 1930 song "Tar Paper Stomp" is the basis for the riff that would later become Glenn Miller's famous "In the Mood".
In 1934 Manone moved back to New York and scored a hit record with "The Isle of Capri" and became a popular attraction. In 1940 Manone moved to Los Angeles and appeared in the Bing Crosby movie "Rhythm on the River", and appeared regularly on Bing's radio shows. When the Crosby show ended he played in Las Vegas and decided to move there and lived there until his death. Wingy stayed active in music and continued to lead and tour with his bands for the rest of his life.

Title

Recording Date

Recording Location

Company

About A Quarter To Nine


(Al Dubin / Harry Warren)

4-8-1935
New York, New York
Vocalion
2934
A Fine Romance


(Jerome Kern / Dorothy Fields)

10-1-1936
New York, New York
Bluebird
B-6606
Afterglow


(Oscar Levant / Buck Ram / Al Stillman)

7-1-1936
New York, New York
Bluebird
B-6483
A Good Man Is Hard To Find


(Eddie Green)

8-20-1936
New York, New York
Bluebird
B-6537-B
A Little Door, A Little Lock, A Little Key


(Harry Woods)

7-5-1935
New York, New York
Vocalion
2989
All My Life
4-9-1936
New York, New York
Bluebird
B-6361-A
A Smile Will Go A Long, Long Way


(Harry Akst / Benny Davis)

8-27-1935
New York, New York
Vocalion
3058
Ain't It A Shame About Mame
(From the Paramount film "Rhythm On The River")


(Johnny Burke / James V. Monaco)

8-6-1940
New York, New York
Bluebird
B-10844-A
And They Said It Wouldn't Last
8-20-1936
New York, New York
Bluebird
B-6549
Annie Laurie


(Traditional)

1-12-1938
New York, New York
Bluebird
B-7389
Basin Street Blues


(Spencer Williams)

5-8-1936
New York, New York
Bluebird
B-6411-A
Beale Street Blues


(W.C. Handy)

6-19-1939
New York, New York
Bluebird
B-10401-A
Montgomery Ward
8351
Black Coffee


(Al Hoffman / Maurice Sigler / Al Goodhart)

5-27-1935
New York, New York
Vocalion
2963
Blue Lou
(Edgar Sampson / Irving Mills)
9-6-1939
New York, New York
Bluebird
B-10749
Boo Hoo


(Edward Heyman / Carmen Lombardo / John Jacob Loeb)

2-4-1937
New York, New York
Bluebird
B-6806-B
Boogie Woogie
4-26-1939
New York, New York
Bluebird
B-10296
Montgomery Ward
8353
Can't Get You Off My Mind
3-25-1949
Los Angeles, California
National
9080
Casey Jones
(The Brave Engineer)


(Seibert / Newton)

4-26-1939
New York, New York
Bluebird
B-10289-A
Montgomery Ward
8354
Corinne Corinna
(Where You Been So Long)


(Williams / Chatman / Parish)

4-26-1939
New York, New York
Bluebird
B-10266-A
Montgomery Ward
8355
Cottage By The Moon


(Samuels / Whitcup / Powell)

8-20-1936
New York, New York
Bluebird
B-6536-A
Dallas Blues


(Lloyd Garrett / Hart Wand)

4-90-1936
New York, New York
Bluebird
B-6375-A
Dinner For The Duchess
8-6-1940
New York, New York
Bluebird
B-10909
Don't Ever Change


(Lou Handman)

5-25-1937
New York, New York
Bluebird
B-7002
Down Stream


(Jack Lawrence)

1-12-1938
New York, New York
Bluebird
B-7391
Downright Disgusted Blues
(Bud Freeman / Terry Shand / Wingy Manone)
4-26-1939
New York, New York
Bluebird
B-10296
Montgomery Ward
8353
Easy Like
(Wingy Manone)
10-1-1936
New York, New York
Bluebird
B-6618
Every Little Moment


(Jimmy McHugh / Dorothy Fields)

5-27-1935
New York, New York
Vocalion
2963
Every Now And Then


(Sam M. Lewis / Abner Silver / Al Sherman)

5-27-1935
New York, New York
Vocalion
3071
Every Once In Awhile


(Mort Dixon)

5-8-1936
New York, New York
Bluebird
B-6393
Everything You Said Came True


(Cliff Friend)

9-28-1937
New York, New York
Bluebird
B-7197
Face On The Bass
3-25-1949
Los Angeles, California
National
9080
Fancy Meeting You


(Yip Harburg / Harold Arlen)

8-20-1936
New York, New York
Bluebird
B-6537-A
Fare Thee, My Baby, Fare Well
6-19-1939
New York, New York
Bluebird
B-10432
Montgomery Ward
8350
Fare The Well, Annabelle


(Allie Wrubel / Mort Dixon)

3-8-1935
New York, New York
Vocalion
2914
Farewell Blues
(Elmer Schoebel / Paul Mares / Leon Rappolo)
6-19-1939
New York, New York
Bluebird
B-10401-A
Montgomery Ward
8351
Flat Foot Floogie


(Slam Stewart / Slim Gaillard / Bud Green)

5-23-1938
New York, New York
Bluebird
B-7621
Montgomery Ward
7516
Floating Down To Cotton Town


(Jack Frost / F. Henri Klickmann)

10-1-1936
New York, New York
Bluebird
B-6605
Formal Night In Harlem
2-4-1937
New York, New York
Bluebird
B-6816
From The Top Of Your Head


(Mack Gordon / Harry Revel)

8-27-1935
New York, New York
Vocalion
3011 B
Getting Some Fun Out Of Life


(Edgar Leslie / Joe Burke)

9-28-1937
New York, New York
Bluebird
B-7197
Goody Goody


(Johnny Mercer / Matty Malneck)

3-10-1936
New York, New York
Vocalion
3191
Heart Of Mine


(Chick Webb / Edward Heyman)

5-23-1938
New York, New York
Bluebird
B-7622
Hesitation Blues
(Oh! Baby Must I Hesitate)


(Smythe / Middleton / Gillham)

5-8-1936
New York, New York
Bluebird
B-6394
How Long Blues
9-6-1939
New York, New York
Bluebird
B-10749
I Ain't Got Nobody


(Roger Graham / Spencer Williams)

9-28-1937
New York, New York
Bluebird
B-7198
I Believe In Miracles


(Sam M. Lewis / Pete Wendling / George W. Meyer)

3-8-1935
New York, New York
Vocalion
2913-A
I Can't Lose That Longing For You


(Mort Dixon)

2-4-1937
New York, New York
Bluebird
B-6804
I Can't Pretend


(Harry Tobias)

10-1-1936
New York, New York
Bluebird
B-6606
If I Could Be With You One Hour Tonight
Vocal chorus by Kay Starr
(Henry Creamer / James P. Johnson)
7-25-1944
New York, New York
ARA
145
(If I Had) Rhythm In My Nursery


(Jimmie Lunceford / Sammy Cahn / Saul Chaplin / Don Raye)

1-28-1936
New York, New York
Vocalion
3158
I Got My Heart Set On You
9-28-1937
New York, New York
Bluebird
B-7214
I Just Made Up With That Old Girl Of Mine


(George McConnell / George A. Little / Harry Pease)

7-1-1936
New York, New York
Bluebird
B-6472-B
Image Of You
5-25-1937
New York, New York
Bluebird
B-7003
I'm A Real Kind Papa


(Rodger Graham / Maceo Pinkard)

4-26-1939
New York, New York
Bluebird
B-10266-B
Montgomery Ward
8355
I'm Gonna Sit Right Down
(And Write Myself A Letter)


(Fred E. Ahlert / Joe Young)

8-27-1935
New York, New York
Vocalion
3058
I'm In Love All Over Again


(Jimmy McHugh / Dorothy Fields)

4-8-1935
New York, New York
Vocalion
2933
I'm Shooting High


(Jimmy McHugh / Ted Koehler)

12-18-1935
New York, New York
Vocalion
3134
In The Barrel
(Louis Armstrong)
6-19-1939
New York, New York
Bluebird
B-10331
Montgomery Ward
8352
In The Groove
(Clarence Williams / D. Wilson)
1-1936
New York, New York
Bluebird
B-6616
In The Land Of Yamo Yamo


(Joe McCarthy / Fred Fisher)

1-12-1938
New York, New York
Bluebird
B-7395-A
Isn't Love The Strangest Ting
5-8-1936
New York, New York
Bluebird
B-6393
Is It True What They Say About Dixie?


( Irving Caesar / Gerald Marks / Sammy Lerner)

3-10-1936
New York, New York
Vocalion
3191
It Can Happen To You


(Joe Young / Fred Ahlert)

8-20-1936
New York, New York
Bluebird
B-6536-B
It Must Be Religion


(Nacio Herb Brown)

5-25-1937
New York, New York
Bluebird
B-7014
It's No Fun


(Milton Ager / Murray Mencher / Charles Newman)

4-9-1936
New York, New York
Bluebird
B-6360
It's The Gypsy In Me


(Harry Tobias)

8-20-1936
New York, New York
Bluebird
B-6549
I've Got A Note


(Eddie Pola)

5-27-1935
New York, New York
Vocalion
3071
I've Got A Feelin' You're Foolin'


(Nacio Herb Brown / Arthur Freed)

10-9-1935
New York, New York
Vocalion
3070
I've Got My Fingers Crossed
From "King Of Burlesque"


(Ted Koehler / Jimmy McHugh)

12-18-1935
New York, New York
Vocalion
3135
Jam And Jive Part 1
8-26-1941
Los Angeles, California
Decca
18325 A
Jam And Jive Part 2
8-26-1941
Los Angeles, California
Decca
18325 B
Jam And Jive Part 3
8-26-1941
Los Angeles, California
Decca
18326 A
Jam And Jive Part 4
8-26-1941
Los Angeles, California
Decca
18326 B
Jam And Jive Part 5
8-26-1941
Los Angeles, California
Decca
18327 A
Jam And Jive Part 6
8-26-1941
Los Angeles, California
Decca
18327 B
Jazz Me Blues


(Tom Delaney)

9-28-1937
New York, New York
Bluebird
B-7198
Jumpy Nerves
(Wingy Manone / Jimmy Dale)
4-26-1939
New York, New York
Bluebird
B-10289-B
Montgomery Ward
8354
Just One Girl


(Terry Shand)

10-3-1934
New York, New York
Okeh
41569
Laugh Your Way Through Life


(Mack Gordon / Harry Revel)

9-28-1937
New York, New York
Bluebird
B-7214
Let's Break The Good News


(Joe Davis / Paul Denniker)

5-23-1938
New York, New York
Bluebird
B-7633
Let's Spill The Beans


(Mack Gordon / Harry Revel)

4-8-1935
New York, New York
Vocalion
2934
Let's Swing It


(Murray Mencher / Harry Tobias / Charles Newman)

7-5-1935
New York, New York
Vocalion
2990
Let Me Call You Sweetheart


(Leo Friedman / Beth Slater Whitson)

1-1936
New York, New York
Bluebird
B-6618
Life With Out You
5-25-1937
New York, New York
Bluebird
B-7003
Limehouse Blues


(Furber / Braham)

6-19-1939
New York, New York
Bluebird
B-10432
Montgomery Ward
8350
Little Joe From Chicago


(Mary Lou Williams / Henry Wells)

5-23-1938
New York, New York
Bluebird
B-7622
Loch Lomond


(Traditional)

1-12-1938
New York, New York
Bluebird
B-7389
Love And Kisses


(Silvers)

7-5-1935
New York, New York
Vocalion
2989
Lulus Back In Town


(Al Dubin / Harry Warren)

5-27-1935
New York, New York
Vocalion
2972
Mamma's Gone Goodbye
(Peter Bocage / A.J. Piron)
3-19-1941
New York, New York
Bluebird
B-11107-B
Mannone Blues
(Wingy Manone)
5-23-1938
New York, New York
Bluebird
B-7633
Martha
5-23-1938
New York, New York
Bluebird
B-7621
Montgomery Ward
7516
My Honey's Lovin' Arms


(Herman Ruby / Joseph Meyer)

New York, New York
Bluebird
30-0801-A
My Mariuccia Take A Steamboat
1-12-1938
New York, New York
Bluebird
B-7395-B
Nickel In The Slot
(Wingy Manone / Irving Mills)
1-15-1935
New York, New York
Vocalion
3171
Okeh
41573
No Calling Card
(Wingy Manone)
5-2-1934
New York, New York
Brunswick
6911
No Regrets


(Harry Tobias / Roy Ingraham)

7-1-1936
New York, New York
Bluebird
B-6473-A
Oh Say Can You Swing


(Stillman / Hyde / Adlam)

2-4-1937
New York, New York
Bluebird
B-6806-A
Ol' Man Mose
(Louis Armstrong / Zilmer Randolph)
1-28-1936
New York, New York
Vocalion
3159
On The Good Ship Lollipop


(Richard Whiting / Sidney Clare)

3-8-1935
New York, New York
Vocalion
2914
Orchi Chornya
3-19-1941
New York, New York
Bluebird
B-11298
Panama


(William H. Tyers)

5-8-1936
New York, New York
Bluebird
B-6411-B
Please Believe Me


(Larry Yoell)

1-28-1936
New York, New York
Vocalion
3159
Prisoner's Song


(Guy Massey)

5-25-1937
New York, New York
Bluebird
B-7014
Put On Your Old Grey Bonnet
1-15-1940
New York, New York
Bluebird
B-10604
Rhythm Is Our Business


(Jimmie Lunceford / Sammy Cahn / Saul Chaplin)

7-5-1935
New York, New York
Vocalion
2990
Rhythm On The River
(From the Paramount film "Rhythm On The River")


(Johnny Burke / James V. Monaco)

8-6-1940
New York, New York
Bluebird
B-10844-B
Rhythm Saved The World


(Sammy Cahn / Saul Chaplin)

4-9-1936
New York, New York
Bluebird
B-6360
River Man
7-1-1936
New York, New York
Bluebird
B-6483
Royal Garden Blues
(Clarence Williams / Spencer Williams)
10-3-1934
New York, New York
Okeh
41570
Royal Garden Blues
(Clarence Williams / Spencer Williams)
6-19-1939
New York, New York
Bluebird
B-10331
Montgomery Ward
8352
Send Me
(Wingy Manone)
5-2-1934
New York, New York
Brunswick
6940
She's Crying For Me


(Santo Pecora)

10-3-1934
New York, New York
Okeh
41569
She's Crying For Me


(Santo Pecora)

1-15-1940
New York, New York
Bluebird
B-10773
Shoe Shine Boy


(Sammy Cahn / Saul Chaplin)

3-10-1936
New York, New York
Vocalion
3192
Sing Me A Swing Song
(And Let Me Dance)
(Hoagy Carmichael / Stanley Adams)
5-8-1936
New York, New York
Bluebird
B-6394
South With The Boarder
1-15-1940
New York, New York
Bluebird
B-10604
Stop The War
(The Cats Are Killin' Themselves)
(Wingy Manone)
3-19-1941
New York, New York
Bluebird
B-11107-A
Sudan
9-6-1939
New York, New York
Bluebird
B-10560-B
Sweet And Low


(Al Dubin / Harry Warren)

5-27-1935
New York, New York
Vocalion
2972
Strange Blues
(Wingy Manone)
5-2-1934
New York, New York
Brunswick
6911
Summer Holiday


(Larry Conley / Johnny Marvin)

7-1-1936
New York, New York
Bluebird
B-6473-B
Swing, Brother, Swing
(Walter Bishop / Clarence Williams / Lewis Raymond)
1-15-1935
New York, New York
Vocalion
3171
Okeh
41573
Sweet Lorraine


(Mitchell Parish / Cliff Burwell)

2-4-1937
New York, New York
Bluebird
B-6816
Swingin' At The Hickory House
(Wingy Manone)
4-9-1936
New York, New York
Bluebird
B-6375-B
Takes Two To Make A Bargin


(Mack Gordon / Harry Revel)

8-27-1935
New York, New York
Vocalion
3011 B
The Boogie Beat'll Getcha
3-19-1941
New York, New York
Bluebird
B-11298
The Broken Record


(John Bunch / Cliff Friend / Harry Tobias)

1-28-1936
New York, New York
Vocalion
3159
The General Jumped At Dawn
7-25-1944
New York, New York
ARA
143-B
The Mosquito Blues
1-15-1940
New York, New York
Bluebird
B-10773
The Music Goes 'Round and 'Round


(Mike Riley / Eddie Farley / Red Hodgson)

12-18-1935
New York, New York
Vocalion
3134
The Isle Of Capri


(Jimmy Kennedy / Wilhelm Grosz)

3-8-1935
New York, New York
Vocalion
2913-B
Vocalion
4464


17005-2

Tin Roof Blues
(New Orleans Rhythm Kings)
7-25-1944
New York, New York
ARA
145
Tormented


(Will Hudson)

4-9-1936
New York, New York
Bluebird
B-6359-B
Montgomery Ward
4883
Walkin' The Streets
(Till My Baby Comes Home)
(Wingy Manone)
5-2-1934
New York, New York
Brunswick
6940
Walkin' The Streets
(Till My Baby Comes Home)
(Wingy Manone)
3-8-1935
New York, New York
Vocalion
4464
West Wind
Vocal Chorus by Wingy Mannone


(Milton Ager / Murray Mencher / Charles Newman)

3-10-1936
New York, New York
Vocalion
3192
When I Get You Alone Tonight


(Joe Goodwin)

8-6-1940
New York, New York
Bluebird
B-10909
When My Sugar Walks Down The Street
(Gene Austin / Jimmy McHugh / Irving Mills)
New York, New York
Bluebird
30-0801-B
When The Saints Go Marching In


(Traditional)

9-6-1939
New York, New York
Bluebird
B-10560-A
Where's The Waiter
(Wingy Manone)
1-12-1938
New York, New York
Bluebird
B-7391
You Are My Lucky Star
10-9-1935
New York, New York
Vocalion
3070
You Let Me Down
From "Stars Over Broadway"


(Al Dubin / Harry Warren)

12-18-1935
New York, New York
Vocalion
3135
You Showed Me The Way


(Ella Fitzgerald / Chick Webb, Bud Green / Teddy McRae)

2-4-1937
New York, New York
Bluebird
B-6804
You Started Me Dreaming


(Benny Davis / J. Fred Coots)

4-9-1936
New York, New York
Bluebird
B-6359-A
Montgomery Ward
4883
You're An Angel


(Jimmy McHugh / Dorothy Fields)

4-8-1935
New York, New York
Vocalion
2933
You're Not The Kind
(Will Hudson / Irving Mills)
7-1-1936
New York, New York
Bluebird
B-6472-A
You're Precious To Me
5-25-1937
New York, New York
Bluebird
B-7002
Zero


(Santo Pecora / Charles Newman)

10-3-1934
New York, New York
Okeh
41570

| | |
| --- | --- |
| Artist | Instrument |
| Gil Bowers | Piano |
| George Brunis | Trombone, Vocals |
| Horace Diaz | Piano |
| Bud Freeman | Tenor Saxophone |
| Harry Goodman | Bass |
| Nappy Lamare | Guitar |
| Conrad Lanoue | Piano |
| Tommy Mace | Alto Saxophone |
| Wingy Manone | Cornet, Vocals |
| Joe Marsala | Clarinet |
| Carmen Mastren | Guitar |
| Matty Matlock | Clarinet |
| Carmen Mastren | Guitar |
| Johnny Mercer | Vocals |
| Eddie Miller | Tenor Saxophone |
| Artie Shapiro | Bass |
| Jack Teagarden | Trombone, Vocals |
| Sam Weiss | Drums |
| Sid Weiss | Bass |
| Under Construction | Banjo, Guitar, Bass Brass, Cornet, Drums, Tenor Saxophone, Alto Saxophone, Piano, Vocals, Trombone, Trumpet, Banjo |