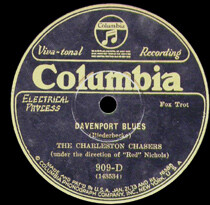 The Charleston Chasers recording sessions were often a pseudonym for 
Red Nichols Five Pennies
, but the name was used by Columbia for various other outfits including the 
Original Memphis Five
. The Charleston Chasers records had an all-star cast of musicians and even featured several fine vocal recordings. 
Eva Taylor
 does a great version of "
Moanin' Low
" and 
Jack Teagarden
 contributes a nice version of "
Beale Street Blues
".
Thanks to Bob Palmer for his help with this page.

Title

Recording Date

Recording Location

Company

After You've Gone


(Henry Creamer / J. Turner Layton)

1-4-1927
New York, New York
Columbia
861-D
Ain't Misbehavin'
(from "Connie's Hot Chocolates")
(Andy Razaf / Harry Brooks / Fats Waller)
6-28-1929
New York, New York
Columbia
1891-D
Basin Street Blues
Under The Direction of Benny Goodman


(Spencer Williams)

2-9-1931
New York, New York
Columbia
2415-D
Okeh
41577
Beale Street Blues
Under The Direction of Benny Goodman


(W.C. Handy)

2-9-1931
New York, New York
Columbia
2415-D
Okeh
41577
Cinderella Brown


(Dorothy Fields / Jimmy McHugh)

2-20-1930
New York, New York
Columbia
2133-D
Davenport Blues
Under the Direction of Red Nichols
(Bix Beiderbecke)
2-25-1927
New York, New York
Columbia
909-D
Delirium
(Arthur Schutt)
5-18-1927
New York, New York
Columbia
1076-D
Farewell Blues
(Paul Mares / Leon Roppolo / Elmer Schoebel)
2-25-1927
New York, New York
Columbia
1539-D
Feeling No Pain
Under the Direction of Red Nichols


(Fud Livingston)

9-8-1927
New York, New York
Columbia
1229-D
Five Pennies
(Red Nichols)
9-6-1927
New York, New York
Columbia
1229-D
Here Comes Emily Brown


(Con Conrad / Jack Meskill)

5-26-1930
New York, New York
Columbia
2219-D
Imagination


(Fud Livingston)

9-8-1927
New York, New York
Columbia
1260-D
I'm Gonna Meet My Sweetie Now


(Benny Davis / Jessie Greer)

2-14-1927
New York, New York
Columbia
Loud Speaking Papa


(Jack Yellen / Lew Pollack)

8-28-1925
New York, New York
Columbia
446-D
Lovable And Sweet


(Claire / Levant)

7-24-1929
New York, New York
Columbia
1925-D
Loving You The Way I Do


(Eubie Blake / Jack Scholl)

9-30-1930
New York, New York
Columbia
2309-D
Moanin' Low
(from "The Little Show")


(Dietz / Rainger)

6-28-1929
New York, New York
Columbia
1891-D
Mississippi Mud


(Harry Barris)

3-7-1928
New York, New York
Columbia
1335-D
My Gal Sal


(Paul Dresser)

5-18-1927
New York, New York
Columbia
1539-D
My Melancholy Baby


(Norton / Burnett)

3-7-1928
New York, New York
Columbia
1335-D
One Sweet Letter From You


(Warren / Brown / Clare)

2-14-1927
New York, New York
Columbia
Red Hair And Freckles


(Howard Deietz / Jessie Deppen)

7-24-1929
New York, New York
Columbia
1925-D
Red Hot Henry Brown


(Fred Rose)

8-28-1925
New York, New York
Columbia
446-D
Sing, You Sinners
(Theme Song, "Honey")


(Sam Coslow / Franke E. Harling)

2-20-1930
New York, New York
Columbia
2133-D
Someday Sweetheart
(Benjamin Spikes / John Spikes / Jelly Roll Morton)
1-4-1927
New York, New York
Columbia
861-D
Sugar Foot Strut


(Pierce / Meyers / Schwab)

9-6-1927
New York, New York
Columbia
1260-D
Turn On The Heat
Talkie Hit from Motion Picture "Sunny Side Up"


(Buddy DeSylva / Lew Brown / Ray Henderson)

9-28-1929
New York, New York
Columbia
1989-D
Wabash Blues
Under the Direction of Red Nichols


(Dave Ringle / Fred Meinken)

2-25-1927
New York, New York
Columbia
909-D
Walkin' My Baby Back Home


(Roy Turk / Fred Ahlert)

2-9-1931
New York, New York
Columbia
2404-D
Wasn't It Nice?
5-26-1930
New York, New York
Columbia
2219-D
What I Wouldn't Do For That Man?
(Talkie Hit from Motion Picture "Applause" and "Glorifying The American Girl")


(Harburg / Gorney)

9-28-1929
New York, New York
Columbia
1989-D
When Your Lover Has Gone


(Swan)

2-9-1931
New York, New York
Columbia
2404-D
You're Lucky To Me


(Eubie Blake / Andy Razaf)

9-30-1930
New York, New York
Columbia
2309-D

| | |
| --- | --- |
| Artist | Instrument |
| Vic Berton | Drums |
| Larry Binyon | Tenor Saxophone |
| Tony Colucci | Banjo |
| Jimmy Dorsey | Clarinet, Alto Saxophone |
| Tommy Dorsey | Trombone |
| Roy Evans | Vocals |
| Benny Goodman | Clarinet |
| Harry Goodman | Bass |
| Lennie Hayton | Piano, Celeste |
| Jack Hansen | Tuba |
| Dick Johnson | Clarinet, Alto Saxophone, Music Director |
| Stan King | Drums |
| Carl Kress | Guitar |
| Gene Krupa | Drums |
| Scrappy Lambert | Vocals |
| Ward Lay | Bass |
| Craig Leach | Vocals |
| Fud Livingston | Clarinet, Tenor Saxophone |
| Leo McConville | Trumpet |
| Dick McDonough | Banjo, Guitar, Piano |
| Glenn Miller | Trombone, Arranger |
| Miff Mole | Trombone |
| Phil Napoleon | Trumpet |
| Red Nichols | Cornet, Trumpet, Music Director |
| Pee Wee Russell | Clarinet |
| Babe Russin | Tenor Saxophone |
| Arthur Schutt | Piano, Harmonium |
| Frank Signorelli | Piano |
| Paul Small | Vocals |
| Kate Smith | Vocals |
| Sid Stoneburn | Alto Saxophone |
| Joe Tarto | Tuba, Bass |
| Eva Taylor | Vocals |
| Charlie Teagarden | Trumpet |
| Jack Teagarden | Trombone, Vocals |
| Dave Tough | Drums |
| Ruby Weinstein | Trumpet |