Despite inclement weather, attendance at the 2017 New Orleans Jazz & Heritage Festival was announced as 425,000, the same as 2016, but under the record 650,000 in 2001.
A British jazz writer gave her impressions of the event, writing: "Energy was racing through the town, and we were out of control, swept along by the fast stream of funk. One day when we were watching the Caesar Brothers, sitting satisfyingly exhausted and glowing on the trodden grass, the band started familiarly chanting 'Feet don't fail me now, feet don't fail me now.' That was the kick I needed to get my second, third and fourth wind. I don't take this experience for granted, and I certainly wasn't going to take it lying down.
"New Orleans somehow manages to keep a tight hold on heritage, yet it also improvises and evolves into newer depths. I hope this city always stays true to the sound of its streets and continues to celebrate through its festivals, because from the small parts of the world I've seen, this combination is something truly unique."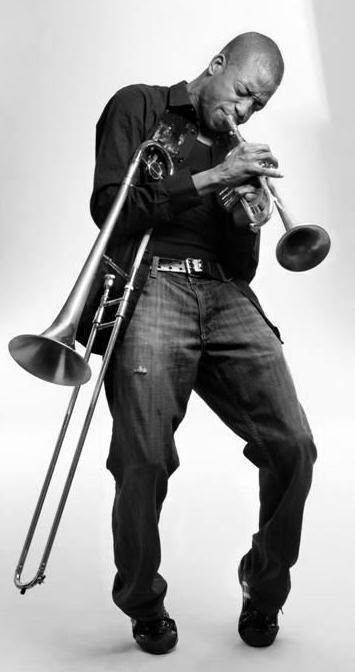 Troy "Trombone Shorty" Andrews is being called "the new king of the Jazz Fest" for bringing the tradition of New Orleans music and musicians to a new and younger audience. April 27-May 6 are the dates for the 2018 event.
Another NOLA extravaganza, the 17th annual Satchmo SummerFest will move back to the Old U.S. Mint when it returns August 4-6. The annual festival relocated to Jackson Square last year, but after reviewing the results and attendee feedback, the sponsors decided to return to its old location. This year's bill will include performances by over 100 artists representing New Orleans brass bands and jazz output. Founded in 2001, Satchmo SummerFest celebrates the life, legacy and music of Louis Armstrong, whose birthday coincides with the event. Admission is a very reasonable $5.
♫ ♫ ♫ ♫ ♫
The 2017 Sacramento Music Festival went really well, with attendance topping 20,000 over Memorial Day weekend, according to reports from California's capitol city. Plans are underway for the 45th edition—May 25-28, 2018—with the announcement that Eddie Erickson will serve as Emperor.
♫ ♫ ♫ ♫ ♫
The Cleveland Classic Jazz Party, with another stellar lineup of all-stars, will be held in a new venue come September 14-17—the Wyndham Hotel in Playhouse Square, in the heart of downtown Cleveland. Playhouse Square is Cleveland's theatre district, with numerous nearby restaurants and shopping, and is the second largest performing arts center in the country, after Lincoln Center in New York City. A nice added feature this year is a Jazz Party Lounge where patrons can mingle with the musicians and fellow patrons.
♫ ♫ ♫ ♫ ♫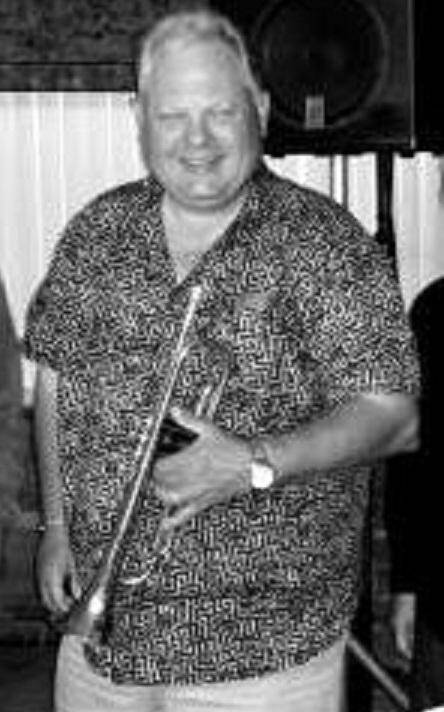 Dave Tatrow, the intrepid leader of Wally's Warehouse Waifs JB, capped off 45 years as a Village Manager when he retired on May 17 from that position for the Village of Reese, Michigan after nearly six years. He previously similarly served the Village of Otisville, Michigan, for 39 years. He's been contemplating such a move for some time, saying, "I believe that I'll be able to slide right into the retirement mode with no problems at all, especially that part about sleeping late in the morning."
♫ ♫ ♫ ♫ ♫
When you're on a roll, why not keep things going. After two successful camps, co-directors Molly Ryan and Bria Skonberg enthusiastically announced the dates for the third annual New York Hot Jazz Camp: April 2-8, 2018. Bria's latest CD, With A Twist, was released in late May. This gal just keeps turning 'em out.
♫ ♫ ♫ ♫ ♫
Jazz at Lincoln Center has asked Ricky Riccardi to curate a playlist of 20 essential Louis Armstrong recordings for Spotify. The archivist at the Louis Armstrong House Museum states, "It's the hardest thing I ever done. There's going to be 100 or more that could easily make the list. I'll be sharing the results soon."
♫ ♫ ♫ ♫ ♫
The annual Teagarden Jazz Camp sponsored by the Sacramento Traditional Jazz Society kicks off this month with two weekly sessions: July 23-29 and July 31-August 6. The focus of the camp is on old school jazz where students form stylized jazz bands and rehearse a repertoire based on transposed lead sheets—not written arrangements. Dixieland/Swing ensemble fundamentals are stressed as well as solo improvisation. Music theory, especially harmony, is addressed as it applies to playing in these styles. It all takes place at Pollock Pines, high in the Sierra Nevada Mountains, 60 miles east of Sacramento.
♫ ♫ ♫ ♫ ♫
Linda and Mike Foley celebrated their 28th wedding anniversary on May 25. Mike was the longtime head of operations for what was then called the Sacramento Dixieland Jazz Jubilee, which meant he headed up the crew that set up all the tents and venues for the annual Memorial Day weekend event.
Since both were longtime Sacramento Traditional Jazz Society members and Jubilee workers, Linda and Mike decided to hold the ceremony at the Turntable Junction site in Old Sac on the night before (Thursday) the opening of the 1989 festival. Retiring director Bill Borcher and incoming director Roger Krum gave their blessing for the marriage ceremony to take place at The Junction, which was a tent set up next to the railroad tracks on the banks of the Sacramento River, not far from the California State Railroad Museum. According to Mike, 800 folks were invited, and about 1,500 showed up to give the couple a jazzy sendoff for their years of wedded bliss.
♫ ♫ ♫ ♫ ♫
The reed-playing Anderson twins, Pete and Will, have returned from a seven-week, cross-country tour of performing arts centers and schools. Their on-line fundraising campaign brought in over $24,000 from 200 contributors to produce a CD honoring one of their mentors, Joe Temperley, and to create a scholarship fund in Temperley's name for saxophone students at The Julliard School. The CD release show for Blues for Joe was held last month at Dizzy's Club Cocoa Cola at Jazz at Lincoln Center in New York City.
The Andersons are back on the road this month, mainly in New England, before returning to the West Coast in September. During August, they will be leading a four-week run of 31 shows in the big theater at 59E59 Theatres in the Big Apple when they will celebrate the Great American Songbook. Each week they will feature the compositions of a different composer: Cole Porter, Harold Arlen, George Gershwin, and Richard Rodgers. For more info and discounted tickets, check 59E59.org.
♫ ♫ ♫ ♫ ♫
For the swing dancers and lindy hoppers, two competitions are scheduled for New York City in the Fall: Empire City Swing, Oct. 6-8, with the dance competitions at the Manhattan Ballroom on West 36th Street, and the American Lindy Hop Championships, celebrating its 20th anniversary in Harlem Oct. 26-29.
♫ ♫ ♫ ♫ ♫
His full name is William Henry Joseph Bonaparte Bertholoff Smith, but he is better known as Willie "The Lion" Smith. Legend has it that his nickname came from his reported bravery while serving as a heavy artillery gunner in World War I. He was a decorated veteran of the 350th Field Artillery, a regiment of Buffalo Soldiers. He is considered one of the masters of stride piano along with James P. Johnson and Thomas "Fats" Waller from the Golden Age of the genre (1920-1943). Two of his better known compositions are "Echoes of Spring" and "Fingerbuster."
♫ ♫ ♫ ♫ ♫
How did we ever survive without all the important information that is now being shared on Facebook. I just read that Raymond Burr, the late, great television star, had a brother who was a lumberjack. His name was Tim. I always thought his brother was Perry Mason.
♫ ♫ ♫ ♫ ♫
Signs of Our Times: Geoff Colvin, one of my favorite writers on business trends, recently wrote in Fortune Magazine: "Airbnb is the world's latest provider of accommodations, but owns no real estate. Uber is the world's largest car service, but owns no cars."
---
Online Only
For Online Only Access without delivery of the print paper sign up below.
Subscription Options
---
Print Edition
 If you'd like the PRINT EDITION, (12 monthly issues) use the following PayPal link. After your payment is complete you will be allowed to create an online account. You will receive the next mailed copy, usually shipping around the 22nd of the month. See a PDF Sample Here.