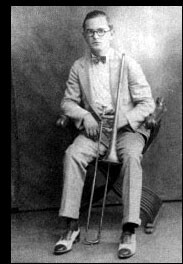 Miff Mole
 and his Molers was basically a pseudonym for 
Red Nichols Five Pennies
. They used this name when recording for the Okeh Company. 
Red Nichols
 and Miff Mole were one of the most prolific recording teams in the 1920s. Their cool, thoughtful style sometimes called the New York School or Chamber Jazz, left many Jazz critics and musicians cold, but in retrospect I think you can hear that they were on to something. In many ways they were exploring similar ideas as George Gershwin was, but in a more hip and swinging way.
Their version of "Imagination" is a successful example of what they were trying to do. It might not be the hottest Jazz in the world, but it is very chic and urbane, a little time capsule of 1920's sophistication. Things got a little rougher when the Austin High Gang blew into town fresh from Chicago on the 1929 tracks, with "Shim-Me-Sha-Wabble" and "Windy City Stomp". Four other Molers songs were released as Sophie Tucker accompanied by Miff Moles Molers.
It is interesting to note that the song "Crazy Rhythm" features the unusual instrument the mellophone. Dudley Fosdick was the mellophonist, and it was a sort of alto horn, pitched in Eb. The Molers 1928 recording of "Crazy Rhythm" is always a "fooler" for noticers who try to figure out if it's a valve trombone or something – the mellophone sounds kind of like a low cornet with bad head cold.
Fosdick spent much of his post Red Nichols career with Guy Lombardo, and until the end of Lombardo Band under Guy's leadership, the second trumpet book required mellophone "double". – Mark Heter

Title

Recording Date

Recording Location

Company

After You've Gone


(Henry Creamer / J. Turner Layton)

9-24-1929
New York, New York
Okeh
41445
A Hot Time In The Old Town Tonight


(Metz)

3-7-1927
New York, New York
Okeh
40784-A
Alexander's Ragtime Band


(Irving Berlin)

1-26-1927
New York, New York
Okeh
40758-A
Birmingham Bertha
(From Motion Picture-"On With The Show")


(Harry Akst / Grant Clarke)

7-12-1929
New York, New York
Okeh
41273
Crazy Rhythm
(From "Here's Howie")


(Meyer / Kahn)

7-27-1928
New York, New York
Okeh
41098
Davenport Blues
(Bix Beiderbecke)
3-7-1927
New York, New York
Okeh
40848
Feelin' No Pain


(Fud Livingstone)

8-30-1927
New York, New York
Okeh
40890
Harlem Twist


(Fud Livingston / Chauncey Morehouse)

New York, New York
Honolulu Blues


(Goldstein)

9-1-1927
New York, New York
Okeh
40984
Hurricane


(Paul Mertz)

1-26-1927
New York, New York
Okeh
40848
I Can't Break The Habit Of You


(Razaf / Beal / Causer)

2-10-1937
New York, New York
Vocalion
3468


20692-1

I Can't Break The Habit Of You


(Razaf / Beal / Causer)

2-10-1937
New York, New York
Vocalion
3468


20692-2

Imagination


(Fud Livingston)

8-30-1927
New York, New York
Okeh
40890
I've Got A Feeling I'm Falling
(Link / Fats Waller)
4-19-1929
New York, New York
Okeh
41232
Love And Learn


(Heyman / Schwartz)

2-10-1937
New York, New York
Vocalion
3468
Lucky Little Devil


(Mort Dixon / Harry Woods)

2-6-1930
New York, New York
Odeon
36043


490037-1

Lucky Little Devil


(Mort Dixon / Harry Woods)

2-6-1930
New York, New York
Okeh
41371


490037-2

Moanin' Low
(From Musical – "The Little Show")


(Dietz / Rainger)

7-12-1929
New York, New York
Okeh
41273
My Gal Sal


(Paul Dresser)

9-1-1927
New York, New York
Okeh
40932
Navy Blues


(Turk / Ahlert)

2-6-1930
New York, New York
Okeh
41371


490036-1

Navy Blues


(Turk / Ahlert)

2-6-1930
New York, New York
Odeon
36043


490036-2

Original Dixieland One-Step
(Nick LaRocca)
8-30-1927
New York, New York
Okeh
40932
Shim-Me-Sha-Wabble


(Spencer Williams)

7-6-1928
New York, New York
Okeh
41445
Some Sweet Day


(Rose / Jackson / Olman)

1-26-1927
New York, New York
Okeh
40758-B
That's A Plenty


(Lew Pollack)

4-19-1929
New York, New York
Okeh
unissued


W401816-A

That's A Plenty


(Lew Pollack)

4-19-1929
New York, New York
Okeh
41232


W401816-B

That's A Plenty


(Lew Pollack)

4-19-1929
New York, New York
Okeh
unissued


W401816-C

The Darktown Strutter's Ball


(Shelton Brooks)

3-7-1927
New York, New York
Okeh
40784-B
The New Twister


(Lillard / Krise)

9-1-1927
New York, New York
Okeh
40984
Wild Oat Joe
(From – "The New" American)


(Kahn)

11-26-1928
New York, New York
Okeh
41153
Windy City Stomp
7-6-1928
New York, New York
HRS
You Made Me Love You
9-24-1929
New York, New York
Okeh
You Took Advantage Of Me


(Rodgers)

7-27-1928
New York, New York
Okeh
41098
You're The Cream In My Coffee
(From The Musical "Hold Everything")


(Buddy De Sylva / Lew Brown / Ray Henderson)

11-26-1928
New York, New York
Okeh
41153