It may have been the traditional jazz equivalent of a happy accident. The New Orleans jazz band Tuba Skinny couldn't make its date for Switzerland's Internationales Jazzfestival Bern in 2020. The venue, Marians Jazzroom, reached out to Mike Davis, cornetist extraordinaire and leader of The New Wonders, inquiring if he could cover the gig with a band from New York. He had previously played the jazz festival in 2019 with the Terry Waldo Sextet.
Only there was a few "small" problems—first, Davis doesn't play New Orleans-style music like Tuba Skinny. The New Wonders is firmly rooted in the authentic sounds of 1920s New York jazz inspired by the likes of Bix Beiderbecke and Red Nichols.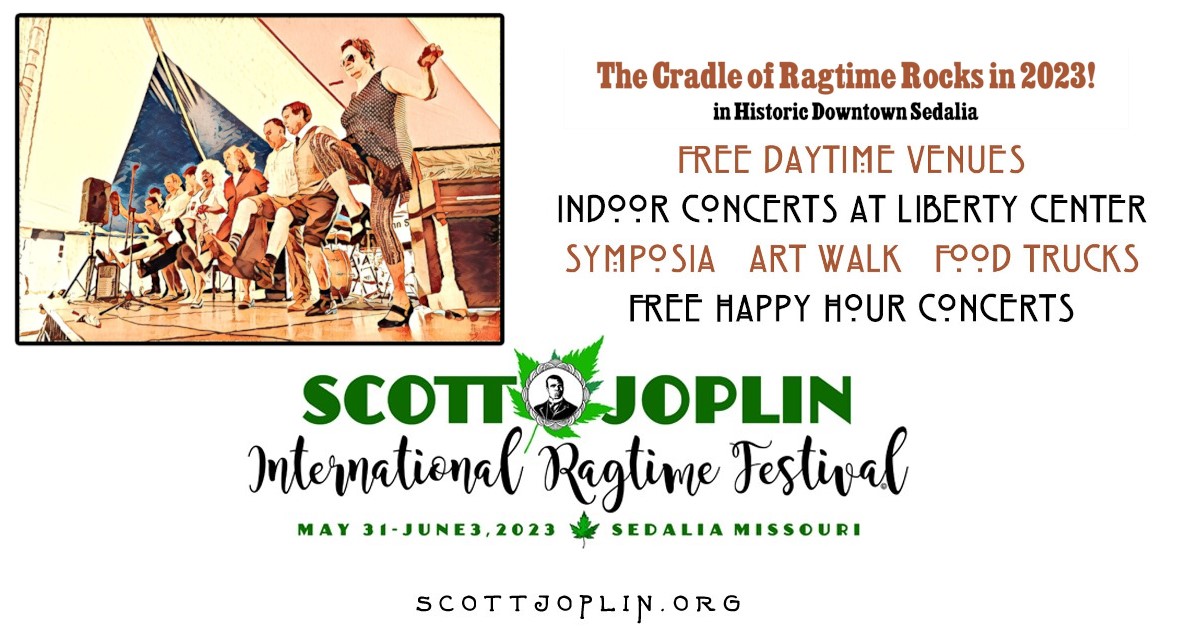 "I said I can get you whoever," Davis told The Syncopated Times from his home in New York City. "I have a band called The New Wonders, that does jazz from the 1920s. They looked at videos of us and said that people bought tickets to Tuba Skinny and we don't think they will like it if we have a band that mostly reads arrangements. We don't like that look. Can you put something else together?"
Like assembling The Avengers or picking agents for Mission: Impossible, Davis had to find the right people with the right skills.
"It was basically like I could chose whoever I wanted. Five nights in his club which is in the hotel, my favorite arrangement. I thought about what six friends do I want to bring with me to party in a hotel all week in Switzerland," Davis said.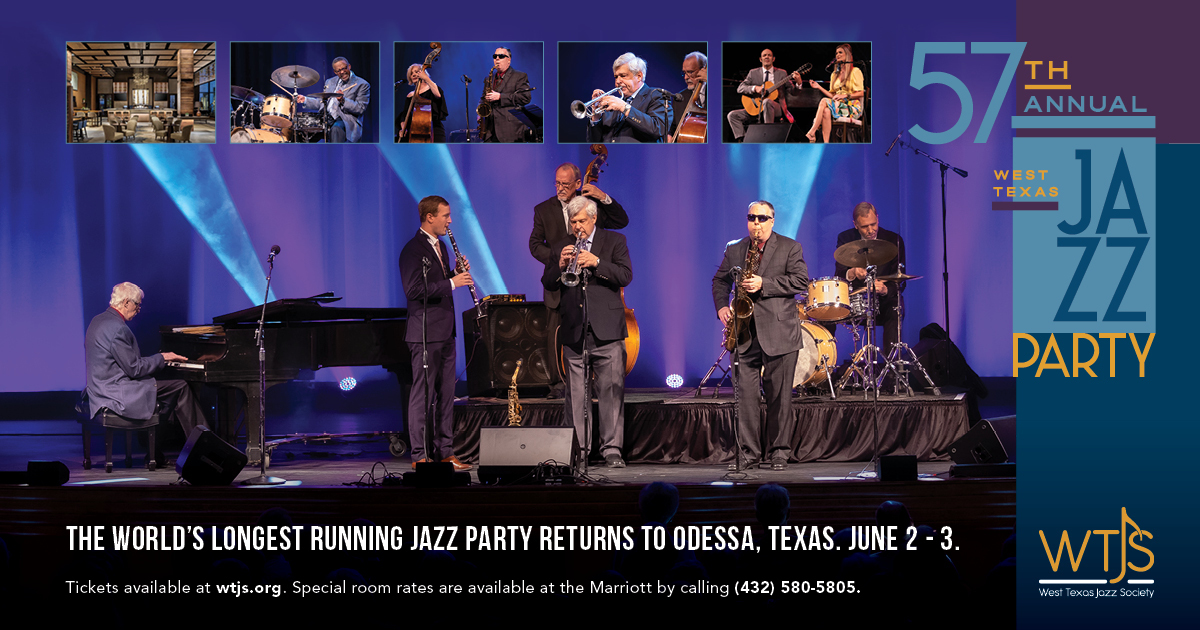 In the end, Davis tapped Ricky Alexander, reeds, Josh Holcomb, trombone, Jared Engel, banjo, Jay Rattman, baritone sax, Andy Schumm, piano and Colin Hancock, drums. Engel and Rattman were members of The New Wonders. Davis had crossed musical paths with the rest and he believed they would blend well together. They all shared the same sensibilities and taste in traditional jazz.
Together, these men formed a new band, a vintage supergroup, called Mike Davis' New York Classic Seven.
"It was a process of thinking if I have so-and-so on this instrument, who will I get to play that instrument, "Davis explained. "That's how we ended up with Colin on drums even though he's a cornetist. I really like playing with Ricky. He plays great reeds so I want him on this. I also specifically wanted to play with Andy on piano because he plays a style of piano that is almost lost. There isn't even a name for it. It's not stride and sometimes it's called novelty piano. It is classically influenced and very clean."
With band members in place, a bigger problem cropped up—the global COVID-19 pandemic postponed the festival for an entire year.
"For all of the months leading up to October 2021, it was like 'are we really going to go' and all of the guys were asking if we were still going and all I could tell them was that I didn't know," Davis said.
Thankfully, the festival went on as planned and the New York Classic Seven checked into the Hotel Innere Enge, the site of Marians Jazzroom in Bern, ready to play traditional New York style jazz for an audience who had been expecting a New Orleans sound.
While he was okay ditching the sheet music for the concerts, Davis had to change the expectations about what tunes he would choose.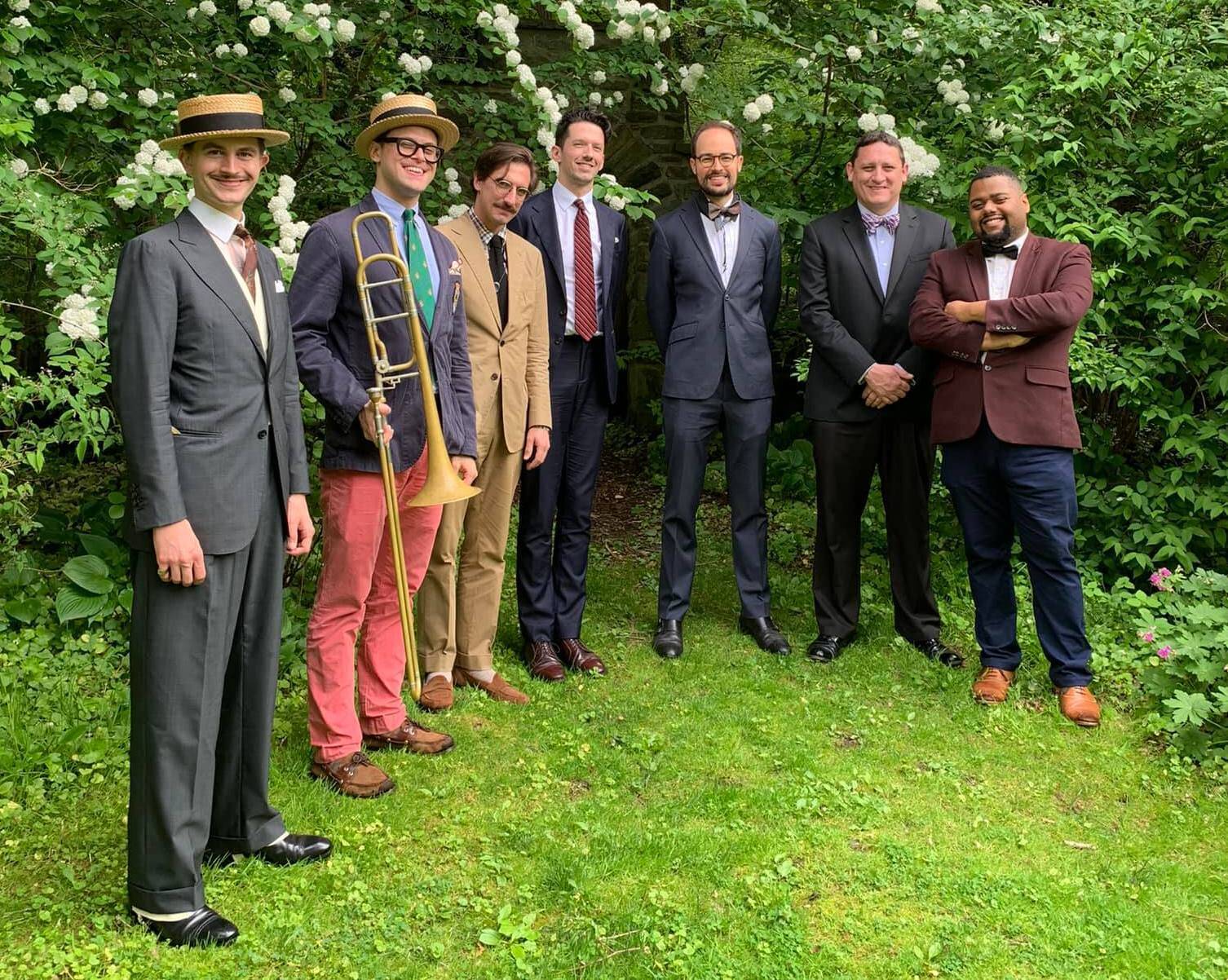 "They were asking for a New Orleans-themed program, and I said that I wasn't comfortable with that because I'm not from New Orleans and I've never spent significant time there. I'm really into New York jazz especially Red Nichols, Annette Hanshaw—and the Paul Whiteman band, Fletcher Henderson. I live in New York. I've made my career here—can I do a New York program?" Davis said.
The venue gave its approval and the newly formed band needed to put together its set list. Davis looked at the arrangements he and others like Andy Schumm had as well as what songs everyone else wanted to play. He took a repertoire approach to the selections.
"We played lots of different material even though it was New York jazz program. Ricky and I did stuff Louis Armstrong recorded with Clarence Williams and then we'd switch to Red Nichols and Jimmy Dorsey. We threw in one Tiny Parham number. We played deliberately not in our own style but (try to) sound like different bands," Davis said.
Colin Hancock, a Grammy nominee and the youngest member of the band, wasn't deterred by the limitations the group faced. He was excited to play authentic New York-style music from the Jazz Age even if he had to play drums instead of his usual cornet.
"I think it was an opportunity for this kind of jazz to be represented and this section of the story of the roots of jazz to be talked about, because I think so much attention gets paid to New Orleans, and a fair amount of attention gets paid to Chicago, but the fact is New York was also a major center of activity and development of the music," Hancock said.
He also had "such a blast" playing with the group. Davis chose him for drums after being impressed by Hancock's drumming during a recording session a few months before the Switzerland s"I've played drums since I was a kid but never professionally. It has always been at a jam session or on my own," Hancock explained. "I really found myself enjoying the freedom of drumming in a Vic Burton style or Chauncey Morehouse style instead of playing cornet or reeds. And playing with those rock-solid players who think in terms of that era of a jazz, that kind of syncopation, it was like flying. It was crazy how much fun we had."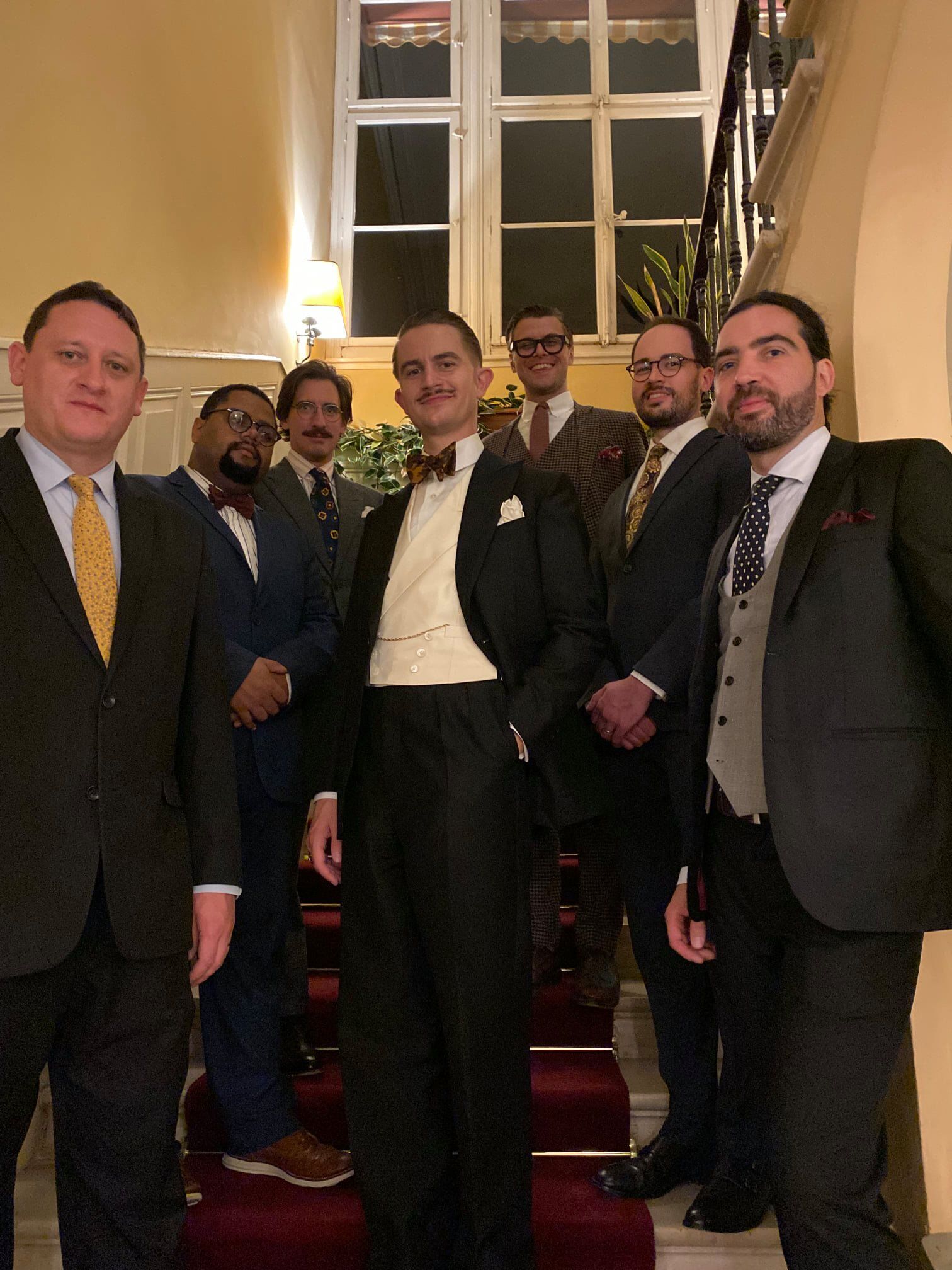 Davis said the fun they all had extended off-stage to after-hours since they all were staying together at the hotel where they entertained each other by looking up songs online. Despite the fact several of these musicians had extensive experience as band leaders themselves, Davis noted the camaraderie they all had playing the festival together.
Upon returning to the US, the New York Classic Seven remained dormant until they roared back to life at a concert on May 15th, 2022, for the Tri-State Jazz Society in Wallingford, Pennsylvania. This time, Hancock co-led the band with Davis.
"The [Switzerland] gig came to me, I put it together, I was the front man and featured myself singing a lot but the Tri-State Jazz gig was one Colin found," Davis said. "He convinced them that we were worth hearing. It was like his gig but my band but it is really not 'my band.'"
Luckily for jazz fans everywhere, Bill Hoffman (Tri-State concert booker and TST "Jazz Travels" columnist) engaged the band and the entire concert is available to watch for free on the Tri-State Jazz Society's YouTube page. The lineup remained nearly the same as the band's first gig with Josh Dunn substituting for Jared Engel on banjo and guitar. The biggest change was the reintroduction of music stands and written arrangements for the band.
"There is so much more interesting and unique material we could do if it's written down," Davis said. "You couldn't possibly have the rehearsal time to learn all of that stuff without reading it. Without arrangements it's 'what do we all know, I guess we'll do a standard kind of ending, if you don't know the verse, we can't do it' and so on. It is much more interesting for us to present programs with some written arrangements. Some people may think it's not jazz or it's a re-creation but that's nowhere near the truth."
The New York Classic Seven, as of this writing, has only performed once more with a killer set six days later at St. John's Lutheran Church in New York City. Again, there were personnel changes. The legendary Vince Giordano played banjo and Sam Chess subbed for Rob Holcomb on trombone.
"With market conditions, we had to have a sub or two on each of the shows after Bern. It can't be exactly the same seven people who went to Switzerland on every job," Davis explained.
Jazz writer Michael Steinman received permission to record the St. John's show which he called "holy" on his blog Jazz Lives.
"A great solo or ensemble or beautifully-turned phrase is not 'like' a prayer; it is a prayer", Steinman posted. "And the most rewarding improvisations are authentic and thus to be revered. It was so rich an experience when a great jazz orchestra romped, shouted, whispered, and exulted in a lovely New York City church (built in 1821) last night."
The evidence of the septet's power and glory can be seen in his videos of the band from that concern playing such tunes as "Do Do Do," "My Melancholy Baby," "Buddy's Habits," "Milenberg Joys," and "When I Take My Sugar to Tea."
Steinman encouraged more shows from this band when he wrote "If you want to hear them again, tell festival organizers and club-owners, tell your wealthy friends. They're raring to go and play, as you can see and hear. And we need this kind of musical uplift."
As for the future, Davis remains one of the most in-demand traditional jazz trumpet players in New York City whether it is as a leader with his band "The New Wonders" or as a sideman for band leaders such as the ever-stylish Dandy Wellington. Andy Schumm is back in Chicago and Colin Hancock is planning to leave New York for Texas.
"Now we're a band that's in two different cities and I'm about to move back to Texas for law school," Hancock said, "so it'll be three different cities, but this is the kind of group that where traveling for a gig is 110% worth it, because the quality of the musicianship is so good."
Good? Hancock is being modest. Everyone with ears can hear for themselves that the New York Classic Seven is one of the great jazz bands of modern times and one hopes they will reunite soon and frequently.
Visit Mike Davis online at www.mike-davis-jazz.com. Find Michael Steinman's excellent JAZZ LIVES at jazzlives.wordpress.com. Video of the May 15, 2022, concert for the Tri-State Jazz Society may be found at www.tristatejazz.org.