The San Diego Jazz Party celebrated its 33rd year with a dynamic return featuring many of the "World's Leading Jazz Musicians"! Held at the beautiful Hilton Del Mar on February 25 to 27, it was indeed a PARTY! With the previous event in 2020, many of the musicians had not seen or played with each other since then and their enthusiastic smiles and embraces spoke thousands of grateful words.
I attended the Master Classes on the Friday afternoon and two high schools sent several busloads of music students. Jean-Paul (JP) Balmat is the acclaimed Music Director at Mission Bay High School and participated in the student activities in prior years. Chaz Cabrera is the Jazz Band Director at the San Diego School for Creative & Performing Arts. The students gathered in separate rooms designated for their instrument and had a ninety minute session with a master musician.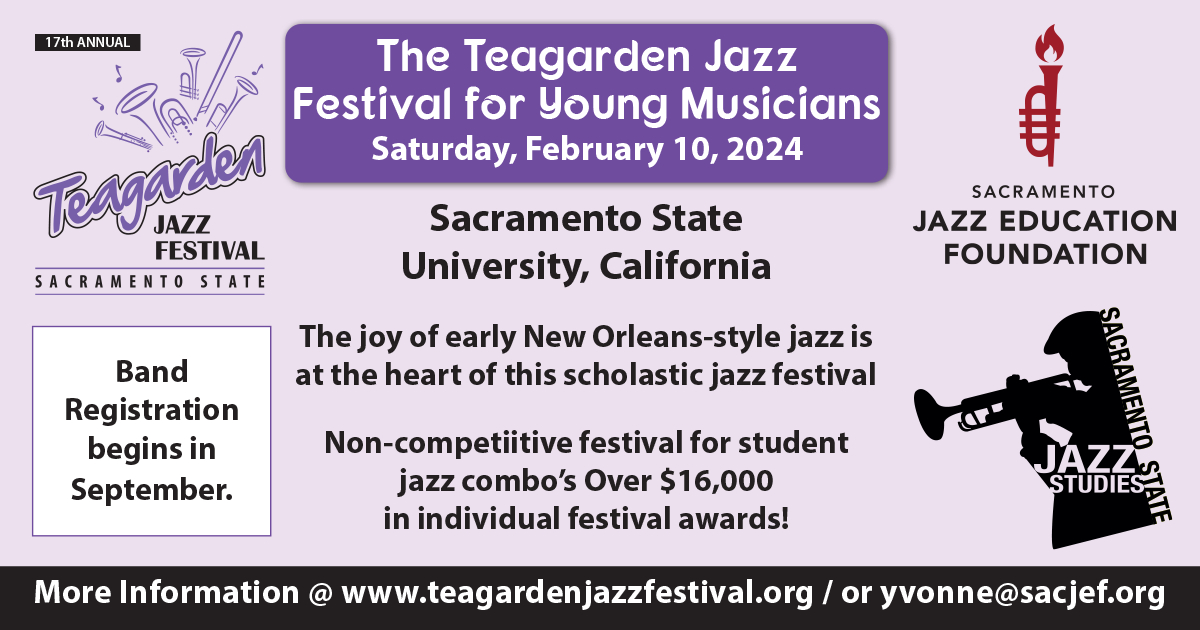 Dan Barrett (tb) had his large group use the classic "Joe Avery's Blues" with a round-robin technique so that one trombone can interplay with the others and improvise on the spot. One student with a violin joined this group and Dan was visibly impressed with her knowledge of the chord changes needed for that instrument to accompany the brass.
Eddie Metz Jr. (dr) went through the various known beats on the bass, snare and cymbals including the shuffle beat, rock & roll beat, Bossa Nova, 2/4 and several others. The most important factor in drumming is consistency—he emphasized that word several times while displaying his own impeccable style.
Jon-Erik Kellso (tp) was so very expressive in his explanations about how learning music is comparable to learning a language. It has its own vocabulary and he had his students imitate the call & response techniques so familiar in traditional jazz. The spontaneity created by this technique offers a conversation between the instruments. The musician is basically composing in slow motion. With a typical front line, the trumpet is playing the melody, the clarinet is creating the harmony and the trombone is outlining the bass.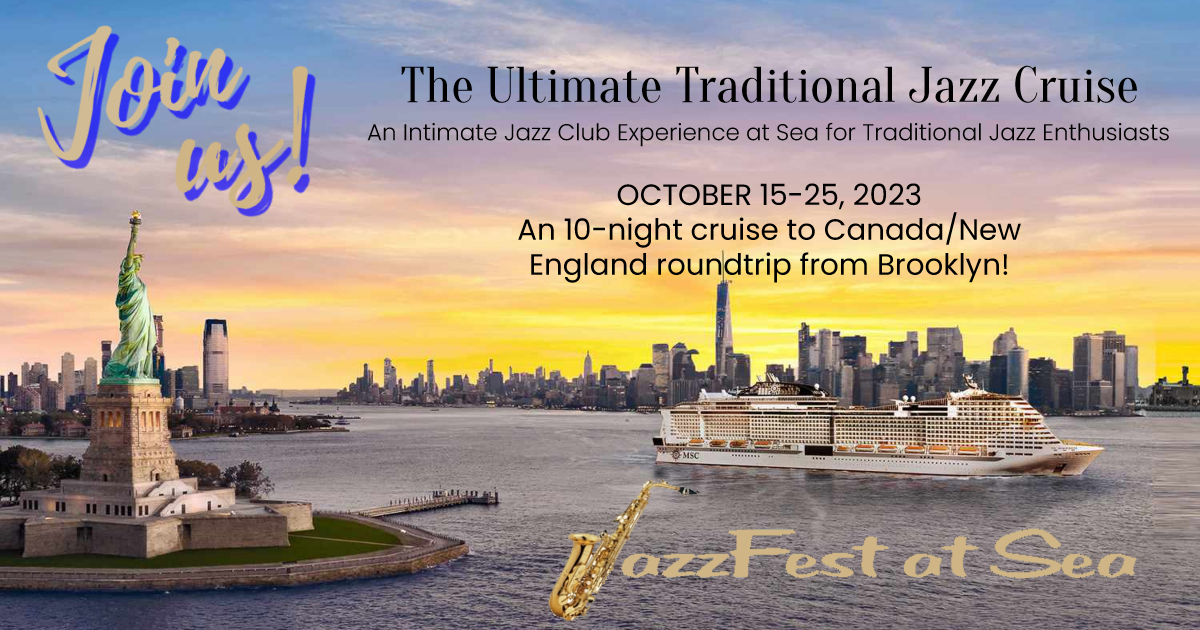 I appreciate a strong front line. As the musicians glance toward each other with a nod or tip of their instrument, the spotlight on creative expression falls to that artist. The audience is rewarded with what is the attraction to live music. What is heard may never again be repeated and is definitely an "in the moment" experience.
Evan Arntzen (reeds) and Houston Person (sx) had a group of 12 students with an alto, tenor or baritone sax. They sat in a circle and played "Row, Row, Row Your Boat" with one picking up where the other left off. Some of the students were moving their shoulders, legs and feet perhaps thinking of a marching band that sways back and forth. Houston instructed them to transfer the energy from their body to the instrument itself as to not distract attention from their playing.
Jason Wanner (p) reviewed choruses and melodies on the classic instrument.
Becky Kilgore (v) and Rossano Sportiello (p) had the vocalists sing in their range and keys. "At Last" is not an easy song for anyone and after determining the students' proficiencies, she gave advice and recommendations on the music selections that would best suit their voice.
Student scholarship winner Christian Rodriguez (gtr) held a small class with his former high school classmates from Mission Bay.
Just introduced this year, the main ballroom venue had live action cameras projecting overhead with two large screens on either side of the stage. This was a fantastic addition so that the piano, vibes and drums were clearly displayed. For those of us who enjoy watching the musicians play, an elevated stage puts the surfaces of those instruments out of sight. With the overhead cameras, we could watch Jason or Rossano glide fingers across the 88s, see Chuck Redd's (vb) mallets striking the keys or enjoy Eddie Metz or Danny Coots beating those skins! It also had the ability to sneak around the front lines to showcase a bassist or two.
In addition to Christian Rodriguez being a 2022 Scholarship winner, scholarships were also awarded to Tiger Diep (sx) who will be attending New York University and Sam Kredich (tp), a graduate of Del Norte High School. At the Jam Session in the Hotel Del Mar lobby Sunday night, Christian joined the group after a mariachi performance away from the hotel. He brought and played his violin and then sat down at the piano—he is an extremely talented young man and I look forward to seeing him at the 2023 Jazz Party in some musical capacity!
The Friday cocktail party had all the musicians gathered in a quintet format for a few tunes while the patrons mingled and renewed friendships from prior years. A dinner break allowed the musicians to discuss their performances for the next few days and for everyone to grab a bite to eat. The evening sessions began promptly and as each musician took to the microphone, all of them expressed their delight and appreciation multiple times for the gathering. Sandi Joyce, President of the San Diego Jazz Party and her committee with Russell King, Don & Janet Fall, Deborah Morrison, and Jennifer Reid did an outstanding job in organizing this most precious event. With the deaths of former presidents Dan Reid and Dave Cooper in August 2020, the immense historical knowledge of the day-to-day activities of the Jazz Party was difficult to access. Sandi's team worked thousands of hours in arranging the 2021 Party that had to be cancelled while looking forward to the 2022 event and remaining calm.
I say "calm" because that is what all of the members displayed at all times. If there were any little "glitches" during the weekend, they were handled with extreme courtesy and professionalism. From the Patron seat, all was "calm" and musically wonderful!
Dan Barrett is the Music Director for the Jazz Party and his whimsical titles for the various sets displayed his enormous talent for arrangements. Pairing bassists Richard Simon and Nicky Parrott with Duke Heitger's trumpet on the set titled "Two Bass Hit" was delightful.
The "Tenors, Anyone?" set had Ken Peplowski, Harry Allen and Evan Arntzen on tenor sax, with Vinnie Raniolo (gtr) Richard Simon (bs) and Chuck Redd (dr).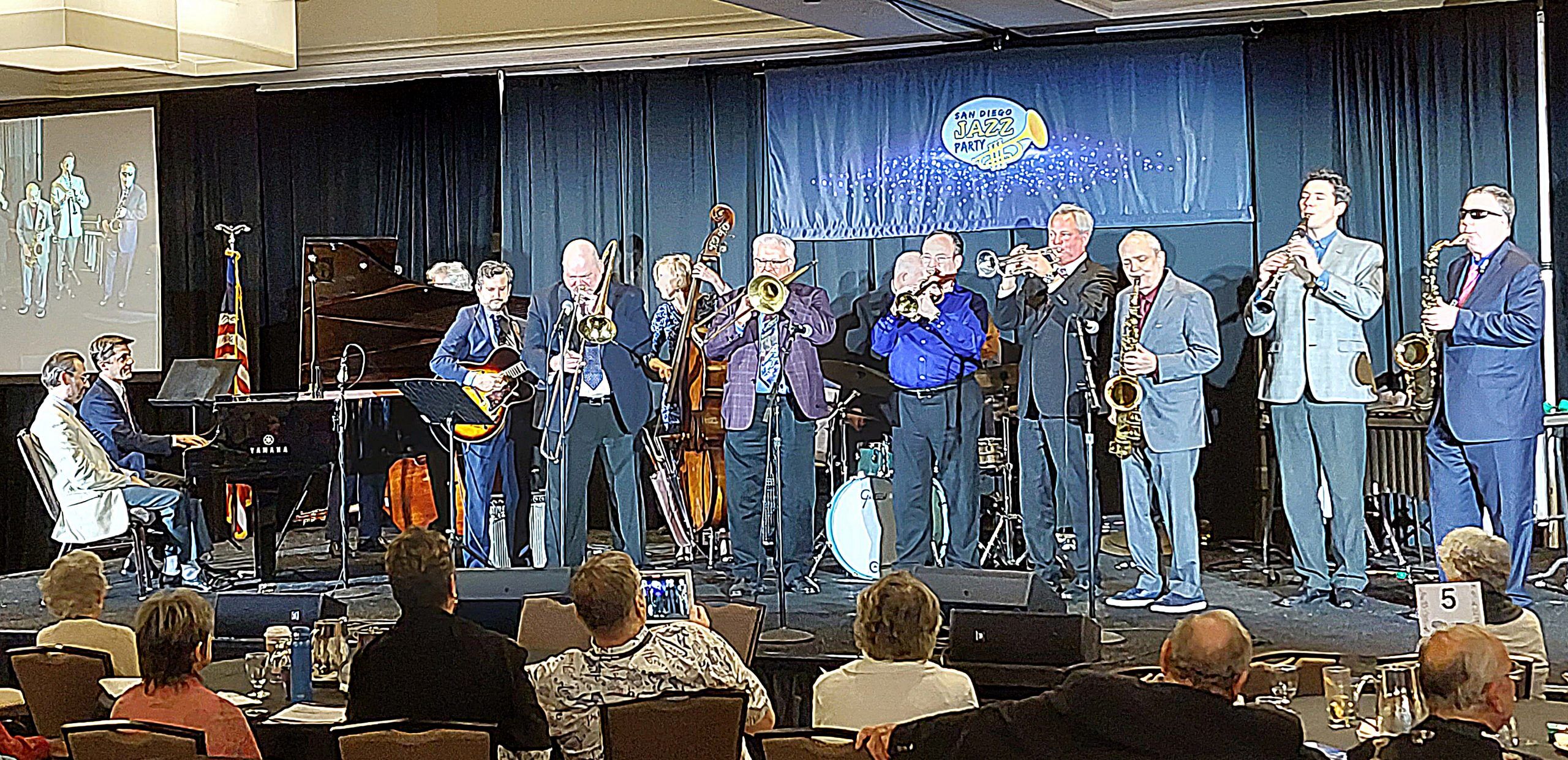 Another duet arrangement less seen was with Ken Peplowski (cl) and Vinnie Raniolo (gtr). Hearing instruments together that are not usually paired for a duet was very intriguing. I asked Dan Barrett about these pairings and he said he studied various other famous duets and trios with historical jazz references and duplicated some of those combinations. While trying to give equal stage presence to all 18 musicians throughout the weekend, he weighed their personalities and multiple instrumental talents to form various groupings. Of course, I would think this would have taken years to figure out…Dan said he spent several evenings devising the plans and coming up with the set titles!
Rossano Sportiello told a story about Peter Washington (bs) when they were both in Milan, Italy over 20 years ago. They drove the 250 miles to Bern, Switzerland, (over mountains and through valleys) to see the Tommy Flanagan Trio and then drove back the same night! Peter was new to the Jazz Party but certainly not new to the stage and its assembly of musicians.
Becky Kilgore and Nicki Parrot blended their voices in a beautiful rendition of "Blue Moon" and "Moon Glow," sort of a "Blue Moon Glow," in the set "Two Songbirds and Three Cats." With each vocalist singing parts of either song, the arrangement was exquisite. Harry Allen, Rossano Sportiello and Chuck Redd filled the rhythm section. Since Nicki will be moving back home to Australia this May after 28 years in New York, I was grateful to have this delightful memory of her talents.
For the set "Bone Ami" John Allred and Dan Barrett entertained us with a trombone duo while Jason Wanner (p), Richard Simon (bs) and Danny Coots (dr) provided the rhythm section.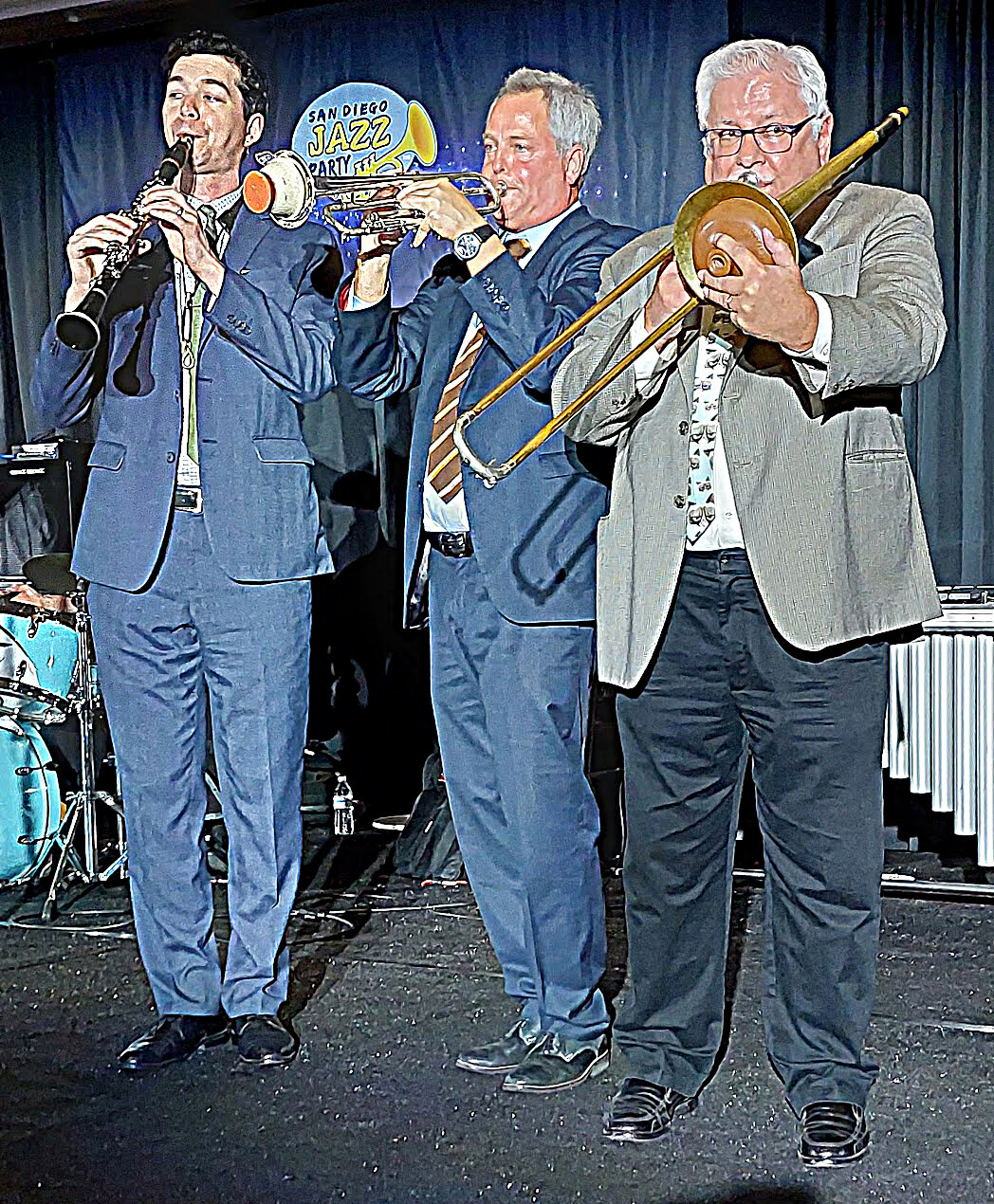 Although I was looking forward to seeing Ed Polcer (cnt), I was more than excited to find out Duke Heitger would be in his stead. I have known Duke for almost 30 years now and he is one of my favorite New Orleans artists.
During one of Houston Person's sets, he introduced a visitor from New York, Daryl Sherman, a vocalist-pianist. Daryl has a high, light voice with a talent for singing while playing and introduced a few of her cabaret style songs. I have read about her in The Syncopated Times so it was a treat to see her on stage!
Another musician in attendance was Eddie Erickson (gtr/bj) who enjoyed the weekend as a Patron. He would be performing the following weekend at the Jazz Bash by the Bay in Monterey, about 350 miles up the highway from Del Mar. Several of the Jazz Party musicians were also planning to appear in Monterey.
An added feature this year included a late Saturday night performance by Lizzy & the Triggermen. Beginning at 11:00 PM until 2:00 AM, they were phenomenal! No, I didn't quite last until the end, but separate tickets were sold just for her set and there were dozens of Lindy style dancers and local fans ready to extend the party! This 10 piece swing band was uproarious and engaging. The band is devoted to '20s and '30s style music whether original pieces or vintage standards. Her voice exudes the era along with her elegant dresses and tuxedoed band members, bringing back a time in jazz history that begs to be repeated again and again.
I was very familiar with some of her band members, including Jazz Party's own Dan Barrett (tb), Nate Ketner (cl) and Sam Rocha (bs).
Nate plays with Blue Street (among other groups) and Sam Rocha has been in Danny Coots' Big B.A.D. Rhythm. It is so much fun to see the musicians playing with such a variety of bands and how their improvisational skills are constantly being tested and explored. Dan Barrett also does the arranging and charts for Lizzy & the Triggermen. How does that man do it?!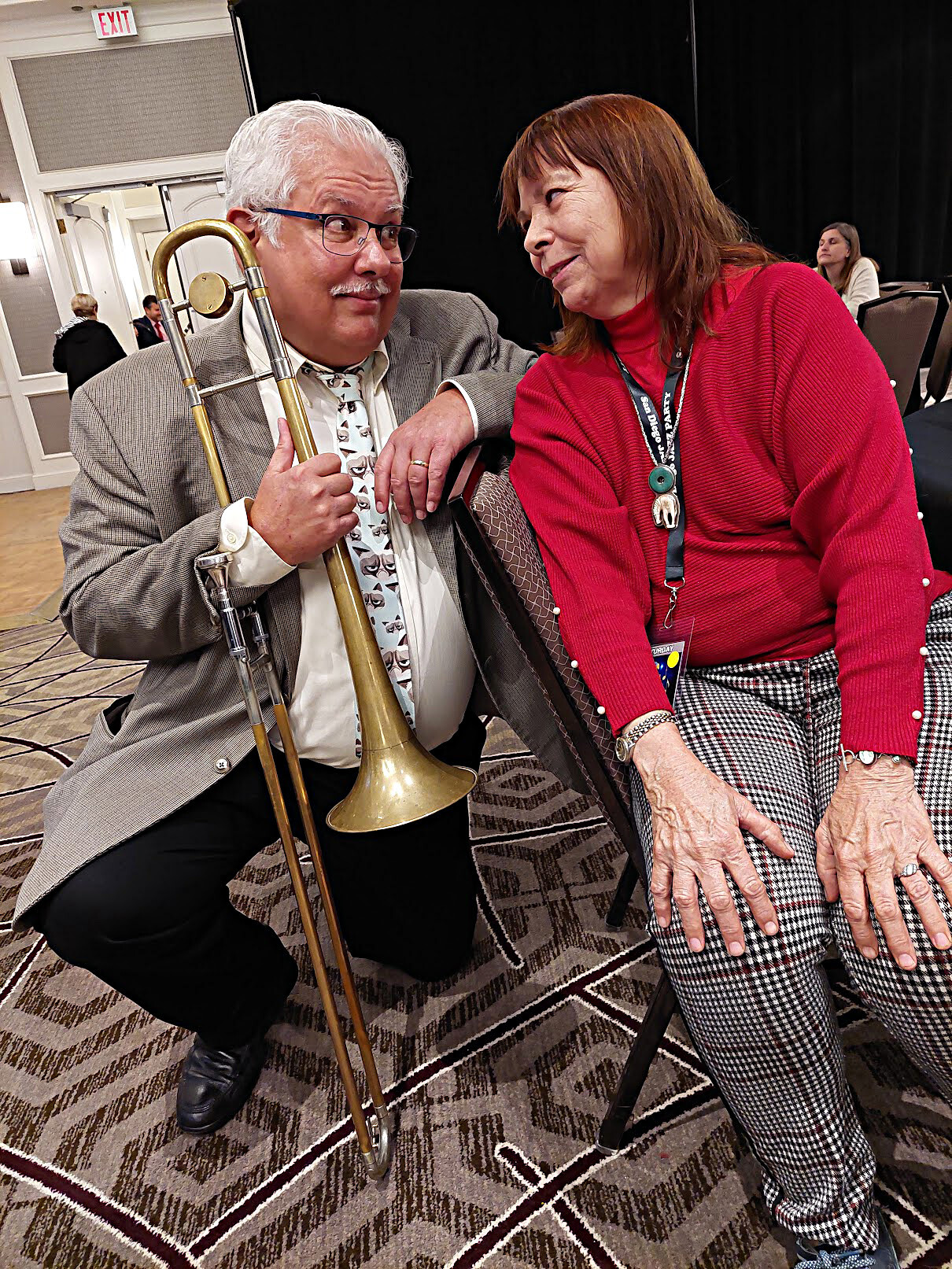 Another surprise guest was Babette Ory, daughter of the famous trombonist/composer Edward "Kid" Ory who played with Louis Armstrong's Hot Five in the mid '20s and as a bandleader for Kid Ory's Creole Jazz Band. Kid Ory is credited with emphasizing the role of the trombone in classic jazz improvisation and creating the "tailgate" style so prominent in traditional New Orleans Jazz. Babette and Dan Barrett are old friends (Dan played at her father's funeral in 1973) and Dan played some of her father's most famous tunes. "Muskrat Ramble," "Tiger Rag," and "Get Out of Here" were enthusiastically played in his honor. Babette is a chef and was planning to prepare a big pot of red beans for her friend's Mardi Gras party the following day. She was grateful for Dan's selection although I do like the difficult "Kid Ory's Creole Trombone" too!
Jon-Erik Kellso had an unusual trumpet that he is testing and will be manufactured and produced as a Kellso trumpet. It is a shorter instrument but is not a cornet. It is fatter in the middle but is not a flugelhorn. The tubing has some twists and turns at the base and there is more or less of the tubing before the valve block with the cornet vs. the trumpet. The mouthpieces are different and not interchangeable. And the tubing leading to the mouthpiece is thinner in a cornet. The usual perceived difference being that the cornet tubing is more conical than cylindrical is not necessarily the only consideration. There are other factors that designate a cornet and Jon-Erik is exploring all of these differences (the various circumferences of the tubing in a particular order) between the two instruments while experimenting with the instrument that will be called the Kellso. It was exciting to discuss his innovative endeavors and experience the joy he expresses in his new discoveries about an instrument he has known all his life.
Richard Simon (bs) ever the resident punster, introduced several tunes about lovable lambs with "Embraceable You" heading the list. Think about it.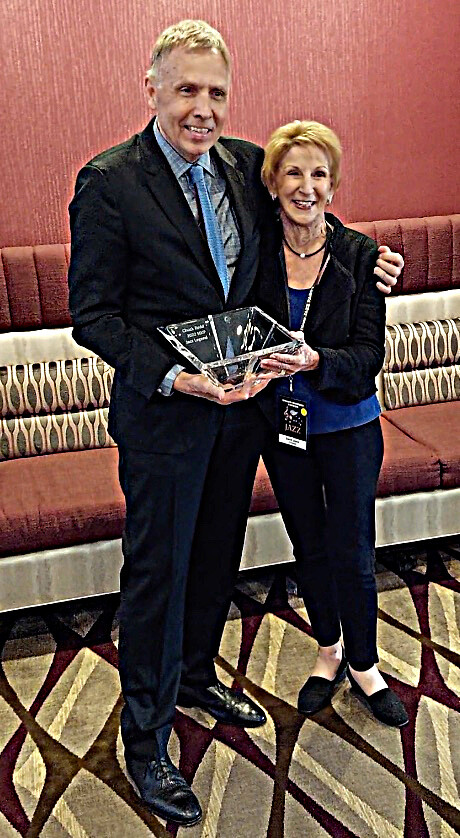 Sunday afternoon offered a few moments to present Chuck Redd with the 2022 Jazz Legend Award. Chuck was actually the 2021 awardee but with the cancellation of the 2021 Jazz Party, he finally received his beautiful award and many accolades to go with it.
Awarded posthumously, the 2021 Jazz Party Legend Award will honor past Presidents Dave Cooper and Dan Reid for their life-long passion and work in creating and continuing the San Diego Jazz Party.
At the Sunday night Musicians Dinner, it was announced that the 2023 Jazz Legend Award will be given to Ken Peplowski. Although conceding to some health issues this past year, Ken's performances were top-notch and in fantastic form for this entire event. He headlined several sets and each time gave the audience a heartfelt comment on how appreciative he was for the opportunity to play and be with friends during this enthralling experience on such a fine, sunny, California weekend.
I certainly did agree.