From Lew Shaw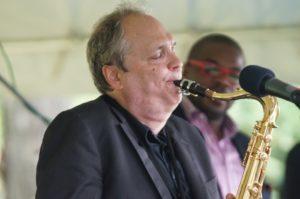 Clarinetist extraordinaire Ken Peplowski is back performing after six weeks on the DL due to a broken knuckle in his right hand suffered while on a cruise. Among his many engagements, Ken has recently been touring with Brazilian guitarist Diego Figueiredo. The two have created a program of Brazilian jazz that includes songs by Antonio Carlos Jobim along with well-known jazz standards.
Diego Figueiredo (pronounced fig-a-ray-do) is considered one of the most talented guitar players in the world today. He is the winner of several important competitions including the Montreux Jazz Competition and the VISA Prize. His unique interpretations—a fusion between Jazz, Bossa Nova, and Classical, along with his phenomenal technique, have drawn raves from fans and concert goers around the world. He has performed in over 40 countries and has released 19 albums to date, three DVDs and several instructional books.
♫ ♫ ♫ ♫ ♫
The opening night of the 39th North Carolina Jazz Festival (January 31-February 2) will also feature Brazilian Jazz. Headlining this segment will be Brazilian-born vocalist Maucha Adnet and her husband, Duduka da Fonseca. Adnet sang with Jobim for 10 years. Da Fonseca, also a native Brazilian, is a member of Trio da Paz, a renown Samba band revered from Rio to Lincoln Center. Joining them for this salute to Brazilian Jazz will be Harry Allen on tenor sax, re-creating the sounds of Stan Getz; Israeli-born Ehud Asheri, piano; Nate Najar, guitar; and Chuck Redd on vibes.
Also on the Thursday night program will be piano man Gremoldo Frazier, who formerly performed at The Windows of the World in New York City. The evening will wrap up with a Traditional Jazz Jam led by Adrian Cunningham previewing what is on tap for the Friday and Saturday evening sessions.
The Festival's host hotel located in Wilmington's historic downtown waterfront has undergone a name change. Still operated by Hilton and by way of acknowledging the city's rich maritime history, it is now the Hotel Ballast. There are three restaurants on the property, including a Ruth's Chris Steakhouse.
♫ ♫ ♫ ♫ ♫
Kansas City's American Jazz Museum is located on the corner of 18th and Vine, an intersection that is considered the heart and soul of the city's African-American community and the birthplace of Kansas City jazz. It is in an area where jazz legends like Count Basie, Mary Lou Williams, Lester Young and Charlie Parker lived and worked at various times during their careers.
Of late, the Museum has had financial problems, mainly stemming from last year's Kansas City Jazz & Heritage Festival that incurred reported losses of close to $500,000. The City stepped in to hire a museum consulting firm to reevaluated the Museum's vision, visitor experience, exhibits, business model, organizational structure, finances and leadership. Many of these recommendations are currently being implemented, and the unwieldly 23-member Board of Directors has been replaced by a smaller ad hoc committee.
♫ ♫ ♫ ♫ ♫
Kansas City is still a vibrant place for jazz, with more to come. Entrepreneur John Scott has successfully operated a jazz club with no cover or minimum called the Green Lady Lounge for the past six years. He recently opened a second club called the Black Dolphin, and has plans for possibly three more in the 18th and Vine Jazz District, one of which will be family-oriented, serving no liquor so that young fans can enjoy the music. Aside from Scott's ventures, a number of other venues have opened as restaurants or self-styled speakeasies that feature jazz duos and trios.
♫ ♫ ♫ ♫ ♫
Ed Polcer's band, with wife Judy Kurtz on vocals, entertained the Class of 1958 at Ed's 60th reunion at Princeton University.
♫ ♫ ♫ ♫ ♫
Promoting the idea of "Experience the Rhythm of Jazz," director Dan Reid has announced the lineup for the 31st annual San Diego Jazz Party which will once again be held at the Hilton San Diego/Del Mar Hotel the weekend of February 22-24, 2019. The galaxy of musical all-stars set to perform include Ed Polcer, who hasn't missed a party since 1998; Ken Peplowski, back for the first time since 2009, along with semi-regulars Howard Alden, Paolo Alderighi, Harry Allen, John Allred, Evan Arntzen, Dan Barrett, Dany Coots, Eddie Erickson, Jon-Erik Kellso, Rebecca Kilgore, Ed Metz, Nicki Parrott, Houston Person, Chuck Redd, Richard Simon, Rossano Sportiello, Dave Stone, Stephanie Trick, and Jason Wanner.
♫ ♫ ♫ ♫ ♫
Progress continues in forming a new jazz society to replace the defunct Sacramento Traditional Jazz Society. Bylaws, an interim Board of Directors, and a dues structure have been established for the Capital City Jazz & Swing Association. Plans are underway to hold "Jammin'Jazz" events similar to the former monthly Jazz Sundays, but with a broader inclusion of musical styles.
♫ ♫ ♫ ♫ ♫
Hall of Fame banjoist Cynthia Sayer will be spending two weeks touring Scotland this month and has upcoming appearances at the Newport (Rhode Island) Jazz Festival with her trio on August 3 and is in the lineup for the 29th annual Sun Valley (Idaho) Jazz & Music Festival October 17-21.
♫ ♫ ♫ ♫ ♫
The Jazz Education Network was founded in 2008 by Mary Jo Papich, long-time music and arts educator in the Chicago area public schools, and Dr. Lou Fischer, professor of music, Capital University in Columbus, Ohio, to advance jazz education, promote performance and develop new audiences. Over the past 10 years, it has become a global organization with members in every state, Canada and around the globe. Its 2019 annual conference, which is expected to draw 3.500 attendees, will be held at the Grand Sierra Resort in Reno, Nevada. JEN is the successor organization to the International Association of Jazz Educator that folded in 2008.
♫ ♫ ♫ ♫ ♫
When driving with her son on a Saturday afternoon in New Orleans, Banu Gibson had the misfortune to be broad-sided by a car running a red light that drove Banu's vehicle into a cement wall. "My beautiful Honda hybrid became my totaled Honda hybrid," she reported on Facebook. X-rays and CAT scans at the Emergency Room revealed a broken rib for her son. Badly bruised, Banu related, "My body looks like a Jackson Pollock painting, and I have a mean-ass Nike swoosh on my arm that should leave one hell of a scar. Thank goodness Honda makes a really good car. It saved our lives."
♫ ♫ ♫ ♫ ♫
Musicians from near and far were on hand in late May to celebrate the life of multi-instrumentalist Gary Church, who succumbed to injuries suffered in an automobile accident this past February. Among those augmenting Cheryl Thurston's Mardi Gras Dixieland Band at an Arizona Classic Jazz Society gathering following a New Orleans funeral service at the cemetery were Dan Levinson, Mike Vax, Pieter Meijers, Marc Caparone, Theresa and Paul Scavarda, Jim Maihack, Jan Sutherland, Jazzin' Jeanne Brei, and Michelle Severyn, Gary's sister from Branson, MO.
♫ ♫ ♫ ♫ ♫
A Jazz Fan's Lament: It's sad when you miss musicians you used to see and hear. But consider that if you miss them, it means you were very lucky because you had amazing people in your life with whom to share your passion for good music. Not everyone is so privileged.
Subscription Options
---
Or get the Print Edition with Online Access. To get the print edition of The Syncopated Times use this Paypal link. After you pay you will be issued a coupon for free online access.