Duke Ellington's accomplishments, innovations, and sheer productivity as a bandleader, pianist, arranger and composer were so vast that one or two articles cannot do justice to his musical career. This is the third in a five-part series that traces his life, music, recordings, and his key sidemen. (See also: The Story of Duke Ellington, Part 1: 1899-1929. The Story of Duke Ellington, Part 2: 1930-1939)
By 1939, the year that Duke Ellington turned 40, his place in jazz history was already secure. If Ellington had retired at that time, he would still be remembered for leading one of the great jazz orchestras, for writing more than a dozen standards, and for amassing a very strong and large legacy of recordings. But as it was, Ellington had a long way to go.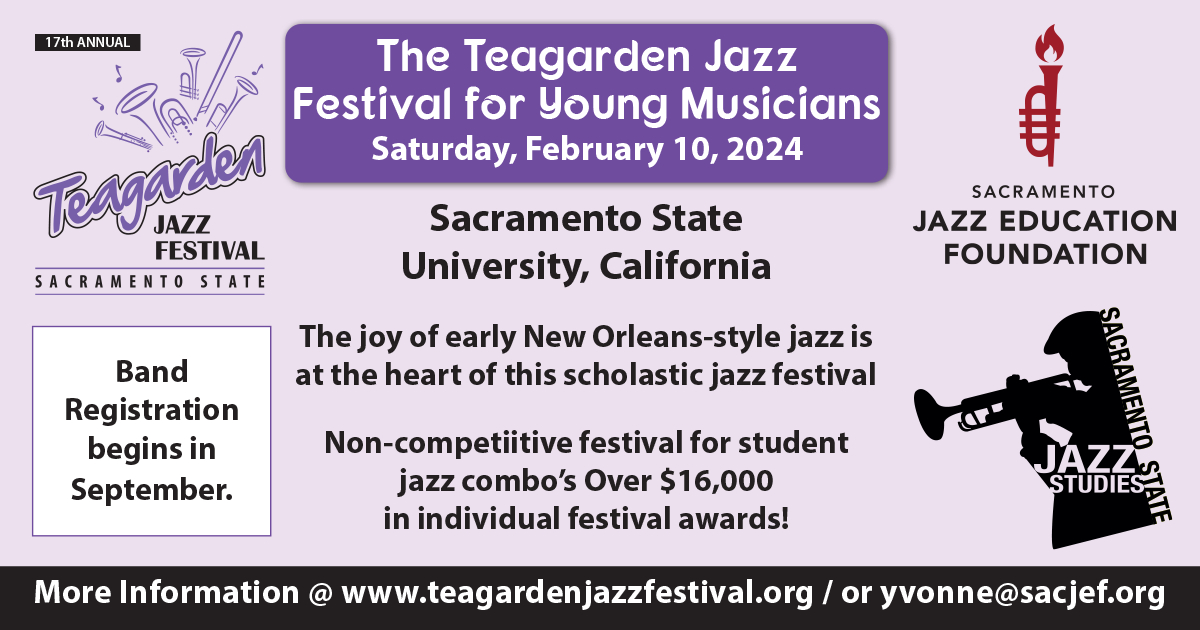 As mentioned in Part 2 of this series, the 1930s were a period of remarkable stability for the Ellington Orchestra despite the challenges of the Depression and the competition of other big bands during the first half of the Swing era. His 15-piece orchestra that began 1939 contained 11 musicians who had been with him since at least 1931 (trumpeter Cootie Williams, trombonists Tricky Sam Nanton, Lawrence Brown and Juan Tizol, clarinetist Barney Bigard, altoist Johnny Hodges, baritonist Harry Carney, guitarist Fred Guy, drummer Sonny Greer, singer Ivie Anderson, and Ellington himself) plus altoist Otto Hardwick who was in and out of the band throughout the decade. Cornetist Rex Stewart and bassist Billy Taylor were part of the band by 1935 while lead trumpeter Wallace Jones joined up by 1937.
Critics and many fans often cite Duke Ellington's 1939-42 orchestra as his finest. Although they tend to underrate the superb band of the 1930s and the post-1942 period, one can understand their enthusiasm for 1939 brought three important additions to the musical world of Ellington. Ben Webster (1909-73) became the orchestra's first major tenor-saxophone soloist. Webster, who had guested on two record dates with Ellington in 1935-36, joined the band late in the year. His dual musical personalities, gruff and roaring on uptempo tunes while purring on ballads, would be utilized by Ellington as an important voice on many of his recordings of the next few years.
Ellington had experimented with having both Billy Taylor and Hayes Alvis playing bass together a few years earlier. When bassist Jimmy Blanton (1918-42) was discovered, because Taylor was such a skilled and loyal bassist, Duke at first utilized both of the musicians. However Taylor quickly recognized that Blanton was on a different level altogether and he left the band in Nov. 1939; unfortunately there are no recordings of Taylor and Blanton playing together.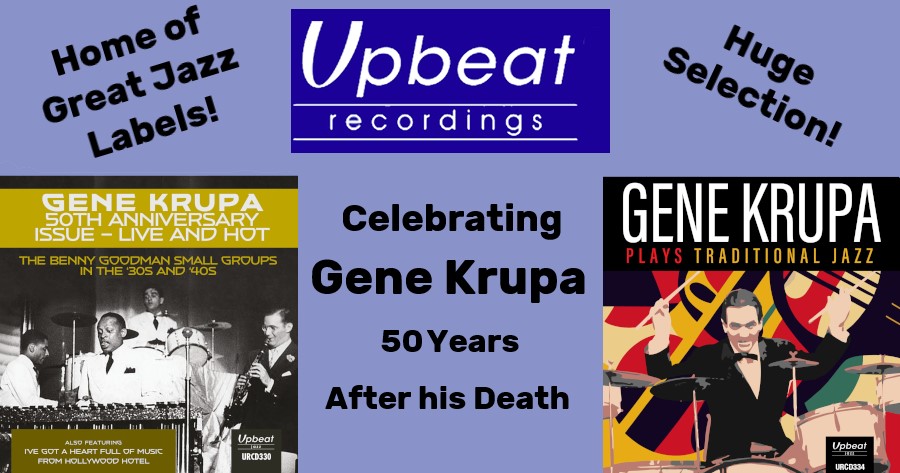 While there had been bass soloists on jazz dates previously (including Milt Hinton, Israel Crosby, Pops Foster, and Ellington's Wellman Braud), none were as modern or virtuosic as Jimmy Blanton. He could play with the fluency of a guitarist, his solos were so modern as to hint at bebop five years before that music became a style, and he was also a masterful accompanist, revolutionizing the role of his instrument in jazz.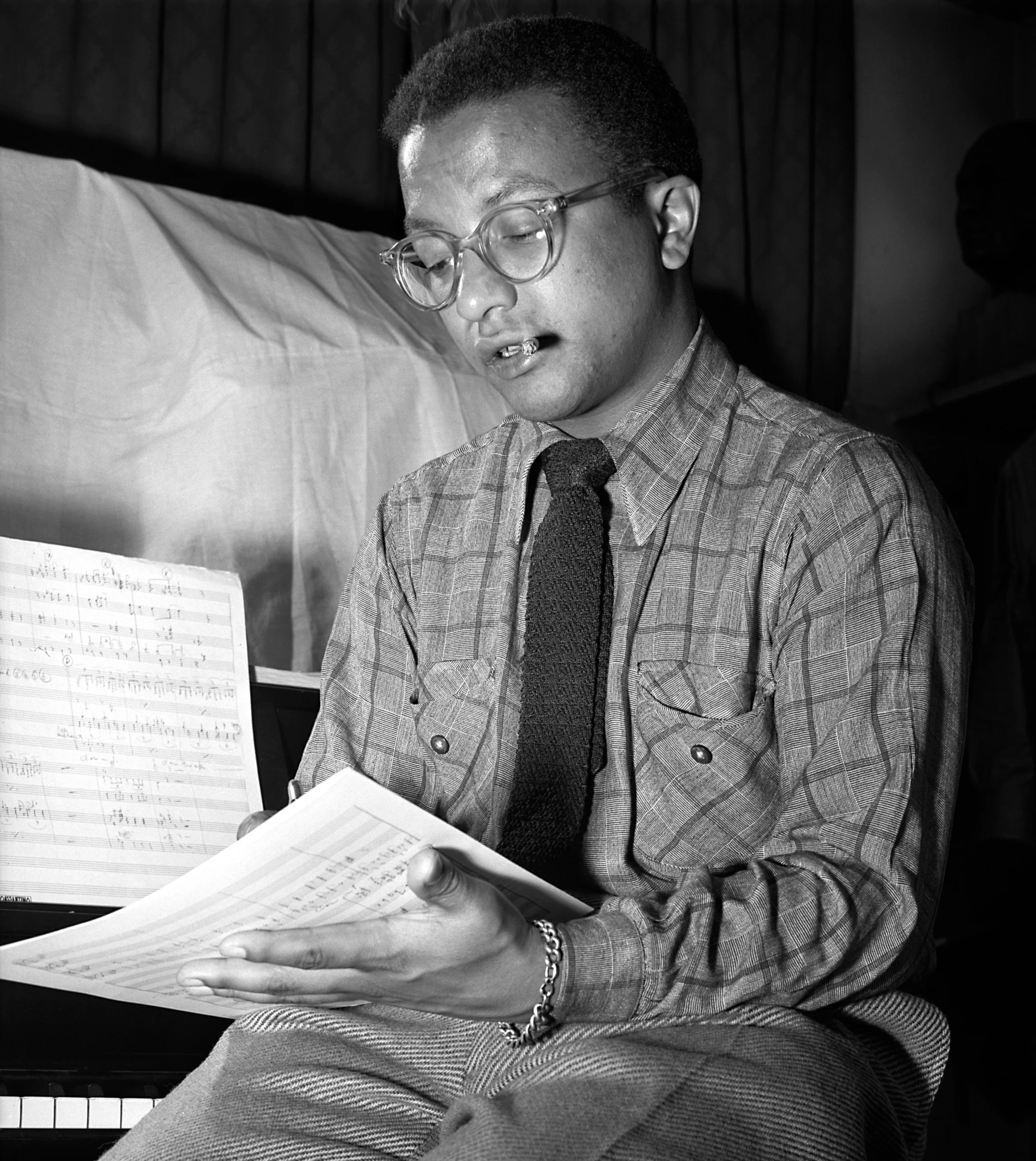 The third addition was actually the most significant to Ellington. He met Billy Strayhorn (1915-67) in Dec. 1938 and was very impressed by the young pianist-arranger-composer. Strayhorn had already composed "Something To Live For" and "My Little Brown Book," performed regularly on the radio in Pittsburgh, and written arrangements for a dance band led by Buddy Malone. Strayhorn played his song "Life Is Lonely" (soon renamed "Lush Life") for Ellington and showed him how he would have arranged one of Duke's pieces for the orchestra. Ellington immediately recognized his talent and hired him, initially as a lyricist and arranger for the small group sessions led by some of his sidemen.
While on his way to join Ellington a little later, Strayhorn composed "Take The 'A' Train" which became Duke's new theme song, replacing "East St. Louis Toodle-oo." For the next 28 years, Strayhorn would be Ellington's frequent collaborator. Sometimes Ellington would write part of a song and then ask Strayhorn to complete it; at other times the opposite would be true. Since they wrote in similar styles and were so busy, sometimes it was not always clear who had written what. A gay man who did not want to completely hide his lifestyle, Strayhorn would have had great difficulty if he had formed his own orchestra and been much more in the public eye. He preferred to be protected and partly hidden as part of Duke's world even if his contributions were often overshadowed and some of his individual originals were sometimes cited as being written by Ellington.
1939 brought such new songs as "The Gal From Joe's," Johnny Hodges' "Jeep's Blues," "Portrait Of The Lion" (Ellington's tribute to Willie "The Lion" Smith), "Serenade To Sweden," the spirited "I'm Checkin' Out, Goom Bye" (featuring Ivie Anderson), "Grievin'," and "Tootin' Through the Roof." 1940 found Herb Jeffries becoming the band's first full-time male singer.
Later in the year a major change took place in the trumpet section. Cootie Williams, who had been Bubber Miley's replacement in 1929 and a star soloist for the next 11 years, accepted Benny Goodman's offer to join his big band. This was considered big news in the swing world and Raymond Scott's orchestra even recorded a number called "When Cootie Left The Duke."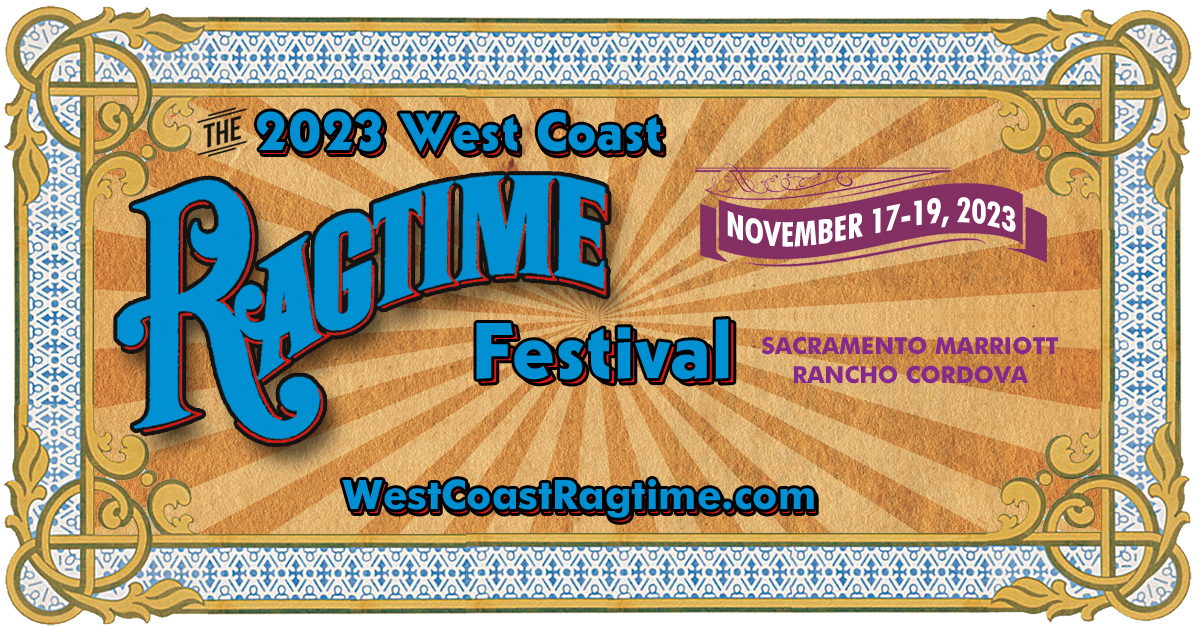 Fortunately Ellington was able to come up with the perfect replacement. Ray Nance (1913-76) was a triple threat as a trumpeter (who quickly became a master at using the plunger mute), violinist and jazz singer. He became such a valuable and popular part of the band that, when Williams' one-year contract with Goodman ran out and he asked Ellington for his old job back, Duke recommended that he start his own big band. Cootie Williams did, taking a 21-year "vacation" before he eventually returned.
1940 was filled with many musical highlights for Duke Ellington. Among his orchestra's most memorable recordings were "Jack The Bear," "Ko-Ko," "Concerto For Cootie" (a Cootie Williams feature that would later be given lyrics and renamed "Do Nothing Till You Hear From Me"), "Cotton Tail" (featuring a famous Ben Webster solo and a memorable chorus for the sax section), "Harlem Air Shaft," "All Too Soon," "Sepia Panorama," "In A Mellotone," "Five O'Clock Whistle," "Warm Valley," and Herb Jeffries' hit recording of "Flamingo." The band's Nov. 7, 1940 concert in Fargo, North Dakota (which happened to be Ray Nance's first night with the band) was recorded and released decades later as a three-LP set, showing just how powerful and talented the orchestra was on a typical night.
Also quite memorable are six piano-bass duets that Ellington recorded with Jimmy Blanton: "Blues" and "Plucked Again" from Nov. 22, 1939, and "Pitter Panther Patter," "Body And Soul," "Sophisticated Lady," and "Mr. J.B. Blues" from Oct. 1, 1940. Ellington is mostly in the role of an accompanist, putting the focus on Blanton's brilliant solos which also includes some bowing. No other jazz bassist up to that point in time had been showcased to this extent and these recordings became quite influential on other up-and-coming bassists, showing that their instrument did not always have to be in the background.
1941 brought such famous recordings as "Take The 'A' Train" (Ray Nance's playing helped make Strayhorn's song into a classic), "Just A Sittin' And A Rockin'," "I Got It Bad And That Ain't Good" (featuring Ivie Anderson and some beautiful playing from Johnny Hodges), "Jump For Joy," "Things Ain't What They Used To Be," "Rocks In My Bed," "C Jam Blues," and Strayhorn's "Passion Flower" and "Chelsea Bridge."
For nine weeks in the summer, the Duke Ellington Orchestra was based in Los Angeles, appearing in Ellington's civil rights play Jump For Joy. While it received rave reviews, it was far ahead of its time and closed after nine weeks.
There was one major change in the personnel of the Ellington band in 1941. Tragically Jimmy Blanton contracted tuberculosis, passing away the following year when he was just 23. Junior Raglin (1917-55) took his place on bass.
In addition to Billy Strayhorn, Duke's son Mercer Ellington (1919-96) did some important writing for the band during 1940-41. When a strike by ASCAP resulted in songs registered at that agency not being eligible to be played on the radio, Duke Ellington was in a bit of a bind since he was a member of ASCAP. Fortunately he was able to use Mercer who came up with such pieces as "Things Ain't What They Used To Be," "Jumpin' Punkins," "Moon Mist," and "Blue Serge." Since Mercer Ellington did not write any other standards in his long life, there has long been speculation that perhaps Duke used his son's name to write these pieces himself, but since no proof has ever been uncovered, this writing period ranks as the creative highpoint of Mercer's career.
Despite the onset of World War II, Ellington's band was riding high into 1942 but a recording strike by the Musicians Union which started that summer kept Duke's orchestra off of commercial recordings until late 1944. Before that happened, Ellington debuted such pieces as Juan Tizol's "Perdido," "What Am I Here For," "Main Stem," Strayhorn's "Johnny Come Lately," and "A Slip Of The Lip Can Sink A Ship." While the war years made travel more difficult, Ellington and his orchestra kept busy with club residencies, concerts, occasional appearances in films, and very regular appearances on the radio.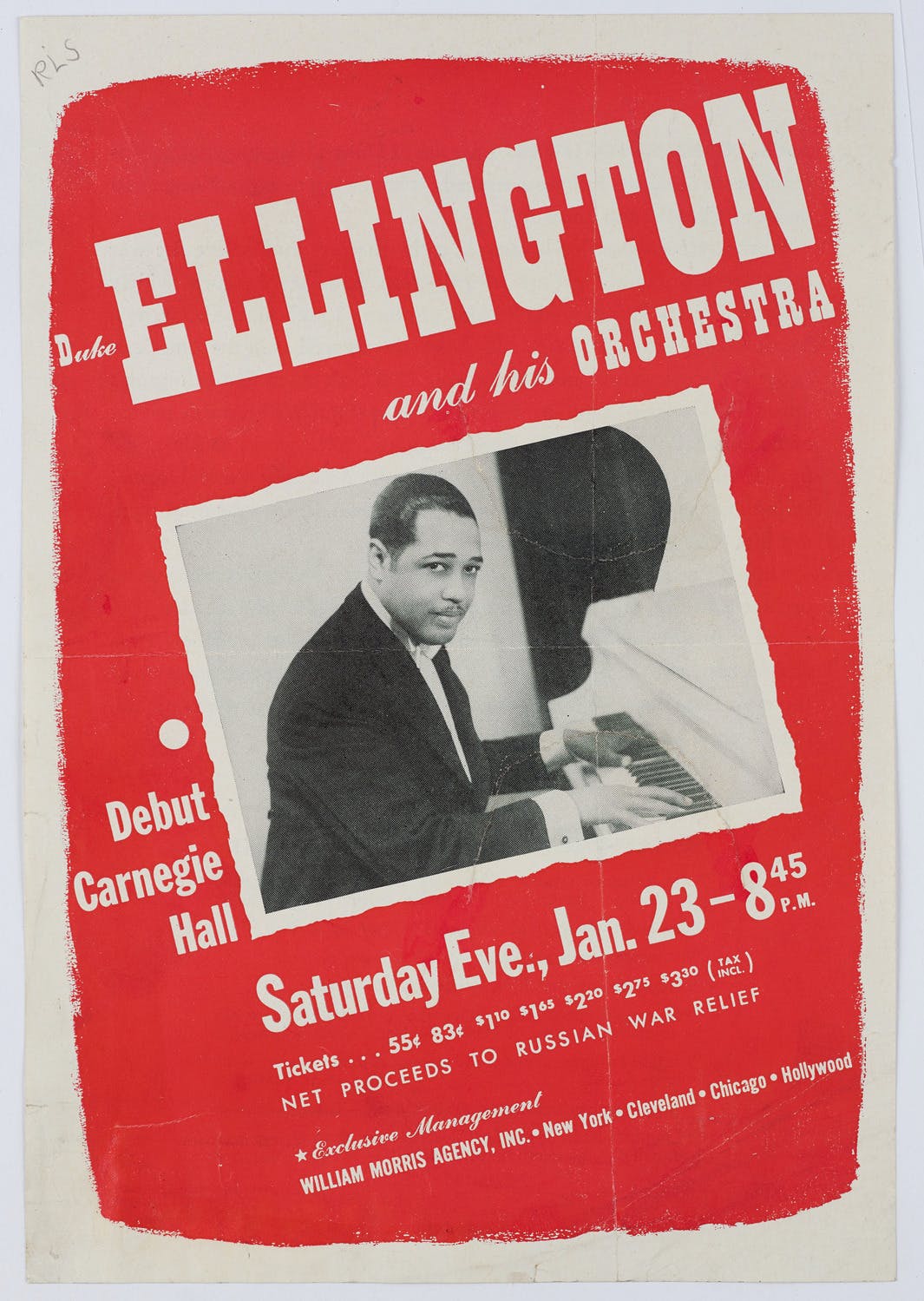 On Jan. 23, 1943, Duke Ellington made his first in a series of Carnegie Hall concerts. In addition to performing the band's usual repertoire of the time, most of the concerts also featured the debut of a major new work. Luckily several of the concerts were recorded and the performances later came out in the LP era.
The first Carnegie Hall concert was highlighted by Ellington's nearly hour-long "Black, Brown and Beige," a suite that included a beautiful hymn that soon had an independent existence, "Come Sunday." Unfortunately Ellington was stung by the criticisms tossed at him by critics of the time who did not know what to say about "Black, Brown and Beige" and he never again performed the entire work, sticking instead to excerpts, but fortunately the Carnegie Hall performance was saved. Other Ellington extended suites that were performed at Carnegie Hall included "New World A-Comin'" (Dec. 11, 1943), "The Perfume Suite" (Dec. 19, 1944), "The Liberian Suite" (Dec. 27, 1947), and "The Tattooed Bride" (Nov. 13, 1948).
By the time of the 1943 concert, there had been a couple of personnel changes. Clarinetist Barney Bigard had tired of traveling and departed, temporarily replaced by Chauncey Haughton. Harold "Shorty" Baker (1914-66) had been added to the trumpet section and his lyrical solos (in a role formerly held by Arthur Whetsol) would be part of the band on and off for the next 20 years. Betty Roche (1918-99) was Ivie Anderson's replacement and can be heard singing "The Blues" from Black, Brown and Beige. Due to the recording strike, she made no recordings during this stint with Ellington although she would return in memorable fashion in the early 1950s.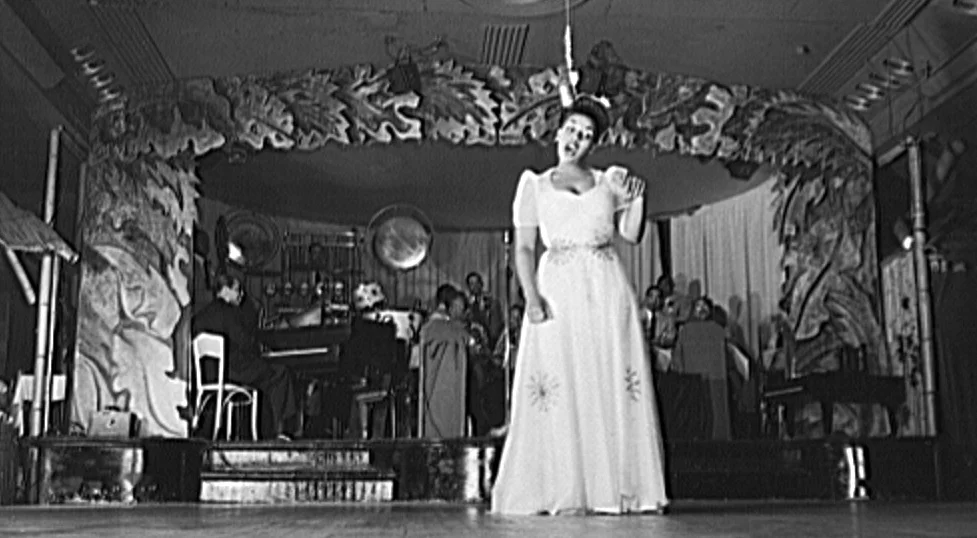 The 1943-44 period found the Duke Ellington Orchestra having many more personnel changes than during the previous decade. When the Ellington band returned to records on Dec. 1, 1944, gone were Ben Webster, Juan Tizol, Herb Jeffries, Betty Roche, and Wallace Jones. New to the orchestra were the fine swing trumpeter Taft Jordan (1915-81), high note trumpeter Cat Anderson (1916-81), lead trumpeter Shelton Hemphill (1906-60), clarinetist Jimmy Hamilton (1917-94), tenor-saxophonist Al Sears (1910-90), and singers Al Hibbler (1915-2001), Kay Davis (1920-2012), and Joya Sherrill (1924-2010).
An important collaborator with Ellington in the mid-1940s was lyricist Don George (1909-87) who had previously written "The Yellow Rose Of Texas." His words helped such Ellington songs as "I Ain't Got Nothin' But The Blues," "Tulip Or Turnip" (a feature for Ray Nance's singing), "It Shouldn't Happen To A Dream," and particularly "I'm Beginning To See The Light" catch on. Other new songs that were recorded by Ellington during 1944-46 include "I Didn't Know About You," "Air Conditioned Jungle," "Tonk" (a rather wild Ellington-Strayhorn piano duet), "Just Squeeze Me," Mary Lou Williams' arrangement on "Blue Skies" (retitled "Trumpets No End"), and the two-part "Happy Go Lucky Local." The closing theme of the latter would be "borrowed" by Jimmy Forrest five years later and renamed "Night Train."
The end of the big band era and the rise of bebop at first did not affect Duke Ellington much. With his fame and his orchestra's reputation, he survived the potentially lean years of the late 1940s while most of his competitors broke up their bands. Ellington had the advantage of the royalties that his numerous hits continued to bring in which helped him to meet his band's payroll. The endless number of radio broadcasts (including the weekly Treasury series of 1945-46 that has been released on dozens of LPs and CDs) kept his name before the public. For a time in 1946 his orchestra actually expanded to 19 pieces with six trumpeters (Cat Anderson, Taft Jordan, Shelton Hemphill, a temporarily returning Francis Williams, Shorty Baker, and Ray Nance), four trombonists (including Wilbur DeParis), a five-piece saxophone section (altoist-clarinetist Russell Procope had replaced Otto Hardwicke), and a four-piece rhythm section that now included the great bassist Oscar Pettiford (1922-60). That expansion was tragically cut back when Tricky Sam Nanton passed away from a stroke.
By 1947, there was pressure for Duke Ellington to write new hits so his orchestra could continue to prosper. During the next few years, before and after the Musicians recording strike of 1948, Ellington recorded some lightweight if charming attempts at having some pop hits (does anyone remember "It's Mad, Mad, Mad" or "You're Just an Old Antidisestablishmentarianismist?"), but mostly he was able to hold onto the usual high quality of his output. Tyree Glenn (1912-74) was an important addition, playing plunger-muted trombone inspired by Tricky Sam Nanton and also doubling as Ellington's only vibraphonist. Of the newer voices, Al Sears' tenor playing hinted at r&b and jump music while swinging hard in his own voice. Clarinetist Jimmy Hamilton had a much cooler tone than Barney Bigard and was a virtuoso who could play whatever difficult parts Ellington wrote for him. Kay Davis gave Ellington an operatic voice that he could use as a wordless instrument as shown on the haunting "On A Turquoise Cloud."
Big bands may have been out of fashion by 1948-50 with popular singers dominating the charts, bebop interesting the more creative younger jazz musicians, romping r&b bands exciting audiences, and novelties constantly being recorded, but Duke Ellington did his best to rise above it all.
As 1949 began, he continued to lead a dazzling orchestra, one with trumpeters Ray Nance, Shorty Baker, Shelton Hemphill, Frances Williams and his new high-note trumpeter All Killian (1916-50), Lawrence Brown, Tyree Glenn and Quentin Jackson (1909-76 who was even a better plunger note specialist than Glenn) on trombones, altoist-clarinet Russell Procope (1908-81), Johnny Hodges, Harry Carney, Jimmy Hamilton, and (after Fred Guy's departure) a rhythm section with bassist Wendell Marshall (1920-2002) and Sonny Greer. The tenor-sax chair was in flux with Al Sears having left to pursue a solo career. His fill-ins included a returning Ben Webster (for a few months), Charlie Rouse and Jimmy Forrest. Paul Gonsalves (1920-74) would permanently take over the chair by the fall of 1950.
However the Duke Ellington Orchestra was beginning to struggle as the 1950s began. There were no new hits, work was becoming scarcer, and their recordings were mostly either remakes of their earlier standards or vocal novelties. Some of his veteran sidemen were becoming restless, wondering if they should spend the rest of their lives playing with the same band.
In early 1951, disaster struck as Johnny Hodges, Lawrence Brown, and Sonny Greer all left the orchestra to be part of a Hodges combo. Would this be the end of the Duke Ellington Orchestra? After all, Ellington was 52 and traveling fulltime big bands were becoming scarce.
Few would have predicted that there were still more than two decades to go.
---
See also:
The Story of Duke Ellington, Part 1: 1899-1929
The Story of Duke Ellington, Part 2: 1930-1939
The Story of Duke Ellington, Part 3: 1939-1951
The Story of Duke Ellington, Part 4: 1951-1961