Arnett T. Nelson was born March 3, 1892, in Ellisville, Mississippi, and grew up in Laurel, Mississippi (142 miles northeast of New Orleans, LA). According to the US census for 1935 & 1940, he lived at the Mecca Apartments, 3338 South State, Chicago. He died on March 14, 1959 in Chicago. It seems that Arnett Nelson was never interviewed. The only original publications about him that I have found are:
Collins, Lee. Oh! Didn't He Ramble. University of Illinois Press (1947).
Gulliver, Ralph. "Jimmy Wade." Storyville 56: 55-68 (1974/75).
Hillman, Christopher, and Middleton, Roy with Chaigne, Michel. Chicago Swingers. Cygnet Publications i-v, 1-105 (2010).
Virgo, Ernest S: Arnett Nelson. The "Unknown Clarinet." Record Research Magazine no. 159/160: 13-14 (1978).
Ernest Virgo also wrote the sleeve notes for the LP – Magpie PY 1803 Arnett Nelson – The Rhythm Kings – When the Music Sounds Good 1935-1938 – issued in 1978.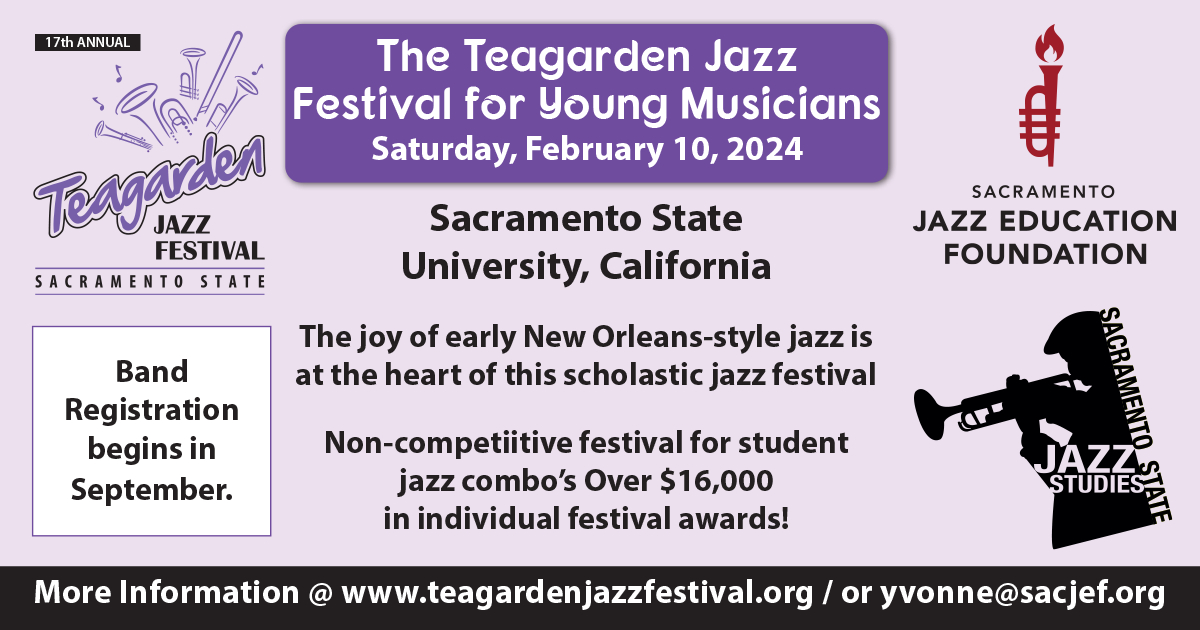 The below chronology and general information are taken from Collins (1947), Gulliver (1974/75), Virgo (1978), and Hillman, et al. (2010).
According to Lee Collins, Arnett Nelson played his first job in New Orleans in a band lead by Lee's trumpet playing father. He joined after Lorenzo Tio, Sr., left the band. Tio Sr. left New Orleans in 1907. If Nelson was born in 1892, then he would have been 15 years old—possible?
Virgo (1978) reports from Larry Gushee, an announcement in The Freeman, "an illustrated colored newspaper" published in Indianapolis, Indiana, about the Young Brothers Black Troubadours. I have found this report in The Freeman, page 6 on September 26, 1914. It writes: "Mr Arnett Nelson is going to be some clarinet player. He just received a new clarinet from C. G. Conn."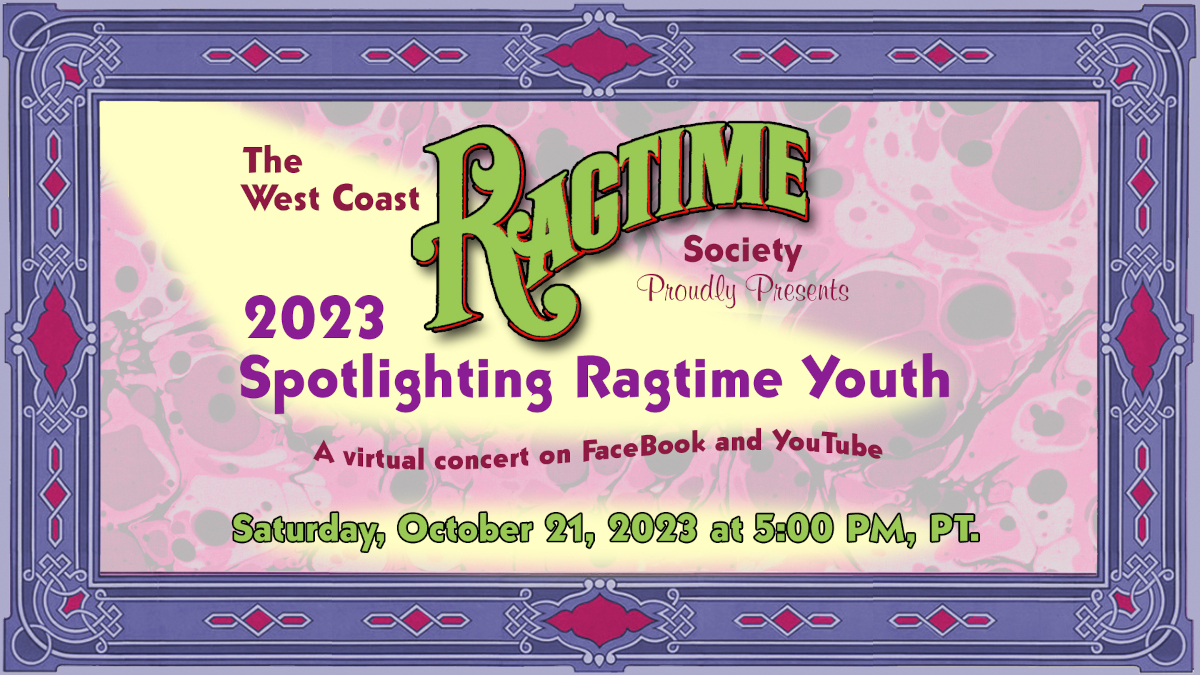 The first Boehm system clarinet sold by C. G. Conn was made in 1913. Conn's Albert system clarinets were made from 1889 to 1929, after that Conn produced only Boehm models.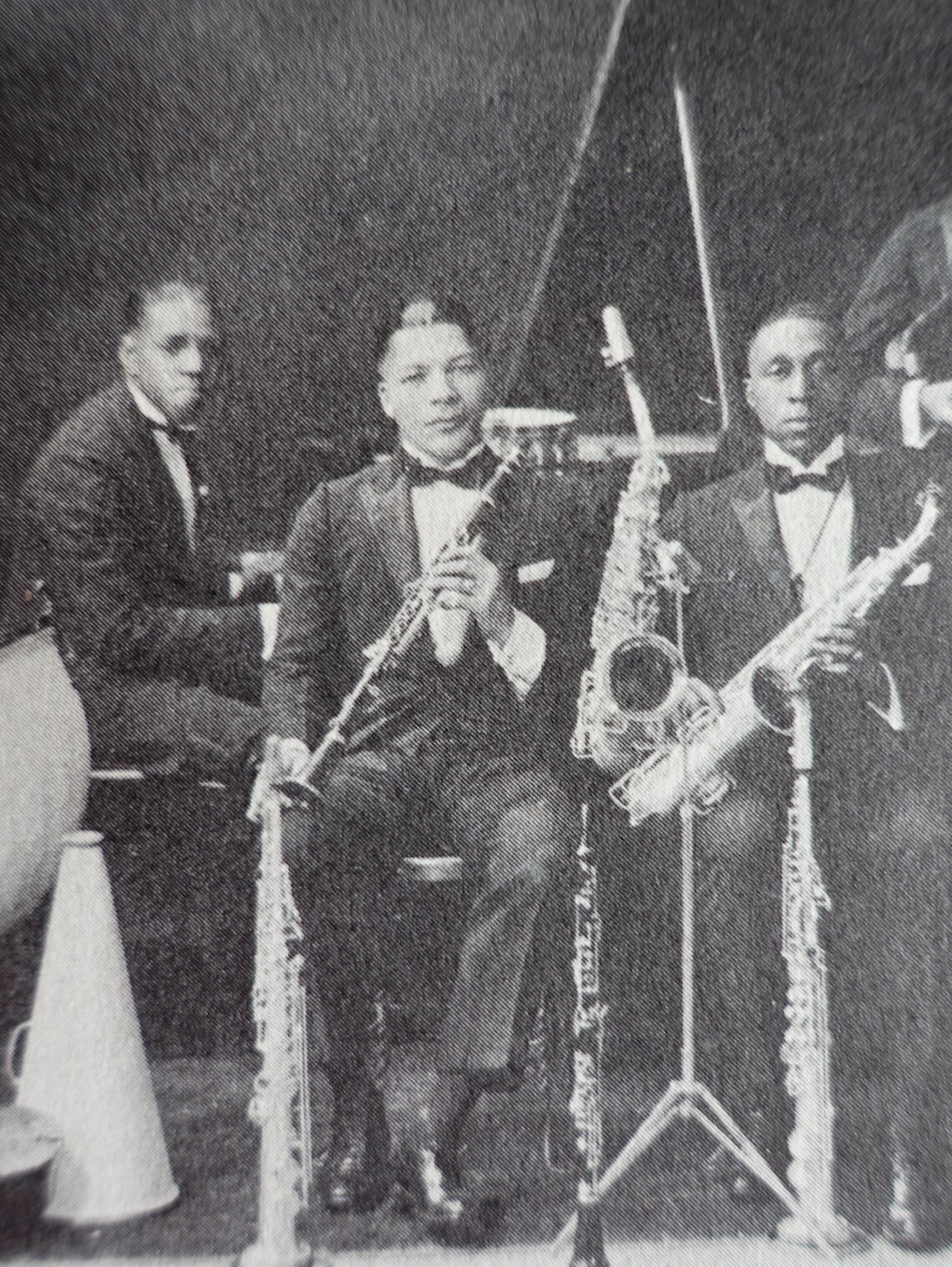 In 1915, he was reported to be in Professor John Easton's band with the Fred Buchanan's Yankee Robinson Circus. This has nothing to do with Robinson's Circus below which employed Nelson in 1921. According to Lee Collins, Arnett went to Chicago around 1916. In 1917, he was conscripted for service in the First World War.
In December 1921, according to Walt Allen, quoted by Virgo (1978), Arnett Nelson was reported, in the press, to be with "The Herbert's Minstrels." There is more information to be found in the remarkable book by Sampson, p. 1292-1294 (2013). J. C. Herbert was a white impresario who employed black entertainers and organized elaborate shows. "The Herbert Minstrels" and "The J. C. Herbert Greater Minstrels" seem to be two separate shows within his organization. For the latter show, Billboard Magazine January 29, 1921, publishes the names of the musicians: J. B. South, Claude Williams, & Chas. Keith–cornets; H. L Raws–baritone; Ernest Montague–trombone; Charles Ray-alto; O. D. Wheeler–tuba; Eugene Cayler–traps; and J. W. Toomey–saxophone. There is no Nelson mentioned in this band.
According to Billboard Magazine of November 19, 1921, there is a notice about "John Robinson's Circus" which features "Toomey's Famous Jazz Band and Minstrels." J. W. Toomey must have left The J. B. Herbert's Greater Minstrels and took some of the musicians with him. The published band has Claude Williams, Jim Young & J. B. South–cornets; Leonard Nelson–clarinet; Geo Jones– alto: Herbert Alvis & Herbert Jackson–trombones; H. L Rawl–baritone; O. D. Wheeler–tuba; E. Cayler–trap drummer; Fred Jenkins–bass drums; and J. W. Toomey–saxophone. Surely Leonard Nelson is Arnett Nelson.
Robinson's Circus was a huge four-ring circus lasting from 1842, through four generations of Robinsons, until 1929 when it was purchased by Ringling's and finally closed in 1938. In 1921 they maintained two bands: "The Big Show Band" under the direction of W. G. McIntosh and a "Side Show Band and Minstrels" under the direction of J. W. Toomey. The latter seems to be the only black employees; Leonard Nelson is mentioned in the list of musicians in the 1921 Circus Tour book. In November they were in Florida and Alabama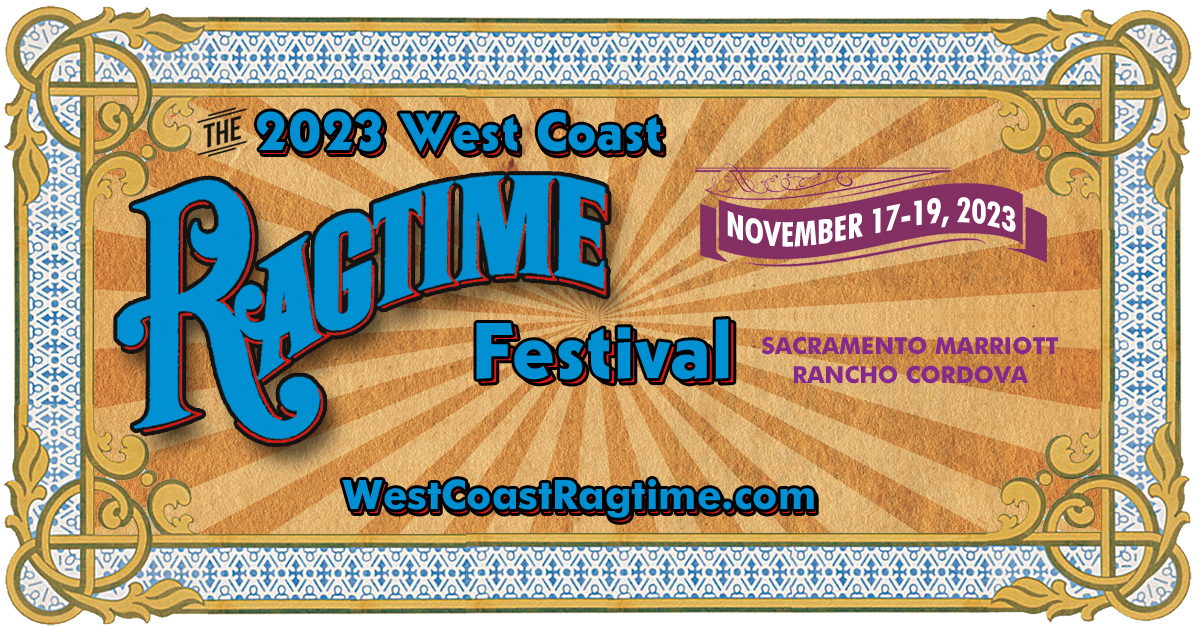 After the First World War, Jimmy Wade and William Dover were reported to have been in the band accompanying Lucille Hegamin. There is no record that Nelson was also present.
In 1923, Arnett Nelson was with Tommy Ladnier and Roy Palmer at the Ritz Carlton in Chicago. From at least 1923 to 1928, he played clarinet, alto and tenor saxophone, and perhaps also oboe in several bands lead by or with the trumpet player Jimmy Wade. Three photographs of Wade's Band taken in 1922 just have: Jimmy Wade-tp; William Dover-tb; Vernon Roulette-ts; Eddie South-vln; Teddy Weatherford-p; Edwin Jackson-d.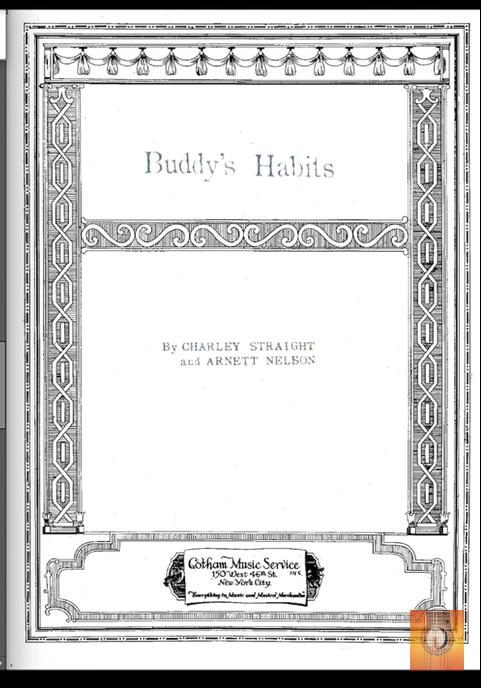 The much-played tune "Buddy's Habits" (incorrectly often put in singular) was published in 1923 by Arnett Nelson and Charley Straight (Filmtrax Copyright Hldgs Inc., May 11, 1923. for EMI Mills Music Inc.). Charley Straight was a white band leader (who once employed Bix Beiderbecke in 1924, who was sacked after four weeks because of is poor reading) and Arnett Nelson was a black reed player; this kind of cooperation was most unusual in 1923. The "Buddy" of the title was Buddy Gross who played tuba and bass saxophone in Jimmy Wade's Orchestra at the Moulin Rouge Cafe on Wabash Avenue, Chicago. Buddy Gross used to drink large amounts of beer. Buddy's habit was that at the end of each set he would rush off the stand to relieve himself. Buddy's habit was that at the end of each set he would rush off the stand to relieve himself. Buddy Gross is pictured in the first photograph in the Photographs and Clarinets section of  this article, he is sitting at the far right.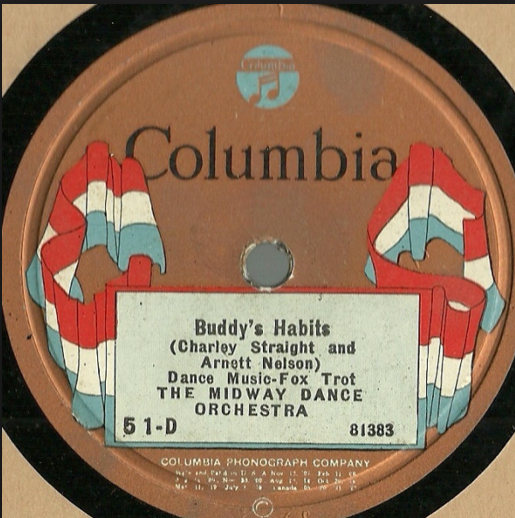 The first recording of "Buddy's Habits" by Charlie Straight: Charlie Straight and his Orchestra: Gene Caffarelli-cnt; Guy Carey-tb; Joe Gist-cl; unknown-as; Wally Preissing-ts; Leo Murphy and unknown-vl; Charlie Straight-p-dir; Frank Sylvano-bj; Ike Williams-bb; Bob Conselman-d.
Chicago. c. Jun 1923
1445-3 Buddy's Habits (Arnett Nelson and Charlie Straight)
This arrangement has a rather long clarinet part which is very much reduced in the recording by King Oliver's Jazz Band, made about four months later, which was based on the same arrangement used by Charlie Straight.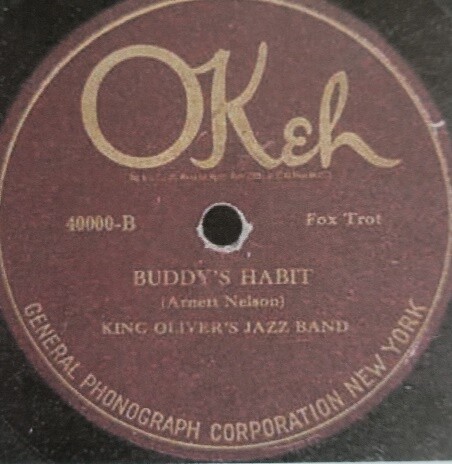 King Oliver's Jazz Band: Joe "King" Oliver-cnt; Louis Armstrong-cnt-slide whistle; Honore Dutrey-tb; Johnny Dodds-cl; Charlie Jackson-bsx; Lillian Hardin-p; Johnny St Cyr-bj; Warren 'Baby' Dodds-d.
Chicago. October 1923
8475-B Buddy's Habit (Arnett Nelson)
On the record label Oliver attributes the tune to Arnett Nelson with no mention of Charlie Straight, he also puts Habits in the singular.
Arnett Nelson also composed "It's Too Bad When The Sisters Start Truckin'"—recorded by the Chicago Rhythm Kings on March 11, 1936.
William "Bill" Dover, the trombone player with Wade, recalled making records with Fletcher Henderson accompanying Ethel Waters, Mary Straine, and other singers. Except for the Hegamin recordings, Virgo cites nothing else that I can agree has Arnett Nelson on clarinet or saxophone. I do think it likely that Arnett Nelson recorded with Ethel Waters, Mary Straine, Etta Mooney and Josie Miles.
Happy Caldwell told Al Volmer that he believes it likely that the Wade Band with Nelson recorded with Clarence Williams in 1926/1927. I have not found any convincing recordings and I cannot accept the suggestions Virgo made.
In 1927 Jimmy Wade and Arnett Nelson joined Arthur Daniels Cotton Pickers, traveling as far away as Albuquerque in New Mexico.
In 1928 Arnett Nelson led his own band in the Look Night Club in Chicago. The 1928 recording of Jimmy Wade and his Dixielanders must have been a pickup band because in 1927 the Wade band broke up.
In 1929, he toured Indiana with Clarence Morris' Band and then settled in Chicago where he joined the South Side scene. He recorded with numerous groups from 1929 to 1938. He even recorded two tracks under his own name in 1936.
His first recording after separating from Jimmy Wade has caused some controversy. It was recorded in Chicago on February 12, 1929, by King Mutt and his Tennessee Thumpers. From comments made during the recording, I am convinced that King Mutt is Arnett Nelson who plays "straight" on alto saxophone and "wild" on clarinet. He must have been known as Mutt because later, in a Thomas' Devils session (March 12, 1929), in "Boot It, Boy," David Cross shouts "Play it Mutt" to the clarinet break.
After leaving Jimmy Wade, some authors have called Arnett Nelson an eccentric player. At times, he did make some extraordinary noises, but one must not forget that "eccentric" players such as Boyd Senter, Ted Lewis, Wilbur Sweatman, Wilton Crawley, and Fess Williams were very popular and were selling lots of records. Nelson was playing in relatively small establishments and the audience had to be amused. Making strange noises and dismembering his instrument while playing was probably part of a clowning act. Nobody can claim that the music being played in these places was, in our sense of the word, serious. Many jazz lovers find this "gas pipe" playing tasteless.
With, perhaps the exception of Wilbur Sweatman, all the above-named clarinetists have, at times, played first rate jazz. Today, klezmer clarinet playing is admired and taken seriously although it also uses "gas pipe" tricks. Apart from his clowning, Arnett Nelson played some of the best blues clarinet ever recorded. He was also proficient on alto and tenor saxophones and apparently also played soprano saxophone and oboe but did not record on these instruments.
The last recording, I have found, was made in 1938. Lee Collins remembered his playing at the Victory Club after World War Two and Paige van Vorst found someone who remembered hearing him in Chicago in 1950. It has been written that after 1940 he had an alcohol problem, He died in Chicago on the 14th of March, 1959.
Arnett Nelson has a reasonably distinctive tone with a rather fine and fast vibrato and a rich chalumeau (low register). In the 1920s, he played in an agile but relaxed New Orleans fashion incorporating parts of the styles of Leon Roppolo and Larry Shields (both white) often with phrasing like Johnny Dodds or Sidney Bechet (both black). He often played in the chalumeau register, which he did very well. In later years, he often used "gas pipe" styles in the manner of Boyd Senter, Wilton Crawley, and Fess Williams—all of whom were successful musicians. It was not all clowning, he knew how to play the clarinet, and some of some of his blues playing, either solo or as accompanist, is wonderful. At times, I feel he was almost an Afro-American version of Pee Wee Russell.
Johnny Dodds is often remembered as the great blues clarinetist of the 1920s; Arnett Nelson deserves this title for the 1930s. During the 1930s Nelson recorded some 113 tracks, during the same period Dodds recorded six. Both were playing in South Side Clubs during this period.
Photographs and Clarinets
The photograph below is taken from page 37 in 'A Pictorial History of Jazz' by Keepnews, O. & Grauer, B. Jr. Robert Hale Limited, London (1955). Arnett Nelson is sitting 3rd from the left in a band portrait of Jimmy Wade's "Famous Moulin Rouge Syncopators" as it was for the 1923 and 1924 recordings. Note the elaborate drum kit and lack of banjo. Eddie South (standing) was the musical leader.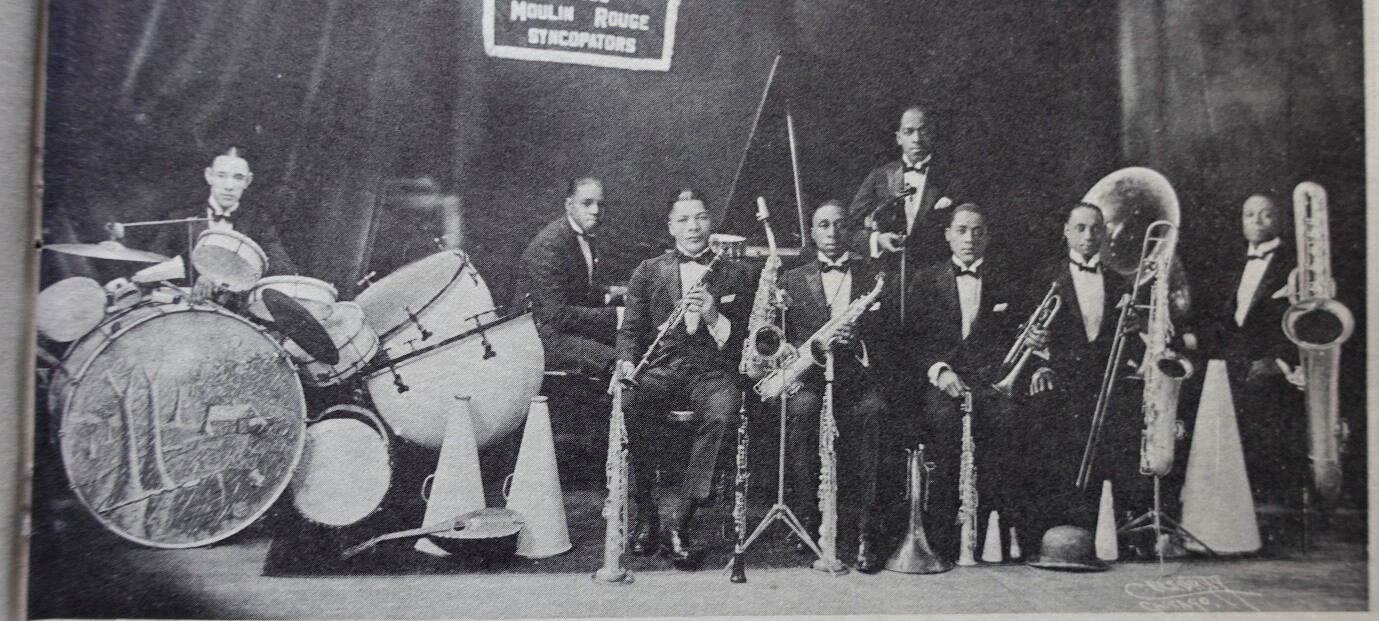 In this photograph, Nelson has a clarinet in his hand, an alto saxophone at his shoulder, and at his feet a soprano saxophone and an oboe.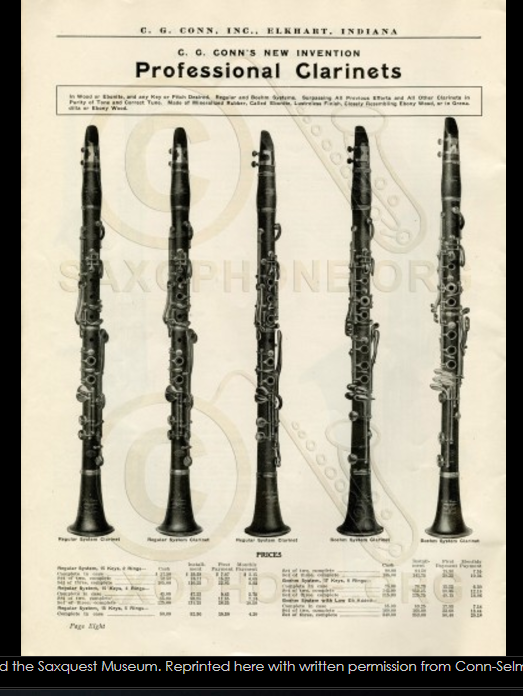 The instrument he is holding is a Full Boehm system clarinet. This instrument has an extra key extending down to Eb (Db concert pitch). It has seven rings which enable fork-fingering for Bb/Eb and an articulated C#/G#, and some other refinements. In the early 1920s the Full Boehm was not common, but I have seen photographs of Ross Gorman, and Eddie Cherry (with Manuel Perez) with them. In 1940s Wolly De Faut is pictured with one. Since the World War Two, the Full Boehm model has almost disappeared. It is still played in East and South Europe – mostly for folk music.
Today, the only firm making them is Amati in the Czech Republic. Today, some fuss is made about the Pete Fountain 'Big Easy' model by LeBlanc which has some of the extra keys of the Full Boehm but lacks the extension down to Eb. The French firm Buffet was making this kind of instrument between 1900 and 1920, perhaps also later. In 1933, Benny Goodman was photographed with this kind of instrument but soon after, he returned to the plain Boehm model.
In another photograph of the same band under a different name: James Wade's Radio Syncopators. Arnett Nelson has an oboe in his left hand.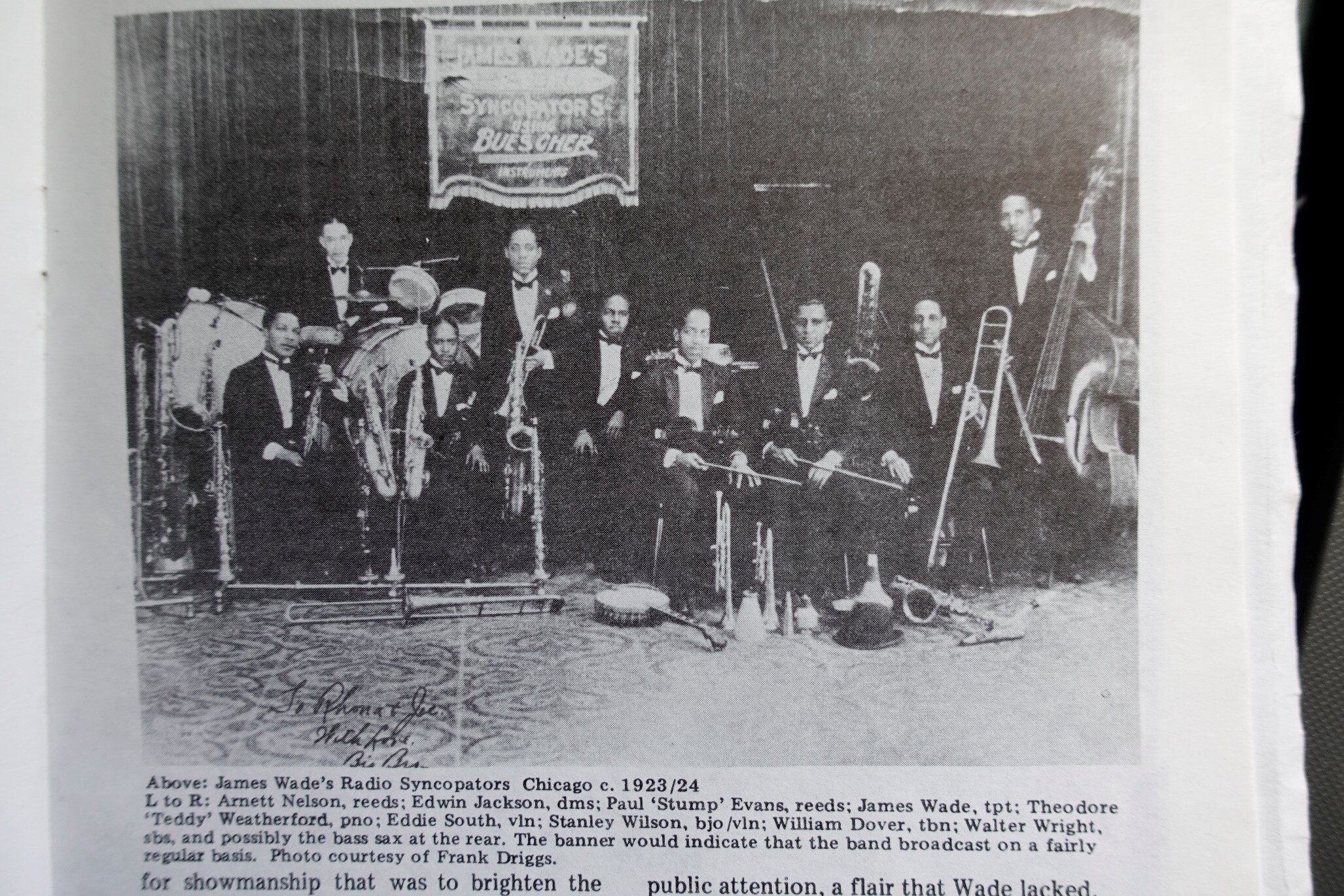 In an even later photograph c. 1925, (Fig. 4, see below). Arnett Nelson has a tenor saxophone in his lap. This band is larger: Weatherford is replaced by Anthony Spaulding, Roulette by Billy Paige and Stump Evans, 'Buddy' Gross by Walter Wright and Stanley Wilson on banjo is added (this band never recorded). The photograph in Storyville 56 is a mirror image, picture below is correct. In 1925, Roy Butler-as-cl joined Wade in Chicago and moved with band to New York; he is pictured with a Full Boehm clarinet but never recorded with Wade.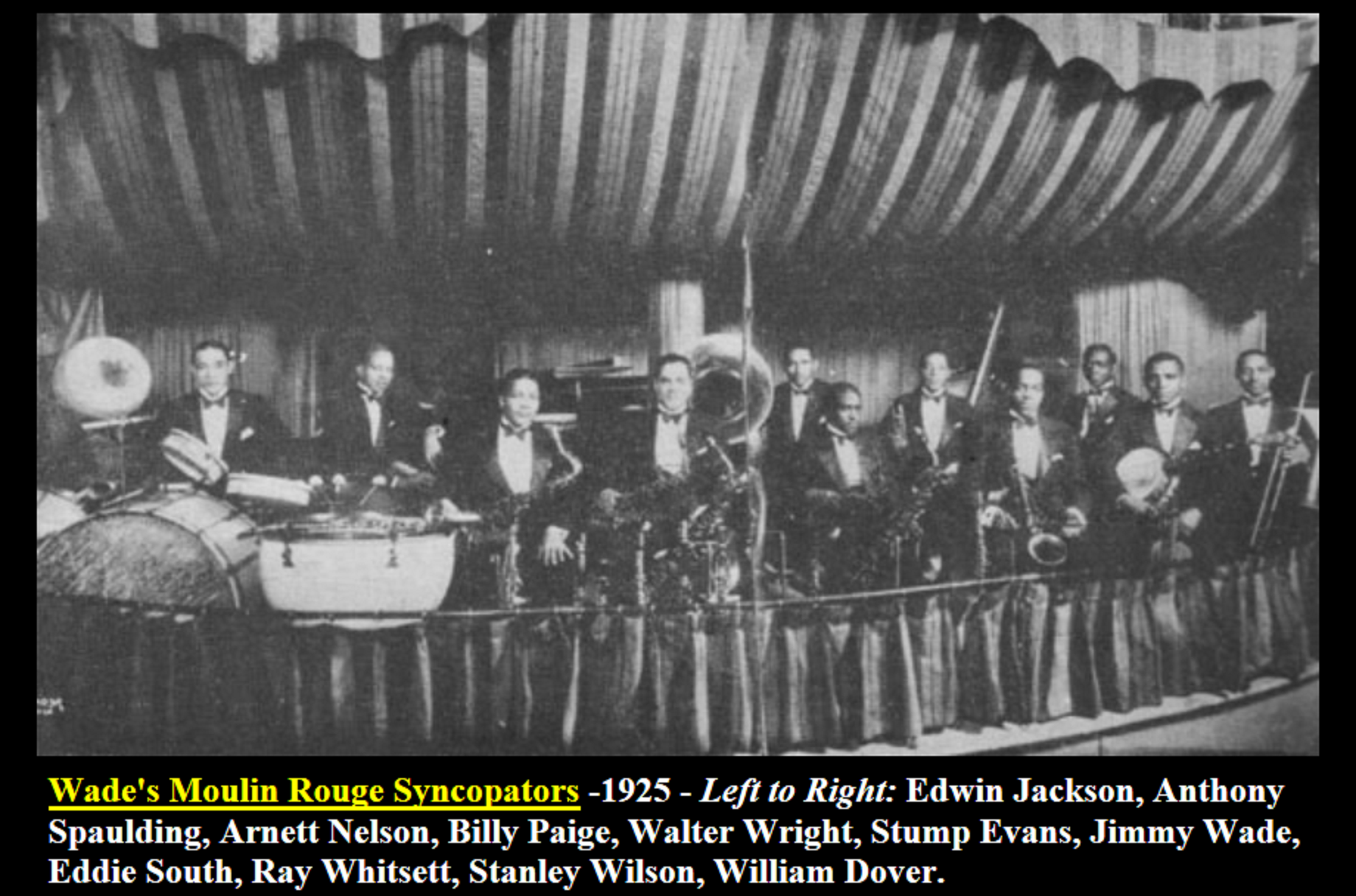 Virgo (1978) claims that Arnett Nelson is pictured on the Paramount advertisement for "Out Bound Train Blues" by Viola Bartlette accompanied by Lovie Austin Serenaders. It is a drawing. The piano player does look a bit like Lovie Austin. The clarinet player does not look very much like Arnett Nelson, but it is certainly not Johnny Dodds who plays on the advertised record. The trumpet player on this session is thought to be Junius Cobb but the illustration cannot confirm this; it could be him, Jimmy Wade (as Virgo thinks) or someone else.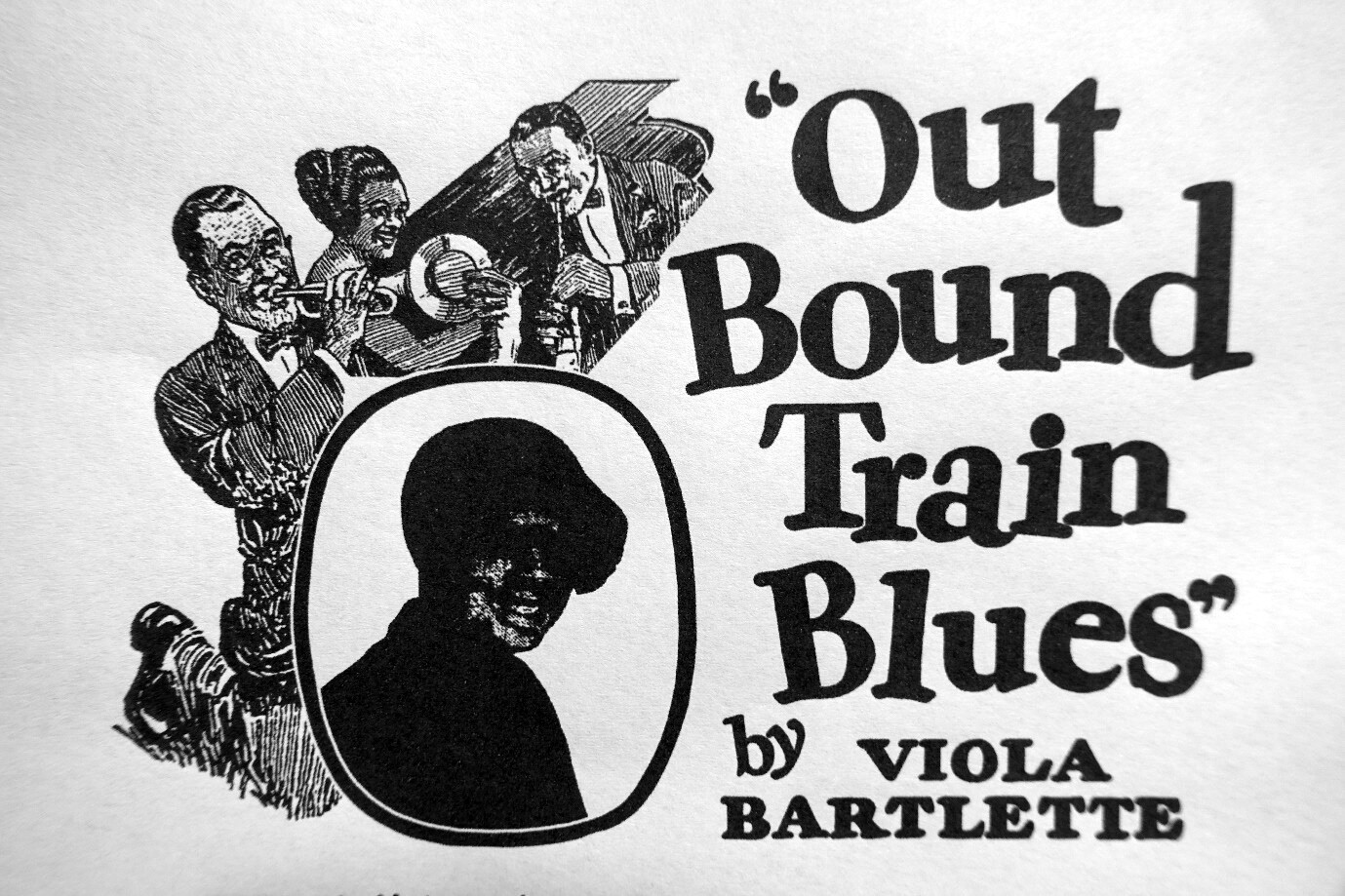 Lee Collins (1947), said of Nelson "He was a great clarinet player, but he had a weird style, something like Wilbur Sweatman—real vaudeville clarinet, not my style of clarinet player. Arnett's biggest trouble was that he liked to do tricks with his clarinet; he would take it apart and play it. He played at a very popular cabaret at 39th and Indiana, out on the South Side." Nelson recorded with Lee Collins in Chicago on October 15 and again on November 19 in 1936. They play well together.
---
I have written an annotated discography of Arnett Nelson based largely on my own evaluation of his clarinet playing because in standard works, he is very often listed as "clarinet unknown." Up to 1923, I list 30 recordings. From 1924 to 1938 with higher reliability, I list 160 recordings. You can see it here: Arnett Nelson Annotated Discography
BIBLIOGRAPHY
Allen, Walter C. Hendersonia. Jazz Monographs No. 4, Highland Park, N.J. i-xiv, 1-651 (1973).
Collins, Lee. Oh! Didn't He Ramble, as told by Mary Collins, edited by Frank J. Gillis and John W. Miner. University of Illinois Press 1-200 (1947).
Gulliver, Ralph. "Jimmy Wade." Storyville 56: 55-68 (1974/75).
Hillman, Christopher, and Middleton, Roy with Chaigne, Michel. Chicago Swingers. Cygnet Publications i-v, 1-105 (2010).
Lindström, Bo. Life and Music of George L. Brashear, 1893-1968. Privately Published, 1-89 (2018).
Sampson, Henry T. Blacks in Blackface: A Sourcebook on Early Black Musical Shows. 2nd Edition in 2 volumes. Lanham, MA: The Scarecrow Press, Inc.1-1576 (2013).
Virgo, Ernest S: Arnett Nelson. The "Unknown Clarinet." Record Research Magazine, no. 159/160: 13-14 (1978). Ernest Virgo also wrote the sleeve notes for the LP – Magpie PY 1803 Arnett Nelson – The Rhythm Kings – When the Music Sounds Good 1935-1938 – issued in 1978.