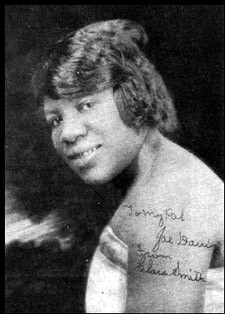 Little is known about Clara Smith's (March 13, 1894 – February 2, 1935) early life other that that she was from Spartanburg, South Carolina. She worked in vaudeville in the late Teens and early 1920s and eventually became a popular performer on the TOBA circuit. In 1923 she moved to Harlem where she worked in cabarets and theaters and began recording exclusively for Columbia. Many critics consider her late 1920's Blues recordings to be second only to
Bessie Smith's
 records in quality. She was billed as the Queen of the Moaners and the World's Greatest Moaner and on her early records she was frequently accompanied by 
Fletcher Henderson
 on piano and on her later records featured bands that included first rate Jazz musicians like, 
James P. Johnson
, 
Louis Armstrong
, 
Coleman Hawkins
 and 
Don Redman
. She recorded three duets "
Far Away Blues
" and "
I'm Going Back To My Used To Be
" and "
My Man Blues
" with Bessie Smith. Bessie and Clara were not related, but they were close personal friends until Bessie got drunk one evening in 1925 and beat up Clara. An interesting bit of trivia was that Clara gave
Josephine Baker
her first taste of show business in 1920 when she gave the thirteen year old Baker a job as her dresser in her touring company. They also briefly became lovers. Clara Smith continued to record until 1932 and performed live until she died of a heart attack in Detroit in 1935.


Title

Recording Date

Recording Location

Company

Ain't Got Nobody To Grind My Coffee
(Clarence Williams / Bud Allen)
8-9-1928
New York, New York
Columbia
14368-D
Ain't Nothin' Cookin' What You're Smellin'


(Spencer Williams)

7-15-1926
New York, New York
Columbia
14160-D
All Night Blues
(Richard M. Jones / Clarence Williams)
7-27-1923
New York, New York
Columbia
A3966
Awful Moaning Blues
Fletcher Henderson at the Piano


(Stanley S. Miller)

9-13-1923
New York, New York
Columbia
A4000
Back Woods Blues


(George Brooks)

4-30-1924
New York, New York
Columbia
14022-D
Black Woman's Blues


(Smith)

6-1-1927
New York, New York
Columbia
14223-D
Broken Busted Blues


(Edgar Dowell)

1-7-1925
New York, New York
Columbia
14062-D
Cheatin' Daddy


(Porter Grainger)

11-29-1926
New York, New York
Columbia
14192-D
Cold Weather Papa


(Bob Miller)

4-10-1924
New York, New York
Columbia
14021-D
Courthouse Blues (1)


(Smith)

4-2-1925
New York, New York
Columbia
14073-D
Courthouse Blues (2)


(Smith)

4-2-1925
New York, New York
King Akwa
Daddy Don't Put That Thing On Me Blues


(Clement)

1-26-1929
New York, New York
Columbia
14398-D
Deep Blue Sea Blues


(Clara Smith)

8-19-1924
New York, New York
Columbia
14034-D
Disappointed Blues


(Stanley S. Miller)

9-25-1925
New York, New York
Columbia
14126-D
Don't Advertise Your Man


(Jimmy Foster)

4-23-1924
New York, New York
Columbia
14026-D
Don't Fool Around On Me


(Porter Grainger)

7-21-1930
New York, New York
Columbia
14553-D
Don't Never Tell Nobody
Fletcher Henderson at the Piano
(James P. Johnson)
10-1-1923
New York, New York
Columbia
13002-D
Don't Wear It Out


(Hill)

10-31-1930
New York, New York
Okeh 8839
Down In The Mouf' Blues


(Porter Grainger)

7-21-1930
New York, New York
Columbia
14553-D
Down South Blues
(Alberta Hunter / Fletcher Henderson)
7-27-1923
New York, New York
Columbia
A3961
Ease It


(James)

11-23-1926
New York, New York
Columbia
14202-D
Empty House Blues


(Andy Razaf)

1-17-1929
New York, New York
Columbia
14409-D
Every Woman's Blues
Fletcher Henderson at the Piano


(Stanley S. Miller)

6-1923
New York, New York
Columbia
A3943
Far Away Blues
with Bessie Smith


(George Brooks)

10-4-1925
New York, New York
Columbia
13007-D
For Sale (Hannah Johnson's Jack Ass)


(Henry Troy / Clarence Williams)

9-25-1931
New York, New York
Columbia
14633-D
Get On Board


(Lemuel Fowler)

11-23-1926
New York, New York
Columbia
14183-D
Gin Mill Blues


(Lemuel Fowler)

5-21-1928
New York, New York
Columbia
14419-D
Good Looking Papa Blues


(Clarence Williams)

1-29-1924
New York, New York
Columbia
14026-D
Good Times (Come On Back Once More)


(Gray)

3-7-1931
New York, New York
Columbia
14592-D
Got My Mind On That Thing


(Bud Allen)

7-6-1928
New York, New York
Columbia
14419-D
He's Mine, All Mine


(Jimmy Foster)

12-16-1924
New York, New York
Columbia
14053-D
How'm I Doin'


(Lemuel Fowler)

5-25-1926
New York, New York
Columbia
14150-D
If You Only Knowed


(Porter Grainger)

1-8-1925
New York, New York
Columbia
14058-D
I Got Everything A Woman Needs


(Stanley S. Miller)

6-1923
New York, New York
Columbia
A3943
I'm Going Back To My Used To Be
with Bessie Smith


(Jimmy Cox)

10-4-1925
New York, New York
Columbia
13007-D
(I'm Tired Of) Fattenin' Frogs For Snakes
(Perry Bradford)
3-25-1932
New York, New York
Columbia
14653-D
I Never Miss My Sunshine
(I'm So Used To Rain)
Fletcher Henderson at the Piano


(Norman Jay Harvey)

9-7-1923
New York, New York
Columbia
A4000
Irrestible Blues
Fletcher Henderson At The Piano


(George E. Jefferson)

8-31-1923
New York, New York
Columbia
A3991
It's All Coming Home To You


(Porter Grainger)

5-10-1928
New York, New York
Columbia
14319-D
It's Tight Like That


(Thomas A. Dorsey / Hudson Whittaker)

1-26-1929
New York, New York
Columbia
14398-D
It Takes The Lawd
(To Tell What's On My Mind)


(Porter Grainger)

11-10-1925
New York, New York
Columbia
14108-D
I Want My Sweet Daddy Now


(Donald Heywood)

8-31-1923
New York, New York
Columbia
A3991
Jelly Look What You Done Done


(Hurston)

5-10-1928
New York, New York
Columbia
14319-D
Kansas City Man Blues


(Clarence Johnson / Clarence Williams)

10-2-1923
New York, New York
Columbia
12-D
Kind Lovin Blues
(Waters / Mitchell / Fletcher Henderson)
7-27-1923
New York, New York
Columbia
A3961
Kitchen Mechanic Blues


(Stanley Miller)

8-20-1925
New York, New York
Columbia
14097-D
Let's Get Loose


(Gray)

12-31-1929
New York, New York
Columbia
14497-D
Livin' Humble
11-23-1926
New York, New York
Columbia
14183-D
Low Land Moan
9-9-1930
New York, New York
Columbia
14580-D
Mama's Gone, Good Bye
(Peter Bocage / A.J. Piron)
9-20-1924
New York, New York
Columbia
14039-D
Mean Papa Turn In Your Key


(Bob Miller)

4-17-1924
New York, New York
Columbia
14022-D
My Brand-New Papa


(Roth / Roth)

5-26-1926
New York, New York
Columbia
14143-D
My Good-For-Nuthin' Man


(Spencer Williams)

3-24-1925
New York, New York
Columbia
14069-D
My John Blues


(Edgar Dowell)

4-2-1925
New York, New York
Columbia
14077-D
My Man Blues
with Bessie Smith


(Bessie Smith)

9-1-1925
New York, New York
Columbia
14098-D
My Two Timing Papa


(Stanley Miller)

8-20-1925
New York, New York
Columbia
14097-D
Nobody Knows The Way I Feel 'Dis Morning


(Tom Delaney)

1-7-1925
New York, New York
Columbia
14058-D
Oh! Mister Mitchell


(Spencer Williams)

9-12-1929
New York, New York
Columbia
14536-D
Ol' Sam Tages


(Burns)

8-4-1931
New York, New York
Columbia
14619-D
Papa I Don't Need You Now


(Louis)

9-4-1929
New York, New York
Columbia
14462-D
Percolatin' Blues


(Lemuel Fowler)

11-23-1926
New York, New York
Columbia
14202-D
Pictures On The Wall


(Clara Smith / Fred Longshaw)

1-18-1932
New York, New York
Columbia
14645-D
Play It


(W. Benton Overstreet)

7-27-1923
New York, New York
Columbia
A3966
Salty Dog
(Papa Charlie Jackson)
5-26-1926
New York, New York
Columbia
14143-D
San Francisco Blues


(Thomas "Baby" Grice)

10-7-1924
New York, New York
Columbia
14049-D
Separation Blues


(Roth)

7-15-1926
New York, New York
Columbia
14160-D
Shipwrecked Blues (1)


(Spencer Williams)

4-2-1925
New York, New York
Columbia
14077-D
Sobbin' Sister Blues


(Wallace)

5-23-1928
New York, New York
Columbia
14344-D
So Long Jim


(Fred Longshaw / Clara Smith)

3-25-1932
New York, New York
Columbia
14653-D
Steamboat Man Blues


(Wallace)

5-23-1928
New York, New York
Columbia
14344-D
Steel Drivin' Sam


(Billy Gray)

12-16-1924
New York, New York
Columbia
14053-D
Street Department Papa


(Bob Miller)

1-18-1932
New York, New York
Columbia
14645-D
Tell Me When


(Williams)

1-17-1929
New York, New York
Columbia
14409-D
Texas Moaner Blues


(Clarence Williams)

8-19-1924
New York, New York
Columbia
14034-D
That's Why The Undertakers Are Busy Today


(Gray)

6-1-1927
New York, New York
Columbia
14223-D
The Basement Blues


(W.C. Handy)

9-20-1924
New York, New York
Columbia
14039-D
The Clearing House Blues


(Sadie Honesty / Harry Webb)

4-17-1924
New York, New York
Columbia
14019-D
The L & N Blues


(P. Henri)

3-27-1925
New York, New York
Columbia
14073-D
The Market Street Blues
(Charlie Creath)
11-10-1925
New York, New York
Columbia
14108-D
Tired Of The Way You Do


(Jones)

9-4-1929
New York, New York
Columbia
14462-D
Uncle Sam Blues


(Clarence Williams)

10-2-1923
New York, New York
Columbia
12-D
Unemployed Papa – Charity Working Mama


(Andy Razaf / Asbestos Jones)

8-4-1931
New York, New York
Columbia
14619-D
Waitin' For The Evenin' Mail
Fletcher Henderson at the Piano


(Billy Baskette)

10-1-1923
New York, New York
Columbia
13002-D
Wanna Go Home


(Stanley Miller)

7-13-1928
New York, New York
Columbia
14368-D
War Horse Mama


(Bob Miller)

4-10-1924
New York, New York
Columbia
14021-D
West Indies Blues
(Clarence Williams / Edgar Dowell / Spencer Williams)
4-17-1924
New York, New York
Columbia
14019-D
What Makes You Act Like That?


(Hill)

10-31-1930
New York, New York
Columbia
14568-D
When I Steps Out


(Lemuel Fowler)

3-27-1925
New York, New York
Columbia
14069-D
Where Is My Man?


(Spencer Williams)

9-12-1929
New York, New York
Columbia
14536-D
Whip It To A Jelly


(Richard)

5-25-1926
New York, New York
Columbia
14150-D
Woman To Woman
9-9-1930
New York, New York
Columbia
14580-D
You Better Keep The Home Fires Burning (Cause Your Mamma's Getting Cold)


(Wenrich / Leslie / Kinney)

1-8-1925
New York, New York
Columbia
14062-D
You Can't Get It Now


(Potters)

4-7-1927
New York, New York
Columbia
14256-D
You Can't Stay Here No More


(Cole)

12-31-1929
New York, New York
Columbia
14497-D
You Dirty Dog
(Clarence Williams)
9-25-1931
New York, New York
Columbia
14633-D
You Don't Know Who's Shakin' Your Tree


(Stanley Miller)

12-30-1926
New York, New York
Columbia
14192-D
You Don't Know My Mind


(Samuel Gray / Virginia Liston / Clarence Williams)

1-29-1924
New York, New York
Columbia
14013-D
You Had Too Much
(Alex Hill)
10-31-1930
New York, New York
Okeh 8839
You're Getting Old On Your Job


(Hill)

10-31-1930
New York, New York
Columbia
14568-D