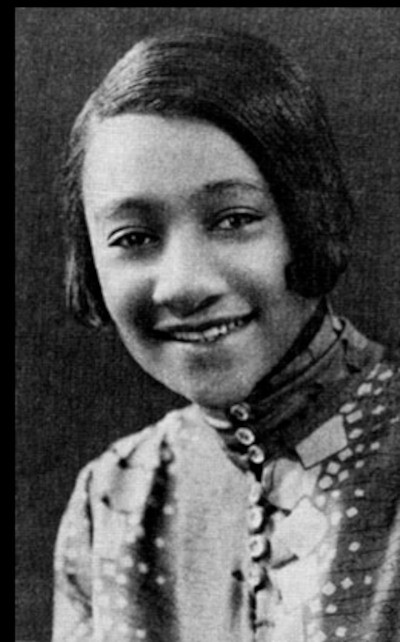 At age twelve
Alberta Hunter
(April 1, 1895 – October 17, 1984) ran away from her hometown of Memphis to go to Chicago to become a Blues singer. She had a somewhat hard time at first but gradually, achieved her goal and became one of the most popular African-American entertainers of the 1920s.
She got her professional start in 1911 at a Southside club called Dago Frank's, a tough bordello frequented by pimps and criminals. She stayed there until 1913, when the place was closed after a murder in the club. She then moved on to a small night club and managed to save enough money to bring her mother north to Chicago and support her for the rest of her life.
Alberta was married briefly, but never consummated the union, using the excuse that she didn't want to have sex in the same house where her mother lived, but the real story was that Hunter was a lesbian. Her husband moved back to the South and she never saw him again.
Alberta met Lottie Taylor soon afterwards. She was the niece of the famous African-American entertainer Bert Williams. The two became lovers and stayed together for many years. Alberta moved on to a club called Elite Cafe #1 (3030 South State Street) where New Orleans Ragtime pianist Tony Jackson tickled the keys. Unlike Alberta, Tony Jackson was openly gay, which must have taken a lot of guts back in those days. Alberta helped to popularize some of Jackson's songs, including his most famous song, "Pretty Baby" which was written for his boyfriend.
In 1915 Hunter got a gig at the Panama Cafe, which was a fancy place that catered to Whites. At this point Alberta was becoming a star in Chicago, but the Panama was also closed after a murder and Alberta went next door to The De Luxe Cafe (3503 South State Street), and then across the street to the Dreamland Cafe (3520 South State Street) where King Oliver's Creole Jazz Band played. During her stay there she became friends with Oliver's pianist Lil Hardin who was also from Memphis. After this Hunter became a full fledged star and was billed as the "Sweetheart of Dreamland". After her show at the Dreamland she would take a train to another club and sing some more. One night her piano player was shot and killed while they were on stage. Clearly, gangsterism was out of control in Chicago.
In 1921 Alberta moved to New York and launched her recording career with the Black Swan label with Fletcher Henderson's Novelty Orchestra, but she switched to Paramount in 1922 where Fletcher Henderson 
continued to accompany her on the piano. Hunter wrote a lot of her own material and her song "Down Hearted Blues", became Bessie Smith's first record in 1923.
That same year she became the first African-American singer to be backed up by a White band on a recording released at the time. (In May 1921 Lavinia Turner, who was African-American, was backed by the Original Dixieland Jazz Band on 'Jazz Me Blues.' However, the three takes she made were not issued; instead Victor issued a version with no vocal.) The Original Memphis Five supported her on "Tain't Nobody's Biz-ness If I Do" and "If You Want To Keep Your Daddy Home", and "Bleeding Hearted Blues". In 1924 she sang on the famous Clarence Williams produced Red Onion Jazz Babies sessions that brought Louis Armstrong and Sidney Bechet together for the first time on record.
While in New York, Hunter got involved in several African-American musical revues. She replaced Bessie Smith in the How Come? revue of 1923, and this established her as a star in New York City.
Alberta Hunter recorded under several pseudonyms during the 1920s in an attempt to keep record companies she had signed exclusive contracts with from finding out about this extra source of income. On the Biltmore label she was Alberta Prime; on the Gennett she was Josephine Beatty (the name of her dead half sister); and on the Okeh, Victor and Columbia labels she used her own name. It is said that Alberta's talents were never captured that well on records, and that she was much better live. She also used the name of May Alix, but there was also a real May Alix that recorded with Jimmie Noone's Apex Orchestra and Louis Armstrong and his Hot Five.
Before leaving for Europe in 1927 she recorded some sessions with Fats Waller on organ. Later that year she performed in England and on the Continent as part of "Showboat" with Paul Robeson, and various other traveling musical revues. She was a hit in Paris, and continued to perform in Europe throughout the 1930s as well as the Middle East and Russia. During World War II, Alberta was part of the USO and entertained the troops throughout Asia, the South Pacific Islands and Europe. After the war she returned to America to care for her ailing mother, but continued singing until she quit music in 1956 after her mother died. At the age of 59 she enrolled in a practical nursing course and for the next twenty years she worked in a New York City hospital. In the early 1960s she recorded a few albums and then surprisingly took to the stage again in 1977 at age 82 and continued to perform up until the time of her death in 1984.

Title

Recording Date

Recording Location

Company

After All These Years


(Shelton Brooks)

7-1922
New York, New York
Paramount
12010-B
Aggravatin' Papa (1)


(Turk / Robinson)

2-1923
New York, New York
Paramount
12013-B
Aggravatin' Papa


(Turk / Robinson)

2-1923
New York, New York
Paramount
12013-B
A Master Man With A Master Mind
1-8-1926
New York, New York
Okeh
8278
Beale Street Blues
Thomas Waller at the Piano


(W.C. Handy)

5-20-1927
Camden, New Jersey
Victor
20771-A
Bleeding Hearted Blues (1)
Accompanied by the Original Memphis Five
(Lovie Austin)
2-1923
New York, New York
Paramount
12021-B
Bleeding Hearted Blues (2)
Accompanied by the Original Memphis Five
(Lovie Austin)
2-1923
New York, New York
Paramount
12021-B
Boogie Wooogie Swing
6-3-1940
New York, New York
Bluebird
8485
Bring Back The Joys (2)


(Rose)

5-1921
New York, New York
Paramount
12014-B
Black Swan
2008-A
Bring Back The Joys (3)


(Rose)

5-1921
New York, New York
Paramount
12014-B
Black Swan
2008-A
Bring It With You When You Come


(Porter Grainger)

2-1923
New York, New York
Paramount
12018-B
Chirping The Blues (1)
Flecther Henderson at Piano


(Alberta Hunter)

2-1923
New York, New York
Paramount
12017-A
Chirping The Blues (2)
Flecther Henderson at Piano


(Alberta Hunter)

12-1922
New York, New York
Paramount
12017-A
Chirping The Blues


(Alberta Hunter)

8-13-1939
New York, New York
Decca
7644 A
Come On Home (1)


(Harry Akst / George Meyer)

2-1923
New York, New York
Paramount
12013-A
Come On Home (2)


(Harry Akst / George Meyer)

2-1923
New York, New York
Paramount
12013-A
Daddy Blues (1)


(Clarence Jones)

7-1922
New York, New York
Paramount
12000-B
Daddy Blues (2)


(Clarence Jones)

7-1922
New York, New York
Paramount
12000-B
Don't Forget To Mess Around
9-15-1926
New York, New York
Okeh
8409
Don't Pan Me (1)


(Gus Butler)

7-1922
New York, New York
Paramount
12000-A
Don't Pan Me (2)


(Gus Butler)

7-1922
New York, New York
Paramount
12000-A
Don't Talk About Me


(Gus Butler)

7-1922
New York, New York
Paramount
12010
Don't Want It At All


(Brooks)

1-8-1926
New York, New York
Okeh
8315 A
Double Crossin' Papa
1-16-1926
New York, New York
Okeh
8294
Downhearted Blues (1)
(Lovie Austin / Alberta Hunter)
7-1922
New York, New York
Paramount
12005-A
Down Hearted Blues (2)
(Lovie Austin / Alberta Hunter)
7-1922
New York, New York
Paramount
12005-A
Downhearted Blues
(Lovie Austin / Alberta Hunter)
8-13-1939
New York, New York
Decca
7727 B
Down South Blues (1)
(Fletcher Henderson / Alberta Hunter)
5-1923
New York, New York
Paramount
12036-B
Down South Blues (4)
(Fletcher Henderson / Alberta Hunter)
5-1923
New York, New York
Paramount
12036-B
Driftin' Tide
3-20-1935
New York, New York
ARC
unissued
Empty Cellar Blues
(Perry Bradford)
1-16-1926
New York, New York
Okeh
8315 B
Everybody Does It Now
1-8-1926
New York, New York
Okeh
8278
Everybody Mess Around
(Perry Bradford)
9-10-1926
New York, New York
Okeh
8383
Experience Blues


(Alberta Hunter)

10-1923
New York, New York
Paramount
12065
Fine And Mellow


(Billie Holiday)

8-13-1939
New York, New York
Decca
7633
Gimmie All The Love You Got


(Foster)

7-18-1929
New York, New York
Columbia 14450-D
Gonna Have You – Ain't Gonna Leave You Alone
(Julian Cobb)
7-1922
New York, New York
Paramount
12005-B
Gonna Have You – Ain't Gonna Leave You Alone (3)
(Julian Cobb)
7-1922
New York, New York
Paramount
12005-B
Heebie Jeebies


(Boyd Adkins)

9-15-1926
New York, New York
Okeh
8383
He's A Darn Good Man
(To Have Hanging Around) (1)


(Jones / Taylor)

5-1921
New York, New York
Black Swan
2019-A
Paramount
12014-A
He's A Darn Good Man
(To Have Hanging Around) (2)


(Jones / Taylor)

5-1921
New York, New York
Black Swan
2019-A
Paramount
12014-A
He's Got A Punch Like Joe Louis
New York, New York
Juke Box
JB 510 B
How Long, Sweet Daddy, How Long (2)


(Jones / Taylor)

5-1921
New York, New York
Black Swan
2008-B
How Long, Sweet Daddy, How Long (3)


(Jones / Taylor)

5-1921
New York, New York
Black Swan
2008-B
I Didn't Come To Steal Nobody's Man
9-10-1926
New York, New York
Okeh
8393
If The Rest Of The World Don't Want You (Go Back To Your Mother And Dad) (1) (From "Runnin' Wild")


(Dave Dreyer)

2-1924
New York, New York
Paramount
12093-B
If The Rest Of The World Don't Want You (Go Back To Your Mother And Dad)(2) (From "Runnin' Wild")


(Dave Dreyer)

2-1924
New York, New York
Paramount
12093-B
If You Can't Hold The Man You Love
(Don't Cry When He's Gone)


(Irving Kahal / Sammy Fain)

8-11-1926
New York, New York
Okeh
8365-A
If You Want To Keep Your Daddy Home


(Porter Grainger / Everett Rickets)

2-1923
New York, New York
Paramount
12016-B
I'm Down Right Now But I Won't Be Down Always
2-26-1927
Camden, New Jersey
Victor
I'll Forgive You 'Cause I Love You
2-26-1927
Camden, New Jersey
Victor
20497-B
I'll See You Go


(Alberta Hunter)

8-13-1939
New York, New York
Decca
7644 B
I'm Going Away Just To Wear You Off My Mind (1)
Piano Accompaniment by Eubie Blake


(Charlie Johnson / Warren Smith / Lloyd Smith)

7-1922
New York, New York
Paramount
12006-A
I'm Going Away Just To Wear You Off My Mind (2)
Piano Accompaniment by Eubie Blake


(Charlie Johnson / Warren Smith / Lloyd Smith)

7-1922
New York, New York
Paramount
12006-A
I'm Going Away Just To Wear You Off My Mind (3)
Piano Accompaniment by Eubie Blake


(Charlie Johnson / Warren Smith / Lloyd Smith)

7-1922
New York, New York
Paramount
12006-A
I'm Going Away Just To Wear You Off My Mind


(Charlie Johnson / Warren Smith / Lloyd Smith)

2-1923
New York, New York
Paramount
12019
I'm Going To See My Ma


(Clarence Todd)

5-20-1927
Camden, New Jersey
Victor
21539-B
I'm Gonna Lose Myself 'Way Down In Louisville


(Alberta Hunter)

2-26-1927
Camden, New Jersey
Victor
20497-A
I'm Hard To Satisfy
1-16-1926
New York, New York
Okeh
8294
I'm Tired Blues
9-10-1926
New York, New York
Okeh
8409
It's Gonna Be A Cold, Cold Winter
11-1924
New York, New York
Blu-Disc T1007
I Won't Let You Down
6-3-1940
New York, New York
Bluebird
8485
Jazzin' Baby Blues (1)
Piano Accompaniment by Eubie Blake
(Richard M. Jones)
7-1922
New York, New York
Paramount
12006-B
Jazzin' Baby Blues (2)
Piano Accompaniment by Eubie Blake
(Richard M. Jones)
7-1922
New York, New York
Paramount
12006-B
Jazzin' Baby Blues (4)
Piano Accompaniment by Eubie Blake
(Richard M. Jones)
7-1922
New York, New York
Paramount
12006-B
Lonesome Monday Morning Blues


(Spencer Williams)

9-1922
New York, New York
Paramount
12007-B
Loveless Love


(W.C. Handy)

2-1923
New York, New York
Paramount
12019
Maybe Someday (1)
Accompanied by Lovie Austin and John Ohrlgant


(Ben Spikes / John Spikes)

10-1923
New York, New York
Paramount
12066-B
Maybe Someday (2)
Accompanied by Lovie Austin and John Ohrlgant


(Ben Spikes / John Spikes)

10-1923
New York, New York
Paramount
12066-B
Michigan Water Blues (2)
(Clarence Williams)
5-1923
New York, New York
Paramount
12036-A
Michigan Water Blues (4)
(Clarence Williams)
5-1923
New York, New York
Paramount
12036-A
Miss Anna Brown (1)
Lovie Austin Piano Accompaniment


(Thomas A. Dorsey)

10-1923
New York, New York
Paramount
12066-A
Miss Anna Brown
Lovie Austin Piano Accompaniment


(Thomas A. Dorsey)

10-1923
New York, New York
Paramount
12066-A
Mistreated Blues
Piano accompaniment by Flecther Henderson
5-1923
New York, New York
Paramount
12043
My Castle's Rockin'


(Alberta Hunter)

6-3-1940
New York, New York
Bluebird
8539
My Old Daddy's Got A Brand-New Way To Love
2-26-1927
Camden, New Jersey
Victor
20651
My Particular Man


(Johnson)

7-18-1929
New York, New York
Columbia
14450-D
Old Fashioned Love (1)
(Cecil Mack / James.P.Johnson)
2-1924
New York, New York
Paramount
12093-A
Old Fashioned Love
(Cecil Mack / James.P.Johnson)
2-1924
New York, New York
Paramount
12093-A
Parlor Social De Luxe
(Duke Ellington)
11-1924
New York, New York
Blu-Disc T1007
Sad 'N' Lonely Blues (1)


(Porter Grainger / Lena Wilson)

10-1923
New York, New York
Paramount
12065
Sad 'N' Lonely Blues


(Porter Grainger / Lena Wilson)

10-1923
New York, New York
Paramount
12065
Second Hand Man
3-20-1935
New York, New York
ARC
unissued
Send Me A Man
3-20-1935
New York, New York
ARC
unissued
Someday Sweetheart


(Reb Spikes / John Spikes)

5-1921
New York, New York
Black Swan
2019-B
Someday Sweetheart


(Reb Spikes / John Spikes)

8-13-1939
New York, New York
Decca
7727 A
Someone Else Will Take Your Place (1)
Flecther Henderson at Piano


(David Warfield)

2-1923
New York, New York
Paramount
12017-B
Someone Else Will Take Your Place (2)
Flecther Henderson at Piano


(David Warfield)

2-1923
New York, New York
Paramount
12017-B
Stingaree Blues


(Clinton Kemp)

7-1923
New York, New York
Paramount
12049-A
Sugar
Thomas Waller at the Piano
5-20-1927
Camden, New Jersey
Victor
20771-B
Take That Thing Away
12-11-1925
New York, New York
Okeh
8268-A
Take Your Big Hands Off
New York, New York
Juke Box
JB 510 A
Tain't Nobody's Biz-ness If I Do


(Porter Grainger / Everet Rickets)

2-1923
New York, New York
Paramount
12016-A
The Love I Have For You
6-3-1940
New York, New York
Bluebird
8539
Vamping Brown
(Lovie Austin)
2-1923
New York, New York
Paramount
12020
Vamping Brown (2)
(Lovie Austin)
2-1923
New York, New York
Paramount
12020
Wasn't It Nice
9-10-1926
New York, New York
Okeh
8393
Why Did You Pick Me Up When I Was Down, Why Didn't You Let Me Lay
(Lovie Austin / Nathan Foster)
7-1922
New York, New York
Paramount
12008-B
Why Did You Pick Me Up When I Was Down, Why Didn't You Let Me Lay (2)
(Lovie Austin / Nathan Foster)
7-1922
New York, New York
Paramount
12008-B
Yelping Blues
8-13-1939
New York, New York
Decca
7633
You Can Have My Man If He Comes To See You Too


(Libby Williams)

2-1923
New York, New York
Paramount
12018
You Can't Have It All


(H.C. Washington)

9-1922
New York, New York
Paramount
12008-A
You Can Take My Man But You Can't Keep Him Long


(Lloyd Smith)

2-1923
New York, New York
Paramount
12020
You Can't Do What My Last Man Did (1)
(James P. Johnson / Allie Moore)
7-1923
New York, New York
Paramount
12049-B
You Can't Do What My Last Man Did (2)
(James P. Johnson / Allie Moore)
7-1923
New York, New York
Paramount
12049-B
You Can't Tell The Difference After Dark
3-20-1935
New York, New York
ARC
unissued
You For Me, Me For You
(Cecil Mack / James P. Johnson)
8-11-1926
New York, New York
Okeh
8365-B
Your Jelly Roll Is Good


(Brooks)

12-11-1925
New York, New York
Okeh
8268-B
You Shall Reap Just What You Sow (1)
Accompanied by Henderson's Orchestra


(Alexander Robinson)

2-1923
New York, New York
Paramount
12021-A
You Shall Reap Just What You Sow (2)


(Alexander Robinson)

2-1923
New York, New York
Paramount
12021-A


Alberta Hunter; A Celebration In Blues, by Frank C. Taylor with Gerald Cook, McGraw-Hill, 1987