Frankie Trumbauer
 had one of the most original and modern jazz bands of the 1920s and early 1930s. They were never that successful financially, which led Trumbauer to join other bands to make a buck. Trumbauer's solo on "
Trumbology
" is one of the most influential saxophone parts in the history of Jazz. Some of
Bix Beiderbecke's
 best recordings were with the Trumbauer orchestra.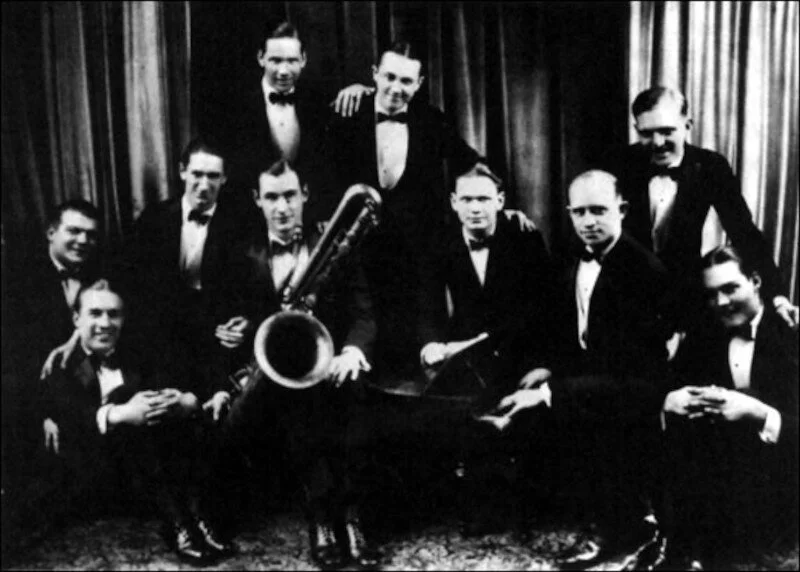 Bix and Tram were at the peak of their careers on songs like "Singin' The Blues" and "Riverboat Shuffle." Many of the finest White Jazz artists of the 1920s like Pee Wee Russell, Jack Teagarden, Venuti and Lang played with the band. Eddie Lang in particular contributed some wonderful guitar parts.
Thanks to Dennis Pereyra, Sergio Furlanetto and Andy Hall for their help with the recordings on this page.

Title

Recording Date

Recording Location

Company

A Good Man Is Hard To Find


(Eddie Green)

10-25-1927
New York, New York
Okeh
40966
Ain't Misbehavin'
(Andy Razaf / Harry Brooks / Fats Waller)
4-27-1936
New York, New York
Brunswick
7665
Announcer's Blues
(Stokes / Frankie Trumbauer)
1-29-1936
New York, New York
Brunswick
7629
Baby, Won't You Please Come Home?
(Clarence Williams / Charles Warfield)
3-17-1929
New York, New York
Okeh
41286
Baltimore


(Jimmy McHugh)

9-28-1927
New York, New York
Okeh
40926
Bass Drum Dan


(Frankie Trumbauer)

4-10-1931
New York, New York
Columbia 2897-D
Bass Drum Dan


(Frankie Trumbauer)

8-17-1932
New York, New York
Columbia 2897-D
Between The Devil And The Deep Blue Sea


(Ted Koehler / Harold Arlen)

10-17-1932
New York, New York
Columbia 2729-D
Between The Devil And The Deep Blue Sea


(Ted Koehler / Harold Arlen)

3-25-1946
New York, New York
Capitol
W2138
Bless You! Sister


(Al Dubin / J. Russel Robinson)

7-5-1928
New York, New York
Okeh
41100
Blue River
Vocal Refrain by Seeger Ellis


(Alfred Bryan / Joseph E. Meyer)

9-28-1927
New York, New York
Okeh
40879
Blue Moon


(Lorenz Hart / Richard Rodgers)

11-20-1934
New York, New York
Victor
24812-A
Borneo


(Walter Donaldson)

4-10-1928
New York, New York
Okeh
41039
Breakin' In A Pair Of Shoes


(Ned Washington / Dave Franklin / Sammy Stept)

1-29-1936
New York, New York
Brunswick
7613
Break It Down


(Frankie Trumbauer / David D. Rose)

1-12-1934
New York, New York
Brunswick
6763


B-14586-A

Break It Down


(Frankie Trumbauer / David D. Rose)

1-12-1934
New York, New York
Brunswick
6763


B-14586-B

Business In Q


(Archie Bleyer)

10-17-1932
New York, New York
Columbia
2710-D
Bye Bye Blues


(Bert Down / Chauncey Gray / David Bennett / Fred Hamm)

9-8-1930
New York, New York
Okeh
41450
China Boy


(Dick Winfree / Phil Bouttelje)

2-23-1934
New York, New York
Brunswick
6912


B14848-A

China Boy


(Dick Winfree / Phil Bouttelje)

2-23-1934
New York, New York
Brunswick
unissued


B14848-B

China Boy


(Dick Winfree / Phil Bouttelje)

3-25-1946
New York, New York
Capitol
T328
Clarinet Marmalade


(Larry Shields / Henry Ragas)

2-4-1927
New York, New York
Okeh
40772-A
Choo Choo


(Frankie Trumbauer / Matty Malneck)

9-8-1930
New York, New York
Okeh
41450
Cinderella's Wedding Day


( Frankie Trumbauer)

10-17-1932
New York, New York
Columbia 2897-D
Crazy Quilt


(Andrew Sterling / Paul Van Loan)

9-24-1931
Chicago, Illinois
Brunswick
6146


C-7878-A

Crazy Quilt


(Andrew Sterling / Paul Van Loan)

9-24-1931
Chicago, Illinois
Brunswick
A-9110


C-7878-G

Crying All Day


(Frankie Trumbauer / Chauncey Morehouse)

10-25-1927
New York, New York
Okeh
40966
Deep Harlem
(Eddie Condon / Frank Signorelli / Matty Malneck)
5-10-1930
New York, New York
Okeh
41431
Diga Diga Doo
(From Blackbirds of 1928)


(Dorothy Fields / Jimmy McHugh)

6-15-1936
New York, New York
Brunswick
7687


B-19443-1

Diga Diga Doo
(From Blackbirds of 1928)


(Dorothy Fields / Jimmy McHugh)

6-15-1936
New York, New York
Brunswick
7687


B-19443-2

Don't Leave Me Daddy


(Joe Verges)

1-10-1929
New York, New York
Columbia
unissued


147770-3

Down T' Uncle Bill's
(Johnny Mercer / Hoagy Carmichael)
11-20-1934
New York, New York
Victor
24812-B
Dusky Stevedore


(Andy Razaf / J.C. Johnson)

7-5-1928
New York, New York
Okeh
41100
Emaline
Vocal by Jack Teagarden


(Mitchell Parish / Frank Perkins)

2-23-1934
New York, New York
Brunswick
6788
Flight Of The Haybag
(Rhythmic Thesaurus)


(Frankie Trumbauer)

1-29-1936
New York, New York
Brunswick
7629
Futuristic Rhythm (A)


(Dorothy Fields / Jimmy McHugh)

3-8-1929
New York, New York
Okeh
unissued
Futuristic Rhythm (B)


(Dorothy Fields / Jimmy McHugh)

3-8-1929
New York, New York
Okeh
41209
Georgia On My Mind


(Stuart Gorrell / Hoagy Carmichael)

9-24-1931
Chicago, Illinois
Brunswick
6159
Get Happy


(Ted Koehler / Harold Arlen)

5-10-1930
New York, New York
Okeh
41431
Gotta Feelin' For You
From the motion picture "Hollywood Revue of 1929"


(Jo Trent / Fred Ahlert)

5-21-1929
New York, New York
Okeh
41252
Happy Feet
(From Motion Picture "King Of Jazz")


(Jack Yellen / Milton Ager)

5-8-1930
New York, New York
Okeh
41421
High Up On A Hilltop
Vocal refrain by Charles Gaylord


(Abel Baer / Richard Whiting / Jimmy Campbell)

1-19-1928
New York, New York
Okeh
41128
Hittin' The Bottle
(From "Earl Carroll Vanities")


(Ted Koehler / Harold Arlen)

7-22-1930
New York, New York
Okeh
41437
Honeysuckle Rose


(Andy Razaf / Fats Waller)

4-10-1931
Chicago, Illinois
Brunswick
6093
Honeysuckle Rose


(Andy Razaf / Fats Waller)

6-24-1931
Chicago, Illinois
Brunswick
6159
Honky Tonk Train Blues
Frankie Trumbauer presents Rene Faure (Boogie-Woogie Pianist)


(Meade Lux Lewis)

2-23-1940
New York, New York
Varsity
8236
Davis
29-4
How Am I To Know?
From Motion Picture "Dynamite"
Vocal Refrain by Smith Ballew


(Dorothy Parker / Jack King)

9-18-1929
New York, New York
Okeh
41301
Humpty Dumpty


(Fud Livingston)

9-28-1927
New York, New York
Okeh
40926
I Don't Stand A Ghost Of A Chance


(Crosby / Washington / Young)

2-22-1940
New York, New York
Varsity
8256
I Hope Gabriel Likes My Music
Vocal Chorus by Jack Teagarden


(David Franklin)

2-5-1936
New York, New York
Brunswick
7613
I Like That


(Frankie Trumbauer / Lennie Hayton)

4-30-1929
New York, New York
Okeh
41286
I Like To Do Things For You
(vocal by Jeannie Lang, pseudonym for Mildred Bailey)
(From Motion Picture "King Of Jazz")


(Jack Yellen / Milton Ager)

5-8-1930
New York, New York
Okeh
41421
I'm Coming Virginia


(Marion Cook / Donald Heywood)

5-13-1927
New York, New York
Okeh
40843
I'm Wondering Who


(Jo Trent / Peter DeRose / Harry Von Tilzer)

09-30-1927
New York, New York
Okeh
40912
In A Mist
(Bix Beiderbecke)
2-23-1934
New York, New York
Brunswick
6997
I'm An Old Cowhand
(From "Rhythm On The Range")


(Johnny Mercer)

6-15-1936
New York, New York
Brunswick
7687


B-19442-1

I'm An Old Cowhand
(From "Rhythm On The Range")


(Johnny Mercer)

6-15-1936
New York, New York
Brunswick
7687


B-19442-2

In The Merry Month Of Maybe


(Ira Gershwin / Billy Rose / Harry Warren)

9-24-1931
Chicago, Illinois
Brunswick
6146


C-7875-A

In The Merry Month Of Maybe


(Ira Gershwin / Billy Rose / Harry Warren)

9-24-1931
Chicago, Illinois
Brunswick
A-9110


C-7875-G

I Think You're A Honey


(Stokes / Rose)

10-17-1932
New York, New York
Columbia
2710-D
I Surrender, Dear


(Gordon Clifford / Harry Barris)

2-22-1940
New York, New York
Varsity
8239
Davis 29-5
Jimtown Blues


(Fred Rose / Charles Davis)

2-22-1940
New York, New York
Varsity
8223


US-1406-1

Jimtown Blues


(Fred Rose / Charles Davis)

2-22-1940
New York, New York
Varsity
8223


US-1406-2

Juba Dance


(Nathaniel R. Dett)

1-12-1934
New York, New York
Brunswick
6763
Jubilee


(Willard Robinson)

1-9-1928
New York, New York
Okeh
41044
Just an Hour of Love
(From – "Burlesque" – Musical)


(Trent / De Rose / Von Tilzer)

09-30-1927
New York, New York
Okeh
40912
Krazy Kat
(Tone Poem In Slow Rhythm)


(Frankie Trumbauer / Chauncey Morehouse)

9-28-1927
New York, New York
Okeh
40903
Lady Be Good


(George Gershwin / Ira Gershwin)

2-23-1940
New York, New York
Varsity
8269
Little Rock Getaway
(Joe Sullivan)
2-23-1940
New York, New York
Varsity
8236
Lila


(Archie Gottler / Maceo Pinkard / Charles Tobias)

4-3-1928
New York, New York
Okeh
41019
'Long About Midnight
(Irving Mills / Alexander Hill)
2-23-1934
New York, New York
Brunswick
6788
Louise
(Theme Song "Innocents Of Paris")


(Leo Robbin / Richard Whiting)

3-17-1929
New York, New York
Okeh
41231
Love Ain't Nothing But The Blues
(From Motion Picture "Road Show")
Vocal Refrain by Smith Ballew


(Louis Alter / Joe Goodwin / Jo Trent)

9-18-1929
New York, New York
Okeh
41301


402963-B

Love Ain't Nothing But The Blues
(From Motion Picture "Road Show")
Vocal Refrain by Smith Ballew


(Louis Alter / Joe Goodwin / Jo Trent)

9-18-1929
New York, New York
Okeh
41301


402963-C

Love Affairs


(Al Dubin / J. Russel Robinson)

9-20-1928
New York, New York
Okeh
41145
Love Me Tonight


(Bing Crosby / Ned Washington / Victor Young)

5-25-1932
Chicago, Illinois
Okeh
6351
Manhattan Rag


(Hoagy Carmichael)

10-10-1929
New York, New York
Okeh
41330


403051-B

Manhattan Rag


(Hoagy Carmichael)

10-10-1929
New York, New York
Okeh
41330


403051-C

Medley Of Isham Jones Dance Hits – On The Alamo – Swinging Down The Lane – I'll See You In My Dreams


(Gus kahn / Isham Jones)

4-5-1932
New York, New York
Columbia
18002-D
Mississippi Mud


(Harry Barris)

1-9-1928
New York, New York
Okeh
40979
My Pet


(Jack Yellen / Milton Ager)

4-10-1928
New York, New York
Okeh
41039


400604-B

My Pet


(Jack Yellen / Milton Ager)

4-10-1928
New York, New York
Okeh
41039


400604-C

My Sweeter Than Sweet
(From Motion Picture – "Sweetie")
Vocal refrain Smith Ballew


(George Marion Jr. / Richard Whiting)

10-19-1929
New York, New York
Okeh
41326
National Emblem March


(John Phillip Sousa)

2-23-1940
New York, New York
Varsity
8243
Davis
29-3
Never-Never Land Fantasy


(Frankie Trumbauer / Leslie)

2-23-1940
New York, New York
Varsity
8243
Nobody But You
From the motion picture "Revue of Revues"


(Joe Goodwin / Gus Edwards)

5-21-1929
New York, New York
Okeh
41252
No One Can Take Your Place


(L. Wolfe Gilbert / Frank Signorelli / Matty Malneck)

4-30-1929
New York, New York
Parlophone
R-420
No Retard


(Frankie Trumbauer)

2-22-1940
New York, New York
Varsity
8215
Davis
22-3
Not On The First Nite Baby


(Frankie Trumbauer / Wayne)

2-22-1940
New York, New York
Varsity
8225
Ostrich Walk
(Nick LaRocca / Eddie Edwards / Tony Sparbaro / Larry Shields)
5-9-1927
New York, New York
Okeh
40822
Our Bungalow Of Dreams


(Malie / Newan / Joe Verges)

4-3-1928
New York, New York
Okeh
41019
Plantation Moods


(David Rose / Frankie Trumbauer)

11-20-1934
New York, New York
Victor
24834-B
Raisin' The Roof (A)


(Jimmy McHugh)

3-8-1929
New York, New York
Okeh
unissued
Raisin' The Roof (D)


(Jimmy McHugh)

3-8-1929
New York, New York
Okeh
41209
Reaching For Someone


(Edgar Leslie / Walter Donaldson)

5-21-1929
New York, New York
Okeh
41268
Riverboat Shuffle


(Dick Voynow / Irving Mills / Hoagy Carmichael)

5-9-1927
New York, New York
Okeh
40822
Sentimental Baby
(Jack Palmer)
10-5-1928
New York, New York
Okeh
41128
Semper Fidelis
(John Phillip Sousa)
2-22-1940
New York, New York
Varsity
8253
Davis
29-8
Singing the Blues
(Sam Lewis / Joe Young / Con Conrad / J. Russel Robinson)
2-4-1927
New York, New York
Okeh
40772-B
Singing the Blues (take 1)
Vocal by Bee Palmer
(Sam Lewis / Joe Young / Con Conrad / J. Russel Robinson)
1-10-1929
New York, New York
Columbia
unissued
147771-1
Singing the Blues (take 3)
Vocal by Bee Palmer
(Sam Lewis / Joe Young / Con Conrad / J. Russel Robinson)
1-10-1929
New York, New York
Columbia
unissued
147771-3
"Sizzling" One-Step Medley
Dinah
My Honey's Lovin' Arms
Nobody's Sweetheart
(various)
4-5-1932
New York, New York
Columbia
18002-D
Shivery Stomp
(Segar Ellis)
5-22-1929
New York, New York
Okeh
41268
Somebody Loves Me
Vocal by Jack Teagarden
(Ira Gershwin / George Gershwin)
4-27-1936
New York, New York
Brunswick
7665
Some Of These Days
(Shelton Brooks)
5-25-1932
Chicago, Illinois
Brunswick
6351
Stars And Stripes Forever
(John Phillip Sousa)
2-23-1940
New York, New York
Varsity
8253
Davis
22-4
Sugar


(Jack Yellen / Milton Ager)

10-26-1927
New York, New York
Okeh
40938
Sugarfoot Stomp
(Walter Melrose / King Oliver)
2-23-1940
New York, New York
Varsity
8256
Sunny Side Up


(Buddy DeSylva / Lew Brown / Ray Henderson)

10-10-1929
New York, New York
Okeh
41313
S'Wonderful


(George Gershwin / Ira Gershwin)

4-27-1936
New York, New York
Brunswick
7663
Take Your Tomorrow
(And Give Me Today)


(Andy Razaf / J.C. Johnson)

9-20-1928
New York, New York
Okeh
41145
The Laziest Gal In Town
Vocal by Freddie Gibson


(Cole Porter)

2-22-1940
New York, New York
Varsity
8223
The Mayor Of Alabam'


(Frankie Trumbauer)

4-27-1936
New York, New York
Brunswick
7663
The Newest St. Louis Blues


(W.C. Handy)

10-17-1932
New York, New York
Columbia 2729-D
Three Blind Mice
(Rhythmic Theme In Advanced Harmony)


(Frankie Trumbauer / Chauncey Morehouse)

8-25-1927
New York, New York
Okeh
40903
There's A Cradle In Caroline
With Vocal Refrain by Seger Ellis


(Fred Ahlert / Joseph Young)

8-25-1927
New York, New York
Okeh
40879
Troubled


(Lorenzo Countee / Frankie Trumbauer)

11-20-1934
New York, New York
Victor
24834-A
Trumbology


(Frankie Trumbauer)

2-4-1927
New York, New York
Okeh
40871
Parlophone
R 3419
Turn On The Heat


(Buddy DeSylva / Lew Brown / Ray Henderson)

10-10-1929
New York, New York
Okeh
41313


403050-B

Turn On The Heat


(Buddy DeSylva / Lew Brown / Ray Henderson)

10-10-1929
New York, New York
Parlophone
PNY-41313


403050-C

The Japanese Sandman


(Raymond Egan / Richard Whiting)

10-5-1928
New York, New York
Parlophone
R-2176
The Love Nest


(Otto Harbach / Louis Hirsch)

10-5-1928
New York, New York
Parlophone
R-2645
There'll Come A Time
(Wait And See)
(Wingy Manone / Miff Mole)
1-9-1928
New York, New York
Okeh
40979
Walkin' The Dog


(Shelton Brooks)

2-23-1940
New York, New York
Varsity
8225
Davis
29-6
Wait Till You See "Ma Cherie"
(theme Song "Innocents Of Paris")


(Leo Robbin / Richard Whiting)

3-17-1929
New York, New York
Okeh
41231
Way Down Yonder in New Orleans


(Henry Creamer / J. Turner Layton)

5-13-1927
New York, New York
Okeh
40843
Wearing Of The Green / Irish Washerwoman
2-22-1940
New York, New York
Varsity
8215
Davis
22-3
What's The Use?


(Isham Jones / Charles Newman)

7-22-1930
New York, New York
Okeh
41437
What Wouldn't I Do For That Man?


(Yip Harburg / Jay Gorney)

10-19-1929
New York, New York
Okeh
40843
Wrap Your Troubles In Dreams


(Ted Koehler / Billy Moll / Harry Barris)

2-23-1940
New York, New York
Varsity
8269
Davis
29-7
You Took Advantage Of Me


(Rodgers / Hart)

3-25-1946
New York, New York
Capitol
unissued

| | |
| --- | --- |
| Artist | Instrument |
| Smith Ballew | Vocals |
| Roy Bargy | Piano |
| Bix Beiderbecke | Piano, Cornet |
| Benny Bonaccio | Clarinet, Tenor Saxophone |
| Hoagy Carmichael | Piano, Celeste, Vocals |
| Fritz Ciccone | Guitar |
| Bob Conselman | Drums |
| John Corado | Clarinet, Tenor Saxophone |
| Bing Crosby | Vocals |
| Rube Crozier | Alto Saxophone |
| Bobby Davis | Clarinet, Alto Saxophone |
| Kurt Dieterle | Violin |
| Jimmy Dorsey | Clarinet, Alto Saxophone |
| Seger Ellis | Vocals, Piano |
| Charlie Farrell | Vocals |
| Izzy Friedman | Clarinet |
| Jack Fulton | Trombone |
| Harry Gale | Drums |
| Dan Gaebe | Bass |
| Charles Gaylord | Bass |
| Harry Goldfield | Trumpet |
| Lennie Hayton | Piano |
| Chester Hazlett | Clarinet, Alto Saxophone |
| Martin Hurt | Vocals |
| Art Jarret | Vocals |
| Carl Kress | Guitar |
| Scrappy Lambert | Vocals |
| Eddie Lang | Guitar |
| Jeannie Lang (pseudonym for Mildred Bailey) | Vocals |
| Min Leibrook | Baritone Saxophone |
| Fud Livingston | Clarinet, Tenor Saxophone |
| Charlie Margulis | Trumpet |
| Harold MacDonald | Drums |
| George Marsh | Drums |
| Matt Malneck | Violin |
| Rosy McHargue | Clarinet, Alto Saxophone |
| Art Miller | Bass |
| Jim Miller | Vocals |
| Chauncey Morehouse | Drums |
| Don Murray | Clarinet, Baritone Saxophone |
| Nat Natoli | Trumpet |
| Herb Quigley | Drums |
| Snoozer Quinn | Guitar |
| Bill Rank | Trombone |
| Adrian Rollini | Bass Saxophone |
| Dave Rose | Piano |
| Mischa Russell | Violin |
| Pee Wee Russell | Clarinet |
| The Nitecaps – Helen Rowland, Johnny Blake, Johnny Mercer | Vocals |
| Tom Satterfield | Piano, Celeste |
| Andy Seacrest | Cornet |
| Frank Signorelli | Piano |
| Charles Strickfadden | Clarinet, Alto Saxophone |
| Noel Taylor | Vocals |
| Charlie Teagarden | Trumpet |
| Jack Teagarden | Trombone |
| John Tobin | Banjo |
| Frankie Trumbauer | C-Melody Saxophone, Vocals, Cornet, Clarinet |
| Joe Venuti | Violin |

Tram: The Frank Trambauer Story by Philip R. Evans and Larry F. Kiner with William Trumbauer, Institute of Jazz Studies, Rutgers and Scarecrow Press Inc., 1994