Dedicated to the music of Edward "Kid" Ory, the On the Levee Jazz Band poses onstage at the Mint in New Orleans: from left, Kris Tokarski, piano; Clint Baker, trombone; Alex Belhaj, guitar; Hal Smith, leader/drums; Ben Polcer, trumpet; Joe Goldberg, clarinet; and Joshua Gouzy, string bass. (photo by Bobby Bonsey)
---
After 32 years of service, John Edward Haase has stepped down as Curator of American Music at the Smithsonian's National Museum of American History and been given the lifetime title of Curator Emeritus. Citing major accomplishments during his tenure at the Smithsonian, he listed the acquisition of the Duke Ellington Collection, which included 100,000 pages of unpublished music composed by Ellington and Billy Strayhorn for Duke's orchestra; the creation of Jazz Appreciation Month, now celebrated in all 50 states and more than 40 countries; and the founding of the Smithsonian Jazz Masterworks Orchestra, now in its 26th year of performance and tours.
♫ ♫ ♫ ♫ ♫
New Orleans pianist John Royen will be returning to home territory when he headlines the March 11 gathering of the Potomac River Jazz Society at the Calvary Lutheran Church in Silver Spring, Maryland. Joining him on the bandstand will be trombonist David Sager, who spent 12 years performing in NOLA and is now the curator of the Library of Congress's National Jukebox Service. A Washington, DC native, Royen was pianist for the Preservation Hall JB for 25 years and has played, toured and recorded with groups and individuals such as the Dukes of Dixieland, the late clarinet legend Pete Fountain and Tim Laughlin. John's non-musical call is that of a naturalist who conducts guided tours of Louisiana's swamps and bayous.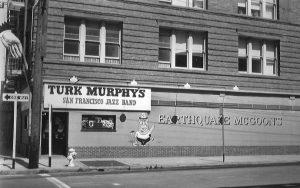 ♫ ♫ ♫ ♫ ♫
Pat Yankee is writing her life's story, and since she will be 91 in July, she definitely has a lot to tell. When I included her profile in my book, JAZZ BEAT, Notes on Classic Jazz, the sub-title of the story was: "Colorful Lady, Colorful Past." Her career has spanned 70 years, beginning as a song and tap dancer in her home town of Lodi, California, traveling with the Ted Lewis Revue, her time with the Turk Murphy band at Earthquake McGoon's in San Francisco, and in recent years as the last of the Red Hot Mamas of Jazz. Pat is still belting 'em out and has been booked for two 2018 festivals: the 6th annual Hot Jazz Jubilee in Sacramento, August 31-September 3, and the 42nd annual Jubilee-by-the-Sea at Pismo Beach, Calif., October 25-28.
♫ ♫ ♫ ♫ ♫
Edward "Kid" Ory (1886-1973) was a highly-regarded trombonist who developed the "tailgate" style of playing and led popular bands that featured many great musicians who would go on to define the Hot Jazz style. Drummer Hal Smith has long had an intimate knowledge of and respect for Ory's attention to dynamics, danceable tempos and swinging rhythms and decided to organize a band that would emulate the Ory style. The On the Levee Jazz Band (named for a San Francisco nightclub where Ory's band played) has had successful initial engagements in Pensacola and New Orleans, made its first recording, and been booked for the San Diego Jazz Fest in November.
♫ ♫ ♫ ♫ ♫
Earl McKee gave a talk at the Fresno Mardi Gras about the two books he and his wife have written about ranching and life in Three Rivers, California and sang a few songs with the High Sierra Jazz Band. Still rehabbing from a knee operation, he is working to get his chops on the sousaphone up to par before returning to the bandstand. His comment: "Glad to be walking about and seeing my jazz friends."
♫ ♫ ♫ ♫ ♫
Michael Cogswell will retire as executive director of the Louis Armstrong House Museum in Queens, New York, effective April 10. When Cogswell came to Queens College in 1991 to create the Louis Armstrong Archives, he found a treasure trove of American jazz history: 72 cartons of memorabilia, including 5,000 photographs, 100 scrapbooks, 650 home recordings, and five gold-plated trumpets. It took him three years to sort through it all before making it available to scholars, music writers and television producers looking for material on the jazz legend.
The Armstrong House was designated a National Historic Landmark in 1977, and after a $2 million renovation, was formally opened as a museum in 2003. This past July, after raising $23-million to fund construction, groundbreaking was held for an Educational and Visitors Center across the street from the Museum, which when completed, will have a state-of-the-art, multi-media exhibit area, a 72-seat Jazz Room where lectures, film screenings and live performances can be held, and a repository for the entire Armstrong research collection.
♫ ♫ ♫ ♫ ♫
Katie Cavera's surgery for colon and kidney cancer in January prevented her from being on the faculty of the San Diego Jazz Camp. However, the Camp attendees and later the AFCDJS members each took up a collection to help with her medical bills. "I was overwhelmed by the generosity of everyone who contributed and to know I have the love and support of my musical family. Recovery is a slow process, but I continue to get better every day and will be back playing soon."
♫ ♫ ♫ ♫ ♫
Hors de combat: While on a recent cruise, clarinetist extraordinaire Ken Peplowski was attempting to prevent someone from tripping down a metal staircase. For all his good intentions, he was the one who tumbled down the stairs, breaking the knuckle on his right hand.
♫ ♫ ♫ ♫ ♫
Amid all the Super Bowl fever, a Facebook posting pictured the musical twins Pete and Will Anderson and the famed gridiron Manning brothers, Peyton and Eli, as look-alikes.
♫ ♫ ♫ ♫ ♫
The latest from the Belle of the Bayou, Banu Gibson: "Yet another reason why I love New Orleans: The waiter just said to me 'We're out of champagne and catfish!' And this was for lunch!!!"
♫ ♫ ♫ ♫ ♫
For 27 years, the Arizona Musicfest has been presenting jazz, pop and classical concerts "to enrich lives by spreading the joy of music." The 2017-18 series involved 25 concerts attended by an estimated 20,000 music lovers. Over the past five years, the Musicfest has averaged 25% growth per year that has generated a modest operating profit. Fifty-three per cent of its $1.7 income in 2017 came from ticket sales, and the balance from contributions. On the expense side, 78% went to underwrite the Festival, youth performances and educational programs; 14% for administration, and 8% for fundraising.
♫ ♫ ♫ ♫ ♫
The Louis Prima Room is the latest addition to the Hogan Jazz Archive at Tulane University and features the late musician's personal papers and materials, including film, tapes, phonodiscs, diaries, sheet music, and photographs. Born in the Treme neighborhood of New Orleans, Louis Prima became a jazz star in New York and Hollywood in the 1930s, led big bands in the 1940s, and morphed into rhythm & blues and rock with his combo in Las Vegas during the 1950s, establishing a reputation for cool indulgence that has persisted in defining Las Vegas ever since.
♫ ♫ ♫ ♫ ♫
If you like tunes from the early 20th Century played on the piano, you'll want to be in Oxford, Mississippi over Memorial Day weekend (May 24-27) for the 44th annual World Championship Old-Time Piano-Playing Contest & Festival. Through the years, the Contest has provided more than $50,000 in prize money to more than 500 piano players from across the United States and from five foreign countries. There will be competition is three divisions—Regular, Senior and Junior, and participants must have memorized and play six selections written between 1890 and 1939—be it ragtime, traditional jazz, honky-tonk, boogie woogie or blues—in costume, no less. May 15 is the deadline to sign up to perform.
♫ ♫ ♫ ♫ ♫
Among the tremendous outpouring of thoughts regarding the passing of Wesla Whitfield, the following says it all: "At times like this, words scarcely seem adequate. I wonder if Wesla knew how many people she touched, influenced, helped, inspired, and cheered. The world is a sadder and less elegant place without her."
---
This is what our print edition feels like. If you want good news to read with your morning coffee, order a print subscription. You'll get full online access to our archives, web extras, and our next issue will arrive at your door. Online only access to all of our original material is also available! Support Hot Jazz Journalism- Subscribe