At my advanced age, the thing I like about jazz parties is that they are held in a single venue (usually a hotel ballroom with assigned seating at round tables), and the audience for the large part is made up of serious jazz fans who come from all over the country solely to hear quality jazz performed by some of the best musicians in the business today.
You get to hear the old pros like Ed Polcer and Houston Person, both in their 80s, who have done and seen it all. There's "the regulars" around whom most all-star lineups are built. And keeping the flame of classic jazz burning are the Millenials in their 30s like the piano duo of Stephanie Trick and Paolo Alderighi and Canadian import Evan Arntzen, who has come into his own as a top reed player.
The 32nd annual San Diego Jazz Party was held at the Hilton Hotel in Del Mar, California, in late February and was once again the setting for a relaxing weekend of great music and fellowship. Just before the Party officially kicked off, a number of the musicians held master classes for area high school students.
There's the lighter side to these events, such as when SDJP music director Dan Barrett put together a "surprise set" that had the musicians playing instruments that they normally don't play. There was saxman Harry Allen seated at the piano; pianist Rossano Sportiello blowing the slide trombone in the front line; cornetist Ed Polcer recalling how to play Chuck Redd's vibes; bassist Nicki Parrott hitting the high notes on the flute; and drummer Ed Metz getting sore fingers strumming Nicki's bass, all making for a fun time.
Bassist Richard Simon gave a thoughtful and entertaining talk in accepting his designation as the 2020 SDJP Jazz Legend. He paid tribute to previous recipients, referencing "our spiritual relationship with the music and the will to swing" and saying "We all stand on the shoulders of giants." Jeannie Cheatham, who with her late husband, trombonist Jimmy, received the award in 2007, was brought to the stage to recall Richard's association with bass legend Red Callender.
Richard had to get in the final quip, making note of the fact that the difference between a homeless person and a working musician was a working wife.
♫ ♫ ♫ ♫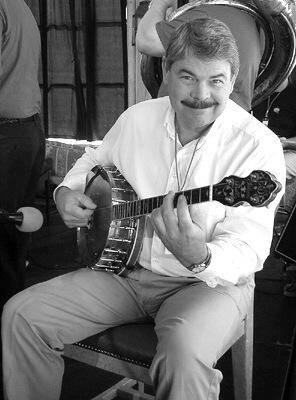 Every jazz fan's jovial friend Eddie Erickson has been dealing with some health issues of late, but he recently received some very good news that he has been selected for induction into the American Banjo Museum Hall of Fame. The Hall of Fame recognizes musicians, bands, and companies that have made a distinct contribution to the performance, education, manufacture or promotion of the banjo.
Eddie joins some distinguished company: Earl Scruggs, Pete Seeger, and Bela Fleck in the 5-string performance category; and Eddie Peabody, Eddy Davis, Marvin "Smokey" Montgomery, Jimmy Mazzy, Doug Mattocks, and Cynthia Sayer, among others, in the 4-string category. The American Banjo Museum is located in Oklahoma City.
♫ ♫ ♫ ♫
A documentary that chronicles the life and career of legendary trumpeter Herb Alpert is headed for the theaters in May. Alpert sold more than 72 million records, (his Tijuana Brass recordings outsold The Beattles in 1966), and he went on to co-found A&M Records, the most successful independent record label in history. The movie also explores his work as an abstract painter and sculptor and his philanthropic support of arts programs nationwide.
♫ ♫ ♫ ♫
Celebrating its 10th anniversary this month, the Musical Instrument Museum is rated as Phoenix's most popular tourist attraction and is ranked in the top 15 of the 35,000 museums in the United States by TripAdvisor. Over the past decade, 2,470,000 guests from 78 countries and all 50 states have visited the Museum to view the 4,337 instruments on display (out of total collection of 8,104), spending an average museum visit-time of 3.5 hours, or attending one of the 1,950 concerts held in the 300-seat performance hall. The MIM has also hosted school and youth field trips for 457,700 youngsters along with 40 Creative Aging sessions for 1,134 participants as part of its extensive education program. As one guest wrote, "My daughter likes MIM better than Disneyland, hands down!"
♫ ♫ ♫ ♫
Clarinetist Joe Midiri is being treated for vision problems at the Wills Eye Hospital in Philadelphia, the oldest continually-operating eye-care facility in the United States (established in 1832). Joe with twin brother Paul head up the popular Midiri Brothers Jazz Ensemble.
♫ ♫ ♫ ♫
The 66th annual Newport Jazz Festival, considered the granddaddy of all jazz festivals, is coming up the weekend of August 7-9 at Fort Adams State Park in Newport, Rhode Island. Headliners include Norah Jones, Diana Kroll, Wynton Marsalis, Nicholas Payton, Catherine Russell, Maria Schneider, Joe Lovano, and artist-in-residence Robert Glasper. A session on the history of jazz will feature Ostwald's Louis Armstrong Eternity Band, Vince Giordano & the Nighthawks, Mike Davis' The New Wonders, Colin Hancock & His Signature 7, and Tuba Skinny. That lineup is a historic event in itself!
Tobacco heiress Elaine Lorillard is credited with establishing the festival, initially held at the Newport Casino in 1954. She hired promoter George Wein to run it, and the agenda incorporated academic panel discussions along with live musical performances featuring such luminaries as Billie Holiday, Ella Fitzgerald, Oscar Peterson, Sir George Shearing, Eddie Condon, and Lee Konitz. Stan Kenton served as M.C.
♫ ♫ ♫ ♫
Newport Jazz Festival's claim to be "the granddaddy of all festivals" should probably come with a disclaimer, stating that it is the granddaddy of all jazz festivals currently operating. That may seem like a small point, but according to K.O. Eckland's well-researched and documented Jazz West book, the Dixieland Jubilee held on October 5, 1948, at the Pan-Pacific Auditorium in Los Angeles was "the very first showcase of Traditional Jazz." Produced by radio DJs Frank Bull and Gene Norman and headlined by the Louis Armstrong All-Stars, this festival had a run of 12 years until 1959. The majority of subsequent shows were held at the Shrine Auditorium until 1956.
Dixieland at Disneyland in Anaheim came along in 1962 and continued for 10 years until 1971. As Eckland explains, "Classic showcases of stars, the one and two-day events were immediate hits, drawing large crowds of jazz lovers into the park, which at the time was one of the few places where the attraction of massed bands with one admission charge was available. It could be said that all future jazz festivals would be based on the principles originated here. Why this program was dropped, or at least revived, as the popularity of jazz grew in the 1970s, remains a mystery."
An aborted attempt was made to bring a trad jazz festival to Monterey in 1968, but a second attempt in 1980 created Dixieland Monterey, which today operates as Jazz Bash by the Bay. It was Bill Borcher's idea that jazz could be ideally framed in Old Sacramento evolved, beginning in 1974, into the Sacramento Jazz Jubilee that would draw up to 100,000 fans to California's capital city over Memorial Day weekend for the next four decades
Dick Gibson made his fortune by forming the Water Pik Company, which he sold and moved to Colorado. He said there were two things he missed on moving west from the East Coast: the Atlantic Ocean and good jazz. He is quoted as saying, "I can't do anything about the ocean, but I can do something about bringing musicians I like to the Rockies over Labor Day weekend and inviting my friends to join in." Beginning in 1963, and for the next 30 years, Gibson's concept of the jazz party reinvigorated the jazz scene and led to the creation of a number of parties elsewhere. Today only about a half-dozen parties still exist.
♫ ♫ ♫ ♫
Kenneth "K.O." Eckland played with the Firehouse 5 plus 2 along with fellow animators and production staffers at Walt Disney Studios. A co-founder of the Central Coast Hot Jazz Society and Jubilee-by-the-Sea in Pismo Beach, he was the leader and pianist for the Desolation Jazz Ensemble & Mess Kit Repair Battalion, an entertaining group known for its outlandish humor and being the first band to instigate jazz on cruise ships. He wrote the first edition of Jazz West in 1986 and did an update in 1995.
K.O. had an interesting outlook on the status of jazz, writing, "Jazz is not an easy music to play, especially in ensemble, despite a cast of simplicity. It is often convoluted, always unpredictable and demanding of creativity, even in its simplest forms. Igor Stravinsky, who had an extensive record collection, once said that it took as much discipline and musicianship to play Morton as it did Mozart."
He concluded, "Anything difficult is never poplar, which partly explains the somewhat underwhelming acceptance or understanding of jazz by the younger generation in general."
♫ ♫ ♫ ♫
Buck Creek, one of the more popular bands from the robust Dixieland festival days, held a doubleheader reunion in Florida in late February. Performing to packed houses in Lake Wales and Vero Beach were Jim Ritter, cornet; Frank Mesich, trombone; John Skillman, clarinet; Mike Evans, banjo/vocals; Dan Howard, tuba; and Pam Pameijer, one of the original Black Eagles on drums.
♫ ♫ ♫ ♫
Last September Ed Clute was filmed testing out a freshly tuned piano at a local bed and breakfast. The video of him playing "Sweet Georgia Brown" went viral reaching over eight million people. His star continues to rise. In early March he headed out to Pasadena for a taping of America's Got Talent that will air nationally when the show's 15th season starts later this year.
♫ ♫ ♫ ♫
"There are so many people trying to check out and avoid reality because of the stress of the times. Music and art have always been a way to heal and bring people together." – Michael Feinstein