For the past four years, Pete and Will Anderson have devoted the month of April to a cross-country tour of concert and school performances. Their latest tour, in the company of guitarist Felix Lemerle, covered 11,000 miles by car that took them to 21 cities for two dozen performances and 11 educational clinics in local high schools that have instrumental programs.
Originally from Bethesda, Maryland, the identical twins were members of the Capital Focus youth band directed by Dave Robinson when they were 13. They feel that what really launched their careers as professional musicians was getting to be known and making contacts while attending the Julliard School for six years where they were mentored by saxophonist Joe Temperley and received their Bachelor's and Master's degrees.
"We were 18 years old. Most of the students were older and better musicians than we were. [We were excited] just being in New York, the epicenter of jazz." They began subbing in bands and for Broadway shows, getting to know and play with people like Vince Giordano, Dan Levinson, and Ed Polcer and learning from these older musicians how to lead a band, how to prepare set lists and make song selections, and how to communicate with other musicians, both on and of the bandstand.
– Virtuosos on Reeds –
Since then, the Andersons have been tabbed as "virtuosos on clarinet and saxophone." They have performed with the Lincoln Center Orchestra, been headlined at the leading jazz clubs and festivals across the country, appeared live on Garrison Keillor's Prairie Home Companion show, and been featured on the 2014 Grammy-winning soundtrack of HBO's Boardwalk Empire with Vince Giordano's Nighthawks. Their travels have taken them to 40 states and Japan, and they have been guest clinicians at more than 100 high schools and a dozen colleges.
Recipients of numerous awards, the Andersons are not only talented musicians, but entrepreneurs as well in producing their own shows. They produced Le Jazz Hot: How the French Saved Jazz, which told the story of American musicians moving to France during an era of social unrest and keeping jazz alive. They have done off-Broadway shows saluting legendary clarinetists Benny Goodman and Artie Shaw, and have a Songbook Summit series of 32 shows coming up in August at Symphony Space, 95th Street & Broadway in the Upper West Side of Manhattan.
– Summer Series –
Joining them during the four weeks will be vocalist Molly Ryan and a six-piece band in presenting the timeless songs of four composers: Irving Berlin (Aug. 7-12), Jerome Kern (Aug. 14-19), Hoagy Carmichael (Aug. 21-16), and Jimmy Van Heusen (Aug. 28-Sept. 2).
The Andersons find it more exciting to be leaders rather than sidemen and to be able to develop their own projects and book their own shows. "We have lots of projects in the works, including performing with symphony orchestras. We especially want to perform for people who may not be familiar with jazz and to expose jazz to more young people."
The question they get asked most often when they give a school clinic or master class is "Can I have a successful and fulfilling career as a musician?" Students also want to learn more about harmony and composition as well as how to practice. The Andersons respond: "The successful jazz musician today has to be versatile and to be comfortable and knowledgeable in both traditional and contemporary styles."
– Advice to Students –
The inevitable question is: How do you tell the twins apart? Pete is older – by 10 minutes, and Will is one inch taller than his brother. Pete is married, while Will is still a bachelor. They have similar personalities and often dress alike. They have always been competitive, but in a friendly, supportive way.
They point out that "It's really special for siblings to be able to work together, which was fairly common in the past, but is less common today as we have become more global. Since we have known each other for so long, we're fortunate that we have similar interests, which helps us as performing musicians and in running a business."
– Influences –
Will plays the alto sax and cites his influences as Johnny Hodges, Benny Carter, and Jimmy Dorsey. He also plays the flute in the style associated with James Moody and Frank Wess. Pete mentions Coleman Hawkins, Lester Young, Harry Allen, Ken Peplowski, Sidney Bechet, and Ben Webster among the many great tenor saxophonists he admires.
One critic wrote, "The Andersons are naturals who play the music like it's in a constant state of creation and reinvention." To which Will and Pete respond: "Jazz is too good a music to die. It's still a relatively young music compared to the classics." The Andersons are able to work nearly every night of the week, and they truly care about making the music sound good.
♫ ♫ ♫ ♫ ♫
A native of Paris, France, guitarist Felix Lemerle was exposed to jazz at an early age as the son of an upright bass player. After studying classical piano at the Conservatory, he taught himself to play the guitar in his teens and was soon performing at clubs and festivals throughout Europe. He was the winner of the 2012 Eddie Lang Guitar Contest and came to the United States when he received a Fulbright scholarship to CUNY Queens College where he earned his Master's in Jazz Performance.
♫ ♫ ♫ ♫ ♫
In 2002, Berklee College of Music was the first music college to offer online courses and currently has more than 11,000 students enrolled in its online programs. This Fall, it will add two graduate degrees: a Master of Music in Music Production and a Master of Arts in Music Business and has a program in film scoring in the works. According to a college official, "The goal is to expand online programs where they meet student demand." The new graduate programs consist of 12 courses each and can be completed in a single year. The annual cost of tuition and fees totals $33,695, which is roughly 20% less than the cost of an in-person degree.
♫ ♫ ♫ ♫ ♫
This summer Meschiya Lake has relocated her home base from Frenchmen Street in New Orleans to Europe where she will be touring the Continent for the next two months with the Dizzy Birds of Berlin, Germany. After a nomadic life that included performing as a clown in a traveling circus, she settled in NOLA in 2000 and began to make a name for herself as a vocalist and leader of Dem Lil' Big Horns, named the town's best traditional jazz band in 2013. She was voted the Best Female Performer three years running. When a local writer caught one of her sets, he extolled, "She sang a Bessie Smith blues with the line, 'I'm as good as any women in your town.' In New Orleans music, that's a bold statement—but she is, and better, too."
♫ ♫ ♫ ♫ ♫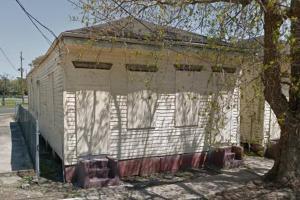 New Orleans visitors and tourists occasionally stop at 2309 First Street in the Central City section to view the home where Buddy Bolden lived most of the time he was an active musician in the Crescent City. The boarded-up shotgun double hasn't been occupied since 2005 and is sadly in need of repairs and in danger of demolition.
Considered the founding father of the music that put the city on the map, cornetist Charles "Buddy" Bolden was born in 1877. His family moved into the house when he was 10. A barber by trade, he was known as "King Bolden", but became a heavy drinker and gradually began to lose his grip on reality His mother had him committed to the Louisiana State Asylum where he died in 1931.
There is only one known photograph of Bolden and no recordings of him playing his horn. There is controversy as to whether the tune, "Buddy Bolden's Blues" was written by Bolden or trombonist Willie Cornish, who would hear his leader shout, "Open up that window and an' let that bad air out" when the band played in a packed dance hall. The song was brought to light when it was recorded by Jelly Roll Morton for the Library of Congress in 1938.
♫ ♫ ♫ ♫ ♫
New Yorkers can celebrate Father's Day (Sunday, June 17) with "Pops for Pops" at the Louis Armstrong House Museum in Corona, followed by a "Make Music New York" on Thursday, the 21st when the Louis Armstrong House Band will perform selections from the Great American Songbook in Louis's garden. Three Hot Jazz/Cool Garden concerts are on tap during the summer months featuring standout trumpeters Terell Stafford on the 4th of July, Byron Stripling on July 14, and Bria Skonberg on August 11.
♫ ♫ ♫ ♫ ♫
Jay Hickerson passed along the name of another band to be added to our longevity list. The Connecticut-based Galvanized Jazz Band led by cornetist Fred Vigorito has been around since 1971. For 25 years, the group held forth Sunday evenings at the Millpond Taverne, with Jane Campedelli as their vocalist. Connecticut Magazine recognized them as "Best Jazz Band in the State."
As an addendum to my story on the Queen City Jazz Band, there is an 18-minute video on the band's history, filmed in 1968, that we gained permission to share here.
♫ ♫ ♫ ♫ ♫
"We live not only our own lives, but, whether we know it or not, also the life of our time." —Sir Laurens van der Post, Afrikaner author & philosopher
---
This is what our print edition feels like. If you want good news to read with your morning coffee, order a subscription ($30 for 12 monthly issues). You'll get full online access to our archives, web extras, and our next issue will arrive at your door. Online only access is available for only $20 a year! Support Jazz Journalism- Subscribe
Subscription Options
---
Or get the Print Edition with Online Access. To get the print edition of The Syncopated Times use this Paypal link. After you pay you will be issued a coupon for free online access.