Pianist John Sheridan passed away after a battle with Cancer on Aug. 24, 2021. I had the privilege of playing with John in the Jim Cullum Jazz Band, with vocalist Ken Slavin, with various groups at the Conneaut Lake Jazz Party and on several recording sessions. Without exception, John was an inspiration to the other musicians and was the final authority when any questions arose regarding correct melodies or chords. During our 40-year friendship, he never hesitated to offer support, encouragement and good humor during some very bleak periods.
The last time I saw John was on June 13 at an open house – hosted by Jim Cullum's daughter Bonnie at the family home in San Antonio. Allan Vaché, Mike Pittsley, Howard Elkins, George Prado, Bob Black, Kevin Hess, Rich Oppenheim, Tyler Jackson, Ken Slavin and Aaron Prado attended, together with many longtime friends and fans. John looked frail and had difficulty getting around, but when he sat down at the piano there was no indication whatsoever that he was ill. I am sure that everyone who attended – and especially those who played with John – will forever be grateful for that one last opportunity to express their love and admiration for a great musician and friend.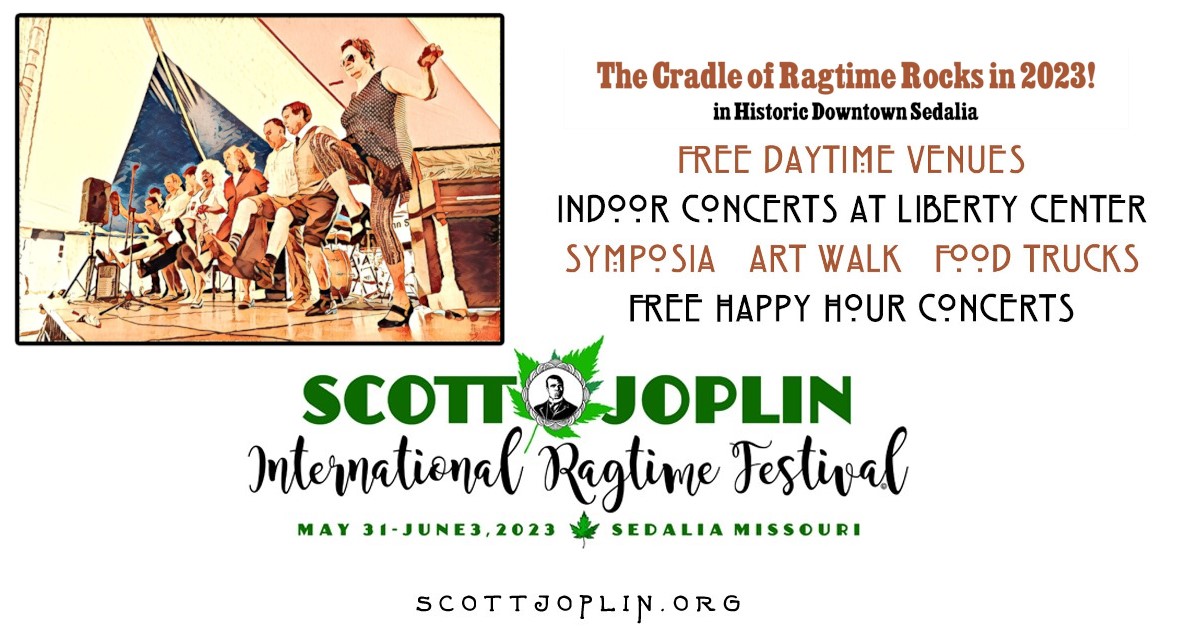 John was a keystone of the Jim Cullum Jazz Band for decades. The JCJB's "Riverwalk: Live From The Landing" broadcasts illustrate just how much John Sheridan contributed to the band – not only as a superb jazz pianist, but as a World Class arranger too. However, there is a distinct lack of biographical information for John. To remedy this situation, I interviewed John regarding his musical background in late 2020 and early 2021. I hoped that he would be able to enjoy the article, even though his health was deteriorating. Sadly, he died before the article could be published.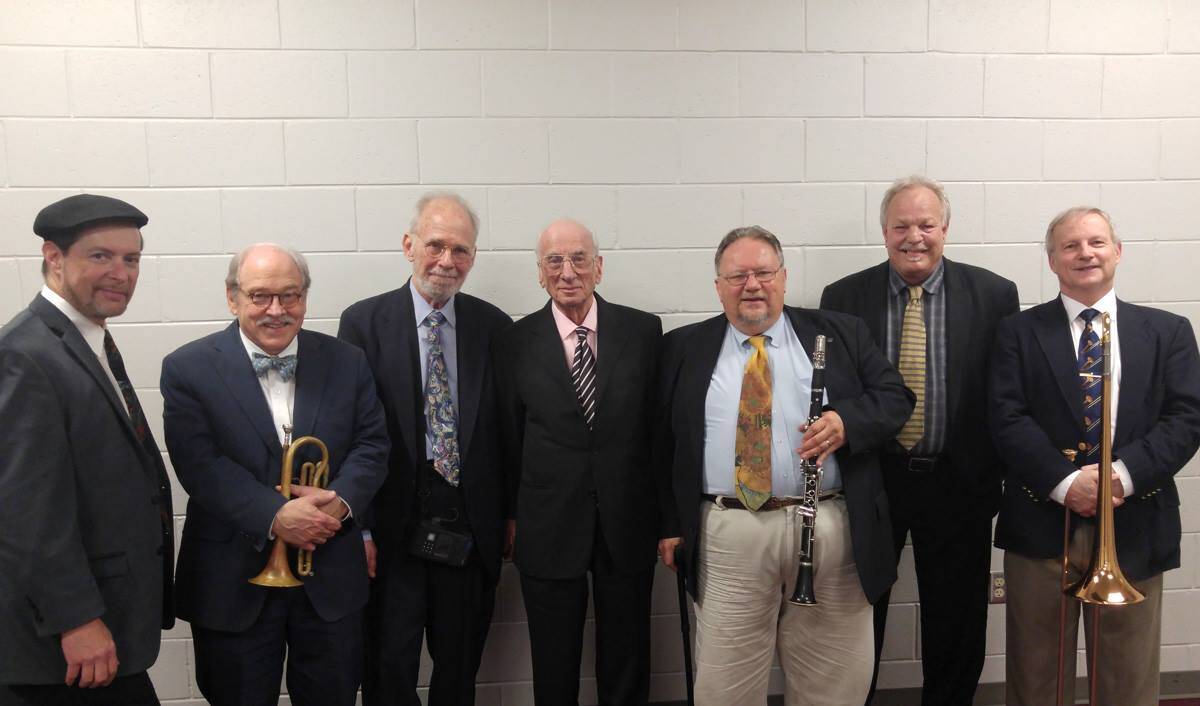 ---
HS: It is possible that some readers of The Syncopated Times might not be aware that you are also an accomplished and prolific arranger. What recording or live performance piqued your interest in arranging?
JS: First off, we're going back a long way here, to about 1960. I wouldn't be able to pinpoint one performance, but rather a melting pot of styles, for example Benny Goodman, Artie Shaw, the Bob Crosby band, Duke Ellington, Jimmie Lunceford and Glenn Miller, to name just a few. As with my piano influences, the general reaction was "I just know I can do that if I have the chance." In addition, I was constantly listening to small jazz bands, such as Pete Kelly's Big 7, Matty Matlock's Paducah Patrol, Eddie Condon, and Billy Maxted's Manhattan Jazz Band. Sadly, not many people remember Maxted these days. More about him later.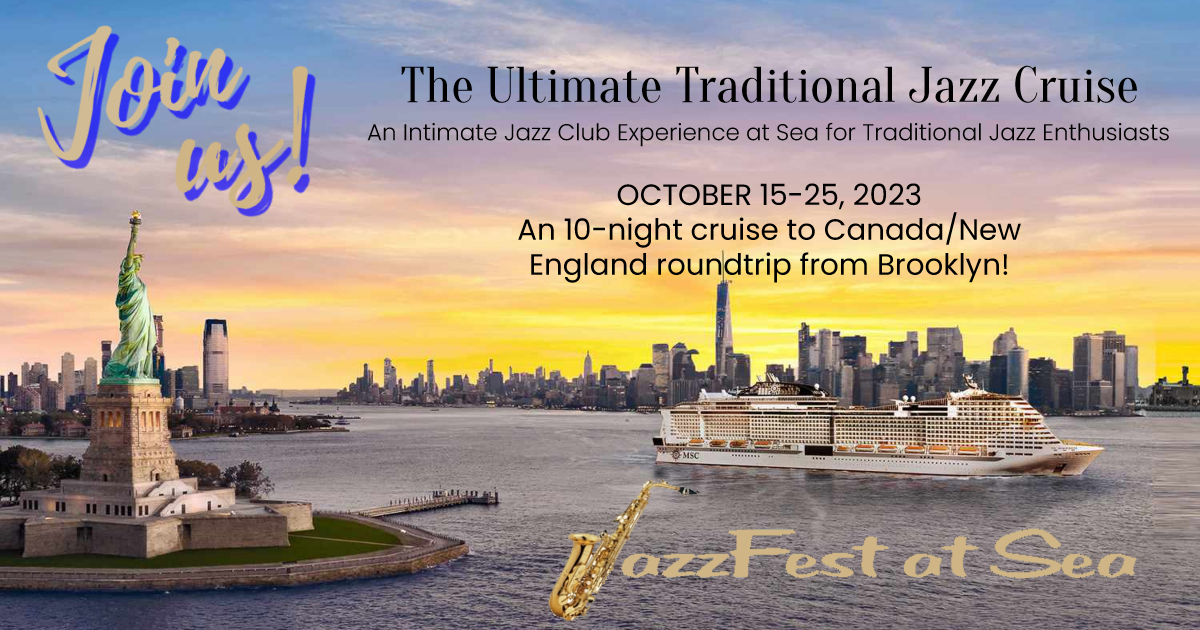 Who are some of your favorite arrangers?
I have many, as you can guess, but I have to start with Fletcher and Horace Henderson. Benny Goodman has always been one of my main influences, so the Henderson brothers are major inspirations of mine. Joe Haymes, who was chief arranger with the Ted Weems Orchestra at the tender age of 21 is certainly on my "fave list." I'd have to list Jimmy Mundy and Edgar Sampson, Matty Matlock (both large and small groups), and — very importantly — Bob Haggart.
Bob was the only guy of the previously mentioned that I actually got into the"nitty gritty" of arranging with. We used to spend a lot of time talking about it, and all I had to do was keep my mouth shut and listen. I would always get something that I might not have gotten after two years' study at the Paris Conservatory. Pure genius. The guys who wrote for Woody Herman's First Herd, Eddie Sauter, and especially Henry Mancini deserve special mention. Henry used to come to the Landing, and we spent many evenings discussing arranging. More about Maxted: I loved his piano playing, but what really got me was his arranging for his own six-piece Manhattan Jazz Band. He could make those four horns sound like nine, and I was totally intrigued. Many's the time I wished I could have sat down and chewed the fat with him as I did with Bob Haggart.
Of the arrangements you have written, which ones do you like best?
As to my own work, My favorites for the Cullum band are "Changes" (the Beiderbecke classic), "Dogtown Blues" (Bob Haggart), the "Porgy & Bess" album and the Christmas album, "'Tis The Season To Be Jammin'." I did some symphonic orchestrations for both the Cullum band and Banu Gibson which I'm really proud of as well. As for the Dream Band, I really like everything we recorded, but if I had to choose one, it would probably be "All The Cats Join In."
Back to the keyboard: What inspired you to take up piano?
Easy. I was seven years old, a second grader. One day during show and tell, a girl in my class played the piano. That looked like fun, so I asked my mother for lessons. She lined me up with a great teacher, Evrell B. McCullough, whom I stayed with through high school.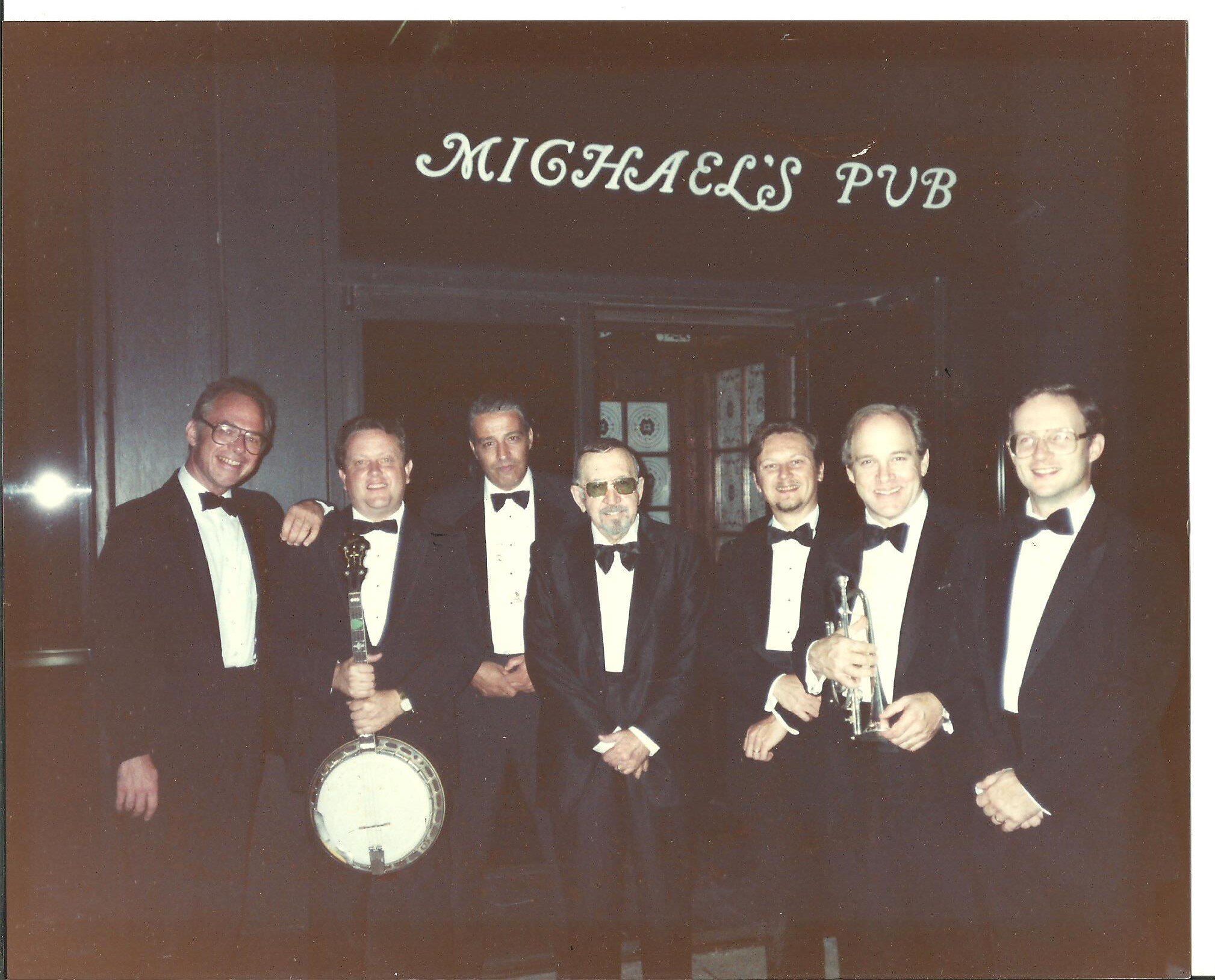 Can you name a few pianists who influenced your own playing?
About a year after I started piano lessons (age eight), I was exposed to the Benny Goodman band. Even at that age, I was completely knocked out. As you could probably guess, Jess Stacy and Teddy Wilson were my first big heroes. As time went along, I started listening to other guys, such as Fats Waller, Ralph Sutton, Joe Sullivan, Earl Hines, Gene Schroeder, Dick Hyman, Dave Bowman, and Billy Maxted to name a few. Maxted's keyboard idol was Bob Zurke (who I also listened to). Both played contrapuntally, each hand being independent of the other.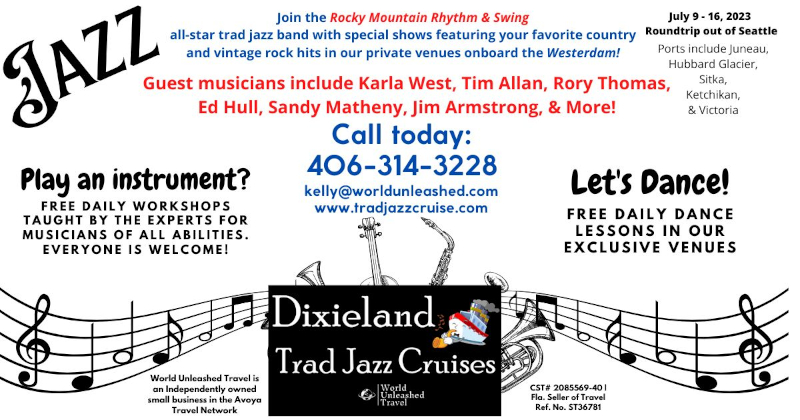 What were some of the groups you worked with when you began playing music in public?
The first band I ever worked with was a group of guys I met in Junior High School at the age of 13. I'm still friends with them today. The leader was Jim Luellen, and the sidemen were Don Simons (Clarinet), Phil Wayt (Drums), and many others. I only played with them sporadically until my senior year in high school, when I became much more active. By that time the band was called "The Novelaires." During my college years, I worked with mostly commercial and society bands in my hometown of Columbus, Ohio; mainly the Howard Everitt Quartet, and the Ray Cincione orchestra. After graduation in 1968, the Vietnam War was on, so I enlisted in the US Navy, and eventually found my way to the US Navy Band in Washington, DC, where I served until my discharge in May of 1972. During that time, I was assigned to the recently formed rock band (!), Port Authority, and played countless trio and combo jobs in mostly officers' clubs.
How did you get the invitation to join the Jim Cullum Jazz Band?
After my discharge, I moved to Dallas, Texas and began graduate work at North Texas State University (now the University of North Texas) at nearby Denton. At that time, Dallas was extremely busy musically and a Navy friend — Bob Houston — got me with the Mal Fitch office, which kept me busy and gainfully employed. I also was the rehearsal/pit pianist for Casa Mañana Summer Musicals in Fort Worth, Texas from 1974 to 1978. However, the most important step to my future was joining Tommy Loy's Upper Dallas Jazz Band in 1973.
Tommy was a great recording engineer, and a superb cornetist. In addition to leading his own band, he played the National Anthem for the Dallas Cowboys for many years. We used to play Battles Of The Bands with Jim Cullum's Happy Jazz Band, and that's how Jim and I first became acquainted.
Eventually, around 1976 or so, he asked me if he ever had an opening if I'd be interested in joining the band. I told him yes, and three years later, in 1979, it became a reality. Before that, I made fast friends with Allan Vaché, Randy Reinhart and Allan's brother Warren. All four of us are close friends to this day. I can't leave out the other guys who played with the band with me over the next forty years…banjoist/guitarist Howard Elkins, bassists (the late) Jack Wyatt, Don Mopsick, Jim Hunter, Phil Flanigan and Chuck Moses, trombonists Mike Pittsley and Kenny Rupp, and drummers Kevin Hess, Hal Smith, Kevin Dorn, and  Eddie Torres. Not a large fraternity, but loyal to the end.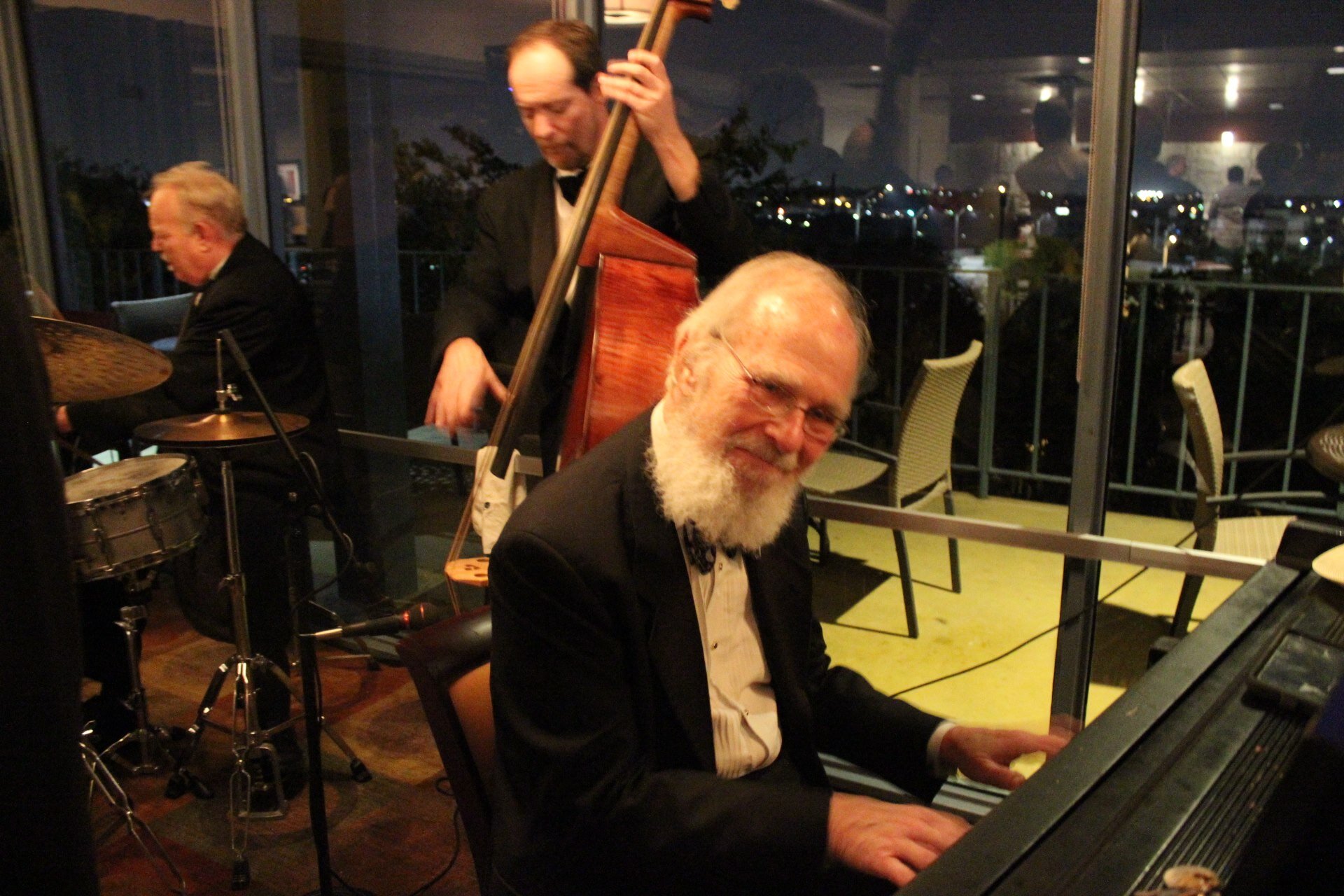 In addition to a long residency at The Landing in San Antonio, what were some of the highlights of your stint with the JCJB?
We're going back a long way, but one of the greatest things about the band was the travel schedule, and some of the great musicians I was able to meet and play with because of it. One of the first things we did after I joined the band was a European tour, where we played in Hannover, West Germany, the Breda International Jazz Festival in Breda, Holland, and others. One of the most important gigs, to me anyway, was the St. Louis Ragtime Festival in St. Louis Missouri. We were invited there a total of six times, from 1981 to 1987. It gave me the opportunity to meet great musicians like the late Jim Dapogny, the late Wayne Jones, the Salty Dogs, Mike Walbridge, and many more. Incidentally, the St. Louis gig was where I met my late wife, Karen Kambestad. A life changer to be sure.
Another great venue was the Sacramento Jazz Jubilee, which was held annually on Memorial Day Weekend for many years. I remember thinking of both the St.Louis and Sacramento Gigs as great hangouts, where you saw great friends about once a year. Other great gigs we did were Austin City Limits, Garrison Keillor's Prairie Home Companion, and the JVC Jazz Festival (formerly Newport), where the New Jersey Jazz Society sponsored us for their jazz picnics. Along the way, we made two great albums, "'Tis The Season To Be Jammin'," and last but not least, we participated in a gala concert at Carnegie Hall in NYC, in tribute to jazz great Turk Murphy. All of which leads me to our greatest achievement (in my opinion): the long-running PBS radio series, "Riverwalk, Live From the Landing."
The series began in early 1989, and I was on the show until May 2003, when we recorded a series  of shows at the Sacramento Jazz Jubilee. The show continued until around 2010. We had many guest stars on the show during that time. Two of the standouts to me are a tribute to jazz great Jack Teagarden, starring trombonists Dan Barrett and Bob Havens, and Jack's sister, the late Norma Teagarden on piano. The other standout was the chance to work with the great pianist Dick Hyman, with whom over a 15 year period, a lasting partnership was formed. Dick and I sat down later in the relationship and figured out that we went on the road with all of our material, we probably could have stayed out for a month, with all of the material we had produced. The show has been archived at Stanford University, and the entire series can still be accessed online.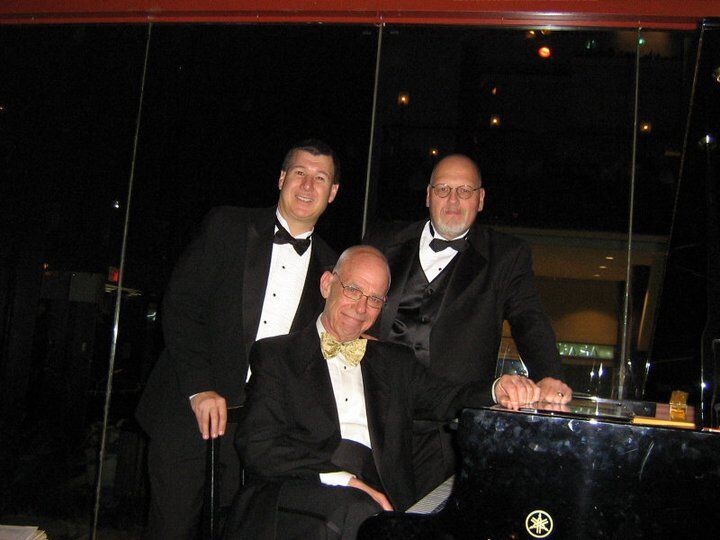 HS: John left the Jim Cullum Jazz Band in 2003 to pursue other musical projects, including jazz parties and cruises. In addition to playing piano, arranging (and occasionally singing), he led the "Dream Band," which recorded five albums for the Arbors label. In addition to John's arrangements and flawless piano work, vocalist Rebecca Kilgore was featured on each recording. Musicians who played with the Dream Band included: Randy Reinhart; Russ Phillips; Ron Hockett; Eddie Erickson; Dan Barrett; Brian Ogilvie; Reuben Ristrom; Bob Haggart; Jeff Hamilton; Ed Metz Jr.; and Phil Flanigan. John also recorded with Banu Gibson, Dan Barrett, John Cocuzzi and Jeff Barnhart as well as solo and trio albums.
He returned to the Cullum Band in 2011, just before the band departed its longtime home – "The Landing," on San Antonio's Riverwalk. After leaving The Landing, the seven-piece ensemble downsized to a quartet, performing at several venues around San Antonio such as Bohanan's, the Boardwalk Bistro and Tucker's.
When Jim Cullum passed away in 2019, John continued to work with Cullum alumni including Mike Pittsley and Kevin Hess and bassist Chuck Moses until sidelined by health issues.
While John was undergoing treatments for Cancer, several longtime musical associates — who should be familiar to readers of The Syncopated Times – sent bouquets…
John Sheridan and I have been friends since 1976, when we met in Dallas. We have worked together for over 40 years. He is a brilliant pianist and arranger who understands all styles of Jazz from stride to bop and more. He is one of my oldest and dearest friends and my favorite pianist! — Allan Vache'
John Sheridan is one of the most talented pianist/arrangers I have ever had the pleasure of working with. I treasure all those occasions with Jim Cullum's Jazz Band. — Dick Hyman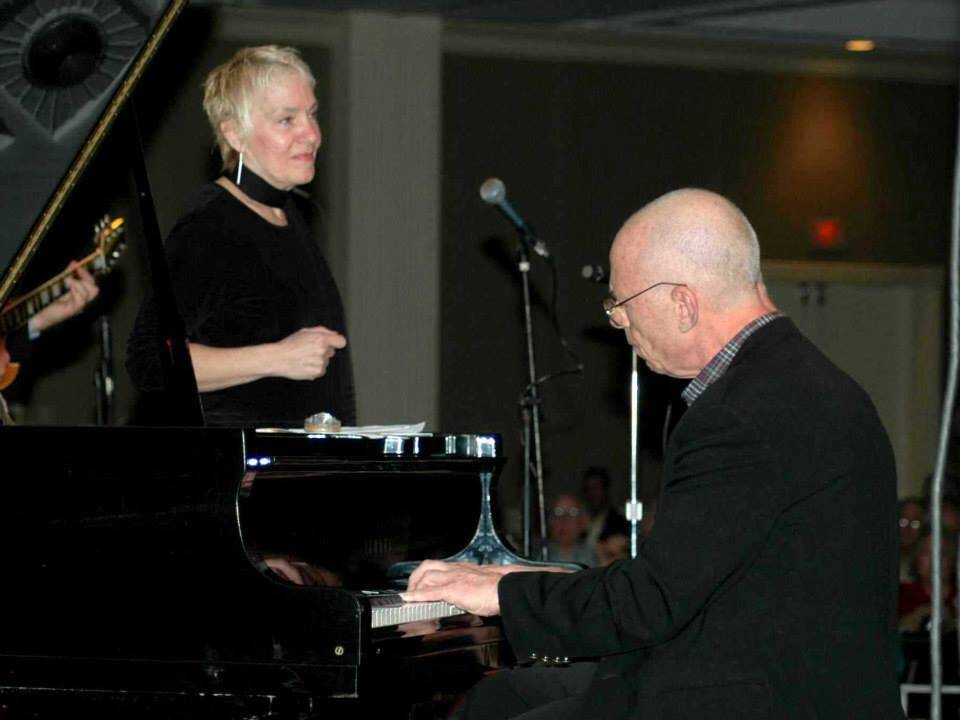 I've worked with John Sheridan over the years countless times, from large group recording sessions to a piano/vocal duo at Carnegie Hall, and each has been a joy.  He is the exemplar of professionalism, can lead any size band, create beautiful arrangements, and still maintains the fun associated with playing music.  I don't know how he does all this but I'm so glad he does! He's also a great guy. – Rebecca Kilgore
John Sheridan is a quiet marvel, with thoughtful, subtle swing.  He makes so-so bands shape up in eight bars, and like his models Teddy and Jess, he illuminates the band: as a soloist, romping or playing a ballad, he's a winning team in himself. – Michael Steinman JAZZ LIVES
John Sheridan and I both started on the Jim Cullum Jazz Band  in 1979.  It did not take long to realize what a musical genius John is. He is the perfect combination of musical talent, education, and experience.  Even though I was intimidated, he was always willing to help.  Even so, one time he handed out a new chart and my part had a cigarette burn hole in it.  I said  "what the hell is this" and he replied  "a (w)hole note, stupid. Can't you read?"
John's arranging skills and abilities influenced the band's sound as much as the individual musicians did. Close to 1,000 arrangements and lead sheets were added to the band's book over 30 years.  Most were John's.
John knows over 2,000 tunes and many of the verses and lyrics. He is a living, walking "fake book." This all sounds like he is from another planet, but he has a human side and I will tell you one of many Sheridan stories…
All the band members parked for The Landing gig on the streets of downtown San Antonio . It was FREE.  One night I was delayed about 20 minutes after the job.   When I was walking to my car, I saw John wandering around the streets so I asked what he was doing.  He said that his car had moved while he was playing the gig and he could not find it. Of course I snickered and he wandered off into the night. I got in my car, sat behind the wheel and said out loud:  "Here is a man who knows 2,000 tunes by memory and he can't remember where he parked his car. What a guy!"  His priorities are right on.
I am proud to have been on the same bandstand with John for 30 years. Most nights were a music lesson for me.  Needless to say we also had plenty of laughs. — Howard Elkins
John Sheridan is one of the BEST accompanists I have ever worked with in my life. I couldn't shake him musically if I tried — LOL! There is a talent to accompanying an instrumentalist, but there is a different talent to accompany a vocalist who is not only phrasing musically but lyrically as well. John seems to intuitively know how a singer is shaping their approach to a song. He knows just the right things to play and voice lead to make a vocalist find their way through the song with the perfect amount of harmonic support.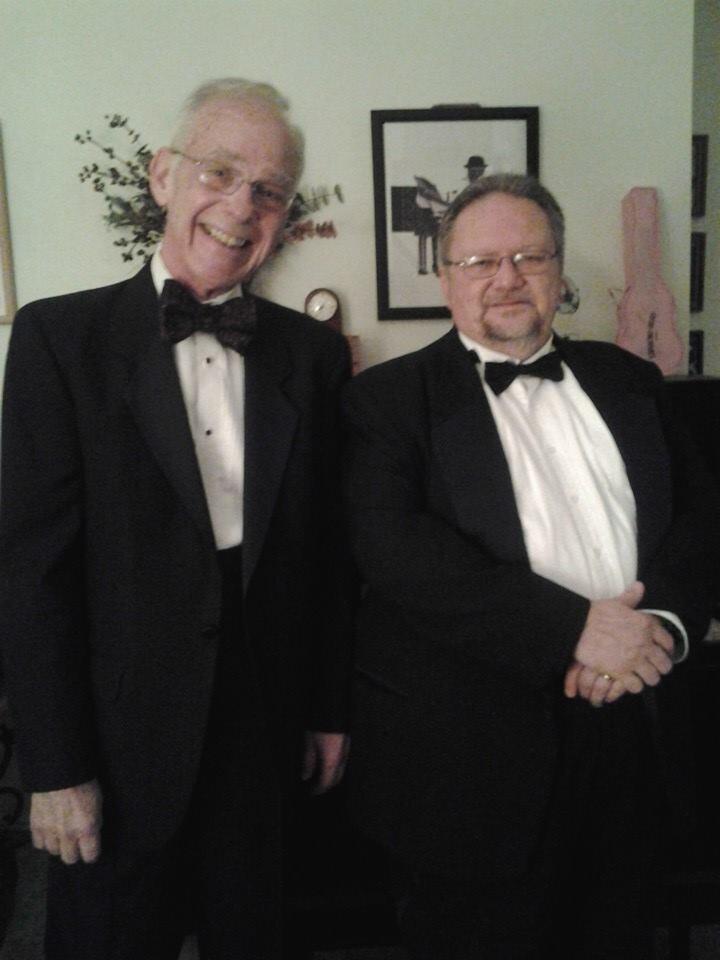 John also has a great light swing feel that gives you the freedom to float above his playing. He has arranged songs for my band and arranged symphony Pops arrangements or orchestra and my band. We have written songs together and I've loved collaborating with him. Can you tell I'm a fan? – Banu Gibson
I first met John in the mid 1980s at the St. Louis Ragtime & Jazz Festival. He was playing some fabulous stride piano with Jim Cullum's Jazz Band. And as if that wasn't enough, I soon found out he was also writing all of the great arrangements for the band. And his arranging skills went far beyond writing for a jazz band; eventually he would be writing arrangements for singer Banu Gibson, who was beginning to perform a number of symphony pops concerts. John's orchestral arrangements were performed by symphony orchestras including St. Louis, Atlanta, Baltimore, Boston Pops and the Hollywood Bowl. Over the years I've had two invaluable sources for info I need on almost any popular song: the Library of Congress, and John Sheridan! – David Boeddinghaus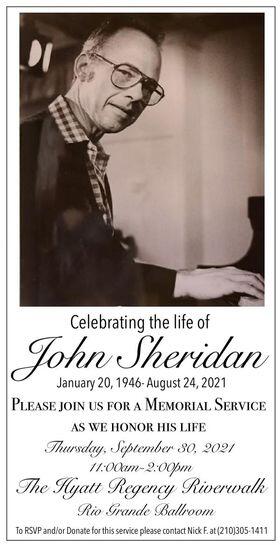 John Sheridan is a unique musician.  His repertoire is amazingly vast and covers many eras of Jazz and popular music. John can play a foot stomping version of Fats Waller's "Handful of Keys" and then play a version of "I've Grown Accustomed to Your Face" that will move you deeply.  He does this while playing the correct changes in a most musical way.  John is constantly listening to the other players in the band and has the ability to always lend wonderful support to other players while never getting in the way of their musical ideas.  John is favored by singers since he is so accomplished as an accompanist. He can instantly transpose songs to any key a singer prefers. John is one of a kind. John is also a wonderful arranger and arranged music for the Jim Cullum band for many years.   Like I said at the beginning of this…John Sheridan is a unique musician.  I am deeply honored to call this humble man my friend. – Chuck Moses