This is an outdated roundup from way back in May of 2020, for the latest festival info find Events on the menu.
ZEHNDER'S RAGTIME FESTIVAL (Frankenmuth, MI) – Rescheduled for July 29-31
Zehnder's 26th Annual Ragtime Festival featuring the pride of Michigan, pianist Bob Milne, will be staged at Zehnder's of Frankenmuth, 730 S. Main St., in the colorful city nicknamed Little Bavaria. Also called "Muth" for short, the city is located in Saginaw County, in Michigan's Lower Peninsula, about 22 miles south of Lake Huron. Events include dinner concert on Wednesday, lunch concerts on Thursday, Friday and Saturday, Vaudeville Night Thursday, a Friday-night picnic, and a grand finale dinner concert on Saturday. By the way, Zehnder's serves a world-famous chicken dinner along with tantalizing breads and pastries. Performers for 2020 tentatively include homeboy Bob Milne along with Andrew Ratajczak, Jeff Barnhart, Kerry Price, Bob Seeley, Martin Spitznagel, Bryan Wright, Anne Barnhart, and Dan Petrella.
Ticket prices for individual events range from $16 to $60. Reservations are required for lunch, brunch, and all dinner concerts. For more info or reservations call (844) 288-1484; or visit zehnders.com.
BIX BEIDERBECKE MEMORIAL JAZZ FESTIVAL (Davenport, IA) – tentatively scheduled for July 30-Aug. 1
The Board of Directors for the 2020 Bix Beiderbecke Festival hope to still hold what will be their 49th annual festival — if the Casino is allowed to open by the state of Iowa — and if COVID-19 guidelines allow it. The final word should be on the Society's website by late May (www.bixsociety.org). The plan is to again hold it at the Rhythm City Casino Events Center in north Davenport. The 49th annual fest will offer five 5-hr. concerts Thurs. night, Friday afternoon & evening and Saturday afternoon & evening. The Casino boasts three restaurants on-site, free parking (with valet parking available), and is close to a lot of retail & restaurants. (Festival-goers may make reservations at the RCCR by calling 1-844-852-4386 or 563-328-8000. There are a limited number of rooms in the Bix "Block" at the Rhythm City Casino Resort; if calling, ask for a room for the "Bix Fest."). More rooms are available at the Quality Inn Motel (4 mins. away), but you must call (563-386-8336) to receive a "Bix" rate vs. on-line.
Scheduled bands include Jeff Barnhart's Hot Jazz Collective; The Benny Goodman Trio (with Jeff Barnhart, Hal Smith, & Dave Bennett); Josh Duffee's Graystone Monarchs; Vine Street Rumble (Kansas City); Chicago Cellar Boys (Andy Schuum); the NOLA Jazz Band (Des Moines); and Joe Smith and the Spicy Pickles (Denver).
Ticket prices and more information visit www.bixsociety.org; call (563) 324-7170 or email [email protected].
53rd ANNUAL WEST TEXAS JAZZ PARTY (Odessa, TX) – Rescheduled to August 6-8
The 2020 West Texas Jazz Party—the 54th annual—will be held at the brand new Odessa Marriott Hotel and Conference Center. Musicians to appear at the Jazz Party include: Warren Vache, Randy Sandke, Russ Phillips, John Allred, Johnny Varro, Nate Najar, Richard Simon, Frank Tate, Ricky Malichi, Kevin Dorn, Ed Metz, Jr., AND MORE!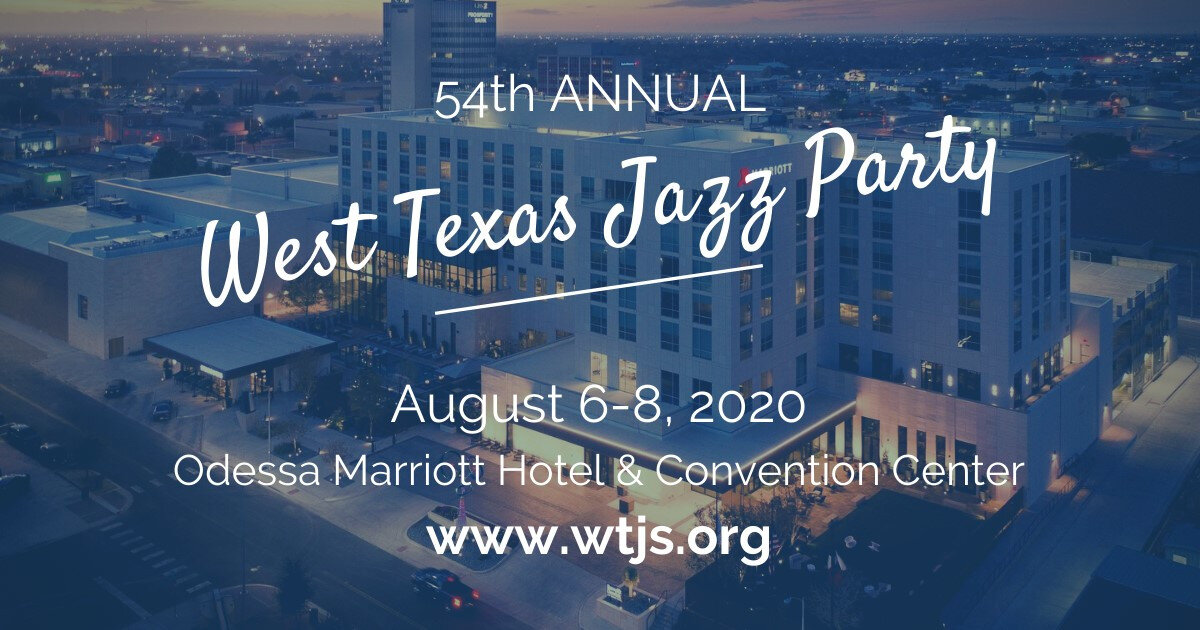 Ticket prices are: Single ticket, $250 (all performances); Table, $2500 (all performances). To purchase tickets, please visit wtjs.org or call (432) 217-0765 for details and membership information. The address for the Marriott is 305 East 5th St., Odessa, Texas 79761. Contact the Marriott at (432) 580-5805 to book your rooms at the special Jazz Party rate.
HISTORIC SUTTER CREEK RAGTIME FESTIVAL (Sutter Creek, CA) August 14-16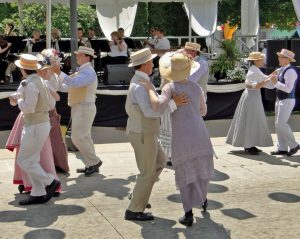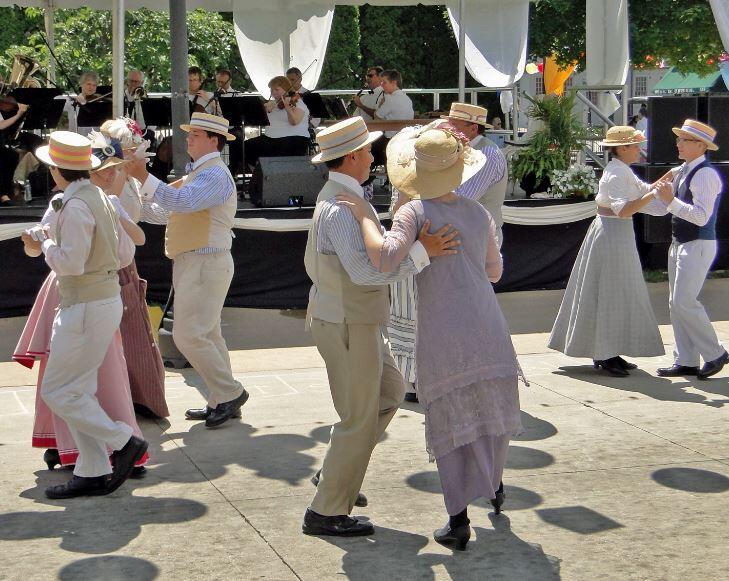 This Historic Festival is an ambitious, fun filled, musically entertaining extravaganza! After 21 years we are still going strong. This three day event takes over this quaint gold rush town with lively music and wonderfully happy festival goers. Music is played at Four or Five locations throughout the town. There is a Saturday evening concert and a Sunday afternoon concert to end the festival. Scheduled artists: Brian Holland, Frederick Hodges, Carl Sonny Leyland, Virginia Tichenor, Danny Coots, Michael Chisholm, Paul Orsi, Elliot Adams, Mustache Wax Ragtime Band, The Easy Winners, John Remmers, and Paul Stewart.
All-event badges cost $85; day badge prices range from $20 to $45; children ages 16 and younger will be admitted free if accompanied by a paying adult. (209) 304-0835, historicsuttercre[email protected], www.historicsuttercreekragtimefestival.com.
MORRISTOWN JAZZ & BLUES FESTIVAL (Morristown, NJ) Saturday, August 15
Always on the third Saturday in August, the 2020 Morristown Jazz & Blues Festival will celebrate its 10th anniversary. Planning for next summer's program is already started as we continue to build a world-renown event. Thanks to Mayor Tim Dougherty and the Town of Morristown, music fans descend on Morristown for great performances on the beautiful Green located in the center of the historic town. The Trustees of the Green work hard to prepare the park for this great weekend when visitors come to enjoy all that Morristown has to offer including historical sites, great shops, fabulous restaurants, and the incredible music. The 2019 salute to WBGO and to Woodstock brought one of our largest crowds ever to the Green and featured a fabulous lineup. The Morristown Jazz & Blues Festival is co-produced by Linda Smith and Don Jay Smith. www.morristownjazzandblues.com
JAZZ AGE LAWN PARTY (Governors Island, NYC) August 29-30th
2020 brings about two incredible milestones for JAZZ AGE LAWN PARTY: Our 15th Anniversary, and the official "RETURN OF THE TWENTIES". The '20s were fabulous frenzy, discovery and rebellion. The passing of Prohibition in 1920 triggered more than the guns of gangsters: It was a golden age of art, thought and social progress. The discovery of the tombs of King Tuthankamen and Queen Nefertiti exploded Art Deco design and women's fashion, blurring gender lines. Coco Chanel literally wore the pants, and women's right to vote and the newfound freedom of the affordable automobile helped the now-bobbed flapper have the world for her oyster.
To commemorate, we are hosting ONE WEEKEND only: August 29/30. Hosted by Michael Arenella & His Dreamland Orchestra. Several jazz and vaudville acts will make for an exciting afternoon in the sun. Many special events are planned so that a good time can be had by all. Early Bird Tickets $40 per day. jazzagelawnparty.com
24th ANNUAL PENTASTIC HOT JAZZ FESTIVAL (Penticton, BC) Sept. 11-13
Situated between two lakes in the beautiful Okanagan Valley of British Columbia, Pentastic Hot Jazz is celebrating its 24th year. This year, Pentastic presents its hottest three day lineup ever, with 10 bands and one Guest Artist: Dave Bennett Quartet, Bob Draga with Friends, Tom Rigney and Flambeau, Groovus (Holland, Coots and Pikal), Dave Bennett and the Memphis Speed Kings, Carl Sonny Leyland's Swing Four, Black Swan Classic Jazz Band with Marilyn Keller, Jamie's Jazz Gangsters, Professor Cunningham and His Old School, South Okanagan Big Band, and Guest Artist Lance Buller.
There are five venues to choose from and a free shuttle service is provided for travel between venues. Venues include: the Penticton Trade and Convention Centre, the Days Inn Conference Centre, the historic stern wheeler S.S. Sicamous, and the Elks Hall. All but the Sicamous are dance venues and except for the Elks Club are Handicapped Accessible.
A free Gospel Service will take place on Sunday morning featuring the incomparable Marilyn Keller with the Black Swan Band. Parasol Parades are known to break out in the French Quarter and are encouraged.
Ticket prices (in Canadian Funds) are: 3 day all events pass Sept. 11th, 12th and 13th: $120, Friday September 11th only: $70, Saturday September 12th only: $85, Sunday September 13th only: $65, Youth 18 and under with ID are only $10 purchased daily. For further information, visit Pentastic online at www.pentasticjazz.com, or call toll-free (866) 599 3494. Purchase tickets online at www.valleyfirsttix.com.
COLORADO SPRINGS JAZZ PARTY (Colorado Springs, CO) Oct. 9-11