This is an outdated roundup from way back in May of 2020, for the latest festival info find Events on the menu.
ZEHNDER'S RAGTIME FESTIVAL (Frankenmuth, MI) – Rescheduled for July 29-31
Zehnder's 26th Annual Ragtime Festival featuring the pride of Michigan, pianist Bob Milne, will be staged at Zehnder's of Frankenmuth, 730 S. Main St., in the colorful city nicknamed Little Bavaria. Also called "Muth" for short, the city is located in Saginaw County, in Michigan's Lower Peninsula, about 22 miles south of Lake Huron. Events include dinner concert on Wednesday, lunch concerts on Thursday, Friday and Saturday, Vaudeville Night Thursday, a Friday-night picnic, and a grand finale dinner concert on Saturday. By the way, Zehnder's serves a world-famous chicken dinner along with tantalizing breads and pastries. Performers for 2020 tentatively include homeboy Bob Milne along with Andrew Ratajczak, Jeff Barnhart, Kerry Price, Bob Seeley, Martin Spitznagel, Bryan Wright, Anne Barnhart, and Dan Petrella.
Ticket prices for individual events range from $16 to $60. Reservations are required for lunch, brunch, and all dinner concerts. For more info or reservations call (844) 288-1484; or visit zehnders.com.
BIX BEIDERBECKE MEMORIAL JAZZ FESTIVAL (Davenport, IA) – tentatively scheduled for July 30-Aug. 1
The Board of Directors for the 2020 Bix Beiderbecke Festival hope to still hold what will be their 49th annual festival — if the Casino is allowed to open by the state of Iowa — and if COVID-19 guidelines allow it. The final word should be on the Society's website by late May (www.bixsociety.org). The plan is to again hold it at the Rhythm City Casino Events Center in north Davenport. The 49th annual fest will offer five 5-hr. concerts Thurs. night, Friday afternoon & evening and Saturday afternoon & evening. The Casino boasts three restaurants on-site, free parking (with valet parking available), and is close to a lot of retail & restaurants. (Festival-goers may make reservations at the RCCR by calling 1-844-852-4386 or 563-328-8000. There are a limited number of rooms in the Bix "Block" at the Rhythm City Casino Resort; if calling, ask for a room for the "Bix Fest."). More rooms are available at the Quality Inn Motel (4 mins. away), but you must call (563-386-8336) to receive a "Bix" rate vs. on-line.
Scheduled bands include Jeff Barnhart's Hot Jazz Collective; The Benny Goodman Trio (with Jeff Barnhart, Hal Smith, & Dave Bennett); Josh Duffee's Graystone Monarchs; Vine Street Rumble (Kansas City); Chicago Cellar Boys (Andy Schuum); the NOLA Jazz Band (Des Moines); and Joe Smith and the Spicy Pickles (Denver).
Ticket prices and more information visit www.bixsociety.org; call (563) 324-7170 or email [email protected]
53rd ANNUAL WEST TEXAS JAZZ PARTY (Odessa, TX) – Rescheduled to August 6-8
The 2020 West Texas Jazz Party—the 54th annual—will be held at the brand new Odessa Marriott Hotel and Conference Center. Musicians to appear at the Jazz Party include: Warren Vache, Randy Sandke, Russ Phillips, John Allred, Johnny Varro, Nate Najar, Richard Simon, Frank Tate, Ricky Malichi, Kevin Dorn, Ed Metz, Jr., AND MORE!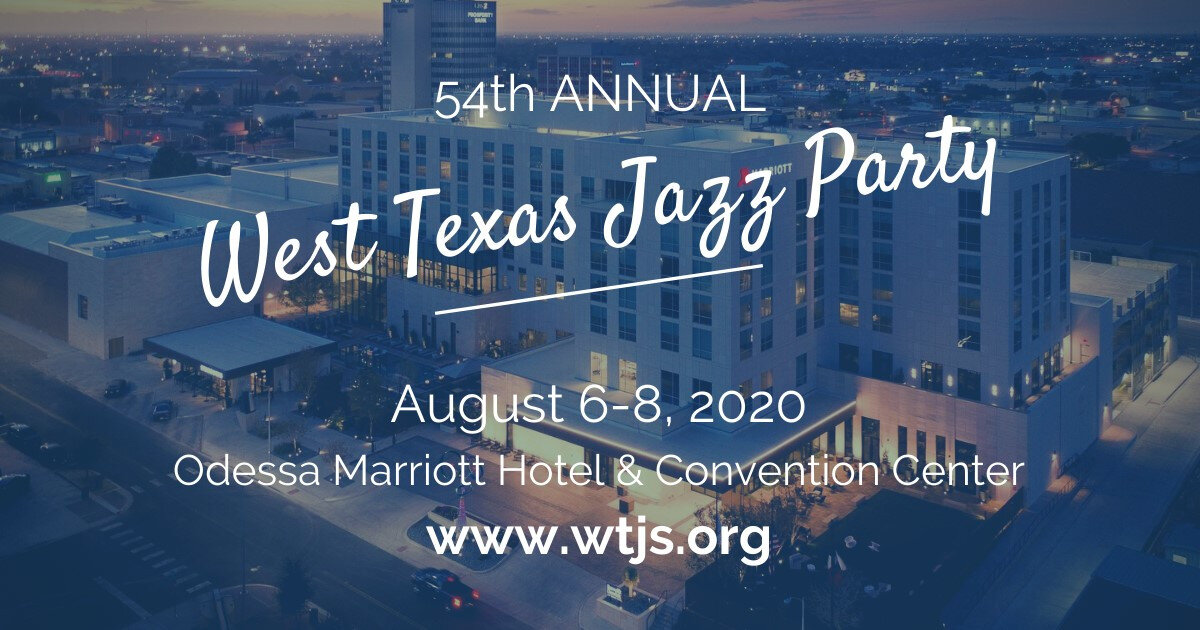 Ticket prices are: Single ticket, $250 (all performances); Table, $2500 (all performances). To purchase tickets, please visit wtjs.org or call (432) 217-0765 for details and membership information. The address for the Marriott is 305 East 5th St., Odessa, Texas 79761. Contact the Marriott at (432) 580-5805 to book your rooms at the special Jazz Party rate.
HISTORIC SUTTER CREEK RAGTIME FESTIVAL (Sutter Creek, CA) August 14-16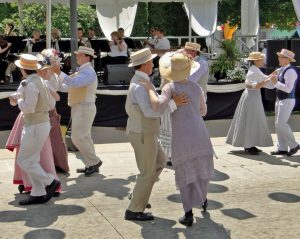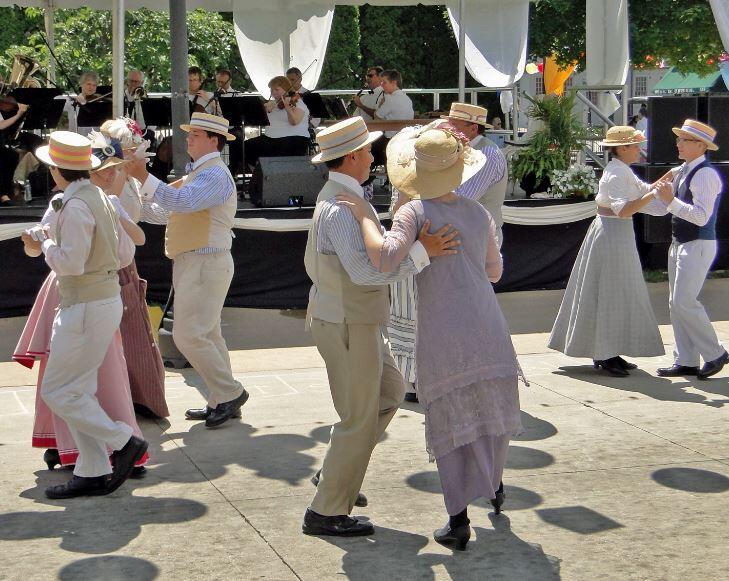 This Historic Festival is an ambitious, fun filled, musically entertaining extravaganza! After 21 years we are still going strong. This three day event takes over this quaint gold rush town with lively music and wonderfully happy festival goers. Music is played at Four or Five locations throughout the town. There is a Saturday evening concert and a Sunday afternoon concert to end the festival. Scheduled artists: Brian Holland, Frederick Hodges, Carl Sonny Leyland, Virginia Tichenor, Danny Coots, Michael Chisholm, Paul Orsi, Elliot Adams, Mustache Wax Ragtime Band, The Easy Winners, John Remmers, and Paul Stewart.
All-event badges cost $85; day badge prices range from $20 to $45; children ages 16 and younger will be admitted free if accompanied by a paying adult. (209) 304-0835, [email protected], www.historicsuttercreekragtimefestival.com.
MORRISTOWN JAZZ & BLUES FESTIVAL (Morristown, NJ) Saturday, August 15
Always on the third Saturday in August, the 2020 Morristown Jazz & Blues Festival will celebrate its 10th anniversary. Planning for next summer's program is already started as we continue to build a world-renown event. Thanks to Mayor Tim Dougherty and the Town of Morristown, music fans descend on Morristown for great performances on the beautiful Green located in the center of the historic town. The Trustees of the Green work hard to prepare the park for this great weekend when visitors come to enjoy all that Morristown has to offer including historical sites, great shops, fabulous restaurants, and the incredible music. The 2019 salute to WBGO and to Woodstock brought one of our largest crowds ever to the Green and featured a fabulous lineup. The Morristown Jazz & Blues Festival is co-produced by Linda Smith and Don Jay Smith. www.morristownjazzandblues.com
JAZZ AGE LAWN PARTY (Governors Island, NYC) August 29-30th
2020 brings about two incredible milestones for JAZZ AGE LAWN PARTY: Our 15th Anniversary, and the official "RETURN OF THE TWENTIES". The '20s were fabulous frenzy, discovery and rebellion. The passing of Prohibition in 1920 triggered more than the guns of gangsters: It was a golden age of art, thought and social progress. The discovery of the tombs of King Tuthankamen and Queen Nefertiti exploded Art Deco design and women's fashion, blurring gender lines. Coco Chanel literally wore the pants, and women's right to vote and the newfound freedom of the affordable automobile helped the now-bobbed flapper have the world for her oyster.
To commemorate, we are hosting ONE WEEKEND only: August 29/30. Hosted by Michael Arenella & His Dreamland Orchestra. Several jazz and vaudville acts will make for an exciting afternoon in the sun. Many special events are planned so that a good time can be had by all. Early Bird Tickets $40 per day. jazzagelawnparty.com
24th ANNUAL PENTASTIC HOT JAZZ FESTIVAL (Penticton, BC) Sept. 11-13
Situated between two lakes in the beautiful Okanagan Valley of British Columbia, Pentastic Hot Jazz is celebrating its 24th year. This year, Pentastic presents its hottest three day lineup ever, with 10 bands and one Guest Artist: Dave Bennett Quartet, Bob Draga with Friends, Tom Rigney and Flambeau, Groovus (Holland, Coots and Pikal), Dave Bennett and the Memphis Speed Kings, Carl Sonny Leyland's Swing Four, Black Swan Classic Jazz Band with Marilyn Keller, Jamie's Jazz Gangsters, Professor Cunningham and His Old School, South Okanagan Big Band, and Guest Artist Lance Buller.
There are five venues to choose from and a free shuttle service is provided for travel between venues. Venues include: the Penticton Trade and Convention Centre, the Days Inn Conference Centre, the historic stern wheeler S.S. Sicamous, and the Elks Hall. All but the Sicamous are dance venues and except for the Elks Club are Handicapped Accessible.
A free Gospel Service will take place on Sunday morning featuring the incomparable Marilyn Keller with the Black Swan Band. Parasol Parades are known to break out in the French Quarter and are encouraged.
Ticket prices (in Canadian Funds) are: 3 day all events pass Sept. 11th, 12th and 13th: $120, Friday September 11th only: $70, Saturday September 12th only: $85, Sunday September 13th only: $65, Youth 18 and under with ID are only $10 purchased daily. For further information, visit Pentastic online at www.pentasticjazz.com, or call toll-free (866) 599 3494. Purchase tickets online at www.valleyfirsttix.com.
COLORADO SPRINGS JAZZ PARTY (Colorado Springs, CO) Oct. 9-11
Held at the The Antlers Hotel. Scheduled musicians: Adrian Cunningham, Music Director, Clarinet, Saxophone; Dennis Litchman, Clarinet, Mandolin; Nicki Parrott, Bass, Vocal; Chuck Redd, Drums and Vibes; Dalton Ridenhour, Piano; Ben Polcer, Trumpet; Alfonso Horne, Trumpet; Richard Moten, Bass; Alex Raderman, Drums; Danny Coots, Drums; Rossano Sportiello, Piano; Nate Najar, Guitar; Russ Phillips, Trombone; Dani Alonso, Trombone.
Prices:  $175 for one weekend pass. Single sessions: $50 for Saturday and Sunday afternoon. $75 for Friday and Saturday evening. Tickets available through the web site: csjazzparty.com
SUN VALLEY JAZZ & MUSIC FESTIVAL (Sun Valley, ID) Oct. 14-18
The 31st anniversary edition of Idaho's Sun Valley Jazz and Music Festival covers five days and offers forty excellent bands (with over 200 shows to choose from), and will be headquartered at the Sun Valley Inn at the Sun Valley Resort. Performance venues include the Limelight Room, the Continental Room, the River Run Lodge, the Opera House, the Duchin Room, Dollar Mountain Lodge,
Performers at the festival include: Clint Baker's Hot Jazz Band, Banjomaniacs, Barnhart & Myers Hot Jazz Collective, Black Market Trust, Blue Renditions. Blue Street Jazz Band, Boise Straight Ahead, John & Kristy Cocuzzi, Sherri Colby's Racket Makers, Cornet Chop Suey, Professor Cunningham & His Old School, Bob Draga with Friends, Yve Evans & Co., Gator Nation, Banu Gibson, GROOVUS, Shaymus Hanlin, Hallelujah Chorus w/ Yve Evans & Patty Parsons, High Street Party Band w/ Emily Stanton, Holland & Coots Jazz Quintet, Bruce Innes Trio, Ivory & Gold®, Kings of Swing, Carl Sonny Leyland, Carolyn Martin Swing Band, Jenna McLean Quintet, Joe Midiri's All Star Big Band, Midiri Brothers Septet, Terry Myers' All Star Big Band w/ Shaymus Hanlin, NNU Jazz Renaissance, NNU Jazz Revival, Pearl Django, Piano Extravaganza w/ 8 hands on the piano, Pianorama, Tom Rigney & Flambeau, Gary Ryan, Side Street Strutters w/ Meloney Collins, Sun Valley Jazz Marching Band, U. S. Coast Guard Dixie Band, We Three
Early Bird Special: 5-Day General Admission Pass is $175 through July 31, and $195 thereafter. Afterglow is $75, including dinner. Tickets available by telephone or at website; (877) 478-5277; sunvalleyjazz.com. Write for brochure (with full ticket pricing information) at Sun Valley Jazz, PO Box 2745, Sun Valley, ID.
ROSWELL JAZZ FESTIVAL (Roswell, NM) Oct. 14-18
Founded in 2006, the Roswell Jazz Festival is set to celebrate its 14th year as New Mexico's premier jazz event. The five selected venues in Roswell are the Anderson Museum of Contemporary Art, Chaves County Courthouse, First United Methodist Church, Roswell Civic Center, and Stellar Coffee Co. The festival is funded in part by the City of Roswell lodgers tax.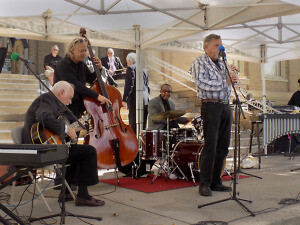 Roswell's 2020 Guest of Honor is bassist Richard Simon. Other invited musicians include: John Allred, Bill Allred, Dan Barrett, Chris Dracup, Larry Fuller, Khari Lee, Jon-Eric Kellso, Rossano Sportiello, Charles Gordon, Richard Moten, Eddie Metz, Jr., Dr. Roger Dickerson, Scott Edmunds, Michael Francis, Glenn Kostur, Ricky Malichi, Ken Peplowski, Houston Person, Chuck Redd, Jim Shearer, Hillary Smith, Erik Unsworth, Johnny Varro, and Richard Simon.
The Baymont Inn & Suites is the official hotel of the 2020 RJF. Call 575-208-0536 and ask for the jazz festival rate. Ticket prices will be announced soon; for more information visit roswelljazz.org, email [email protected]ail.com, or telephone 505-359-4876.
JAZZ JUBILEE BY THE SEA (Pismo Beach/Arroyo Grande) Oct. 22-25th
Jazz Jubilee (by the Sea) is celebrating its 44th year—and the event continues to include the neighboring city of Arroyo Grande. The Jazz Jubilee by the Sea is always the last full weekend in October. This year's theme is "It's the Roaring 20s Again". Please plan at least one night in costume! We will have new sanitization procedures in place at all locations during the festival.
Invited bands and performers include: Black Market Trust, Holy Crow, Sierra Seven, Larry, Dawn, & Friends, Tom Rigney & Flambeau, Cornet Chop Suey, Midiri Brothers Septet, Gator Nation, Professor Cunningham and His Old School, Molly Reeves Hold Tight Quartet, Ivory&Gold®, Blue Street, Crescent Katz, High Street, Creole Syncopators, Mariachi Autlence, Riptide, Jeff Barnhart, Danny Coots, Carl Sonny Leyland (and friends), Steven Saavedra, Gary Ryan, Bob Schulz, Paul Ingle, Larry Scala.
Thursday night's special will feature the BCC Trio (Barnhart, Coots and Cunningham) at the Veterans' Memorial Hall, with Jeff Barnhart, Adrian Cunningham and Danny Coots in a new show that is sure to entertain. Tickets for this extra show to kick off the Jubilee cost $25.00.
Early Bird 3-Day badges $115 through 9/15. Three-day badges $120 from 9/16 to 10/15, after 10/15 $130. Single day badges are available. Badge sales: PO Box 356, Pismo Beach, CA 93448. For badge sale information, please call (805) 539 5696. For general information, please call (805) 937 8402 or visit pismojazz.com. E-mail your questions to [email protected].
MIKE DURHAM'S INTERNATIONAL CLASSIC JAZZ PARTY (Whitley Bay, UK) Oct. 30-Nov. 1
The Party was first founded in 1990 by Mike Durham in Whitley Bay, near Newcastle-Upon-Tyne, UK, and has grown bigger and better with each successive year.
The jazz party will run from mid-day on Friday until late on Sunday evening at the four-star Village Hotel & Leisure Centre, Silverlink North, Cobalt Business Park, North Tyneside, some 70 miles south of Scotland in northeast Great Britain. The festival takes place in a luxurious setting with assigned seating of eight to a table, and tables are rotated twice daily. The program explores jazz from its first 40 years, with special jam sessions in the Victory Pub in the wee small hours.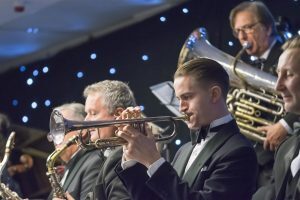 This year's musicians include: Trumpet/Cornet- Enrico Tomasso (UK), Andy Schumm (USA), Mike Davis (USA), Torstein Kubban (Norway), Duke Heitger (USA), Malo Mazurie (France). Reeds- Claus Jacobi (Germany), Michael McQuaid (Australia), Richard Exall (UK), Lars Frank (Norway), David Horniblow (UK), Jean-Francois Bonnel (France), Mauro Porro (Italy). Trombone-Graham Hughes (UK), Alistair Allan (UK), Dave Bock (USA), Adrian Fry (UK). Piano- Andrew Oliver (USA), Keith Nichols (UK), David Boeddinghaus (USA), Martin Litton (UK). Guitar & Banjo- Thomas "Spats" Langham (UK), Martin Wheatley (UK), Félix Hunot (France), Jacob Ullberger (Sweden). Brass bass & String bass- Malcolm Sked (UK), Henri Lemaire (France), Phil Rutherford (UK)- Drums & Percussion- Josh Duffee (USA), Nicholas D. Ball (UK), Richard Pite (UK), Nick Ward (UK). Violin- Emma Fisk (UK). Vocals- Roya Naldi (USA), Thomas "Spats" Langham (UK)
Reservations for accommodations at the Village Hotel may be booked by calling (from the US) 011 44 191 338 5245 (Option 3) and quote Promotion Code JAZZ. (Book online through www.villageurbanresorts.com using same promo code.) Places for the 2020 Party will cost £160 per person for the weekend, and may be paid for through PayPal via the Jazz Party website. (Exchange rates as of August 17: $1.22 US = £1 UK.) All bookings are 100% refundable in case of cancellation due to serious illness, bereavement, or other unavoidable cause.
For tickets and other information, please visit whitleybayjazzfest.com; [email protected]
THE ARIZONA CLASSIC JAZZ FESTIVAL (Chandler, AZ) November 5-8, 2020
The music starts at 5:30 p.m. on Thursday, November 5, and ends at 5:00 p.m. on Sunday, November 8. In addition, an Afterglow that includes a buffet dinner and music will be offered at the hotel from 6 – 8:30 p.m. on Sunday for a cost of $35.
The bands will be: "BIG" B.A.D. Rhythm, the Black Market Trust, Cheryl's Vintage Swing with special guest Dan Levinson on reeds, Cocuzzi Courtet, Cornet Chop Suey, Lynn Robert's Swinging Saxes, Queen City Jazz Band, St. Louis Rivermen, Sentimental Breeze, Stephanie Trick & Paolo Alderighi, Sun City Stomperz, Tom Rigney & Flambeau, We 3 + 1, Wildcat Jazz Band, Wolverine Jazz Band, and guest Howard Alden.
Dabney and Karen Hopkins will be offering dance lessons throughout Saturday and Sunday providing you the opportunity to learn new steps along with the Phoenix Lindy Exchange.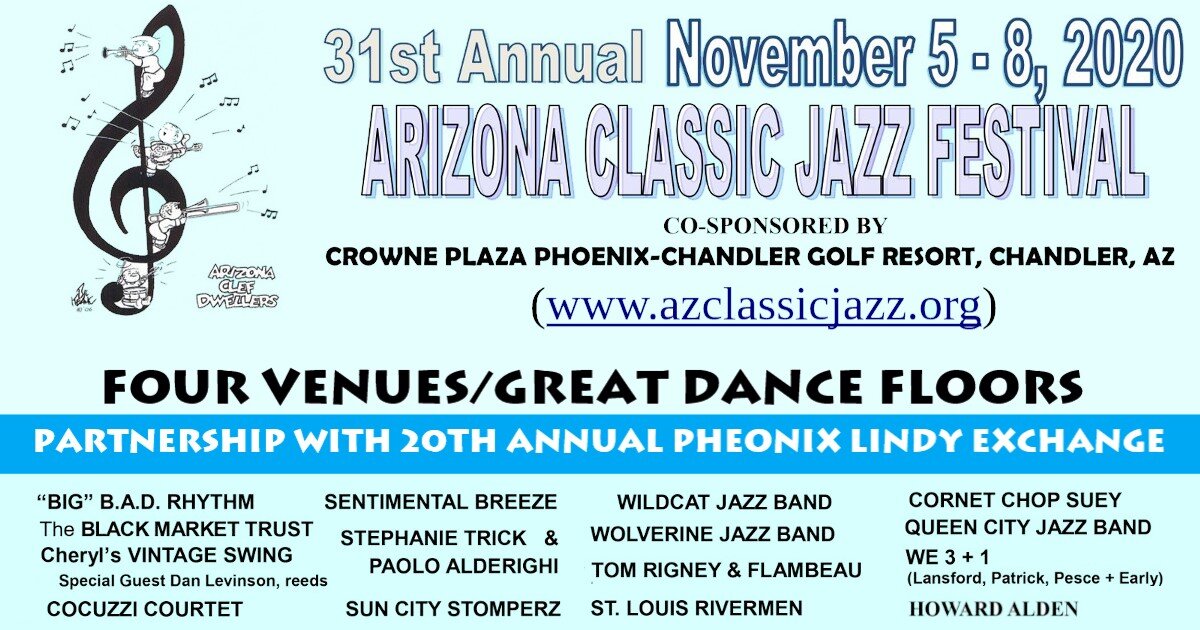 The event is held at the Crowne Plaza Phoenix – Chandler Golf Resort, One San Marcos Place, Chandler, AZ. For rooms, call the hotel at 877-685-5594 before October 6 and be sure to identify that you will be attending this event. Badges may be purchased before October 29 by sending a check or credit card information to ACJF, 10918 E. Michigan Ave., Sun Lakes, AZ 85248 or by calling 480-620-3941. They will be available at the door starting at 2 p.m. on Thursday, November 5. Badges are $110 each if purchased before August 15; $130 after that date. Day badges will be available for purchase at the door: Thursday $20, Friday $55, Saturday $65, Sunday $45. Band sponsorship is very much appreciated. (www.azclassicjazz.org)
SUNCOAST JAZZ FESTIVAL (Clearwater FL) Nov. 20-22
This year's Suncoast Jazz Festival is scheduled to take place at the Sheraton and Marriot Suites on Sand Key, Clearwater, Florida. All performance venues are indoors, with music from morning to late in the evening.
New at Suncoast this year are Ken Peplowski, Diego Figuerido, and Houston Person; Hot Harlem with Dan Levinson, David Boeddinghaus, Molly Ryan, and friends; Ed Metz Trio with Rossano Sportiello and Nicki Parrott; and Suncoast Festival Allstars with Bill Allred, Dave Tatrow, Davy Jones, Dave Bennett, Bob Price, Dan Howard, Randy Morris, and Ed Metz.
Returing to Suncoast are Adrian Cunningham and His Old School, Cornet Chop Suey, Dave Bennett Quartet, Sierra Seven, and Tom Rigney and Flambeau, with guest musicians Jason Marsalis, Johnny Varro, Bob Leary, Pepper, Chuck Redd, Heather Thorn, La Lucha, Nate Najar, Don Mopsick, James Suggs, John Lamb, Jean Bolduc, Betty Comora, and Mike Evans.
The festival begins with a VIP party on Thursday, November 19th, and officially opens with a parasol parade poolside on Friday morning, Swing Dance Friday night, Pianorama Saturday afternoon, Arbors Records CD Release party Saturday evening (LaLucha with Ken Peplowski, Diego Figuierido, Houston Person and Chuck Redd), Dave Bennett plays Music for Sunday Morning, then enjoy a Sunday Jazz Brunch, the festival's grand finale at 4 pm, and Afterglow Sunday starting around 5:30 pm. There will be several open jam sessions and a Youth Master Class on Friday led by Jason Marsalis and others. The Gulf of Mexico awaits when you take a break from the music!
For ticket information, please visit www.suncoastjazzfestival.com.
WEST COAST RAGTIME FESTIVAL (Rancho Cordoba, CA) Nov. 20-22
The West Coast Ragtime Festival will be staged for the seventh year running at the Sacramento Marriott Rancho Cordova, 211 Point East Drive, about 15 miles east of Sacramento, just off Hwy 50 at the Sunrise Blvd exit. Six venues at the 33rd annual WCRF present live music nearly nonstop through the festival's three days. Performers and pricing will be announced shortly. As always, children 16 and under may attend FREE (no badge required) when accompanied by a paying adult. (916) 457-3324; westcoastragtime.com.
THE SAN DIEGO JAZZ FEST & SWING EXTRAVAGANZA (San Diego, CA) Nov. 25-29
Celebrating 41 Years! Discerning jazz fans call the San Diego Jazz Festival "the crown jewel of jazz festivals." The event is held annually during the Thanksgiving weekend at the Town & Country Resort and Convention Center in San Diego. It is a favorite of festival-goers from around the globe, with all music venues conveniently located in the Town & Country Convention Center, which includes six different stages of featuring traditional jazz, ragtime and swing music.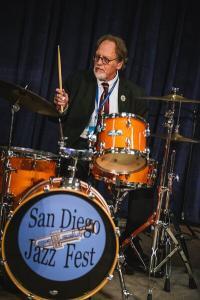 Invited Guest Artists: Katie Cavera, Lee Fugal, Carl Sonny Leyland, Marty Eggers, Virginia Tichenor, Stephanie Trick & Paolo Alderighi. Invited Bands & Groups: Big Butter Jazz Band, Captain John Royen's New Orleans Rhythm, Champagne Dixie, Cornet Chop Suey, Dave Bennett Quartet, Dave Stuckey & the Hot House Gang, Gino and the Lone Gunmen, Grand Dominion Jazz Band, Heliotrope Ragtime Orchestra, High Society Jazz Band, Jazz Jammers, Mad Hat Hucksters, Memphis Speed Kings, Mission Bay Preservationists, Night Blooming Jazzmen, The Regulators, Sue Palmer and her Motel Swing Orchestra, Titanic Jazz Band, Uptown Rhythm Makers, Yerba Buena Stompers and more to be announced.
For badge sales, sponsor details and lodging, please visit sdjazzfest.org or call (619) 297-5277. AFCDJS, P.O. Box 880387, San Diego, CA 92168-0387. Read our review of last year: From the San Diego Jazz Fest