Also see: Early History of the Galvanized Jazz Band & History of the Galvanized Jazz Band, Part 2: The Millpond Years
After the Millpond Tavern closed in December of 1995 the Galvanized Jazz Band tried a few months of Sundays at "Bill Miller's Castle" in Branford, CT, which was operated as a catering hall and dance studio. There was an old grand piano, but it was virtually unplayable. Mr. Miller could not understand why we didn't use it because it had such "beautiful legs." Because other events in the castle sometimes ran late we often found ourselves waiting outside until after our nominal starting time, and that became more of a problem when the winter weather arrived. So we decided to go to a recording studio and make a CD.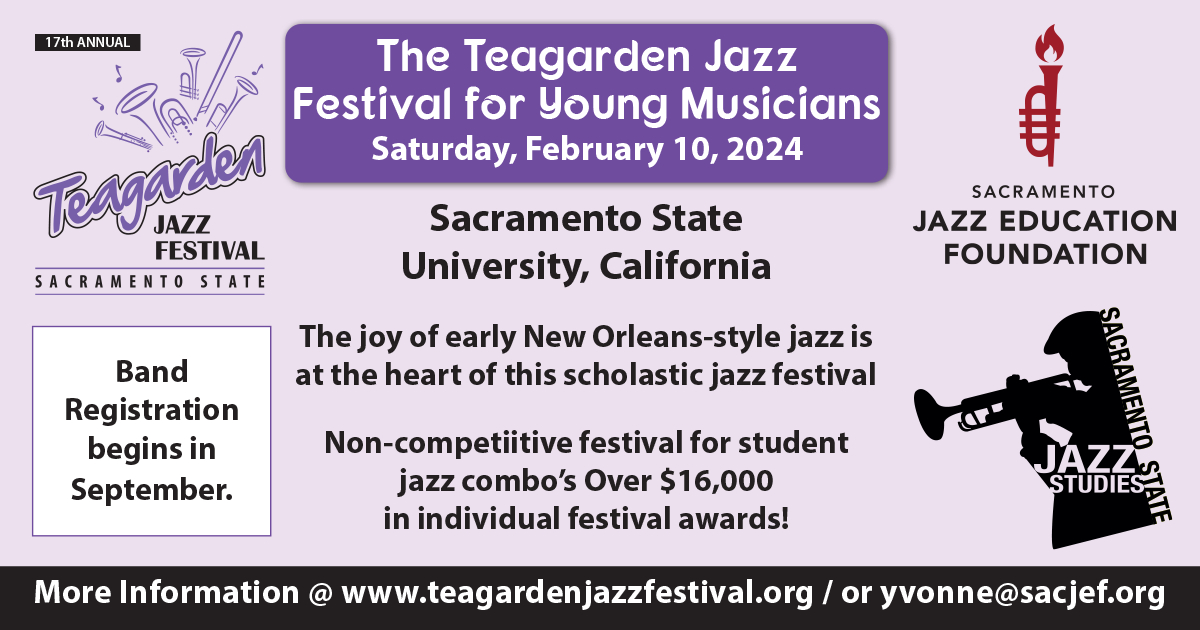 Performing for a crowd of microphones was a new and difference experience. They don't laugh, shout, clap, or make requests! But after about five hours in the studio and a few more on mixing and editing we had a pretty good recording with Jane Campedelli, Jim Fryer, Fred, Noel, Bill Sinclair, Bob Bequillard, Joel Schiavone, and me. At that time the minimum order for CDs was 1000 copies. We thought we would be selling them for the rest of our lives, but we are now selling re-issues. The title is "Nobody's Sweetheart" and the cover is a cartoon caricature of the band by Bob Nilson. Bob used to come to the Great Connecticut Jazz Festivals, sit on a small stool in front of the band, and sketch simultaneously with both hands. Then he would fill in details later from memory and sell booklets of his drawings at the next summer's festival.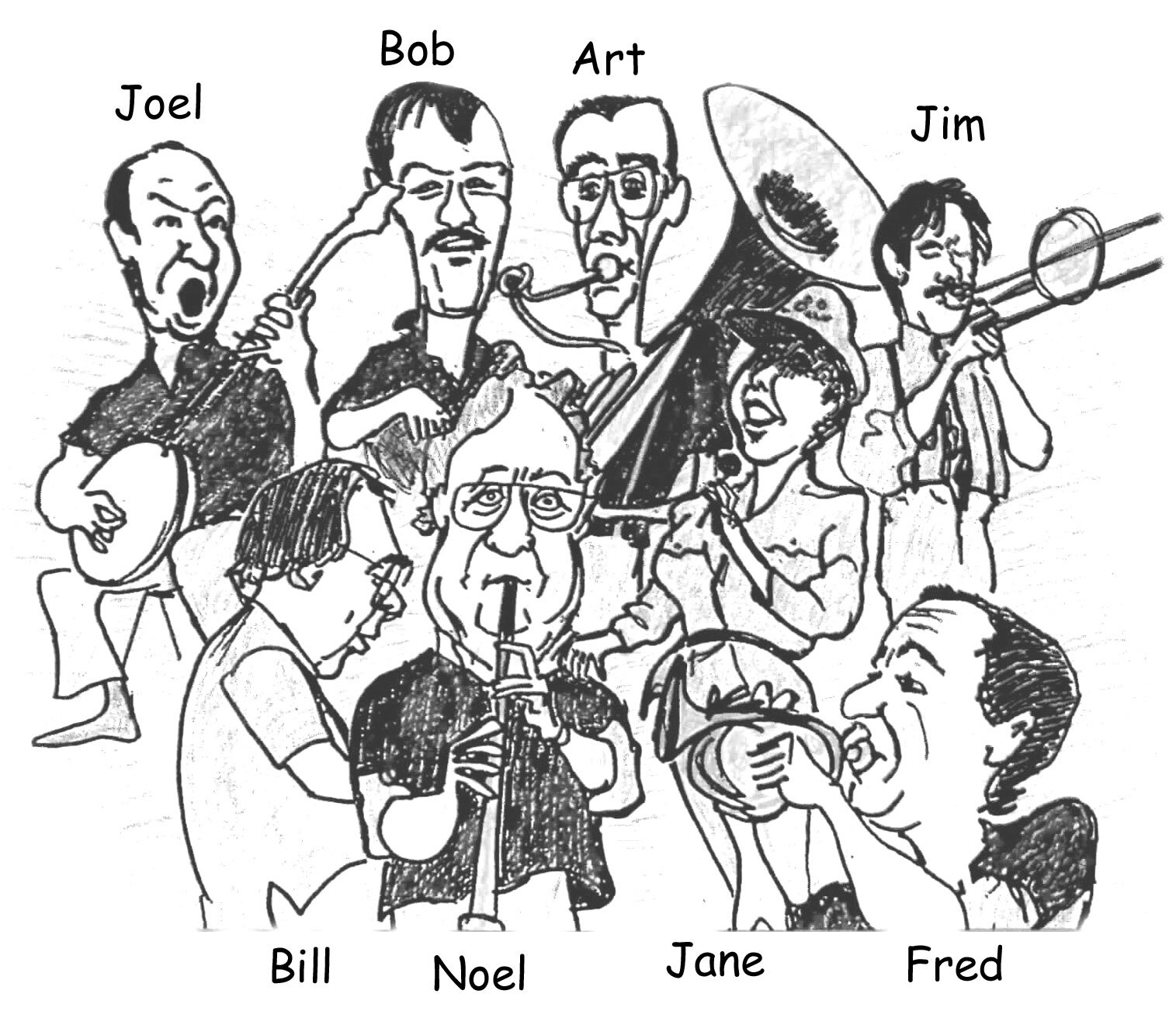 Before long we found a new home at the "U.S.S Chowderpot III", a restaurant just off I-95 in Branford. It was a good location because on most Sunday evenings westbound traffic on that highway tends to come to a stop at exit 56. Folks would take that exit, look for a restaurant, and find a good one with a jazz band playing. They had a decent upright piano, which Bill Sinclair tuned up every Sunday before starting time. The management liked us enough to give each of us gift certificates at Christmas time, and even named some of the menu items after band members. (Mine was the "Art Hovey Crabcakes.")
At the Chowderpot we continued having guest trombonists join us every week, and we continued recording what we played. New digital recording equipment and editing software made better sound quality possible, and in recent years we have found some treasures among those archives.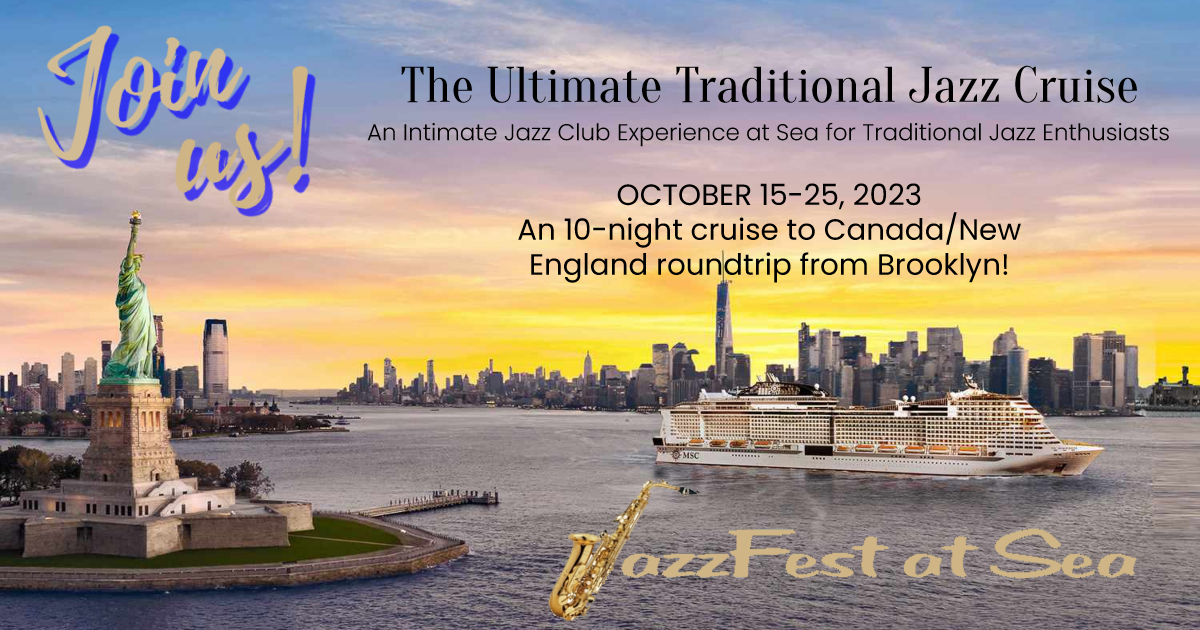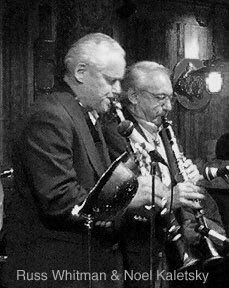 When Noel Kaletsky decided to move to Florida in 1996 Russ Whitman became our regular clarinet and sax man. He had already worked with us on occasions when Noel was away, and his bass saxophone brought an added level of excitement to the band. Russ grew up in Chicago and met Herb Gardner and Tex Wyndham while the three were students at Harvard. He managed to stay active in traditional jazz throughout his long careers in physics computer programming. He has performed at more than forty-five jazz festivals and has recorded some twenty albums since 1970, many with James Dapogny's Chicago Jazz Band. After a year in Florida Noel saw the light and returned to Connecticut; since then he and Russ have often shared the stage with the GJB.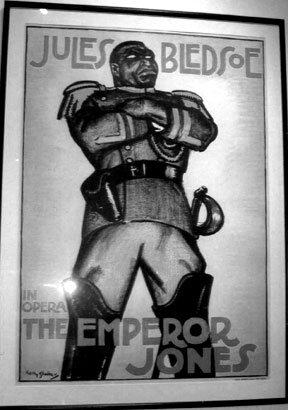 Whenever Herb Gardner was with us he handed small notebooks to me (on bass or tuba) and to Bill Sinclair (on piano) containing his hand-written chords for about fifty non-trivial tunes that he liked to sing. After telling us what page to look at he would play the lead on trombone for the first chorus, sing the second, and by then the band had learned a new tune. Herb is equally adept on piano, and often filled in on that instrument when Bill was away. Sometimes Herb brought his daughter Abbie along and the two of them sang duets with the band. One of the songs that Abbie did with us was a clever one called "My Mother's Son-in-Law", with the line You don't have to sing like Bledsoe, You can tell the world I said so! Being too lazy to look it up, I wondered who "Bledsoe" was until I came across a poster in a museum while visiting my grandson in Saint Louis.
There was one Sunday when Peter Ecklund and Herb Gardner filled in for Fred and Bill on cornet and piano, respectively. Our trombonist that night happened to be Craig Grant. Since Peter and I are Yale graduates, Herb, Craig, and Russ Whitman are Harvard men, and Joel Schiavone has degrees from both universities, Peter suggested calling our group the "Wasted Tuition Jazz Band".
Every Sunday the Chowderpot staff faithfully dragged the piano to the bandstand from some other room. Eventually one of the wheels broke off, and somebody found a stainless-steel bowl to prop up that corner. Bill always arrived early to tune the piano after reminding the staff to fetch that bowl. But occasionally Bill had gigs in Europe and we would have a guest pianist. Donn Trenner was one. Originally from New Haven, Donn had worked with Buddy Morrow, Charlie Barnett, Tommy Dorsey, Charlie Parker, Stan Getz, Oscar Pettiford, Charles Mingus, Ben Webster, Bob Hope, Lena Horne, Anita O'Day, Nelson Riddle, and others too numerous to mention. He also lead his own orchestra nightly on the "Steve Allen Show" until moving back to Connecticut in 1996. Donn was about 74 years old when he first worked with us at the Chowderpot in 1999.
When he came in and saw the piano leaning precariously because of the missing wheel he went back to his car and lugged in a large electric piano. After the missing bowl was found and installed Donn decided that the real piano was satisfactory. On another occasion in 2001 we had both Donn Trenner and Art Baron in the band, and the two of them really clicked together. Several numbers from that night are on our "Duke Ellington" CD.
Another pianist who sometimes filled in for Bill Sinclair was Tex Wyndham, the author of Texas Shout: How Dixieland Jazz Works, a collection of his many erudite columns in the American Rag. After working with the GJB he realized that Noel Kaletsky would be the right man for his festival band, the "Rent Party Revellers." Each member of that band was supposed to be the leader of some other jazz band, but Tex made an exception to that rule in Noel's case.
Tex played cornet in the Rent Party band just so he could be the director, a role that he particularly enjoyed. He made their performances exciting by frequently signaling unexpected changes in routine, such as suddenly having one member solo with only the piano for half a chorus, or having the rhythm section just play offbeats for a spell. Noel told us about one occasion when the guys secretly planned to have the trombonist take a solo when Tex pointed to the clarinet, the tuba to solo when Tex pointed to the piano, and so on. Only a really good band could get away with a gag like that, and they did. It only took a few days for Tex to recover.
The late Steve Yocum began his professional career in 1968 with Your Father's Mustache at Lake Compounce, Connecticut. From 1985 to 1991 he lead the Banjo Kings at Disney World. In 1988 he assembled a group of Disney World's first call musicians to form Uncle Yoke's Black Dog Jazz Band. The "Dogs" were soon featured prominently at jazz festivals all over the world, including the Great Connecticut Jazz Festival, where we first heard them. Yocum returned to Connecticut a few times after that band broke up to perform as a featured guest at Connecticut's Hot Steamed Festival, which always ended on Sunday afternoon. On those nights a good number of jazz fans and musicians came to the Chowderpot for an informal "afterglow" with the GJB, and Steve was our guest trombonist on some of those occasions. Material recorded at two of those sessions is now available on our recently-produced "Steve Yocum" CD. (Most of the tracks on that CD include Jeff Barnhart on piano; Brian Holland sits in for one, and Bill Sinclair is on three.)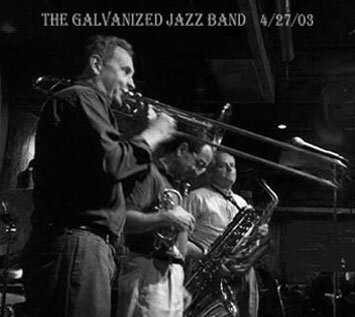 Although we enjoyed good crowds at the Chowderpot every Sunday evening for seven years, new management in 2003 decided that our services were no longer needed. Our final performance there on April 27 was a big night, attended by loyal fans from as far away as Massachusetts and North Carolina.
By June 8 we were back in business at the former Millpond Tavern, now renamed as the "River Run." Jane Campedelli joined us for our first two Sundays, with standing-room-only crowds. Another big night there was July 27, when members of Paris Washboard joined us.
Our 2004 Mardi Gras celebration at the River Run was sold out in spite of snow flurries and freezing rain on that fine February evening. It was also our 33rd anniversary of Sunday night jazz, with costumes, prizes and a free buffet. Herb and Abbie Gardner joined us on trombone and vocals. Unfortunately, one good night a week was not enough to keep the River Run afloat, so before long we were looking for a new home yet again. Several were tried:
Between 2006 and 2010 we did almost-monthly Sundays at Marisa's, a good-sized Italian restaurant with plenty of seating and parking in Trumbull, Connecticut. Those sessions were often sold out. Special guests included Skip Hughes, Harvey Tibbs, Herb Gardner, Tom Boates, Art Baron, Roy Rubinstein, Neil DeFeo, Noel Kaletsky, Sarah Spencer, and even Vince Giordano on drums! Since Marisa's was frequently booked for other special events it was not possible to establish a fixed schedule of GJB performances there, and since there was no bandstand or dance floor setting up the room for our band involved considerable work for the staff.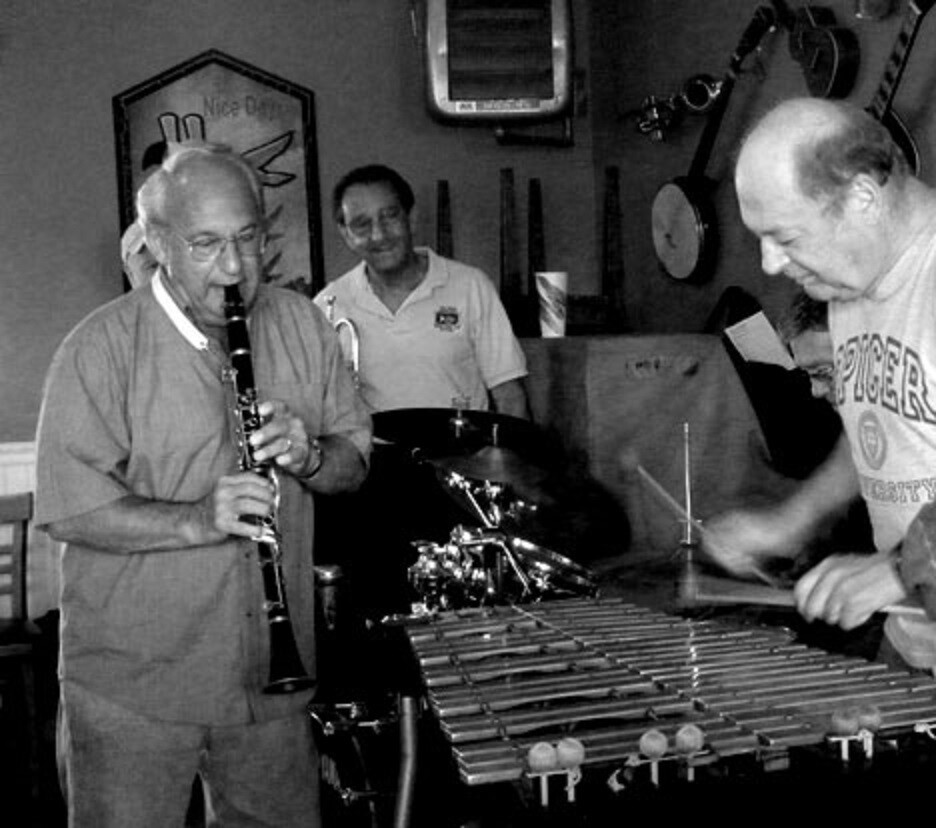 In July of 2007 we began an almost-monthly series of appearances at the Beachhead Restaurant in East Haven. It was easy to attract "standing-room only" crowds there, because the room was rather small. Many of our old friends from the Millpond came to hear us, sharing great memories and making new ones. The food was great, and the service was spot-on. We returned several times as a quintet, and one time as a special "CD Release Party" to celebrate the release of a recording that we had made at the Millpond back in 1984 with Howard Alden on guitar, Dirck Spicer on vibraphone and Noel Kaletsky on clarinet doing music inspired by Benny Goodman and Lionel Hampton.
Katrina
When New Orleans was ravaged by hurricane Katrina in 2005 the GJB did its small part by participating in several fundraisers:
-The church community of Guilford CT sponsored an ecumenical New Orleans Night on September 25 to raise funds for the victims of Hurricane Katrina and for the support of families relocating to the New Haven area. The GJB performed with Tom Boates and Donn Trenner. There was a magnificent New Orleans-style dinner of rice, red beans and smoked sausage with vegetarian alternatives and food for children. Though marking a real tragedy for the Gulf Coast, this event also celebrated the culture and traditions of New Orleans and affirmed that New Orleans and the entire Gulf Coast would rise again. All donations and money from the raffles (totaling approximately $6000) went to the American Red Cross Relief Effort and to the New Haven Katrina Relief Fund, administered by the Community Foundation of Greater New Haven to aid evacuees coming to our area.
-Then on September 28 the GJB performed at a special fund-raiser for hurricane relief at the Cedars/Millpond. More than $3000 generated by this event (all of the cover charge money, all of the musicians' pay, all of the staff pay, and many individual donations) went directly to the Preservation Hall Hurricane Relief Fund, set up by Preservation Hall specifically for New Orleans musicians in need.
-Several members of the GJB performed along with the rest of Connecticut's traditional jazz community on October 22 at a New Orleans Jazz Benefit Concert in West Hartford, organized by pianist Tom Schmutzler, a long-time friend since the Rockinhorse days. All proceeds (amounting to $1300) went to the Preservation Hall Hurricane Relief Fund.
-The GJB performed on October 16 at the Penn's Peak Ent
ertainment Facility in Jim Thorpe, PA with Jim Fryer clarinet & sax wizard Dan Levinson, Bearcat banjoist "Gim" Burton, and Jane Campedelli. In addition to entertaining a large and enthusiastic crowd, we raised $1190 for the Preservation Hall Hurricane Relief Fund. We returned to Penn's Peak in October of 2006 for a concert with Craig Grant, Bob Price, and Jane Campedelli. (Bob and Jane flew in from Florida just for the occasion.) The concert was a huge success, attracting an audience of over 350.
Aunt Chilada's
In July of 2009 we finally found a long-term home at Aunt Chilada's in Hamden, CT, where we now perform on the third Sunday of every month. Aunt Chilada's is a Mexican restaurant with a well-stocked bar and more than just Mexican meals on the menu. We usually have both Noel Kaletsky and Russ Whitman on clarinets and saxophones, Fred Vigorito leading on cornet, Art Hovey on bass & tuba, and Joel Schiavone on banjo. Although the pandemic forced a pause in our schedule at Aunt Chilada's, a huge crowd was there to greet us when our sessions resumed there in July of 2021.
Cynthia Fabian is our regular vocalist at Aunt Chilada's. With over 25 years of experience with a great variety of bands, Cynthia draws inspiration from early jazz and blues artists such as Elmore James, Bessie Smith, Etta James, Memphis Minnie, and Ray Charles.
Tom Artin was the regular trombonist for our first ten years at Aunt Chilada's. He had been a frequent guest with the GJB during our Millpond and Chowderpot years, and has performed throughout the US and Europe with the Smithsonian Jazz Repertory Ensemble, the Louis Armstrong All-Stars, the Wild Bill Davison All-Stars, and the World's Greatest Jazz Band. He was also the house trombonist at Eddie Condon's jazz club in Manhattan for nearly ten years.
Since health problems have slowed him down Jim Fryer has very capably taken his place.
Age-related health issues have also lead to the retirement of Bill Sinclair and Bob Bequillard.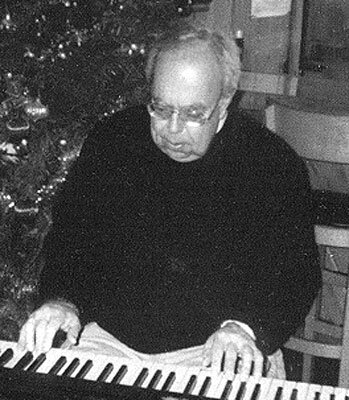 As a youth Bill Sinclair studied piano privately with Donald Currier at Yale. Eventually he discovered traditional jazz and was particularly inspired by New Orleans pianist Alton Purnell. Bill was a versatile pianist, with an incredible feel for many styles of jazz played from the heart, with deep meaning and poignant subtleties. In more than 50 years I never heard him play anything exactly the same way twice. For many consecutive years Bill did whirlwind tours in Germany, France and Belgium. Bill is also on approximately 35 CD recordings with New Orleans Jazz veterans.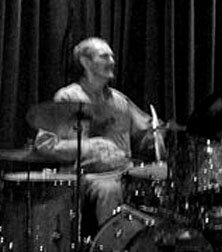 Bob Bequillard played our kind of music for many years before the GJB got started. He traded fours with Teddy Wilson in the late sixties, and Teddy was impressed! Another highlight for Bob was a 1970s RCA recording with Wild Bill Davison and George Masso. Back in 1971 Mark Finks found us a weekly Thursday-night job at the Holiday Inn in New London, which lasted several months. It wasn't a long drive from Rhode Island for George Masso, but it was two hours or more for Bob. Mark promised many times that he would find a substitute drummer for Thursdays, but then called Bob at the last minute to say that we needed him again. That must have made Bob's day job as an accountant rather painful on Fridays, but he never said no!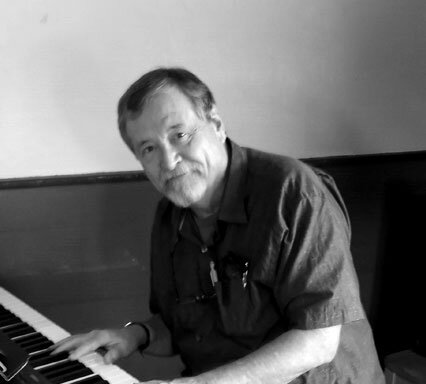 Since Bill and Bob have had to slow down in recent years, Charlie Freeman and Tom Palinko have stepped up to take their places. Charlie started his jazz career in Buffalo, NY, frequently in bands with Joel DiBartolo, who went on to become the regular bassist in Doc Severinsen's Tonight Show Band. From the mid-1970s until recently Charlie was the pianist, arranger, and graphic artist with the Bearcats Jazz Band, a Connecticut-based favorite at Traditional Jazz festivals from Florida to California with his now-departed Bearcat band-mates: Joe Hanlon, Dick Van Gorder and Skip Hughes. The more he learned the Trad Jazz repertoire, the more he fell in love with the richness and variety of this timeless music. As a student of Andy LaVerne, Charlie has performed with Bill Crow, Eddie Bert, Warren Vache, Johnny Carisi, Hal McKusick, Harvey Phillips, Vince Giordano, Jimmy Mazzy, and Etta Jones, but perhaps his most unique honor was being asked to play in the band at Jeff Barnhart's wedding. He also taught English and Humanities for 38 years at the Fox Lane High School in Westchester County, NY.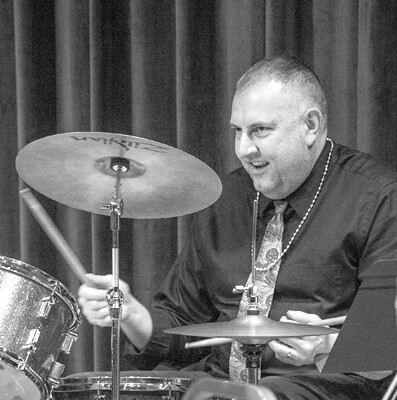 Tom Palinko has been a drummer since he was eight years old. He studied with Ed Soph, Gary Chester and at WCSU with David Smith. He was a member of Sonny Costanzo's Big Band, Chick Cicchetti's Hartford Jazz Orchestra, and toured with the Tommy Dorsey band. Tom is currently a regular member of Bill's Seafood Jazz All-Stars, as well as several other groups that keep him working almost every night and most days.
Jazz Festivals
Although the GJB never actively pursued out-of-state jazz festivals, we did participate once in the Central Illinois Jazz Festival in Decatur with Craig Grant, Jane Campedelli, and Bob Price. We also enjoyed one wonderful weekend festival with Jim Fryer at the Lake of the Ozarks in Missouri.
In 2003, 2004, 2005, 2006, 2008, and 2010 we performed with Jane Campedelli in Clearwater Beach, Florida for the Suncoast Dixieland Jazz Classic. By then quite a few of our older fans from New England had moved to Florida either for winters or permanently. The Suncoast festivals became wonderful reunions with old friends. The weather there was always perfect, the accommodations and hospitality were splendid, and we saw and met some really great bands from all over the country doing our kind of music.
I particularly enjoyed the High Sierra, Bill Allred's Classic Jazz Band, John Gill's Yerba Buena Stompers, the Titan Hot Seven, (with Jeff Barnhart and Jim Fryer) Red Lehr's band (with Noel Kaletsky), Mighty Aphrodite, Cornet Chop Suey, and the Climax Jazz Band from Toronto with Chris Daniels on bass. One night after a few drinks in the Suncoast hospitality suite Chris posed a rhetorical question to the gathering: "If Jesus played in a jazz band what instrument would he play?" To me, as a fellow bass man, the answer seemed obvious, but Freddy Green might have a different one.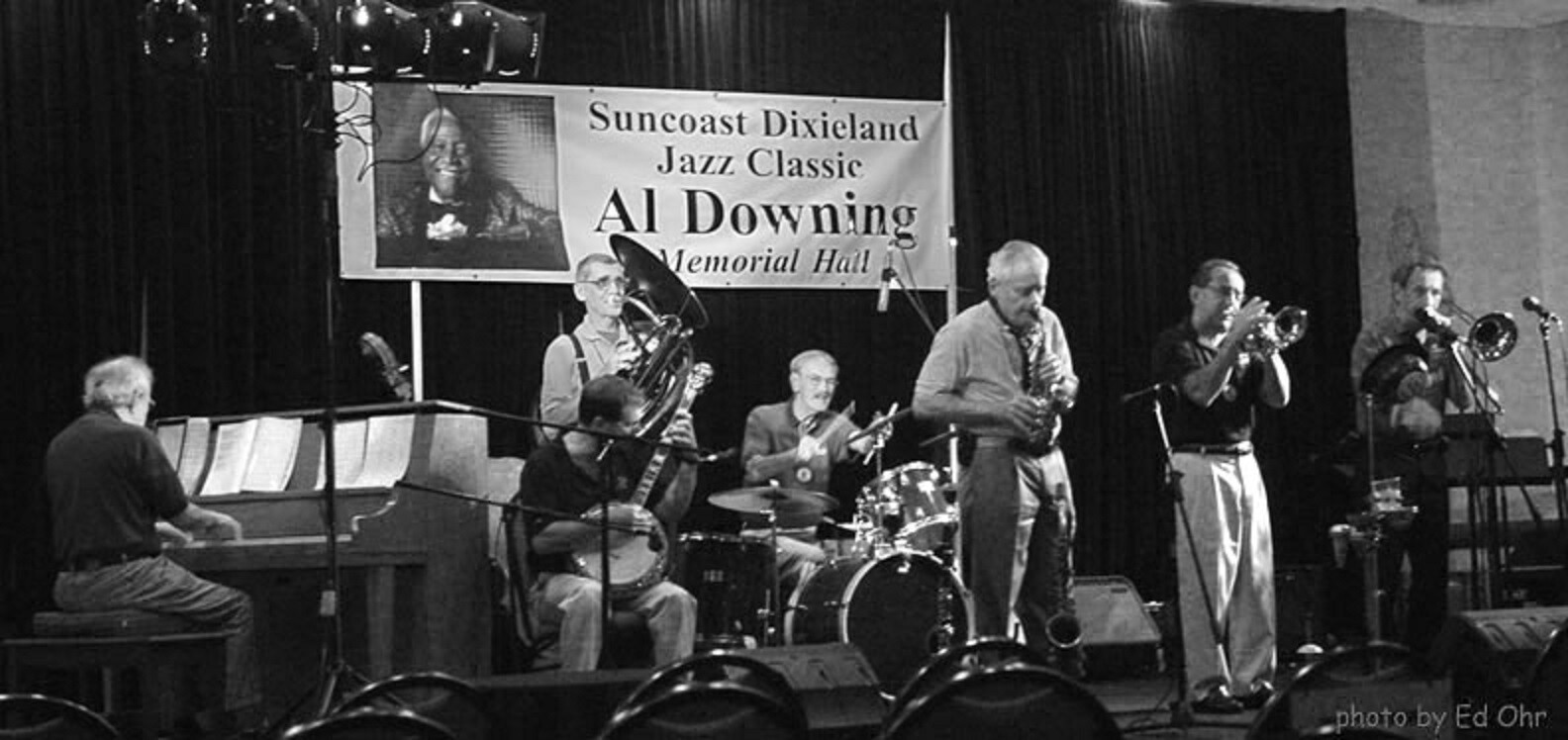 Meanwhile we participated every summer in the Great Connecticut Traditional Jazz Festival, which had its start at the Valley Steam Train station in Essex. After a few summers with less-than perfect weather one of the festival posters displayed the sheet music of an old song titled "Pray for Sunshine, but Always Be Prepared for Rain".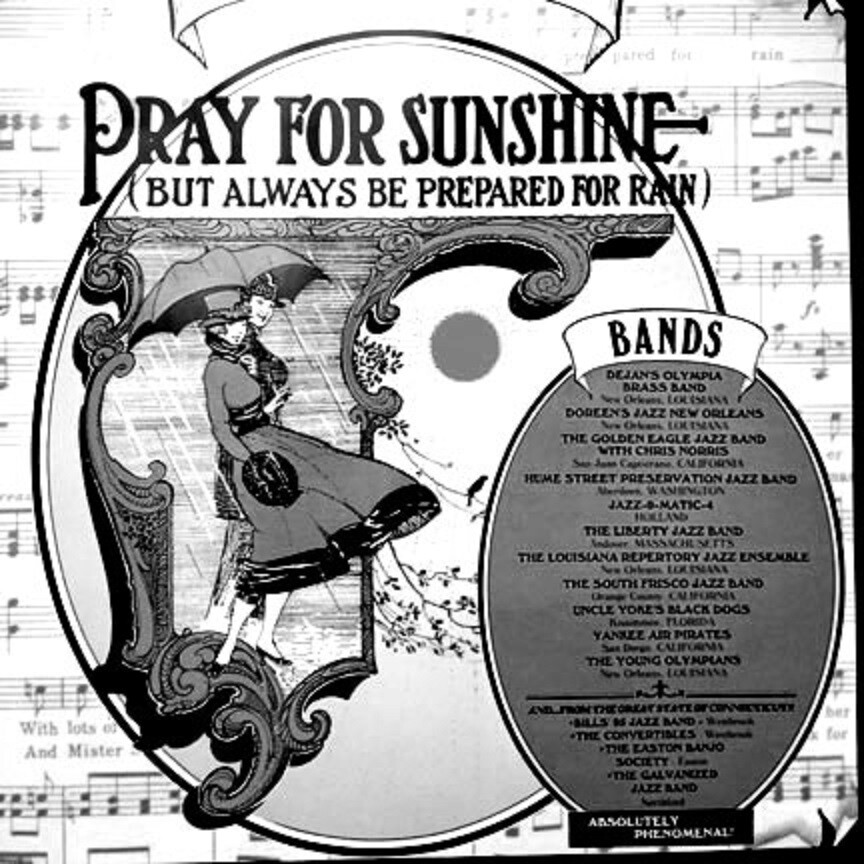 Eventually the GCTJF outgrew the Essex site. After trying two summers in Guilford, the festival moved to the rustic Sunrise Resort in Moodus, CT. ("Moodus" comes from a many-syllabled native American word for that area, meaning "place where the land makes loud cracking noises.") Although we never heard any seismic disturbances there, we did experience a thunderstorm which knocked out the power one evening. With no PA systems most bands played on, and sousaphone players suddenly found themselves in great demand. One of the tents was soon powered up by the generator in somebody's large RV, and toilets were flushed with buckets of water fetched from the river.
When the Great CT dates in 2006, 2007, and 2008 happened to coincide with festivals in other parts of the country which involved both Russ Whitman and Noel Kaletsky we borrowed clarinetists from other bands; it was an honor an privilege to work with Pieter Meijers, Dan Levinson, Craig Ball, Dr. John Clark, and Joe Midiri. Each of them performed several consecutive sets at different sites with no breaks in order to help us out. Peter Meijers told me it wasn't really work because it was doing what he loved. In 2009 the the Sunrise Resort was closed and sold, and the festival moved to a new site at Mountain Ridge in Wallingford. Then in 2010 it moved to the Sheraton Four Points Hotel in Meriden for its final three summers.
A few years after the Great CT festival moved to the Sunrise Resort the folks in Essex decided to start their own festival back at the Valley RR station in Essex, and the Hot Steamed Jazz Festival was born. It was a two-tent affair, with large grand pianos on each stage, and we usually performed there on Fridays and Sundays. In 2005 we managed to draw a crowd in one tent while the fabulous Dick Hyman performed in the other. Dan Levinson usually brought in a larger band from NY to perform his own arrangements. His groups always had clever names such as "Canary Cottage Rooftop Orchestra," and always utilized the piano talent of "Yahn" Frenkel from the Coast Guard Band in New London.
That was a tough act to follow, but on one occasion it was our turn to do so. It appeared that we would have to start without Bill Sinclair, who was stuck in traffic somewhere. We sent someone to fetch Yahn back from the well-stocked musicians' hospitality tent and started our first number. Fortunately, Herb Gardner was our trombonist that day. After finishing the first ensemble chorus of whatever barn-burner Fred had chosen, Herb sat down at the piano to provide masterful accompaniment. At that point I saw Yahn slowly walking toward the tent. When Yahn saw and heard Herb at the piano he slowly turned and walked back to the hospitality tent. (Bill did arrive shortly after that.)
Yahn did fill in for Bill Sinclair on several other occasions. One was a dinner-dance at the Rosecliff Mansion in Newport, RI for a Harvard Business School 50th reunion in 2011. He was on a golf course when he got the last-minute call from Fred and did not have time to change his clothes, but Fred told him to come anyway. We were wearing tuxedos and he was still in shorts, but most of the alumni wives soon gathered around the grand piano, ignoring the rest of us.
Annual Concerts
For many years we did an annual free outdoor concert summer concert at the gazebo on the green in Fairfield, CT. Since Art Baron grew up in Fairfield he was usually our guest trombonist there, and we usually played "Alice Blue Gown" for his mother, Alice. I also remember one occasion when Art was on the road and Dan Barett filled in for him. Dan brought his son, who was only two or three years old at the time, and instructed him to sit on one of our cases behind the band. There he remained for the entire two-hour performance. I am sure that none of my kids would ever have been that patient.
The Levitt Pavilion in Westport is a high-class venue for outdoor concerts. Its beautiful setting includes a large bandshell with professional lighting and sound and an air-conditioned green room for performers. We had the pleasure of performing there several times, always with a substantial and appreciative audience. Each time we returned we found updated and improved facilities. At our 2010 concert the stage hands set up large plexiglass sound barriers separating us from the drum set. We were assured that it was the proper way to present any band, and that we would hear the drums through the monitors. Shortly into our second set Fred announced that it was time to "Take Down the Wall," and we removed the barriers. The rest of the concert was wonderful, but they never invited us back.
Every spring from 2011 until the pandemic hit we performed on Kentucky Derby day for Ron's Run for the Roses, a fund-raiser for the Ron Foley Pancreatic Cancer Foundation (www.ronsrun.org) at a beautiful location in the heart of the Farmington Valley with great food and drinks, silent and live auctions, and hot jazz. Our last one was May 4, 2019 with Herb Gardner on piano and Tom Boates on trombone. Tom Boates has been active on the Connecticut jazz scene for almost 30 years and has toured extensively with the Hot Cat, Hot Jam, and Wolverine Jazz bands. On Friday nights Tom can be seen and heard regularly with the "Jazz All-Stars" at Bill's Seafood in Westbrook. As a career music educator (formerly in Holyoke, Massachusetts and now just retired from Guilford High School in Connecticut) Tom is uniquely qualified to deal with the rest of us. Tom's playing, singing and arranging talents are valuable to every band.
Elim Park is a pretty nice retirement community in Cheshire, Connecticut. Their 300-seat recital room called Nelson Hall is equipped with a Steinway grand piano, professional sound and lighting, and very comfortable seating. For many years the GJB has given Mardi Gras concerts there, usually with Skip Hughes on trombone and vocals. Loyal fans always bring parasols to join the band as we parade in to begin the program. In 2016 we had both Skip and Jim Fryer on trombones, and Mark Vigorito (Fred's son) on second cornet. The 2018 concert featured the incomparable Jeff Barnhart on piano, Tom Palinko on drums, and Gerard Carelli, a fine trombonist and vocalist from our days at the Chowderpot. Gerard has been busy in recent years with the Tommy Dorsey orchestra, the Ray Charles Orchestra, and as a soloist with his own big band at the Lincoln Center, the Rainbow Room and the Waldorf-Astoria. Our 2019 concert featured Jim Fryer on trombone, vocalist Cynthia Fabian, and Molly Sayles on drums. Molly had been in my Sugarfoot youth band back in 2006, and is now an outstanding professional drummer and music educator.
Big Feathers: Around 1996 we began a series of jazz parties at Butch Butterworth's Giant Valley Farm in Hamden, Connecrticut. (http://www.giantvalleypolo.com) Every summer Butch schedules weekly polo matches against visiting teams, and in mid-July he schedules a special "Big Feathers Polo Tournament" followed by a cookout and jazz concert featuring the GJB with guests. For the first few years it was a private event, but has been open to the public since 2010. The band is expanded to ten or eleven pieces on those occasions by adding cornetists Lew Green, Paul Monat, or Randy Reinhart, trombonists Tom Artin and Jim Fryer, both Russ Whitman and Noel Kaletsky on clarinet & saxophones, vocalists Carol Leigh or Cynthia Fabian, Charlie Freeman on piano when Bill Sinclair can't make it, and Tom Palinko on drums when Bob Bequillard can't make it. We play under the roof of Butch's open-sided tractor shed with the audience sitting on hay bales or lawn chairs and enjoying well-prepared dinners and desserts on paper plates.
Music Mountain, near the northwest corner of Connecticut in Falls Village, has been described as Connecticut's version of Tanglewood. There is a lawn beside the music shed where folks can picnic before the music starts. The grounds are beautiful, as is the scenic drive up there. The venue itself is like an old church, with comfortable padded pews. Although Music Mountain has been primarily a haven for classical music for almost a century, a few jazz ensembles such as the New Black Eagles, Vince Giordano's Nighthawks, and John Clark's Wolverines have also been presented occasionally. The GJB has performed summer concerts there every summer for the past thirty years, with the exception of the pandemic year.
The small wooden recital hall with its full-sized Steinway grand piano and respectful but enthusiastic audience brings out the best of any ensemble; most of our performances there have been recorded, and many are available on CDs. Our guests have included George Masso, Art Baron, Tom Boates, Ben Griffin, Jerry Zigmont, Jim Fryer, Skip Hughes, Craig Grant, Mark Vigorito, Bob Pilsbury, Jeff Barnhart, Charlie Freeman, Noel Kaletsky, Bob Price, Bob Barta, Michelle Berting Brett, Cynthia Fabian, and Jane Campedelli.
The Famous Vigorito Voodoo
One summer back in the 1990s I participated in a week-long workshop for science teachers at MIT. We were scheduled to give a Wednesday concert on the green in Fairfield that week, so I planned to play hooky that evening. Since it was raining hard in Boston that morning I called Fred to ask if the job was still on. He assured me that it was. So that afternoon I drove through torrential rain back home to Connecticut, had a snack, hopped into the van with our band equipment and drove to Fairfield. The rain didn't stop until I got there, but the concert went well. After we finished and packed up the rain resumed, and continued as I drove back to Boston.
After a few more years I began to notice a pattern. By 2004 we had a website (galvanizedjazz.com) where I began keeping detailed records of our weather miracles. The link "GJB and the Weather" can be found at the bottom of our home page; here are a few excerpts:
June 27-29, 2008 Hot Steam Festival… The forecast said thunderstorms were almost certain for the entire weekend. But the skies cleared about 30 minutes before we began the first set on Friday and stayed clear until almost an hour after our final set on Sunday.
On June 26, 2009 the weather was terrible. We drove through lightning, hail, and torrential rain on our way to the Hot Steam Festival in Essex. But when Fred stepped onto the stage at 8pm the sun came out, a rainbow appeared, and 24 hours of clear weather began. It rained when we were not there on Saturday, but when we returned for our Sunday performances the weather was fine.
November 25, 2014 (Downtown parade in New Haven) This one really tested the famous Vigorito Voodoo. After a week of freezing weather and a day of rain we enjoyed weather as good as one could hope for in late November.
On June 11, 2016 there were thunderstorms and possible tornados in the forecast. When we arrived in Falls Village for our Music Mountain concert we found clear skies at 65 degrees.
Between 2004 and 2019 we did 151 outdoor jobs, and enjoyed near-perfect weather for 140 of them. 93% seems like a pretty good record, but now consider the flip side: In the spring and summer of 2021, (just coming out of the pandemic) Fred had to miss our first two jobs because of family plans. Lew Green was booked in his place. The first one was only half-completed before a wind-and rain storm hit, and the second one was canceled in the aftermath of tropical storm Elsa. In fact, Fred's family plans have a long history. In his younger days when his extended family used to go on summer vacations together they experienced so much foul weather that his mother called it "the curse of the Vigoritos".
Coda
Working with older and more experienced musicians was something to look forward to when we were young; there was always so much to learn from them. Now it seems that we are the older ones. Spiegle Willcox, Russell Moore, Nick Carella, Wayne Wright, George Masso, Kenny Davern, Porky Cohen, Merrill Doucette, Donn Trenner, "Red" Balaban, Louis Nelson, Wendell Eugene, Tommy Benford, Carol Leigh, and so many other greats who helped us develop are now gone. Peter Ecklund, Joel Helleny, Steve Yocum, Skip Hughes, and Mark Finks form a growing list of younger talents who are also gone. But there is another list of younger talents such as Jeff Barnhart, Dr. John Clark, Molly Sayles, and Alex Owen upon whom we had some small influence and with whom I always look forward to working. The thrill is not gone.