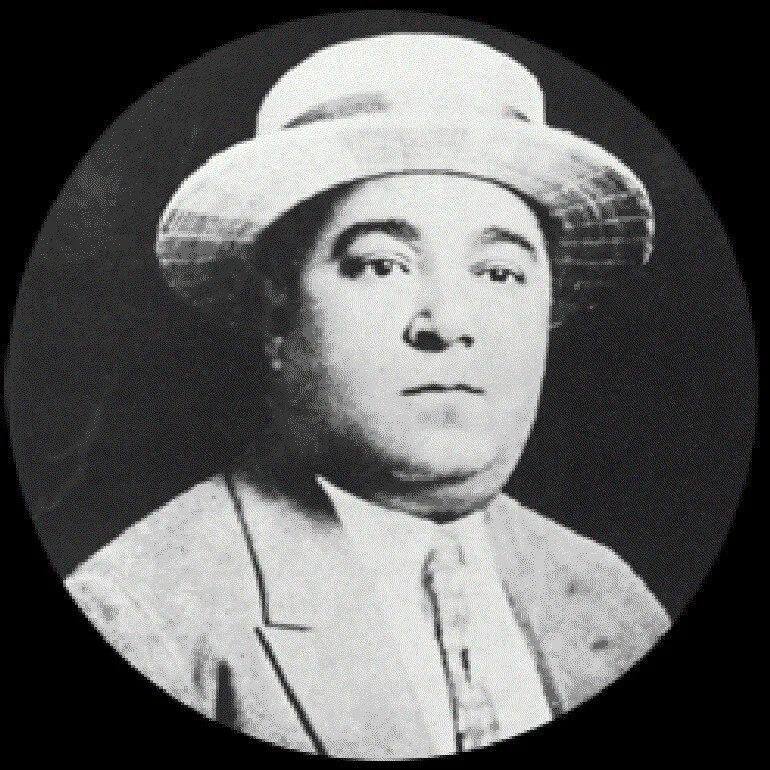 Jimmie Noone was one of the big three of New Orleans clarinetists to emerge on records in the 1920s, holding his own with Johnny Dodds and Sidney Bechet. Unlike Dodds and Bechet who had cutting sounds, Noone's tone was softer, his style was relatively smooth, and one can hear his connection to the Benny Goodman swing style that would become dominant a decade later. Ironically despite working steadily throughout his life and being ultimately more influential, he is not as well- known as the other two and tends to be a bit underrated in jazz history books.
He was born on April 23, 1895 in Cut Off, Louisiana on a family farm that was ten miles from New Orleans. Growing up in Hammond, Louisiana, Noone started playing guitar when he was ten. When he was 15 he moved with his family to New Orleans. Attracted to the Crescent City's music scene, Noone soon began taking clarinet lessons with Lorenzo Tio Jr. and Sidney Bechet (who was only 13).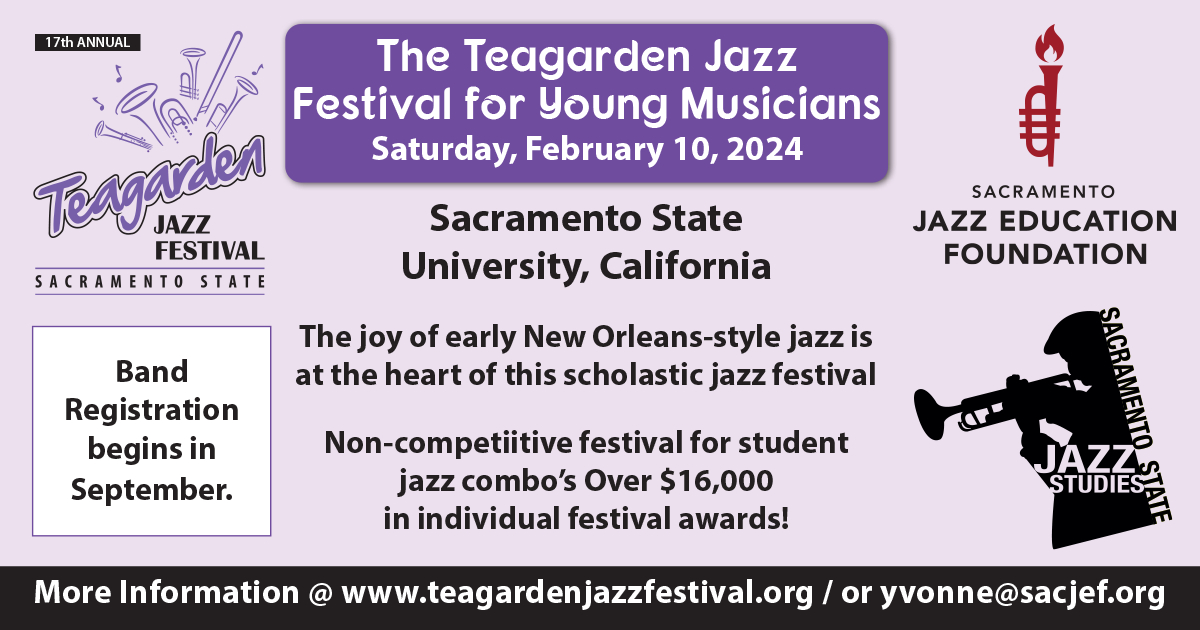 Noone was 18 when he began playing professionally, succeeding Bechet with cornetist Freddie Keppard's band in 1913. He was an important part of the New Orleans jazz scene for just four years. The clarinetist gained experience working with Keppard, formed the Young Olympia Band with cornetist Buddy Petit, played jobs with Kid Ory and Oscar Celestin, and had a trio with piano and drums, an instrumental combination that was a bit unusual for New Orleans in that era.
When the Storyville district of New Orleans was closed by the military in 1917, Noone began to look elsewhere for employment. He joined Keppard's Original Creole Orchestra, playing on the vaudeville circuit for a year including performing in Chicago for the first time. After a few months back in New Orleans, in the fall of 1918 he permanently settled in Chicago, at first working with bassist Bill Johnson's band. He studied with symphony clarinetist Franz Schoepp, improving his technique. Noone worked for much of 1919-20 at the Royal Garden Cafe with a group that included King Oliver, Bill Johnson and drummer Paul Barbarin. Incidentally, both Barbarin and Keppard were his brothers-in-law.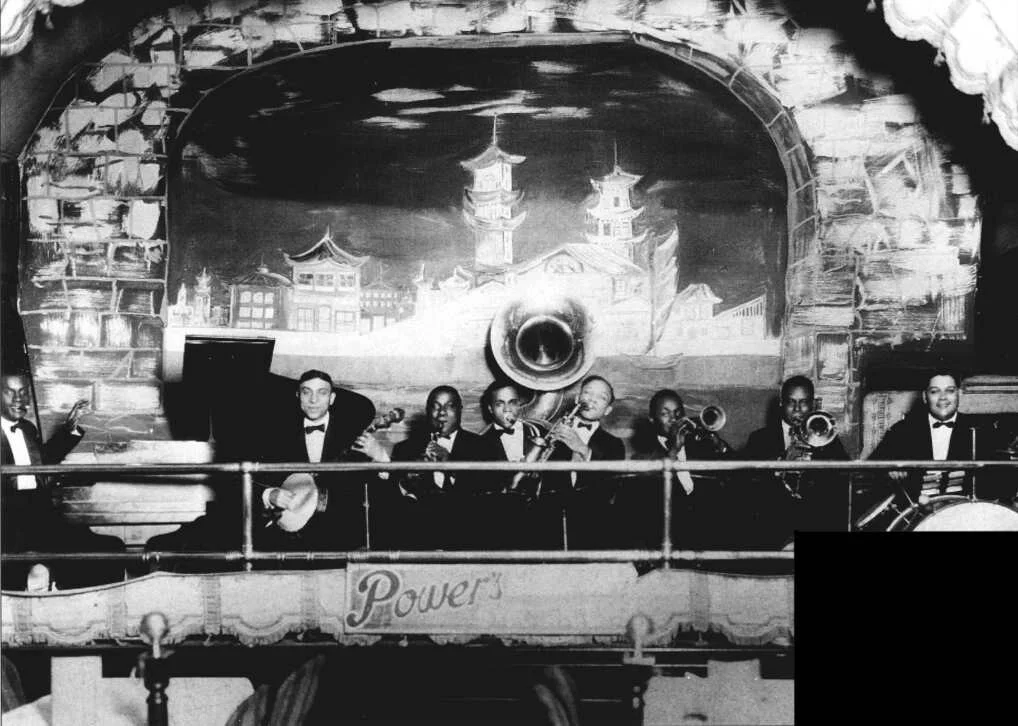 Jimmie Noone made his recording debut (as did so many top African-American jazz greats) in 1923. In the fall Noone recorded with Ollie Powers' Harmony Syncopators (cutting no less than five released versions of "Play That Thing") and possibly on four titles as a substitute for Johnny Dodds with King Oliver's Jazz Band including "Chattanooga Stomp" and "Camp Meeting Blues"; some have speculated that Buster Bailey might be on some of those numbers.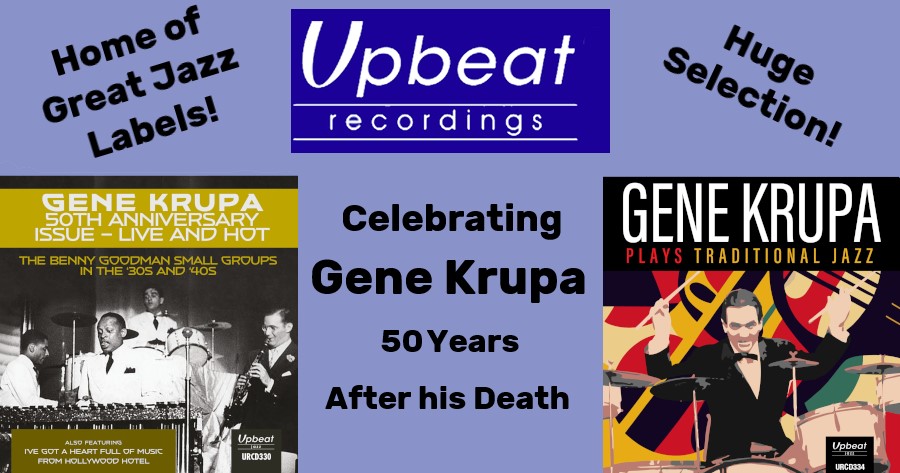 But the 1920-26 period mostly found Jimmie Noone working nightly with Doc Cook's dance band which was called his Dreamland Orchestra starting in 1922. Cook (1891-1958) was a skilled arranger whose arrangements blended together strong melodies with spots for some hot soloists.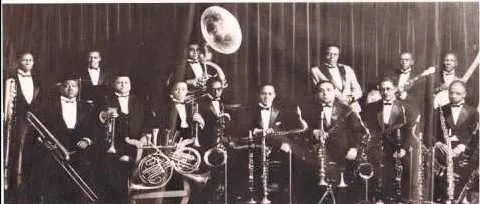 Noone, who also played alto and soprano during this era, was one of his group's key soloists along with Freddie Keppard. While Cook's first session in 1924 is poorly recorded and quite dated, his three sessions from 1926 and four songs from June 1927 (when Noone returned as a guest), which on the recordings sometimes use the names Cookie's Gingersnaps or Doc Cook and his 14 Doctors Of Syncopation, are on a higher level. Highlights include "Here Comes The Hot Tamale Man," "Brown Sugar," and "Spanish Mama."
In 1926 the clarinetist left Doc Cook and formed his own group at Chicago's Apex Club which, despite being just a quintet, was called Jimmie Noone's Apex Club Orchestra. The band was unique for the time in both its instrumentation and the approach that it took to playing music. Comprised of Noone, altoist Joe Poston (who had also been with Doc Cook), guitar, piano, and drums (with tuba added in mid-1928), the clarinet-alto sax frontline was unusual enough, but there was more to it than that. Most of the time when Noone played, whether it was during the opening ensembles or his solos, he had Poston playing the melody behind him. The altoist laid out during the piano and guitar solos but otherwise stated the theme throughout. Due to Noone's attractive sound and creative ideas, the music never became repetitious and the band had its own sound.
Little is known about Joe Poston (1895-1942), who also played second clarinet with the Apex Club Orchestra in the same role. His only recordings are with Noone during 1928-30 and earlier on the Doc Cook sessions, and he played on riverboats with Fate Marable's group. Poston had an attractive tone and always swung the melody with his attractive phrasing. But why his career did not go further is not known.
Jimmie Noone's Apex Club Orchestra attracted attention from the start. Among its two fans were Benny Goodman and Maurice Ravel. Goodman, who was still a teenager, preferred Noone's smooth but swinging style over that of Dodds and Bechet, and he learned while watching him. Ravel composed his famous Bolero (which debuted in 1928) and stated later on that it was partly based on an improvisation that he heard Noone play.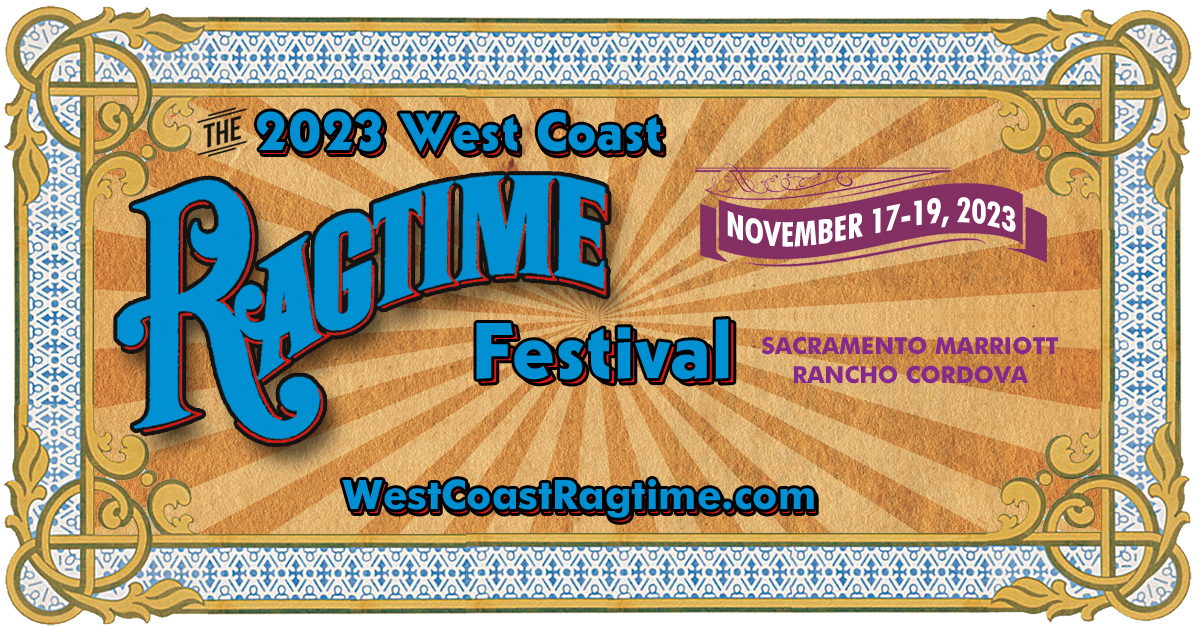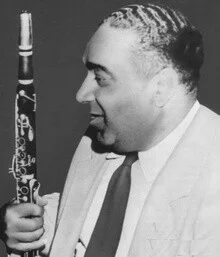 While he had made the recordings with Cook and two sessions (one apiece in 1926 and 1927) with singer Lillie Delk Christian and her boyfriend guitarist Johnny St. Cyr, Jimmie Noone can really be said to have emerged on records fully formed on May 16, 1928, his first session with the Apex Club Orchestra. That year he was very fortunate to have Earl Hines as his pianist along with Bud Scott on banjo and guitar, drummer Johnny Wells and, starting with the July 23 date, Lawson Buford on tuba (succeeded by Bill Newton starting from the December 6 session). While Hines recorded quite a few gems with Louis Armstrong in the same period, his regular nightly gig was at the Apex Club. His time-defying breaks and "trumpet-style" solos were a major asset for Noone's group, often co-starring with the clarinetist.
Noone's recordings in 1928 are full of gems including "I Know That You Know," the good-time "Four Or Five Times" (which Noone and Poston sang together). "Every Evening," the memorable and catchy "Apex Blues," "Oh, Sister Ain't That Hot," Hines' "A Monday Date," and a song that Noone introduced a dozen years before Nat King Cole recorded it as his first hit, "Sweet Lorraine," which became his theme song.
Also in 1928, Noone was part of another Lillie Delk Christian session (his only chance to record with Louis Armstrong after 1923) and recorded "I Ain't Got Nobody" with Hines and Bud Scott on a feature for singer Stovepipe Johnson. But compared to other top New Orleans players, Noone hardly ever freelanced, sticking with his own regularly working band. While cornetist George Mitchell and trombonist Fayette Williams were added for the session of December 27, 1928 (which included "It's Tight Like That"), that was only a temporary departure from the instrumentation of the sextet. Hines had departed by then to form his own big band. After a brief stay by Alex Hill, Zinky Cohn was the band's new pianist by 1929.
Zinky Cohn (1908-52) had the distinction of sounding exactly like Earl Hines. While most of the 1930s pianists who were influenced by Hines (such as Joe Sullivan and Jess Stacy) were able to emulate the ringing octaves that he played with his right hand, they did not attempt to duplicate the very adventurous breaks that Hines took when he briefly stopped stating the beat with his left-hand. Cohn was an exception, and was just as potentially reckless and exciting as Hines. As with Poston, it is difficult to understand why his career did not go further.
He debuted on record with Noone on June 21, 1929's "Anything You Want," was on the clarinetist's recordings through 1935 and, although it was before he joined Noone, he is considered the composer of "Apex Blues." Otherwise, his only appearances on records were a date apiece in 1930 with Frankie Franko's Louisianians and Harry Dial, and two sessions with singer Bob Howard in 1936. Although he visited Europe in the early 1930s, Cohn spent most of his life in Chicago where he worked with Erskine Tate, Carroll Dickerson, and Eddie South, and was involved in the musicians union. But why with his talent he was never featured on his own record date or spent time in New York is a mystery.
Jimmie Noone was based at the Apex Club until the establishment was shut down in 1929 due to Prohibition violations. Unlike many of the Chicago-based African-American jazz musicians, Noone did not move to New York in the late 1920s, and he remained fairly active on records throughout the 1930s. He did have a month-long engagement at the Savoy Ballroom in 1931 and in 1935 he spent some time in New York City when he and bassist Wellman Braud had an unsuccessful venture trying to run a club, but otherwise he stayed based in Chicago, playing at a variety of clubs.
Among Jimmie Noone's better recordings from 1929-30 with Zinky Cohn are "My Daddy Rocks Me With One Steady Roll" (featuring singer May Alix), "After You've Gone" (Helen Savage has the vocal), "El Rado Scuffle," "I Lost My Gal From Memphis," and "San." Due to illness, Joe Poston was replaced in May 1930 by Eddie Pollack, who had played with Erskine Tate and remained active in Chicago into the 1940s. In addition to alto, Pollack also doubled on baritone sax while assuming Poston's role of playing the melody behind Noone.
There were fewer recordings for Noone during 1931-35, just five sessions, but they find Noone both retaining his individual style and adapting well to jazz's evolution. Mildred Bailey takes two of her earliest vocals on a set from 1931, and Earl Hines is featured on a reunion date that year. By late 1934, the band's sound had become more conventional but a bit hotter with the addition of trumpeter Jimmy Cobb. Among the numbers that Noone's group jams with Cobb are "I Would Do Anything For You" and "Shine."
The clarinetist's final Chicago recording of the era took place on January 15, 1936, and is billed as "Jimmie Noone and his New Orleans Band," a four-horn septet that includes trumpeter Guy Kelly and trombonist Preston Jackson. The music, highlighted by "'Way Down Yonder In New Orleans" and "Sweet Georgia Brown," is dixielandish with Noone sounding fine.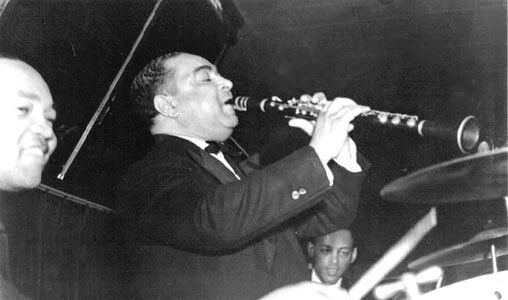 Just how well Jimmie Noone's style adapted to the swing era can be heard during a rare trip to New York that resulted in a record date on December 1, 1937. Joined by the teenaged trumpeter Charlie Shavers, altoist Pete Brown, and a four-piece rhythm section, Noone performs remakes of "Sweet Lorraine," "I Know That You Know," "Apex Blues" (retitled "Bump It"), and "Four Or Five Times" in addition to recording four lesser-known numbers. The records did not make a stir but they are swinging.
Noone continued leading combos in Chicago until 1943, and even had a short-lived big band, one that featured the young and unknown singer Joe Williams in 1937, 18 years before he became famous with Count Basie. By the early 1940s, Noone was being featured in a conventional quartet that showcased his still viable playing.
In 1943 Jimmie Noone moved to Los Angeles. He was enlisted for a four-song session by the Capitol Jazzmen, an all-star group that included Jack Teagarden and Billy May on trumpet. Noone's entrance on the uptempo "Clambake In B Flat" is particularly memorable. Also while in L.A., Noone was captured for the only time on film, playing part of "Apex Blues" and "Boogie Woogie" with a quartet in the B-movie Block Busters.
In early 1944, Noone had a reunion with his old friend trombonist Kid Ory. He agreed to become a part of Ory's all-star band that would appear playing a featured number each week on Orson Welles' radio show. The group of veteran New Orleans players also included trumpeter Mutt Carey, pianist Buster Wilson, guitarist Bud Scott, bassist Ed Garland, and drummer Zutty Singleton. Although Noone was a bit more modern than the other musicians, he was happy to join in the joyous ensemble-oriented music.
While those appearances would successfully launch Kid Ory's comeback, Jimmie Noone was not around to enjoy it. After appearing on four broadcasts, he died of a heart attack on April 19, 1944, four days short of his 49th birthday. On that night's broadcast, Ory and the band tearfully played "Blues For Jimmie."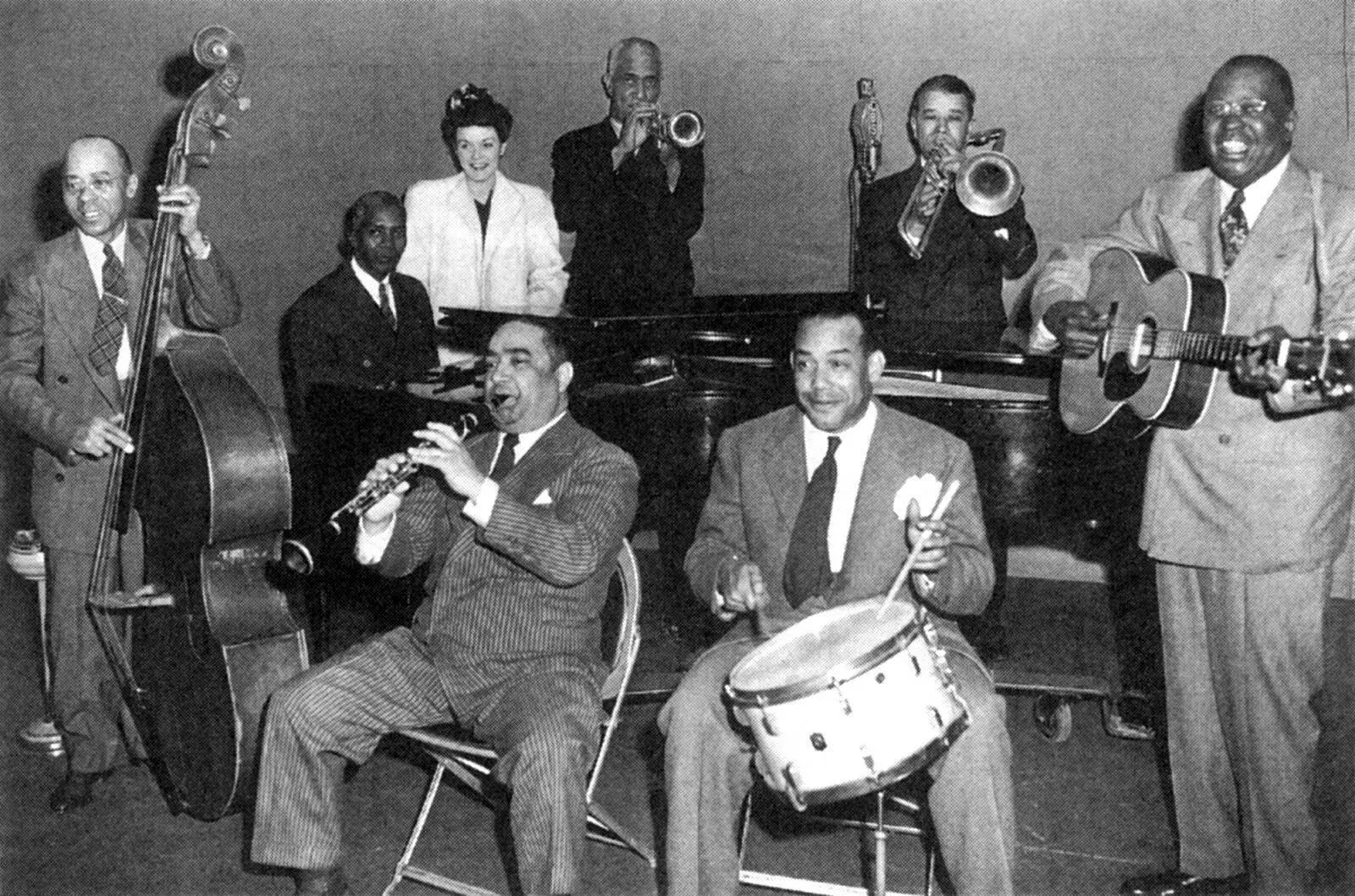 Jimmie Noone had three children. Jimmie Noone, Jr. (1938-91) was only five when his father died. Decades later, he emerged as a fine jazz clarinetist himself, working in the 1980s with the Cheathams (with whom he made five albums), recording with Hal Smith's Creole Sunshine Orchestra, and leading one album, a tribute to his father's music called Jimmie Remembers Jimmie. For that project, he utilized a two-horn sextet in the Apex Club tradition with altoist John R.T. Davies more than 40 years after his Dad's passing. Unfortunately Jimmie Noone, Jr. had the same health problems as his father and he passed away from a heart attack when he was 52.
Nearly all of Jimmie Noone, Sr.'s recordings can be found and those listeners not familiar with his music are in for a treat.