A banjo-centric conversation with Hal Smith and John Gill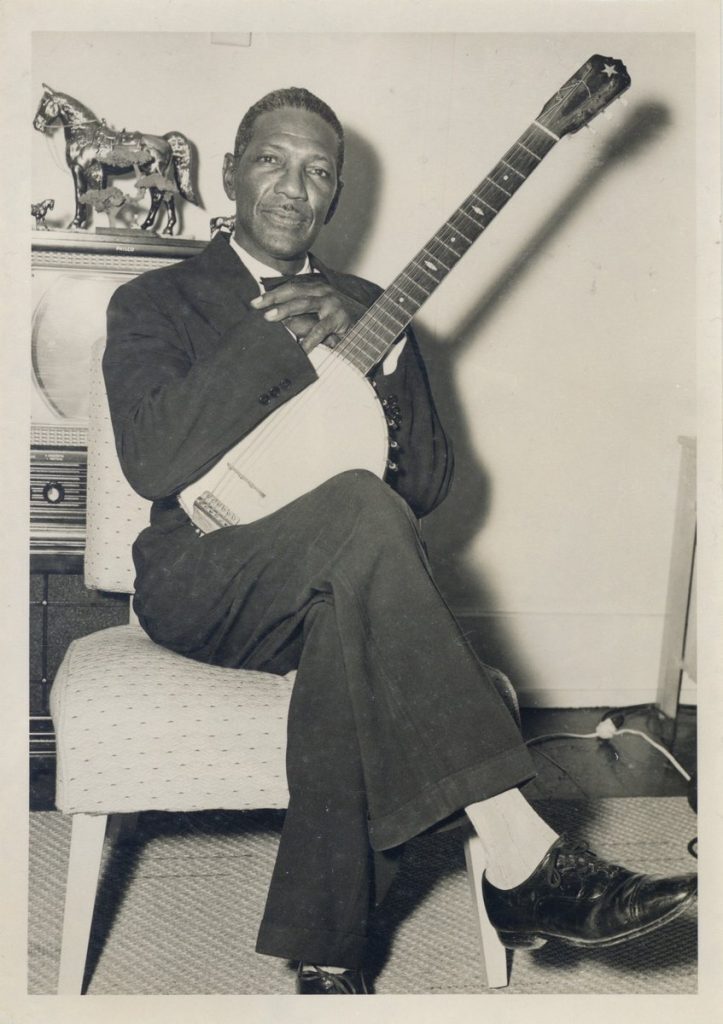 Multi-instrumentalist and bandleader John Gill ("Traditional Jazz's Stomper-in-Chief," TST, April 2020) has an encyclopedic knowledge of, and appreciation for, a wide variety of banjoists in many different musical styles. Recently we discussed some of our favorite banjoists. Hopefully, TST readers will take the time to seek out their records.
Hal Smith: John, thanks for your willingness to join me in this discussion. Since you actually play the instrument, I am really looking forward to hearing what you have to say about the musicians we are going to talk about. To start off, I would like to discuss one of my jazz heroes: Johnny St. Cyr. Whether he was playing four or six-string banjo, he had a great beat, played very inventive solos that mixed single-string lines with full chords (like "Flat Foot," with the New Orleans Bootblacks) and could play that old school New Orleans style with a bass note, a chord and arpeggios. And he was consistent throughout his career! When I heard him in the 1960s, he was playing the same way he did with the Red Hot Peppers and the Hot Five in the 1920s. What are your thoughts concerning his sound and his techniques?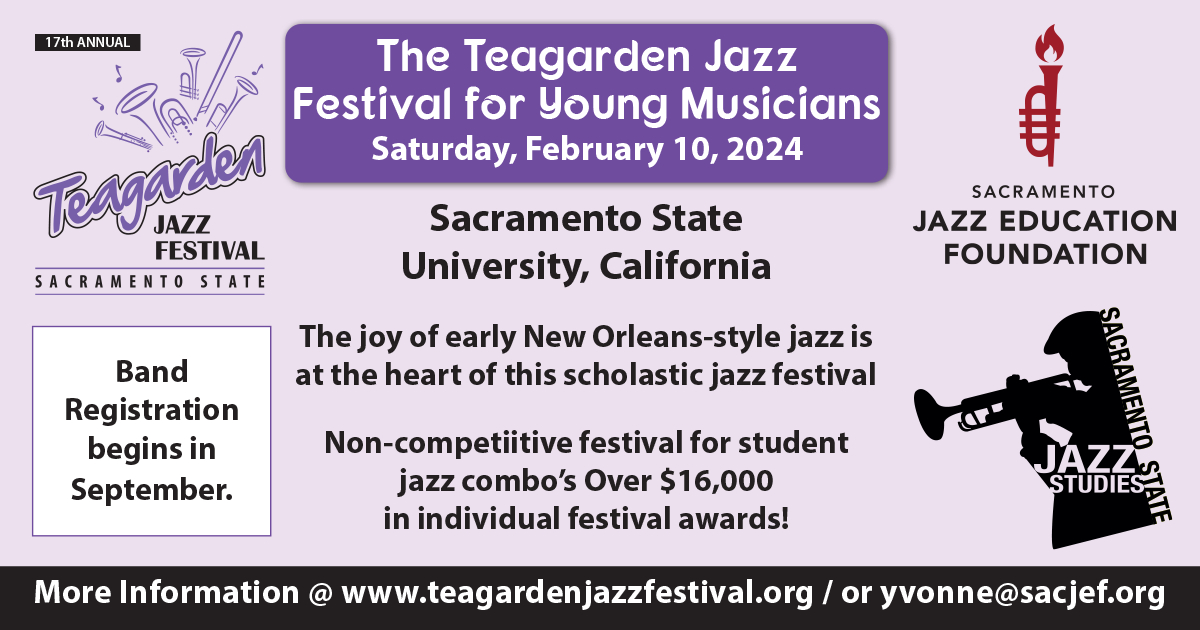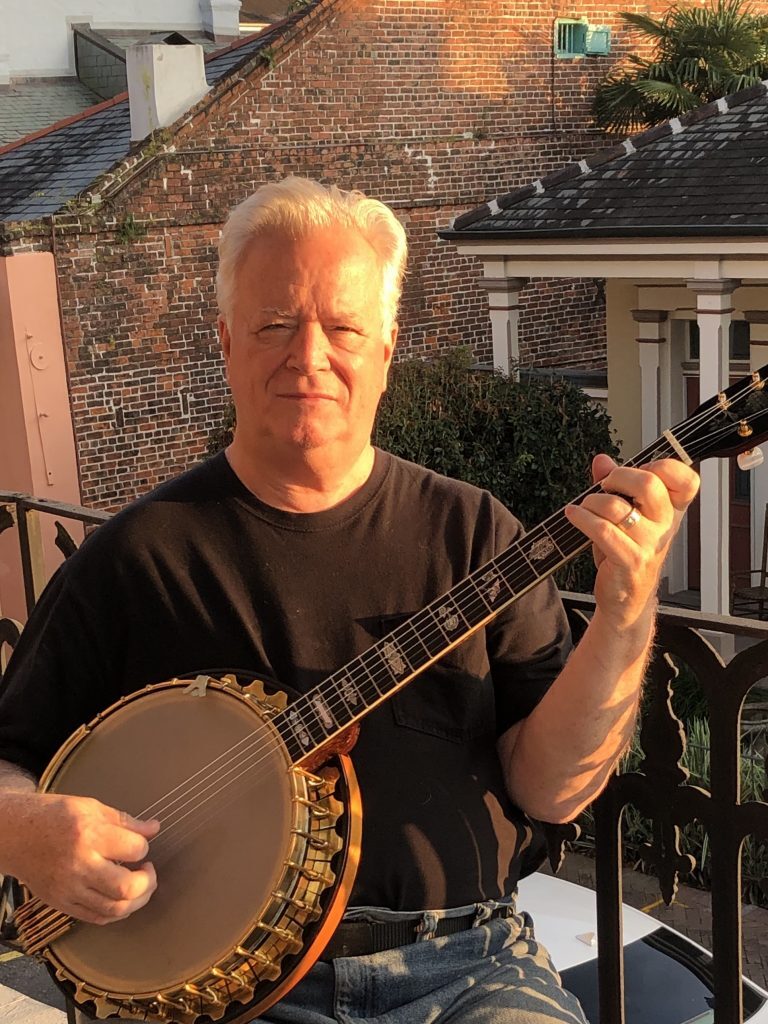 John Gill: It's my pleasure to be a part of this discussion and thanks for asking me. Like yourself, Johnny St. Cyr looms large amongst my banjo playing icons. He grew up in New Orleans and played with just about every important New Orleans jazz musician. He started out on the "Spanish" Guitar which he played finger style and eventually added the 6 string "Guitar-Banjo"" to his arsenal. The 6 string banjo is arguably the first type of banjo used in jazz music. The tenor banjo (tuned CGDA) and the plectrum banjo (tuned CGBD) were still several years away from being created.
When Johnny started playing around 1905 or so the only types of banjo you could get were the five string banjo (tuned GCGBD) and a Mandolin Banjo (eight strings tuned in four pairs like a mandolin), and a Guitar-Banjo. So the Guitar-Banjo was a natural choice for the guitar-playing St. Cyr. It's a little known fact that the guitar was the main chording instrument used by the early New Orleans bands until around 1917 when pianos started being used. The pianist and music director for the Streckfus Steamboat line, Fate Marable, heard Johnny playing the banjo one day in a local saloon and offered him a full time job playing on the boats. This was around 1917.
My first Johnny St. Cyr experience came when I bought my first Louis Armstrong Hot Five record back in the mid-'60s. It was an eye and ear opening experience and St.Cyr's playing really got me. Not to mention Armstrong, Ory, Dodds, and Lil. The banjo introduction to "Gut Bucket Blues" was very exciting. Johnny's boom chicka boom bass note and chording style was perfect and his solos were inspiring.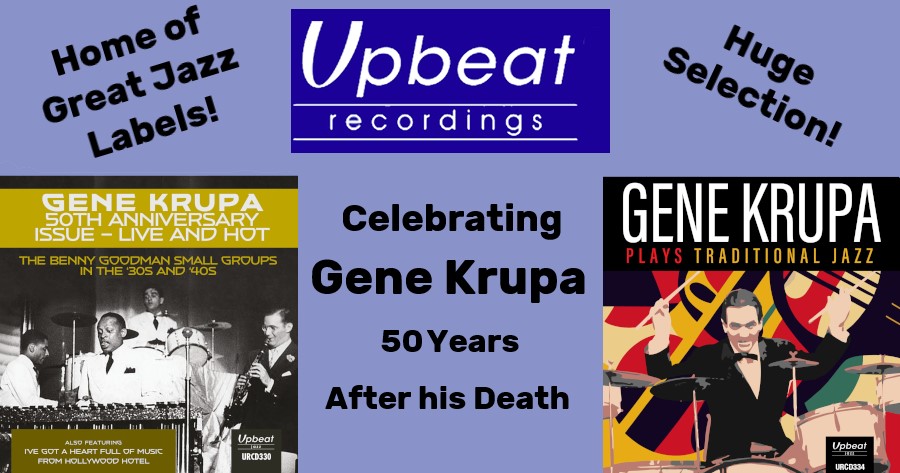 I also enjoyed the moments where it's just Johnny and a soloist or vocalist performing a hot duo. Check out just the solo banjo backing up Louis on his vocals in "Heebie Jeebies." Also, check out Johnny and Jimmie Noone (the fabulous New Orleans clarinetist) backing up vocalist Lillie Delk Christian and the banjo playing on records by the New Orleans Wanderers, New Orleans Bootblacks and Doc Cook.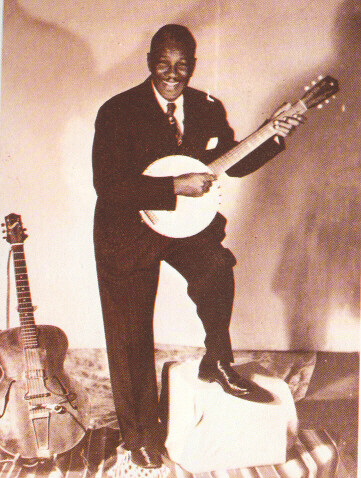 When I got my first Jelly Roll Morton Red Hot Peppers album, Johnny was all over that too. His guitar playing is also terrific and not to be overlooked.
The Tulane University music collection has a wonderful taped interview where Johnny tells his story and lots more. It's long, about three hours, but is a fantastic window into the New Orleans scene circa 1900-1919 and beyond. Highly recommended.
HS: We tend to think of Eddie Condon as a guitarist or a "lute" player, but he made some fantastic records playing banjo in the 1920s…the Jungle Kings, Chicago Rhythm Kings, Mound City Blue Blowers, Red Nichols' Five Pennies and of course Fats Waller and his Buddies.
When he was in the company of Chicago musicians, Condon played a lot of "stop-and-go" rhythms that really define early Chicago Jazz. But on a record like "Minor Drag" with Fats Waller, or in that Vitaphone Short with Red Nichols he plays a hard-charging 4/4, to a point where the banjo is a rhythm section by itself!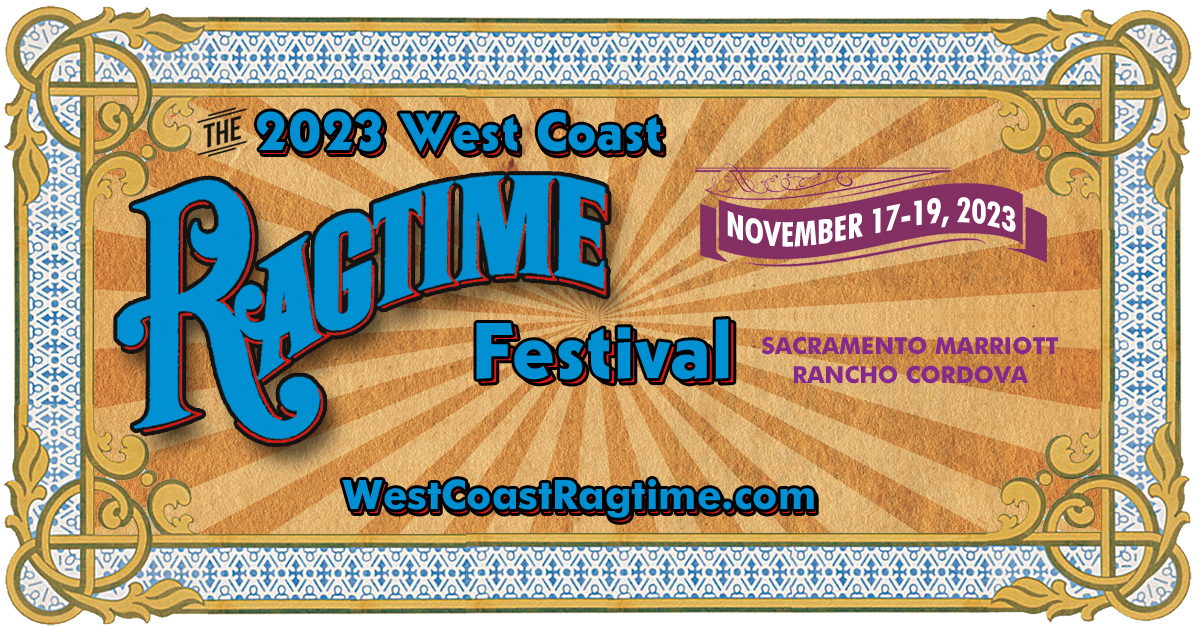 What elements of Condon's banjo playing are standouts for you?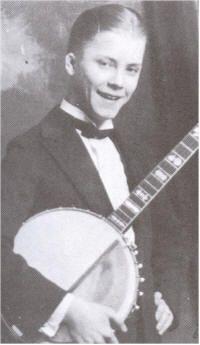 JG: Condon is one of my favorites! Often overlooked as a banjo player….big mistake. He was one of the finest of the rhythm banjo men. He played the plectrum banjo; tuning CGBD.
Many people say he played guitar tuning (DGBE) but I am convinced he played standard plectrum banjo tuning. In the early '70s his Gibson guitar was on display at the New York Jazz Museum and I was allowed to play it. It was tuned plectrum and curator Jack Bradley said that he picked up the guitar from Eddie and nobody before me had touched it. So I believe that Eddie played standard plectrum banjo tuning. A few years later my dear departed friend Eddy Davis also checked out the guitar and a banjo of Condon's and they were both tuned plectrum tuning. Coincidentally, Davis lived in the same apartment building as the Condons for many years and was friendly with Condon's daughter.
Condon's rhythm banjo is on full display in a Vitaphone Short Subject from 1929 with Red Nichols and his band. As far as I'm concerned this video is a must-watch for all banjo players who want to see how it's done. Eddie really lays it down in the company of not only Red Nichols but the delightful, pre-moustached Pee Wee Russell. Not only a great rhythm banjo man but an entertaining singer and an incredibly important man in the history of jazz music.

Condon gave up the banjo pretty much by the early 1930s and switched to the plectrum guitar that he lovingly referred to as "The Porkchop." He did return to the banjo but only on very rare occasions. Eddie played some wonderful rhythms and jazzy banjo licks that were incorporated into his rhythm work. All of Condon's recorded work from the late 1920s are required listening by anyone interested in playing plectrum banjo in a traditional jazz band.
Gary Moore's TV special Chicago And All That Jazz is also a good watch. You can catch not only Eddie in a live situation (on guitar), but also, Johnny St. Cyr who is featured with a wonderful band featuring Kid Ory, Red Allen, and Zutty Singleton.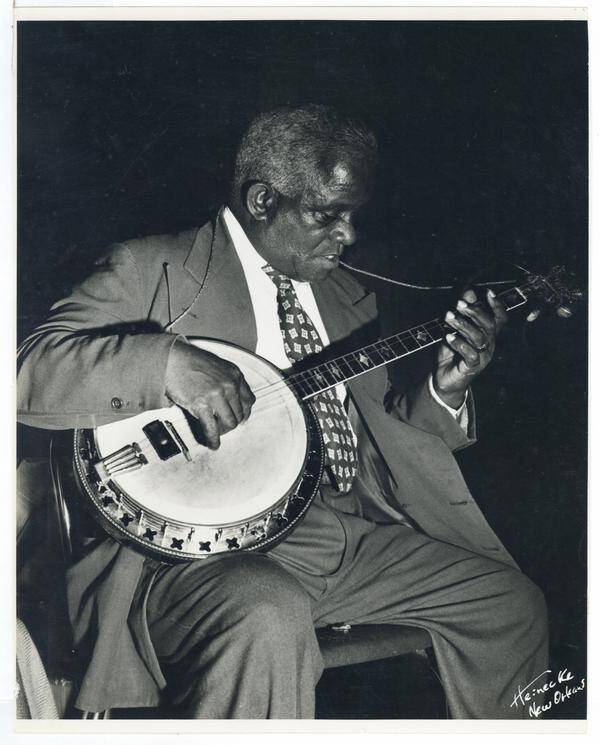 HS: Moving ahead to the 1940s…Lawrence Marrero was a banjoist who played on some of the earliest New Orleans Revival recordings. He had a unique and instantly identifiable sound on the records with Bunk Johnson, and later on with George Lewis. To my ears, Marrero had a very hard-hitting attack, a crisp sound and he really let the chords ring. He also knew how to propel a band at any tempo. Marrero's playing has influenced generations of banjoists—particularly overseas. What makes his style so attractive to so many players?
JG: Lawrence Marrero, well I think it's a combination of his sound and his ability to propel that makes him such an influencer. He is usually seen playing an Epiphone Bandmaster tenor banjo tuned standard tenor tuning CGDA. I've also seen him with a Vega Professional tenor.
The secret of his sound is an old style tone enhancing muting device that attached to the strings between the tailpiece and the bridge and then of course the tenor tuning. This brings a ringing sound to the banjo that enhances the treble a bit. This sound combined with a clean and swinging 4/4 rhythm gives him that sound so admired by banjo players for the last 80 years. He's good on all tempos and his soloing while basically simple is quite engaging and appealing.
The muted, 4/4 swinging rhythm was very popular in Europe during the Jazz Revival. It's fun to do and gives the rhythm section that unmistakable sound of the Bunk Johnson and George Lewis bands of the '40s and '50s. His recordings and even some film clips are readily available for study by aspiring players. The banjo mute that he used is easy to see in the many photos of Lawrence that are available on the web. They are easy to buy and affordable on places like eBay.
The Bunk Johnson and George Lewis bands had several innovative musicians that were extremely influential over the years. Of course there's Bunk and George but also Jim Robinson (trombone), Alton Purnell (piano), Baby Dodds (drums), Joe Watkins (drums), Slow Drag Pavegeau (bass) and Kid Howard (trumpet).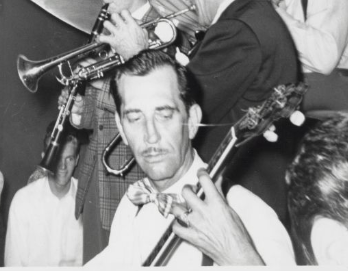 HS: We both admire the banjoists who were part of the Traditional Jazz Revival in San Francisco—Harry Mordecai, Russ Bennett, Clancy Hayes, and others. One of my favorites in that group was Pat Patton. He always played with a forceful beat, and let the chords ring. Patton sounds wonderful on the recordings with Bunk Johnson, the late 40s sides with Lu Watters and the 1950-1951 records with Turk Murphy.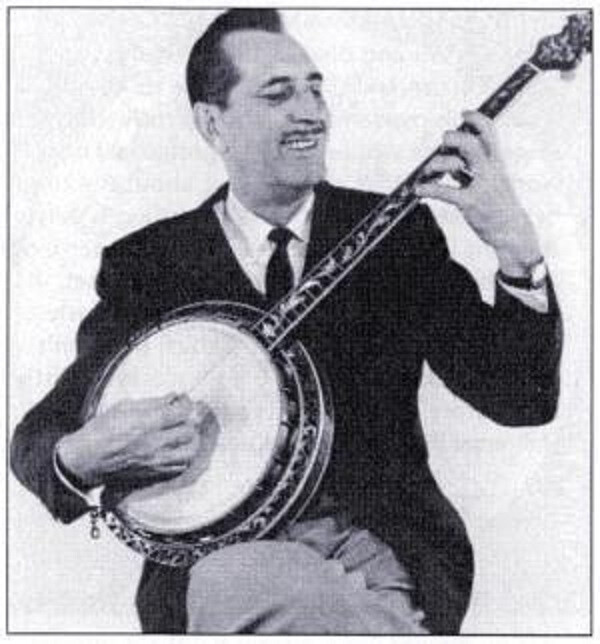 I don't think Patton played too many solos, but there is a very good one on Turk's 1950 record of "By and By." He was an excellent bassist too, and he played that instrument with Bob Scobey, Muggsy Spanier, Marty Marsala, Dick Oxtot and others. Can you say something about the sound Pat Patton got, the tuning he used and how he fit in with those different bands?
JG: Pat Patton was a favorite of Turk Murphy. I believe that he used standard plectrum tuning (CGBD) and he played a Weymann #4 model sometimes called "The Vine of Life" because a vine with leaves was inlaid in pearl from the top of the fingerboard and all the way down the neck.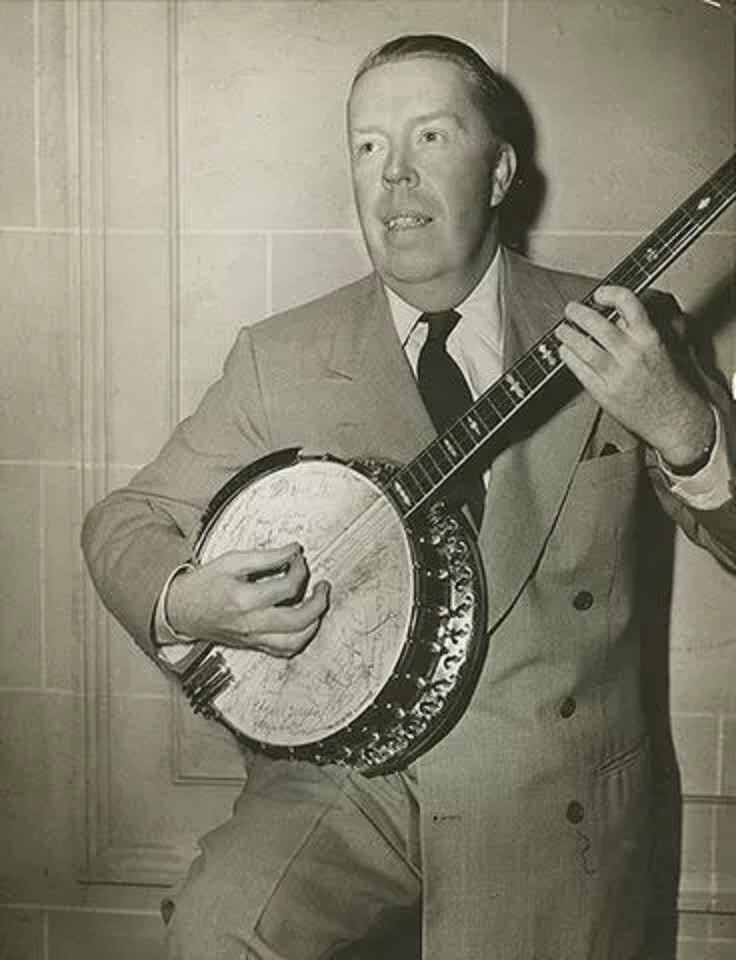 Harry Mordecai and Russ Bennett both used guitar-tuned plectrum banjos. Harry used an Epiphone "A" and a B&D Silver Bell #2. Russ played a Vega Artist Deluxe and played left handed. The notorious Dick Lammi, who also played tuba, bass, and violin played Vega banjos tuned to standard plectrum tuning, I think. I've seen him pictured with an Artist and an Artist DeLuxe plectrum. Clancy Hayes played the 6 string banjo and utilized a B&D Montana #1, A Bacon Peerless, a Weymann #3, and a Vega Artist all in standard guitar tuning (EADGBE).
Back to Pat Patton…Turk Murphy loved Pat and his wife Patsy and had a long musical association with them starting back in the '30s, I think. Pat was one of those old time banjo players who had that old time beat and approach to the banjo loved by traditional jazz musicians. Turk would have loved to have Pat in his band full time but he just wouldn't commit for one reason or another. His wife Patsy was a band singer and she was the one who taught Turk the verse to "The Torch." I love his playing on the famous Bunk Johnson and the Yerba Buena Jazz Band records—just great.
I think he took up the bass later in life and loved to go out on cruise ships playing bass in the orchestra. He was a big influence on me and I have to confess to stealing a few of his licks during my days with Turk's band. The recording of "By and By" demonstrates his no nonsense/taking care of business approach to the banjo.
HS: Three well-known banjoists from the Traditional Jazz Revival with very different sounds were Monte Ballou, Harper Goff, and Dick Roberts. Ballou was the leader of the Castle Jazz Band in Portland, but he was also active in the Bay Area. He had an association with Lu Watters dating back to the pre-Yerba Buena days, in the 1930s. And later he played with Turk Murphy at the Italian Village and the Tin Angel. Ballou was probably as well known for his vocals on songs like "The Torch" and "I've Been Floating Down The Old Green River" as for his banjo playing—which was very unusual.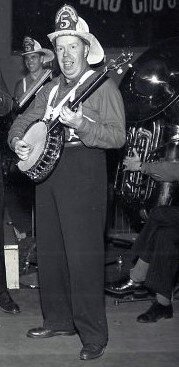 Harper Goff was the original banjoist with the Firehouse Five Plus Two and stayed with them until the early 1950s. He played a bouncy rhythm that I think was similar to Bob Gillette with the Wolverines, or maybe Lou Black with the New Orleans Rhythm Kings.
Goff's replacement was Dick Roberts, who had played banjo and even steel guitar with Spade Cooley in the early 1940s. He also made some terrific recordings with Red Roundtree as "The Banjo Kings," for Good Time Jazz.
Roberts had a very different approach to the banjo with the Firehouse Five; more direct, more propulsion and nice solo ideas. When I heard him with Frank Thomas on piano, Don Kinch on helicon, and Eddie Forrest on drums, I thought that was the best of all Firehouse Five rhythm sections.
What do you hear when you listen to these banjoists, and what can you tell about their instruments and tuning?
JG: Monte Ballou. Now there was an interesting character! I think he was a little older than Turk Murphy and I'll guess his year of birth to be around 1907. [HS: He was actually born in 1902.] He organized an influential traditional jazz band group called The Castle Jazz Band up in Portland Oregon in the mid-'40s. The band recorded some excellent music with some great musicians. Monte was also a record collector and was famous as the man who found the only known copy of King Oliver's "Zulu's Ball."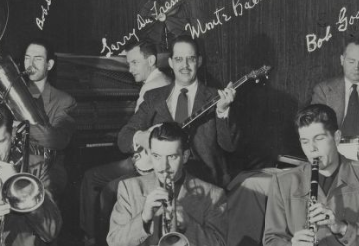 I got to meet Monte on several occasions when I was a member of The Turk Murphy band. At that time he was playing a Gibson six string banjo in standard guitar tuning. He told me that he started out on guitar when he was a kid and became well known as a singer of sentimental and novelty songs while accompanying himself on the guitar. So early on he appeared as a solo act.
He also told me that he had a lot of work in the "Red Light" districts of the Pacific Northwest. He was a favorite of the "girls" for singing sentimental songs about home and mother and that he was also famous for creating songs on the spot about people and events that were happening around him at the time. He also enjoyed performing songs with a calypso beat.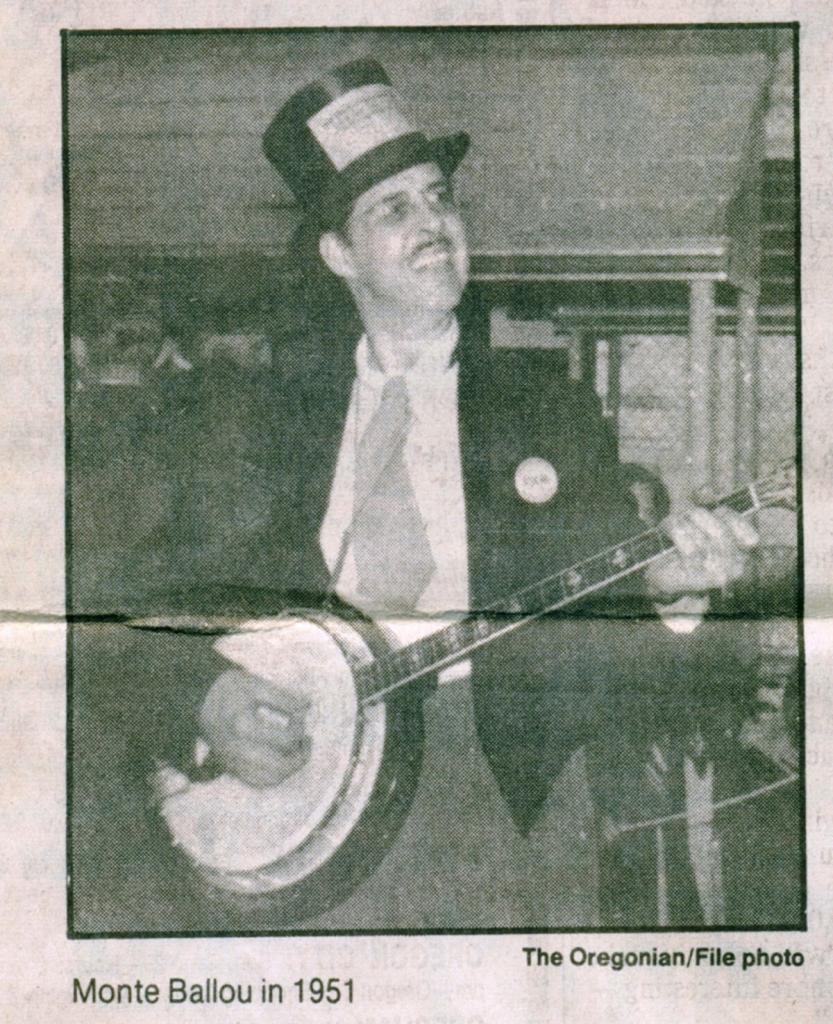 When he started the Castle Jazz Band it was a standard "Dixieland" combination with a bass and guitar. When the Lu Watters band became popular he switched to banjo and replaced the bass with a tuba.
Pictures from the era show him playing a Vegavox tenor banjo. I imagine he tuned it like a guitar (DGBE) but I'm not certain. He was a good performer but not a banjo soloist—if you know what I mean. He used the banjo to accompany himself as a single performer and with a band. He was I guess a minstrel and singer of songs leaning towards old time jazz. Some of his famous numbers include "The Torch," "I've Been Floating Down The Old Green River," and "They're Moving Willie's Grave To Dig A Sewer." He sat in with Turk's band many times.
Harper Goff also has an interesting story. He was born in 1911 and besides being a musician had a very successful career as an art designer and graphic artist and illustrator. He ended up working for Walt Disney. It seems he met Disney in a London model shop where they were both trying to buy the same model train. He was heavily involved with art direction in Hollywood but found time to join a group of fellow Disney artists and designers known as The Firehouse Five Plus Two.
They became one of the most popular traditional jazz bands in the country not only for their good playing but also because of their wide appeal to audiences. They were much recorded. Harper played what looks like a B&D Silver Bell # 3 or 4 plectrum banjo. He used guitar tuning. He was a solid rhythm man and can be seen accompanying Janet Leigh in the film Pete Kelly's Blues as she sings "I'm Gonna Charleston Back To Charleston" while perched atop a piano.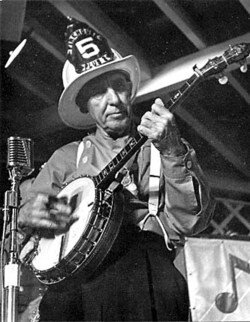 As Harper's workload at Disney and other studios increased, he was forced to give up his spot in the Firehouse Five Plus Two to Dick Roberts. Dick Roberts was born in 1897 and was a full time musician working in Western Swing Bands and Hollywood studios playing tenor banjo, steel guitar, and standard guitar. He was one of the best banjo players of the revival period and he played lovely solos that were inventive and memorable. He solos on many of the Firehouse Five records.
He is often seen playing a Paramount Art-Craft tenor banjo in standard tenor tuning (CGDA) but I have also seen him with a very fancy B&D Silver Bell that looks like a custom model with his name engraved in the peghead. It also appears to have a larger than normal head size of 12 inches. Standard head size for B&D banjos is 11 inches for tenors and plectrums and 12 inches for 6 string guitar banjos. The Firehouse Five Plus Two recorded many albums that are all available today. They also made many videos that can be seen on YouTube.
If I may insert a little something here about the revival period and its use of banjos. I wanted to note that Turk Murphy and Lu Watters preferred the lower pitch of the plectrum banjo and 6 string banjo to the higher pitched tenor banjo. My friend and colleague Larry Wright (he plays just about every instrument) told me that Ward Kimball (leader of the Firehouse Five) also preferred the lower pitch of the plectrum to the tenor. That said I do love the sound of the Firehouse Five rhythm section with Dick Roberts just as much as one with Harper Goff.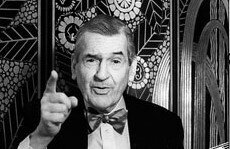 HS: For space considerations, let's wrap up this conversation with two banjoists from a later generation…First, let's talk about Marty Grosz. Although he is known mainly as a guitarist, he is also an incredible banjoist! Marty told me that one of his favorites was Eddie Condon, and I can certainly hear the link between the way Condon played on records like "Minor Drag" and Marty's sound on the instrument.
He also did a tremendous job of playing "Good Time" banjo on the Audio Fidelity albums Banjo at the Gaslight Club and Roaring Twenties at the Gaslight Club. His arrangements for both sessions were intelligent and witty and his own playing was superb. The band on those sessions was remarkable too: Max Kaminsky, Cutty Cutshall, Frank Chace, Don Ewell, and John Dengler!
Thankfully, Marty is still with us and I understand that he played banjo on a few numbers at his recent 90th Birthday celebration!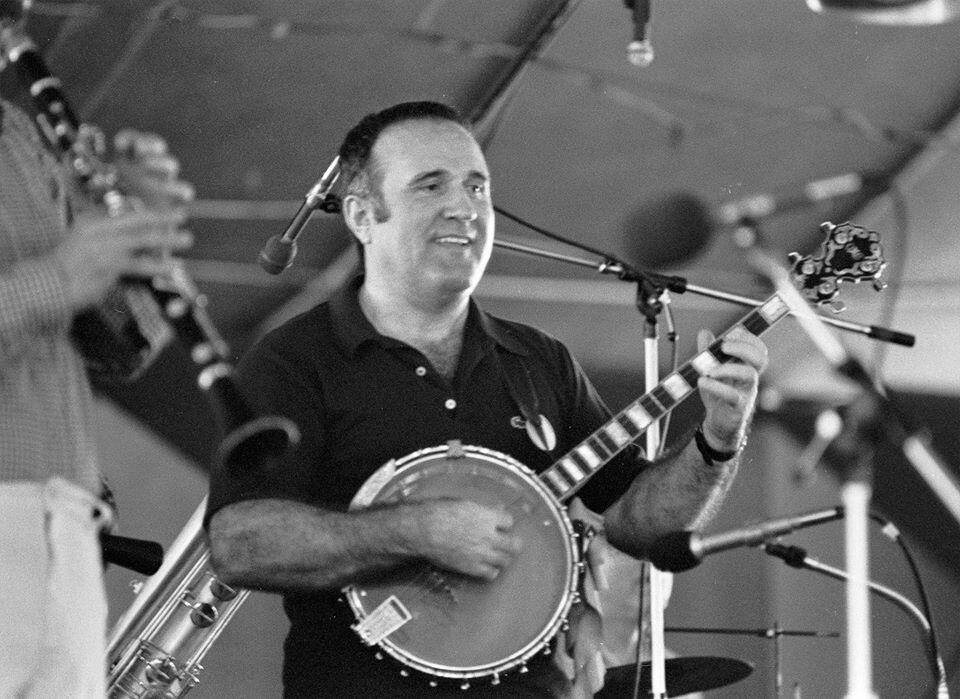 Another great player, who we both worked with, was the late Eddy Davis. Although Eddy could play rhythm with the best of them, his idea of the banjo's role was much more than just playing time in the rhythm section. He played a modern-day instrument, set up differently from most banjos, but knew how to get a great big sound and old-time tone from it. What are your observations concerning Marty and Eddy, their instruments and their approach to the banjo?
JG: My first time hearing Marty Grosz was on the Jim Kweskin Jump For Joy album. I loved his sound and his clean and swinging four-to-the-bar rhythm. His solos are also inventive and catchy using a chordal approach to solos. Soon after hearing Jump For Joy I found those Audio Fidelity albums Roaring Twenties at The Gaslight and Banjo At The Gaslight. The Gaslight Club was a members only high-end nightclub in Chicago that featured a 1920s "Speakeasy" atmosphere. There was one in New York for a long time. I also want to mention Marty's Hooray For Bix which had a big influence on a younger generation of jazz musicians like you and me.
I finally got to hear him live when he moved to New York to become part of Bob Wilber and Kenny Davern's Soprano Summit. At that time he was playing, if I remember correctly, a very fancy Epiphone Recording series plectrum banjo tuned to standard plectrum tuning (CGBD). But at that time he was pretty much playing the guitar (and playing it very well, with great rhythm and solos). Never through an amp mind you; always acoustic. This is a mindset that I greatly admire.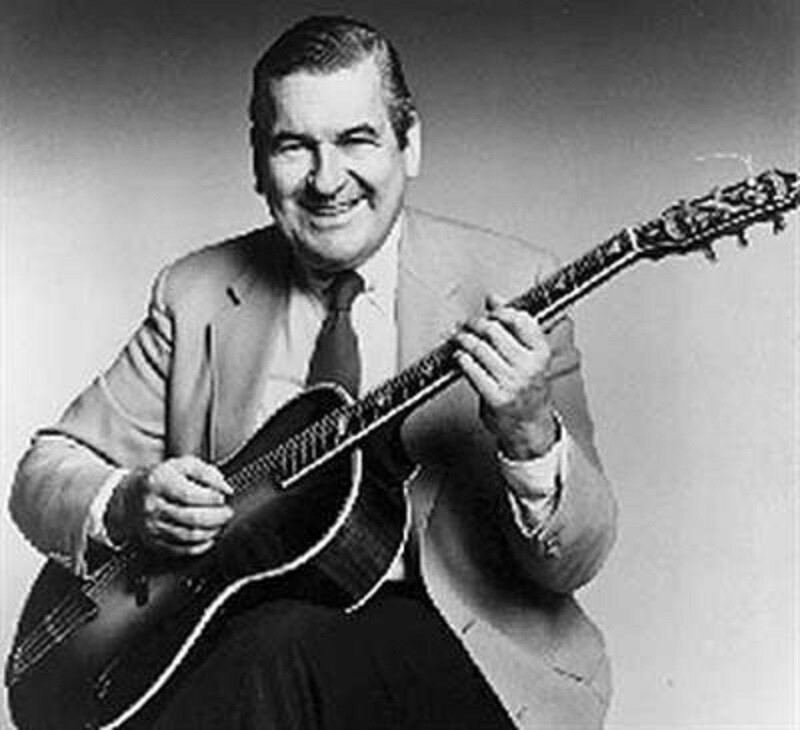 I should point out that over-miked banjo and amplified guitar just doesn't work in a traditional jazz or swing format. That is my humble opinion. These days I think Marty is using a Vega Plectrum similar to the one Eddie Condon played in the 1920s. It is interesting to note that Marty uses a hybrid tuning on his guitar which is I believe Bb F C G B D. The top four strings like plectrum banjo and the bottom two in fifths. Carl Kress, the legendary guitarist from the 1920 and 30s, used a similar tuning except the top four strings were tuned like a tenor banjo.
Back to Marty's banjo playing…I admire it greatly. He also utilizes or at least he did, one of those tone enhancing mutes as used by Lawrence Marrero. This gives the banjo a very distinctive tone that cuts through the mix nicely. Marty is also an excellent entertainer with a sharp wit and a great way with a song.
Regarding our next subject, Eddy Davis: I met Eddy back around 1970 when he first came to New York. He was from Indiana, and spent a lot of time in Chicago leading his own groups opposite many of the greats like Clancy Hayes, Bob Scobey, and the Dukes Of Dixieland in the 1950s and '60s. Chicago was a hotbed of activity in those days and many of the great jazz musicians of the 1920 and '30s were still actively performing. Eddy got to see and know many of the great old jazzmen.
Eddy played tenor banjo tuned standard (CGDA) and he believed in the banjo all his life. He felt it was just as worthy as the violin, trumpet, piano, and the guitar. And it remained his instrument of choice. He was a very studied musician and had a vast knowledge of the legitimate technique of music. Chords, composition, arranging and performance. He studied at The Chicago Academy of Music where he majored in string bass. He had a deep love of traditional jazz but also loved Bossa Nova, Samba, and Modern Jazz. All of this music he performed on a tenor banjo.
He played a solo style that combined single string and chords and was greatly influenced by Elmer Snowden and Johnny St. Cyr. From time to time he played a tenor guitar but mostly banjo. He could and would play very solid time but he also liked to reinvent and play against what was happening around him with single string lines and chordal substitutions. He played a very full tenor banjo.
When I first met Eddy he was playing an Epiphone Concert Special—a very nice banjo that he got rid of because it was so heavy. At one time or another he played a Vega Artist DeLuxe, and a B&D Silver Bell. In the early '70s he got involved with the Ome Banjo Co. and had them design a short necked, open back banjo with no tone ring or coordinator rods. His idea was to get rid of the weight that he believed the banjo didn't need. It seemed to work because that's what he played on from 1980 until his passing last April.
In the last few years he started looking at vintage banjos and acquired some nice stuff. A Vega X#9, an Orpheum Brass Band, and a Gibson Trap Door. These were all short-necked and non-resonator instruments from the early 1920s. But he always went back to his trusty Ome, of which he had several.
He possessed a great feeling for time and he was very easy to play with. He knew the words to a million tunes and would sing them at the drop of a hat. He was very good at singing and playing while feeding the chord changes to the rest of the band. Music was his life and he loved to play but he didn't suffer fools very kindly. There are many bandstands littered with the charred remains of those who failed to show respect.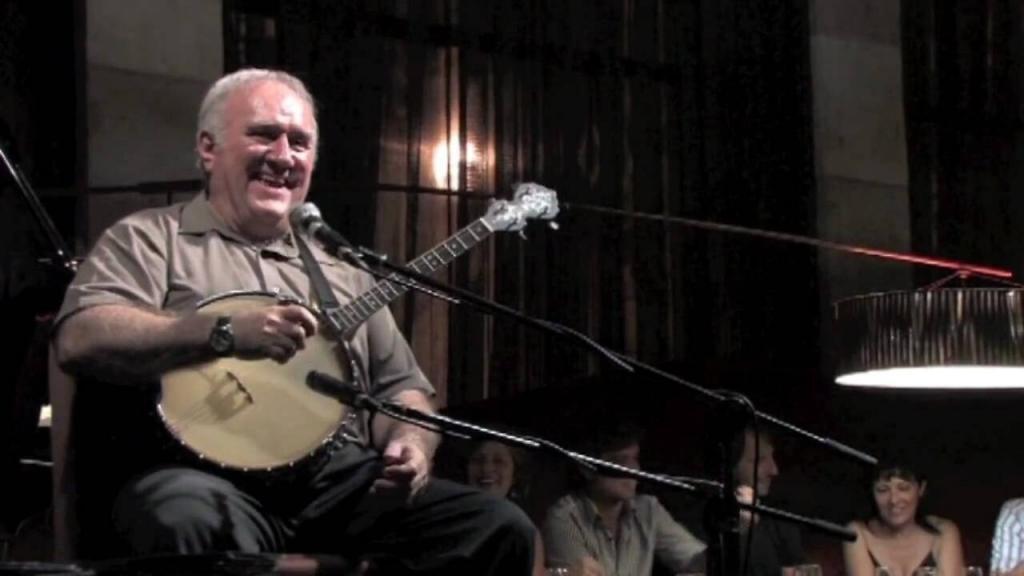 Marty and Eddy have and had long and productive careers playing great music. They both utilized a hard-driving Chicago approach to jazz and unique approach to vocals.
HS: John, thanks again for all your great insights concerning the banjoists, the instruments they played, the tunings they used and everything else that you addressed! I have learned so much about the banjo in this conversation, and I'm sure that The Syncopated Times readers have also learned a lot! I'm also sure that the readers will want to hear the recordings we mentioned, so there is a selected discography included with this article.
I do hope we can work on another collaboration sometime—as soon as we figure out which subject to discuss!
JG: I'm in anytime.
---
Selected Discography
Monte Ballou
The Famous Castle Jazz Band Good Time Jazz GTCD 10030 – 2
The Famous Castle Jazz Band Plays The Five Pennies GTCD 10037 – 2
Turk Murphy's Jazz Band at the Italian Village 1952 – 1953 Merry Makers MMRC CD 11
Lu Watters' Jazz Band Blues Over Bodega Good Time Jazz GTCD 12066 – 2
Eddie Condon
Eddie Condon 1928 – 1931 Timeless CBC 1 – 024
Jazz From The Windy City Timeless CBC 1 – 021
Fats Waller and his Buddies Bluebird 61005 – 2
Eddy Davis
Eddy Davis: The Bunk Project MusicMasters Jazz 01612-65098-2
Eddy Davis "The Manhattan Minstrel": Just Sittin' Here Strummin' This Old Banjo; The Life and Times of Eddy Davis vol. 1 New York Jazz J006
Eddy Davis "The Manhattan Minstrel": From Broadway to Hollywood; The Life and Times of Eddy Davis vol. 2 New York Jazz J007
John Gill's Dixieland Serenaders "Looking for a Little Bluebird" Stomp Off CD 1295
John Gill's Dixieland Serenaders "Take Me To That Midnight Cakewalk Ball" Stomp Off CD 1304
John Gill's Dixieland Serenaders "Listen To That Dixie Band" Stomp Off CD 1321
Harper Goff
Firehouse Five Plus Two: Settin' The World On Fire; The Whole Story vol. 1 Jasmine JASCD 426 (2 CDs) – Also includes tracks with Dick Roberts
Marty Grosz
Keith Ingham & Marty Grosz and their Hot Cosmopolites: Donaldson Redux Stomp Off 1237
Keith Ingham & Marty Grosz and their Hot Cosmopolites: Going Hollywood Stomp Off 1323
Keith Ingham & Marty Grosz and their Hot Cosmopolites: Just Imagine; The Music of DeSylva, Brown and Henderson Stomp Off CD 1285
Lawrence Marrero
Bunk Johnson and his New Orleans Band: The Complete Deccas, Victors and V-Discs Plus Alternate Takes; November 1945 – January 1946 Document DOCD 1001
Bunk Johnson King Of The Blues American Music AMCD 1
Bunk Johnson 1944 American Music AMCD 3
George Lewis Doctor Jazz Good Time Jazz GTJCD 21062 – 2
George Lewis Keeper of the Flame Storyville 1088613 (8 CDs)
George Lewis Trios and Bands American Music AMCD 4
Pat Patton
Bunk Johnson with the Yerba Buena Jazz Band: Bunk and Lu Good Time Jazz GTCD 12024 – 2
Turk Murphy In Hollywood San Francisco Traditional Jazz Foundation 102
Turk Murphy's San Francisco Jazz Band Favorites Good Time Jazz FCD 60 – 011
Turk Murphy's San Francisco Jazz Band Favorites vol. 2 Good Time Jazz FCD 60 – 026
Lu Watters' Yerba Buena Jazz Band: Doing The Hambone At Kelly's vol. 1 Jasmine JASMCD 2571
Lu Watters' Yerba Buena Jazz Band: Doing The Hambone At Kelly's vol. 2 Jasmine JASMCD 2590
Dick Roberts
Banjo Kings vol. 1 Good Time Jazz GTCD 12015 – 2
Banjo Kings: Favorites Good Time Jazz FCD 60 – 012
Firehouse Five Plus Two: Stoking The Fire; The Whole Story vol. 2 Jasmine JASCD 460 (2 CDs) – Also includes tracks with Harper Goff
Firehouse Five Plus Two Havin' A Blast Jasmine JASCD 807
Johnny St. Cyr
Louis Armstrong Hot Fives and Sevens vol. 1 Columbia CK 86999
Vol. 2 Columbia CK 87010
Freddie Keppard: The Complete Set 1923 – 1926 Retrieval RTR 79017
Jelly Roll Morton: The Pearls Bluebird 6588 2 RB
Johnny Dodds (New Orleans Wanderers/Bootblacks): The Chronological Johnny Dodds 1926 Classics 11