One of the great frustrations in studying early jazz is trying to understand how the music sounded near its beginnings. There is not only a complete window of silence during 1895-1916 but, even after the Original Dixieland Jazz Band made the first jazz recordings in 1917, many of the early New Orleans greats who were active in the 1920s never made it to a recording studio. We will never really know how cornetists Buddy Bolden, Manuel Perez (1871-1946), or the short-lived Emmett Hardy (1903-25) sounded.
Of the three New Orleans cornetists covered in this article, two never recorded while Freddie Keppard, despite his initial reluctance, made just enough records to give listeners an opportunity to hear what he really sounded like. Because of Keppard, one can get clues as to the New Orleans jazz cornet style of 1910.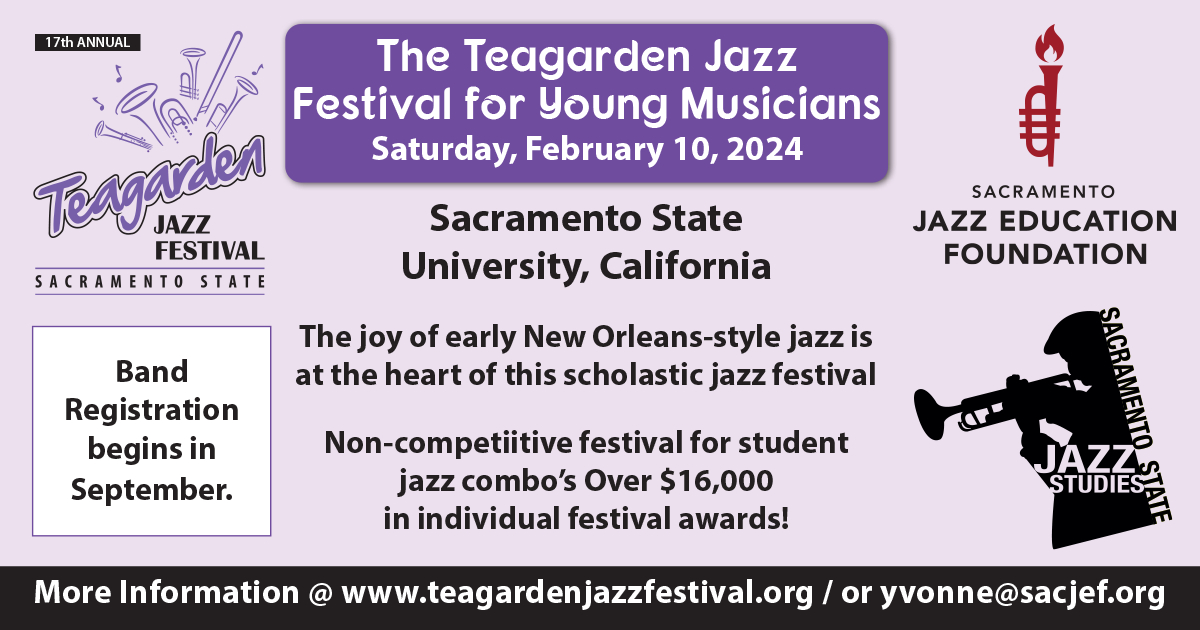 Freddie Keppard was born in New Orleans on Feb. 27, 1890. Since he was raised in such a musical city (and his older brother was guitarist Louis Keppard), he played music from an early age. Keppard started out on mandolin, violin, and accordion before settling on cornet. When he was 12 he worked with clarinetist John Brown's band. A powerful player even then, in 1906 when he was 16, Keppard formed and led the Olympia Orchestra which included clarinetist Alphonse Picou.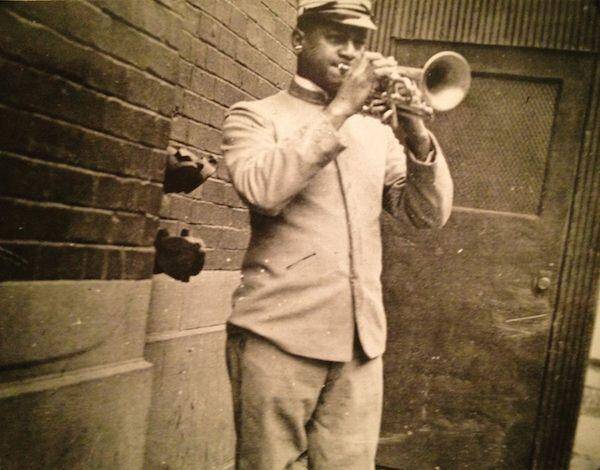 Buddy Bolden's quick decline during that period left a large gap. Who was going to follow Bolden as the new King of cornetists? Despite his youth, Freddie Keppard soon emerged as Bolden's successor, a position that was solidified when he joined Frankie Dusen's Eagle Band, taking the place formerly held by Bolden. Until he left the city in 1914, he took on all comers in cornet battles and rarely lost. Keppard's playing was considered an extension of Bolden's. He was slightly more sophisticated and had his own large tone but he was just as forceful, had an expressive style, the ability to bend notes, and a quickness in coming up with syncopated phrases inspired by ragtime. He stayed ahead of his rivals even though Joe "King" Oliver developed into a close competitor. Legend has it that Keppard covered his right hand with a handkerchief when he played so other cornetists could not steal his ideas.
In 1914, bassist Bill Johnson hired Freddie Keppard for his Original Creole Orchestra. The sextet played a major if unheralded role in spreading early jazz up North a couple years before the music had its name. Primarily performing in vaudeville shows at theatres on the Orpheum Circuit, the Original Creole Orchestra helped introduce jazz to Los Angeles, San Francisco, Chicago, New York, and Canada during 1914-17. Reportedly in 1916, the Victor label offered Keppard the opportunity to become the first jazz musician to make records but he turned it down, again not wanting others to be able to copy his playing. Part of his reluctance was that he was only offered a $25 flat fee. His response was "Twenty-five dollars? I drink that much gin in a day!"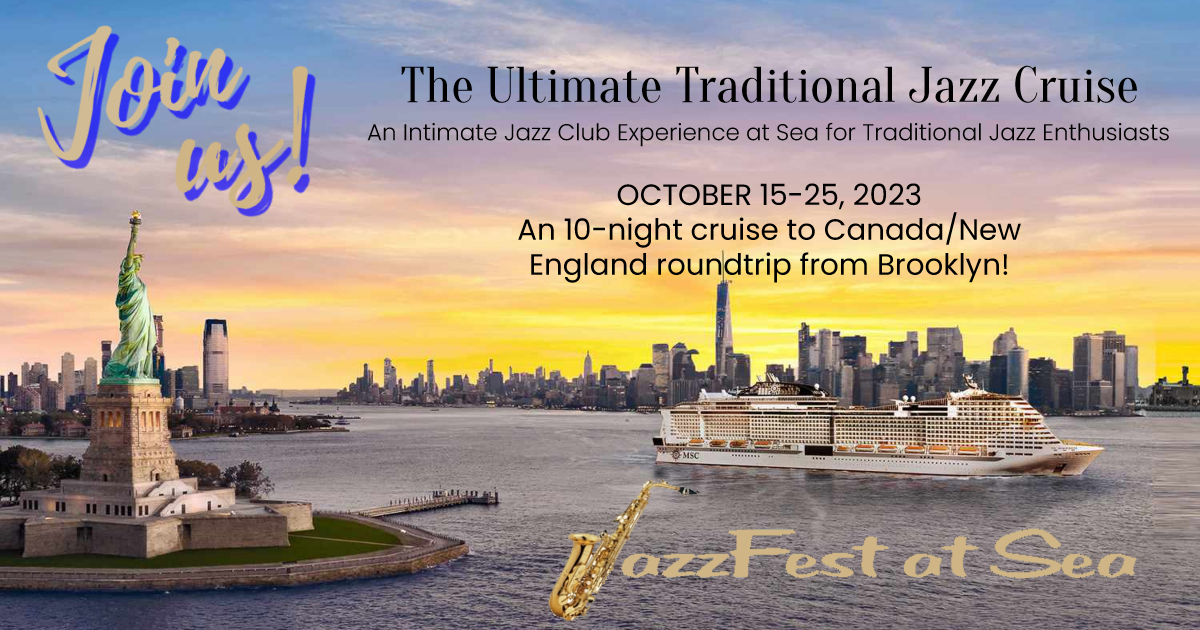 In 1918 the Original Creole Orchestra did record "Tack 'Em Down" but, probably due to the inability of the primitive recording equipment to pick up the leader Bill Johnson's bass, the music was never released. Soon after, Keppard left the band, settling in Chicago and becoming part of the local jazz scene.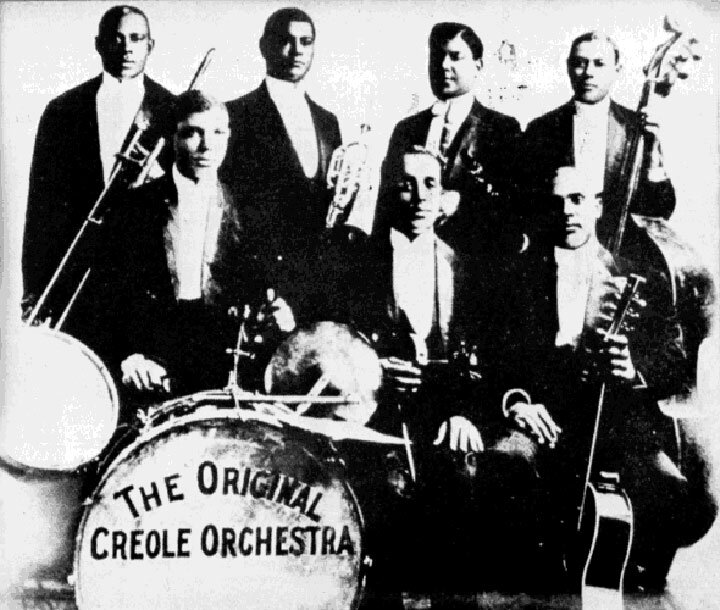 Chris Kelly was born the same year as Keppard (1890) in Plaquemines Parish, Louisiana. He studied cornet with Jim Humphrey (the grandfather of trumpeter Percy and clarinetist Willie Humphrey) and in 1915 when he was 25 he moved to New Orleans to play in a society band led by his teacher. It did not take Kelly long to be considered one of the city's top cornetists. In 1919, like Keppard had 17 years earlier, he joined Johnny Brown's band, soon becoming its leader. Kelly became famous in New Orleans for his highly expressive version of "Careless Love" and for his expertise with the plunger mute.
Relatively little is known about the cornetist and in addition to being unrecorded, not even a photograph exists of him. Banjoist Danny Barker spoke about Kelly in the book Hear Me Talkin' To Ya (1955, Peter Davies): "Chris Kelly was a master and played more blues than Louis Armstrong, Bunk, and anybody you ever knew…Chris could play slow, lowdown gut-struts until all the dancers were exhausted and dripping wet. His masterpiece was 'Careless Love,' preached slow and softly with a plunger. He always played it at twelve o'clock, just before intermission…You see, Cootie Williams, that style he plays, he got that style from Chris Kelly. And he also played church music, especially 'Swing Low, Sweet Chariot.' He really moved the people. He should have been a preacher…Chris would come on the job with a tuxedo, a red-striped shirt, a black tie, a brown derby, and a tan shoe and a black shoe. Whatever he picked up in the house before he left, that's what he wore. And nobody said anything to him because they wanted to see him."
Buddy Petit was born as Joseph Crawford in 1897 in White Castle, Louisiana. He took the last name of his stepfather, valve trombonist Joseph Petit who ironically had an opportunity to record when he was 72 in 1945. His main inspiration was Bunk Johnson. In 1914 he took Freddie Keppard's place in the Eagle Band when the older cornetist headed up North. Since his stepfather had founded the Olympia Brass Band, Petit formed the Young Olympia Band with his good friend Sidney Bechet around 1915. The following year when he co-led a band with clarinetist Jimmie Noone, he was already considered a major trumpeter in New Orleans.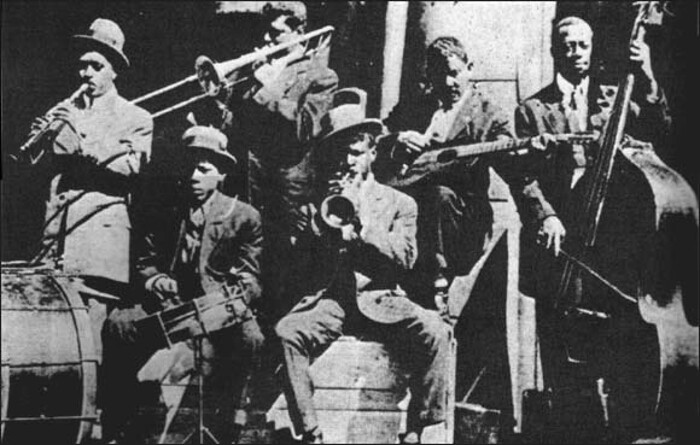 In 1917 Petit left the South to join Jelly Roll Morton in Los Angeles. That should have been his big break, but things did not go well. Morton made fun of the cornetist's out-of-date clothes and country habits; he liked to cook in the dressing room and eat on the bandstand. After a short time, Petit became fed up and quit. He even threatened to kill Morton if the pianist ever returned to New Orleans.
That incident resulted in Petit turning down Bill Johnson's offer to join his band in Chicago in 1918. Johnson next sent for his second choice, King Oliver, and while Oliver became nationally famous, Petit refused to leave the South.
While Chris Kelly and Buddy Petit spent the 1920s in New Orleans, Freddie Keppard played regularly in Chicago. But unlike King Oliver, he was primarily a sideman, working with Erskine Tate, Doc Cook, Ollie Powers, Jimmie Noone, Johnny Dodds, Don Paquall, and Lil Hardin Armstrong. On June 23, 1923, the 33-year old cornetist finally made his recording debut but he is not featured on the two titles by Erskine Tate's Vendome Orchestra. Also a bit of a disappointment are the six selections that he appears on with Doc Cook's Dreamland Orchestra on Jan. 21, 1924. The 12-piece band is hampered by dated arrangements and one waits in vain for a worthy spot for the cornetist. A laughing cornet solo on "So This Is Venice" (trying to replicate the commercial success that Louis Panico gave Isham Jones) may be by Keppard or the other cornetist Elwood Graham. One can hear Keppard clearly during parts of "The Memphis Maybe Man" but the moments pass quickly.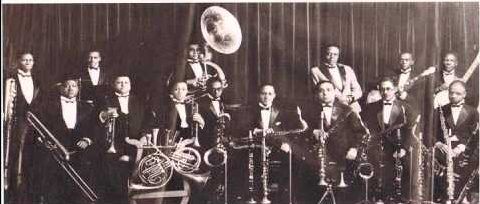 In four titles cut on June 22, 1926, Keppard can be heard in the spotlight for brief times with a sextet from Cook's Orchestra that includes clarinetist Jimmie Noone and altoist Joe Poston. The four titles by Cookie's Gingersnaps are highlighted by the second chorus of "Messin' Around" which lets one hear Keppard's unique tone (he sounds unlike anyone else) and his syncopated ideas. While a bit primitive compared to Oliver and certainly to Armstrong, Keppard's lead on the last chorus of "Here Comes The Hot Tamale Man" also gives one an idea of how he must have sounded in his early days.
Better are Keppard's five recordings with Doc Cook's Dreamland Orchestra from July 16 and Dec. 2, 1926. His breaks on a second version of "Here Comes The Hot Tamale Man" and in the last chorus of "Spanish Mama" along with some bright moments on "High Fever" are the highpoints although he is mostly heard in the ensembles.
Freddie Keppard took part in three sessions with small groups during 1926-27 that are the only ones on which he actually took full-length solos. Actually the June 1926 session with Jimmy Blythe's Ragamuffins that resulted in "Adam's Apple" and two versions of "Messin' Around" (with Trixie Smith on vocals) has sometimes been credited to cornetist Dave Nelson but it sounds like Keppard. His very best playing can be heard on the only record date he ever led which was billed as by Freddie Keppard and his Jazz Cardinals. Two takes of "Salty Dog" with singer Papa Charlie Jackson find the cornetist playing with a lot of bluesy feeling. His hottest recorded performance is on "Stock Yards Strut" which shows how exciting a player he could be and gives hints of how he might have sounded in 1915. In addition, he sounds excellent next to Johnny Dodds and pianist Tiny Parham on two numbers ("Stomp Time Blues" and "It Must Be The Blues") with washboardist Jasper Taylor and his State Street Boys on Jan. 1927. Keppard stretches out a bit, digs into the blues, and sounds as modern as he ever did on records.*
During the 1920s after King Oliver, Louis Armstrong, and Freddie Keppard had moved up North, Chris Kelly and Buddy Petit were considered the two top cornetists in New Orleans. Kelly (who sometimes collaborated with clarinetist George Lewis) and Petit often met in competitive cutting contests and they both had solo careers working regularly in dance halls, cabarets, and dances. But alcohol cut their lives short. The young trumpeter George "Sheik" Colar took some lessons from Chris Kelly but in his words, "Kelly's lessons were more liquidly social."
By then Chris Kelly was an alcoholic whose drinking became more excessive as the 1920s progressed. On Aug. 19, 1929, he died from a heart attack at the age of 39. He had retained his popularity and there was a large crowd at his funeral.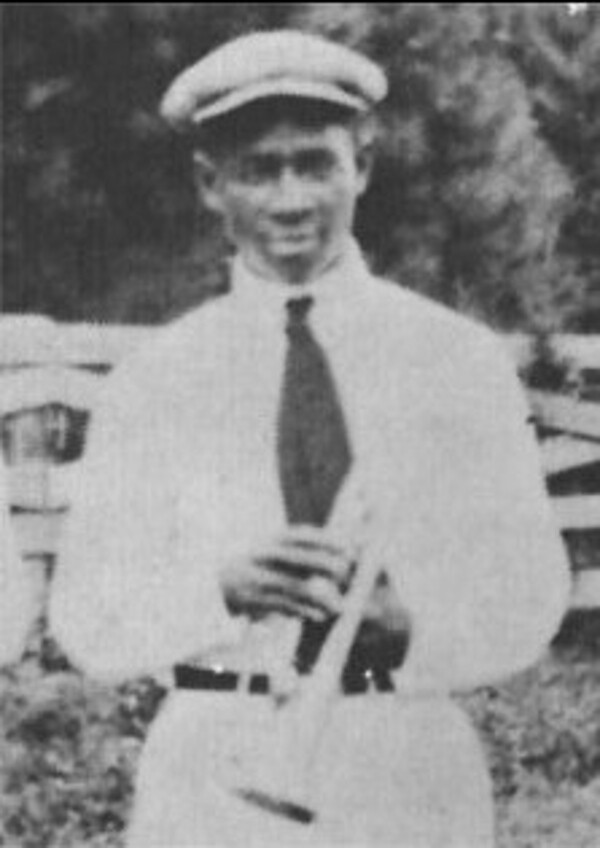 Buddy Petit was so famous in New Orleans in the early 1920s that he frequently took four or five jobs a night, sending out other bands under his own name, a move that hurt his reputation a bit. That was not his only bad decision. Other than briefly visiting California as a member of Frankie Dusen's band in 1922 and occasional gigs on riverboats, he restricted himself to playing in New Orleans and Mississippi. Worse yet, in 1925 when the Okeh label made a field trip to New Orleans to record local talent, Petit held out for more money and missed his only chance to be documented.
Like Chris Kelly, Buddy Petit enjoyed his liquor far too much. His playing was reported to be increasingly erratic during the late 1920s but he stayed active until the very end. On July 4, 1931, at an Independence Day picnic, the combination of overeating and excessive drinking led to his death. It must have been quite a celebration for he was just 34. Years after his passing, Petit was cited as an influence by Punch Miller, Herb Morand, and Wingy Manone.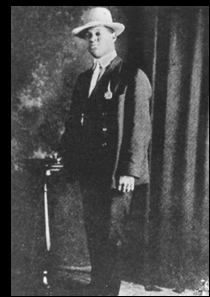 As for Freddie Keppard, alcohol also did him in. He often drank between a half-gallon to three quarts of liquor a day. Other than possibly participating on two songs from a Half Pint Jaxon session on Oct. 28, 1928 (the erratic cornetist does not sound at all like him), his recordings stopped after Jan. 1927. While he led a band into 1928 and worked with Charlie Elgar at Chicago's Savoy Ballroom, his playing quickly declined. During a period when he should have been competing with Armstrong, Oliver, Jabbo Smith, Red Allen, and other younger cornetists, Keppard had a low profile and was ailing, probably from tuberculosis. While no longer known to the jazz public after the late 1920s, Keppard was not completely forgotten. In 1931 as his big band was departing from Chicago on a road trip, Louis Armstrong had the bus driver stop in front of Keppard's home. The musicians went up to the cornetist's apartment to have a reunion and pay their respects.
Freddie Keppard passed away on July 15, 1933, when he was just 43. One wonders what he might have done during the swing era and whether he would have been part of the Dixieland revival in the 1940s. As it is, Keppard's brief recording career gives today's listeners a glimpse of what jazz might have sounded like when Louis Armstrong was just a child. All 25 of his recordings are available on one CD, The Complete Freddie Keppard 1923/27 (King Jazz 111). In his best moments on record, one can hear a musician whose training was with brass bands, whose sound had to be powerful enough to be heard during the pre-microphone era, and who provides a direct link to Buddy Bolden.
---
*The presence of Freddie Keppard on this State Street Boys record is long disputed. Among others Larry Gushee (1931-2015), the author of Pioneers of Jazz: The Story of the Creole Band, does not believe it is Keppard.