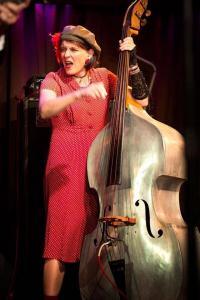 REDWOOD COAST MUSIC FESTIVAL
(Eureka, CA) – April 5-8
The Northern California city of Eureka sits amid towering redwood forests south of Arcata Bay, 275 miles north of San Francisco. Eureka's atmospheric Old Town waterfront district stands adjacent to this festival's seven venues including The Red Lion Hotel, The Adorni Center, the Eureka Theater, The Sequoia Center, Morris Graves Museum, and Eureka Municipal Auditorium. The 28th annual Redwood Coast Music Festival presents four days of traditional jazz, swing, rockabilly and zydeco, and two nights of blues.
2018 performers include Jeff Barnhart's Earthquakers, Dave Bennett Quartet, Tom Rigney & Flambeau, Carl Sonny Leyland & Friends, Dave Stuckey & The Hot House Gang, Clint Baker's Hot Five, Gator Nation, Dave Bennett & The Memphis Speed Kings, Cocuzzi Courtet, Joe Smith & The Spicy Pickles, Kris Tokarski Sextet, Candy Jacket Jazz Band, Ivory & Gold®, Dave Stuckey's Hoot Owls, Stompy Jones, Gino & The Lone Gunmen, Chris Dawson Trio, Pappy & Junior's Western Swing All-Stars, and Jump Swing Imperials, with Special Guest Artists Jeff Barnhart, Dave Bennett, Brian Casserly, Katie Cavera, Danny Coots, Chris Dawson, Chloe Feoranzo, Carl Sonny Leyland, Sam Rocha, Andy Stein, and Dan Walton. Blues artists include Mark Hummel's Golden State Lone Star Revue, Lisa Mann, Terry Hanck Band, Bishop Mayfield & Friends, and the Andy T Band (with Anson Funderburgh & Alabama Mike).
Early Bird Tickets on sale through February 28, 2018: $90 for an all-event, three-day pass and $60 for blues events on Friday and Saturday; 523 Fifth St., Eureka, CA 95501; (707) 445-3378; [email protected]; rcmfest.org.
PENSACOLA JAZZ FESTIVAL (Pensacola, FL) – April 7-8
Now in its 35th year, this free festival is staged April 7 and 8, at the historic Seville Square Gazebo in downtown Pensacola, in Florida's western panhandle. Nicknamed "The City of Five Flags," Pensacola is a seaport city located on Pensacola Bay protected by the barrier island of Santa Rosa. This year headliners include the Scott Wilson Quartet, Paula Atherton, Michael Pellera, Andy Martin, Patrick Frost, and The 4 Korners; full lineup and schedule is yet to be announced.
Admission is free; jazzpensacola.com; (850) 433-8382.
FRENCH QUARTER FESTIVAL (New Orleans, LA) – April 12-15
The French Quarter Festival in New Orleans traces its origin to 1984 when it was produced as a way to bring residents back to the Quarter following the World's Fair and extensive sidewalk repairs in the neighborhood. That humble, hopeful gathering has blossomed into "The World's Largest Block Party" where visitors can join locals to enjoy the best of Louisiana music, food, and culture, all for free.
Featuring more than 800 musicians on 23 stages, five-dozen food-and-beverage vendors, works by New Orleans' top artists and plenty of kid-friendly attractions, this year's French Quarter Festival presented by Chevron is all set for April 12 through 15.
Staged over a half-dozen blocks between Bourbon Street and the Mississippi Riverfront, the festival is presnted without fences enclosing the site, so attendees are free to come and go as they would at any block party.
Longtime restaurant participants include Antoine's, Pat O'Brien's, Trey Yuen, Tujague's, Vaucresson Sausage, Desire Oyster Bar and Court of Two Sisters. New to the 2018 festival are Café Beignet, Café Dauphine, The Company Burger, The Daily Beet, Flamingo A-Go-Go, and SoBou.
This year's musical lineup boasts well-established combos such as Dejan's Olympia Brass Band, The DUKES of Dixieland, Bonerama, Andrew Hall's Society Brass Band, Lars Edegran, & The New Orleans Ragtime Orchestra and Don Vappie & The Creole Serenaders.
Neo-jazzers like Aurora Nealand & The Royal Roses will perform along with Tuba Skinny, the Rebirth Brass Band, and Meschiya Lake & The Little Big Horns.
Dozens of the Crescent City's most celebrated jazzmen such as James Andrews, Leroy Jones, Tom Saunders, Wendell Brunious, Tim Laughlin, and Tommy Sancton will also appear. And a few Mardi Gras Indian ensembles will strut their colorful stuff and chant their funky anthems. Big Chief Bo Dollis will lead The Wild Magnolias and Cha Wa will feature Japanese trombone sensation Haruka Kikuchi.
For information, call (504) 522-5730, or visit fqfi.org/frenchquarterfest/. – Russ Tarby
JAZZAFFAIR 2018 (Three Rivers, CA) – April 13-15
Inspired by its longtime hosts—The High Sierra Jazz Band—the Jazzaffair takes place annually in the Central California town of Three Rivers, nestled in the Kaweah River canyon just above Lake Kaweah, in the Sierra Nevada Mountains. Festival venues include the Lions Club, the Veterans Memorial Building and the St. Anthony Retreat. Free shuttle buses transport festival goers from place to place. Along with the High Sierra combo, performers for the 45th annual Jazzaffair will be Bob Draga, Dixie Dominus, Cornet Chop Suey, Grand Dominion, the "All New" High Street Party Band, Carl Sonny Leyland, Reedley River Rats, Tom Rigney and Flambeau, Blue Street Jazz Band, and Bob Schulz.
All-event three-day badge costs $95 if purchased on or before March 15 or $100 after March 15; children (no age limit) three-day ticket $50; children under age 12 are free when accompanied by a parent or guardian; April 12 Lions Recognition Dinner-concert $15. For info, write S.T.J.C., Box 712, 42490 Kaweah River Drive, Three Rivers, CA 93271; telephone (559) 561-1621; or visit sierratraditionaljazzclub.com/jazzaffair-2018.
OAKHURST RAGTIME FESTIVAL (Oakhurst, CA) April 13-15.
Before 1912, the Central California town of Oakhurst was known as Fresno Flats. Before 1912, jazz was known as ragtime. This humble celebration of ragtime piano playing is staged at the Oakhurst Community Center, 39800 Road 425-B, south of China Creek and just north of Oakhurst Mobile Home Estates. Oakhurst is located in the foothills of the Sierra Nevadas, 14 miles south of the entrance to Yosemite National Park. This year's performers and schedule are yet to be announced.
Ticket prices are yet to be announced; please see facebook.com/oakhurstragtimefestival; telephone (559) 683-7860 or (559) 683 6570.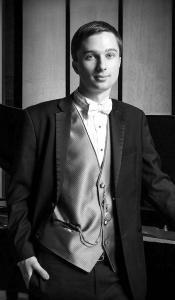 ZEHNDER'S RAGTIME FESTIVAL (Frankenmuth, MI) – April 26-29
Zehnder's 24rd Annual Ragtime Festival featuring the pride of Michigan, pianist Bob Milne, will be staged at Zehnder's of Frankenmuth, 730 S. Main St., in the colorful city nicknamed Little Bavaria. Also called "Muth" for short, the city is located in Saginaw County, in Michigan's Lower Peninsula, about 22 miles south of Lake Huron. Events include dinner concert on Wednesday, lunch concerts on Thursday, Friday and Saturday, Vaudeville Night Thursday, a Friday-night picnic, and a grand finale dinner concert on Saturday. By the way, Zehnder's serves a world-famous chicken dinner along with tantalizing breads and pastries. Performers for 2018 tentatively include homeboy Bob Milne along with Jeff Barnhart, Adam Swanson, Bob Seeley, and Daniel Souvigny, and others.
Ticket prices for individual events last year ranged from $25 to $55. Reservations are required for lunch, brunch, and all dinner concerts. For more info or reservations call (800) 863-7999, ext. 450; or visit zehnders.com.
NEW ORLEANS JAZZ & HERITAGE FESTIVAL (New Orleans, LA) – April 26 – May 6
The 49th annual New Orleans Jazz & Heritage Festival presented by Shell will fondly recall pianist Antoine "Fats" Domino who died Oct. 24, 2017, at age 89. Sets will be performed by some of the world's best-known musicians on two successive weekends—April 27-29 and May 3-6—at the Fair Grounds Race Course, in the Mid-City neighborhood at 1751 Gentilly Boulevard.
One of the grandest of America's many music festivals, this annual Big Easy tradition features 12 stages, more than 70 food vendors, regional arts and crafts, interviews, second-lines, kids' activities, demonstrations, and cultural displays.
While crowds will flock to main-stage sets by artists including Trombone Shorty, Anita Baker, Beck, Aerosmith, and Aretha Franklin, those "in the know" will make their way to the Economy Hall Tent which exclusively showcases traditional jazz, and to the Jazz & Heritage Tent which presents New Orleans brass bands and Mardi Gras Indians.
Likely Economy Hall performers include pianist Henry Butler performing a tribute to Jelly Roll Morton and banjoman Don Vappie paying homage to King Oliver. One of the city's hottest new jazz singers, Meschiya Lake will remember the pioneering work of pianist Sweet Emma Barrett. Trumpeter Kermit Ruffins will celebrate the music of Louis Armstrong.
Many of the city's best jazz revivalists will appear including the Preservation Hall Jazz Band, Terence Blanchard's E-Collective, the Dirty Dozen Brass Band, and Nicholas Payton. This year's headliners also include Jack Johnson, Jack White, Sheryl Crow, Smokey Robinson, George Benson, Buddy Guy, and Lyle Lovett.
Some of New Orleans' most famous performers will be on hand including The Meters, Irma Thomas, Aaron Neville, James Andrews, The Hot 8 Brass Band, John Boutté, Big Freedia, Walter Wolfman Washington, Marcia Ball, Sonny Landreth, and the Soul Rebels. The admission price at the gate is $80 per day for adults, and $5 for kids ages 2 through 10; nojazzfest.com; (504) 410-4100. – Russ Tarby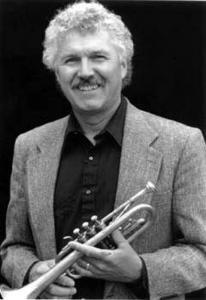 CAPITAL CITY JAZZ FEST (Fitchburg, WI) – April 27-29
The 30th Capital City Jazz Fest will be the final event presented by the Madison Jazz Society. According to the Madison Jazz Society website, "This great line-up of musicians from all over the country will truly help us 'go out with a bang!!'—the Buck Creek Jazz Band, the Fat Babies Jazz Band, the Midiri Brothers Jazz Sextet, Red Lehr's Powerhouse Five + One and special guests vocalist Marilyn Keller and Bob Schulz." Bob Schulz will lead a kick-off celebration on Thursday, April 26, featuring members of the bands performing at the Fest and other special guests. There will be a Jazz Worship Celebration at the Fest venue, led by Marilyn Keller and Red Lehr's Powerhouse Five + One, at 9 am on Sunday, April 29.
All-event badges cost $140 or $40 for children; individual session tickets cost $35 or $10 for children. Children age 11 and younger are free when accompanied by an adult. Seating at each Fest session is limited to 200 people at tables of 8. For more information, visit www.madisonjazz.com/events/ category/jazzfest/; (608) 850-5400.
A JAZZ PARTY WEEKEND (McCall, ID) – April 27-29
For the first time, this classy jazz bash presented by the Sun Valley Jazz & Music Festival will be staged at the amazing Shore Lodge, 501 Lake St., McCall, Idaho, from April 27 through 29, 2018. This lovely hotel is on shore of Payette Lake, and has been rated third best lodging in the western US by Condé Nast Traveler. Performers will include Charlie Bertini and Brian Casserly, trumpet; SherriLynn Colby, vocals; Danny Coots and Eddie Metz, Jr., drums; Bobby Durham and Sam Rocha, bass; Brian Holland and Jason Wanner, piano; Nate Ketner and Terry Myers, reeds; Russ Phillips, trombone; and Jerry Krahn, guitar..
General admission tickets are $150; VIP Reserved Sponsor seats, $350; sunvalleyjazz.com/; (877) 478-5277.
BAYOU BOOGALOO (Bayou St. John, New Orleans, LA) – May 18-20
Since 2006 along this colorful revel has been presented free of charge by the MotherShip Foundation at Bayou Saint John at Orleans Avenue and North Jefferson Davis Parkway, in the City that Care Forgot. Performers for 2018 will be announced this spring. Admission is free; (504) 488-3865; thebayouboogaloo.com; [email protected]
Roland "Bunny" Berigan was one of the most charismatic trumpeters of all time. Now his humble hometown of Fox Lake, Wisconsin, celebrates his short life with a three-day jubilee. In addition to more than 20 hours of jazz, swing and Dixieland favorites, the event includes presentations covering Berigan's contributions to jazz and swing. The festival stages concerts throughout the quaint city of Fox Lake, located 55 miles north of Chicago, Illinois. Venues include the Fox Lake Community Center and the American Legion Hall. Performers for 2018 are the The Bob Schulz Mid-West All Stars, The St. Louis Stompers led by Steve Lilley, The Kaye Berigan 5 Tet, the Matt Miller Jazz Trio, a big band playing Bunny's music, and special Guest Trumpet Player, and Duke Heitger from New Orleans. There will be a Dixieland Graveside Service at Bunny's resting place at 10:30 am at Annunciation Cemetery, with a sermonette delivered by the Rev. Al Townsend, and two Sunday-morning church services by St. Louis Stompers at First Evangelical Lutheran Church in Beaver Dam.
Weekend passes cost $105 in advance, and daily tickets cost $30. For info, contact jubilee chairperson Julie Fleming at (920) 928-6094; via mail N10472 Chief Kuno Trail, Fox Lake, WI 53933; via email at [email protected]; or visit bunnyberiganjazzjubilee.com.
JACKSONVILLE JAZZ FESTIVAL (Jacksonville, FL) – May 24-27
Three stages of live jazz, local food, drinks, shopping and entertainment will fill downtown Jacksonville along the banks of the St. John's River, on Memorial Day Weekend. Since its inception in 1981, the Jazz Fest has become one of the largest festivals in the country with a vibrant street-festival atmosphere, and in 2018 you can experience it on an even larger scale throughout 15 blocks of downtown. The 37th annual festival showcases a wide variety of artists and musical styles, with performers to be announced.
Admission is free, but VIP packages are available (please see website for availability); jacksonvillejazzfest.com/; (904) 630-3690.
More than 6,000 people attend the Scott Joplin Ragtime Festival each June, turning downtown Sedalia into a turn-of-the-20th century party. This year's festival, is replete with symposia, special events, and concerts with a focus on all things ragtime.
This year's featured presenters and musicians are Evan Arntzen, Jeff Barnhart, Dan Morgenstern, Marc Caparone, Danny Coots, Neville Dickie, Richard Dowling, Bill Edwards, Marty Eggers, Frederick Hodges, Brian Holland, Scott Kirby, Carl Sonny Leyland, Dr. Dave Majchrzak, William McNally, Steve Pikal, David Reffkin, Dalton Ridenhour, Daniel Souvigny, Martin Spitznagel, Virginia Tichenor, Matt Tolentino, Sébastien Troendlé, Yuko Eguchi Wright, and Bryan S. Wright.
Individual concert ticket prices range from $25 to $35; the Cakewalk Dance on June 1st costs $15; symposia tickets cost $15 each; (660) 826-2271; scottjoplin.org.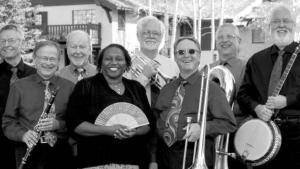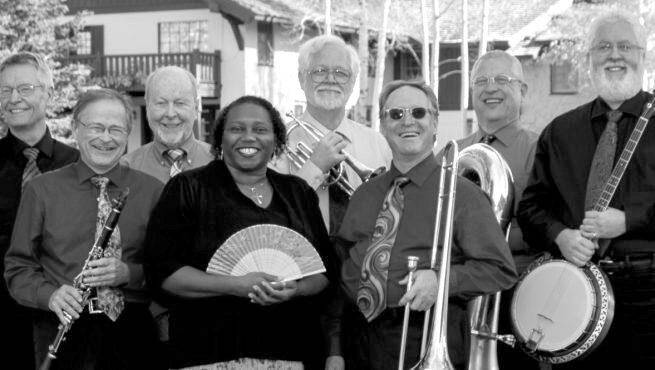 A JAZZ & DANCE PARTY (Lacey/Olympia, WA) – June 29-July 1
Following the demise of the celebrated America's Classic Jazz Festival in Lacey, Washington, Director Charlotte Dickison and Sun Valley impresarios Jeff and Carol Loehr have teamed up to fill the void with jazz and dancing. A Jazz & Dance Party will be held in Olympia on the traditional festival weekend (near Independence Day) at Harmony Hall, Washington Land Yacht Harbor, 9101 Steilacoom Rd. SE, Olympia, WA.
Harmony Hall boasts a 1200 square foot dance floor (30′ x 40′) with plenty of seating. Invited bands and musicians so far include: Black Swan with Marilyn Keller, High Sierra, Tom Hook & The Terrier Brothers, Uptown Lowdown, Toni Blodgett, Brian Casserly, Jay Hungerford, Dick Maley, Pieter Meijers, Jimmy Armstrong, and John Reynolds.
General Admission is $125 plus tax; Sponsor Reserved Seating with a $175 tax deduction is $300 plus tax. For tickets call (877) 478-5277 (Office Hours: Mon., Tues., Thurs., Fri. 10:00 am to 2:00 pm PDT); visit online at www.sunvalleyjazz.com.
CLINE WINE & DIXIELAND JAZZ FESTIVAL (Sonoma, CA) – July 14
This single-day event is staged from 11 a.m. to 6:15 p.m., at the beautifully landscaped Cline Cellars, an award-winning winery specializing in California Rhone-style wines and Zinfandels, at 24737 Arnold Drive (Hwy 121), in Sonoma, on California's North Coast. Enjoy performances from a number of excellent jazz bands including: Beyond Salvation Jazz Band, Black Diamond Blue Five, Devil Mountain Jazz Band, Fog City Stompers, Gold Coast Jazz Band, Golden Gate Rhythm Machine, Jambalaya Big Swing Band, Jazzinators, Mission Gold Jazz Band, Natural Gas Jazz Band, and the Royal Society Jazz Orchestra, with performances by solo pianists Frederick Hodges, Gary Neuman, Ray Skjelbred, and Virginia Tichenor on the front stage.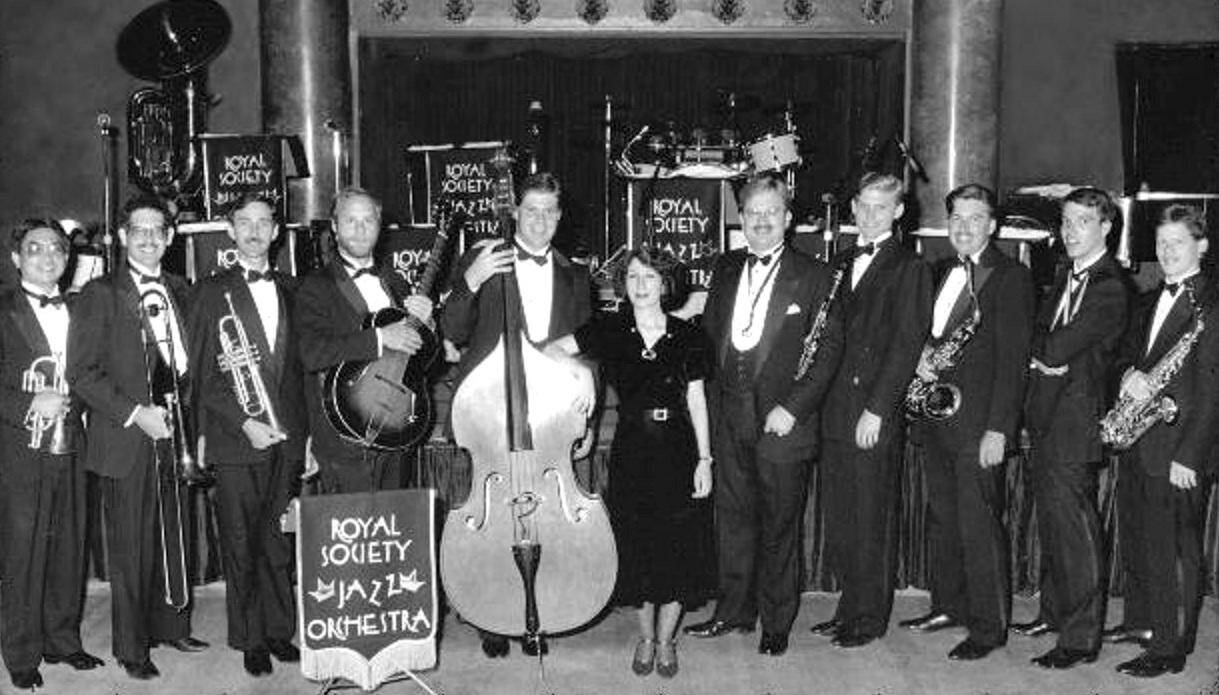 Admission: $45 advance (before July 12), $50 at the gate. (Wine club members receive a $5 discount.) Wine, beer, and food available. Call (707) 940-4025 or (800) 546-2070; visit www.clinecellars.com for reservations and winery information. For detailed festival information, visit www.jazznut.com; or telephone Ken Keeler, Festival Director at (925) 625-2707; email: [email protected]
EVERGREEN JAZZ FESTIVAL (Evergreen, CO) – July 27-29
Located just 30 minutes southwest of Denver, the scenic mountain community of Evergreen provides an idyllic setting for the three-day event held during the last weekend in July. Five distinctive, intimate venues ranging from a church to a bar and grill give audiences a delightful variety of up-close-and-personal listening experiences. The lineup for 2018 includes: After Midnight, Carl Sonny Leyland Trio, Felonius Smith Trio, Gypsy Swing Revue, Holland-Coots Jazz Quintet, Ivory&Gold®, Joe Smith and The Spicy Pickles, Queen City Jazz Band with Wende Harston, Rock Island Roustabouts, and The Brain Cloud.
Discount Prices (through June 30): Festival Pass (All 3 Days): $100, Friday Session (All-Day): $55, Friday Evening (6 pm to 10 pm): $30, Saturday Pass (All Day): $85, Saturday Day or Evening Session (10 am – 4 pm, 4:15 pm – 10:15 pm): $65; Sunday Session: $55; To order by phone, call (303) 697-5467; To order by mail, send a check or money order to: Evergreen Jazz Festival, P.O. Box 3775, Evergreen, CO 80437; visit online at www.evergreenjazz.org.
BIX BEIDERBECKE MEMORIAL JAZZ FESTIVAL (Davenport, IA) Aug. 2-4
The 2018 Bix Beiderbecke Festival will be held again this year at the Rhythm City Casino Resort in north Davenport. The 47th annual Bix event will offer festival concerts in its Event Center, and boasts three restaurants on-site, free parking (with valet parking available), and is the festival host hotel and a major sponsor of the event. The Resort is in close proximity to many shopping and outside-of-venue dining options. (Festival-goers may make reservations at the RCCR by calling 1-844-852-4386 or 563-328-8000. There are a limited number of rooms in the Bix "Block" at the Rhythm City Casino Resort; if calling, ask for a room for the "Bix Fest.")
Scheduled bands include The Fats Waller Legacy (All-Star) Band (with Jeff Barnhart, Hal Smith, and Dave Bennett, and others); The Benny Goodman Trio (with Jeff, Hal, & Dave); The Fat Babies (Chicago); Josh Duffee's All-Star Graystone Monarchs; Miss Jubilee and the Humdingers (St. Louis); and The Wolverines (Minneapolis)
Ticket prices and band schedules available soon; for more information visit www.bixsociety.org; call (563) 324-7170 or email at [email protected]
SUTTER CREEK RAGTIME FESTIVAL (Sutter Creek, CA) – Aug. 10-12
Hosted by the Mother Lode Ragtime Society, the 20th annual Sutter Creek Ragtime Festival will be staged August 10 through 12, at venues such as the Sutter Creek Ice Cream Emporium, the Hotel Sutter, and the Sutter Creek Theatre. Considered one of the most charming and possibly the most visited of California's gold-mining villages, Sutter Creek is located 46 miles southeast of Sacramento. Performers for 2018 include Elliott Adams, Patrick Aranda, Nick Arteaga, Jack and Chris Bradshaw, Diego Bustamante, Amanda Castro, Michael Chisholm, Danny Coots, Kylan deGhetaldi, the Drivons, Marty Eggers, Frederick Hodges, Brian Holland, Vincent Johnson, Carl Sonny Leyland, Larisa Migachyov, Paul Orsi, Stevens Price, John Reed-Torres, John Remmers, Ray Skjelbred, Squeek Steele, Monty Suffern, the Sullivans, Virginia Tichenor, Ryan Wishner, and more to be announced.
All-event badges cost $70 before July 15, or $80 after that date; pay by cash, check, or PayPal; (209) 405-1563; suttercreekragtime.com.
Email [email protected] or write to Mother Lode Ragtime Society, 11310 Prospect Drive #10 pmb 12, Jackson CA 95642.
HOT JAZZ JUBILEE (Sacramento, CA) – Aug. 31-Sept. 3
Staged at the DoubleTree by Hilton in Sacramento, the sixth annual Hot Jazz Jubilee takes place over the Labor Day weekend. Invited to perform this year are the High Street Party Band, Bob Draga w/ Friends, Crescent Katz, Yosemite Jazz Band, Yve Evans & Company, Holland & Coots, Grand Dominion Jazz Band, Todd Morgan & the Emblems, Cornet Chop Suey, High Sierra Jazz Band, Pub Crawlers, Shelley, Bill & Eddie, Gator Nation, and the Cocuzzi Courtet, with the Royal Society Orchestra providing music for a special Saturday night dance in the Grand Ballroom. Guest artists for 2018 are Cheryl Burt (making her debut at the Hot Jazz Jubilee) along with festival favorites Eddie Erickson, Claudette Stone, Pat Yankee, and Kylie Castro.
Hot Jazz Jubilee will again have a Special Thursday Night set for those who plan on arriving early to the festival. It will start at 7 pm with the bands to be announced early next year. The sets will be in the Grand Ballroom from 7 pm to 10:30 pm and the cost is $25. More information will be available in the near future.
Badge prices range from $20 for students per session to $115 for a three-day all events badge ($105 if purchased before July 31); hotjazzjubilee.com; (916) 813-7665. Please note the new mailing address: 5150 Fair Oaks Blvd. Ste 101-252, Carmichael, CA 95608.
SUN VALLEY JAZZ & MUSIC FESTIVAL (Sun Valley, ID) – Oct. 17-21
The 2018 edition of Idaho's Sun Valley Jazz and Music Festival, covering five days and offering forty bands (with over 200 shows to choose from), will be headquartered at the Sun Valley Inn at the Sun Valley Resort. Performance venues include the Limelight Room, the Continental Room, the River Run Lodge, and Satchmo's, with free concerts daily at Giacobbi Square in Ketchum, Idaho. Music starts on Wednesday at 12:30 pm, and the last set ends on Sunday at 3:30 pm, with an Afterglow Dinner Sunday 7:15-10 pm (extra ticket required).
Performers at the festival include the Sun Valley Jazz All Stars: Bob Williams, Cynthia Sayer, Danny Coots, Bob Schulz, Bobby Durham, Brian Holland, Rob Verdi, Brady McKay; Yve Evans; Gary Ryan; Tom Hook; Terry Myers & Jaimie Roberts Quartet; Black Market Trust; Kings of Swing; Bruce Innes Trio; Cornet Chop Suey; Two-Tone Steiny & the Cadillacs; Joe Smith & the Spicy Pickles; Blue Street Jazz Band; Gator Nation; "All New" High Street Party Band; Cocuzzi Trio; Carolyn Martin Swing Band; Tom Rigney & Flambeau; Black Swan Classic Jazz Band w/ Marilyn Keller; The Terrier Brothers; Paris Washboard Superswing; Rosie O'Grady's Good Time Jazz Band w/ Bill Allred; Bob Draga & Friends; Ivory & Gold; Midiri Brothers Sextet; Blue Renditions; Holland & Coots; Boise Straight Ahead; Barnhart-Midiri; Sherri Colby's Racket Makers; Yale Whiffenpoofs; We Three; NNU Jazz Revival; and Banjomaniacs.
Events and features to look forward to: Two Big Band Bashes, Clarinet Clambake, Dueling Pianos, Free Dance Lessons, Gospel Services, Marching Band Salute, Pianorama, and Silent Movies w/ Jeff Barnhart.
Tickets available by telephone or at website; (877) 478-5277; sunvalleyjazz.com. Write for brochure (with full ticket pricing information) at Sun Valley Jazz, PO Box 2745, Sun Valley, ID.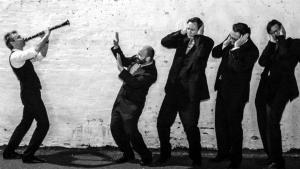 JUBILEE BY THE SEA (Pismo Beach/Arroyo Grande) – Oct. 25-28
Pismo Jazz Jubilee (by the Sea) is celebrating its 42nd year with the theme, "It's New Orleans on the Central Coast,"—and the event has grown to include the neighboring city of Arroyo Grande. The Pismo Jubilee is always the last full weekend in October.
New bands for 2018 include: Professor Adrian Cunningham and his Old School and the Shake 'Em Up Jazz Band from New Orleans.
Returning favorites include: Tom Rigney and Flambeau, Blue Street, Cornet Chop Suey, High
Sierra, Midiri Brothers, Tom Hook and the Terriers, Dick Williams Jammers, We Three plus One, Ivory and Gold, Creole Syncopators, Rag Bone Saints, Mariachi Autlence, High Street Party Band, The Au Brothers, Sue Palmer and Her Motel Swing Orchestra, Night Blooming Jazzmen and Ulysses Jasz Band, and featuring special sets with guest artists Bob Draga, Carl Sonny Leyland, Larry Scala, Jeff Barnhart, Danny Coots, Washboard Steve, Pat Yankee, Bob Schulz, and Paul Ingle.
Early Bird 3-Day badges are $100. The Thursday night performance featuring, We Three plus One, will be held at the Vet's Hall. Badge sales: PO Box 356, Pismo Beach, CA 93448; 805-539-5696. For badges and more information, please visit pismojazz.com/JubileeByTheSea.htm. Information: [email protected]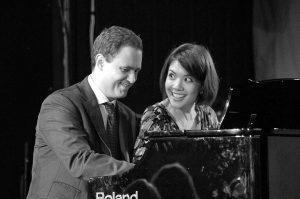 ARIZONA CLASSIC JAZZ FESTIVAL (Chandler, AZ) – Nov. 1-4
This 29th annual event will take place at its home for the last 15 years, the Crowne Plaza San Marcos Golf Resort in beautiful Downtown Chandler, AZ. The Crowne Plaza is a co-sponsor of the Festival and a focal point of the vintage Downtown allure with plentiful restaurants and boutique shops only a few steps away. Among the many highlights of this Festival are the special educational sets presented by the bands. In conjunction with the Festival, the Phoenix Lindy Exchange hosts hundreds of dancers who Lindy Hop into the wee hours on Friday and Saturday. They love the "hot" live jazz played by the Festival bands.
The music starts at 5:30 pm on Thursday, November 1st, and ends at 5 pm. on Sunday, November 4, after a Grand Finale highlighting the music of the Ink Spots by We3.
Howard Alden will play both guitar and banjo with a few of the groups. The bands will be: "Big" B.A.D. Rhythm, Cornet Chop Suey, Dan Reed's Dixieland Hotshots, Dave Bennett Quartet, 52nd Street Jazz Band, High Sierra Jazz Band, Jammers led by Cheryl Thurston (all musicians welcome), Kris Tokarski Trio, Queen City Jazz Band, St. Louis Rivermen, Sentimental Breeze, Stephanie Trick & Paolo Alderighi, Sun City Stomperz, Tom Rigney & Flambeau, We Three plus One, Wildcat Jazz Band, and Wolverine Jazz Band.
All Event badges may be purchased in advance for $110 before August 15 and $130 starting August 16. Tax-deductible co-sponsorship donations in support of the bands are in addition to badge purchase and start at $500 per person. Sponsor benefits include reserved seating and Hospitality Room privileges. Day badges are available only at the door. There will be an Afterglow following the Festival from 6 – 8:30 p.m. Cost will be $30 per person and includes dinner. For details, go to azclassicjazz.org or call 480-620-3941. Send checks or credit card orders to ACJF, 10918 E. Michigan Ave., Sun Lakes, AZ 85248.
SUNCOAST JAZZ FESTIVAL (Clearwater Beach, FL) – Nov. 16-18
The 28th edition of the Suncoast Jazz Festival takes place in five indoor venues at two adjacent resort hotels, the Sheraton Sand Key and the Marriott Suites, in Clearwater Beach on the Gulf of Mexico. Special guest artists Rossano Sportiello and Chuck Redd will lead youth workshops as well as perform over the weekend. Scheduled bands and performers include Adrian Cunningham and His Old School, Dave Bennett Quartet, Tom Rigney and Flambeau, High Sierra, Cornet Chop Suey, Terry and the Pirates (Terry Meyers, Bob Leary, Eddie Metz, Jr., Charlie Bertini, Pat Gullotta, Jeff Phlilips, Jay Mueller), Queen City Jazz Band with Wende Harston, LaLucha, Danny Sinoff Quintet, Nate Najar, Theresa Scavarda, Paul Scavarda, Dave Tatrow, Bob Price, John Lamb, James Suggs, Pepper, and Betty Comora. Sponsor packages $350+; Benefactors $235; 3 Day Weekend $135; Daily $40-50; Youth $10; Friday Swing Dance (with Sam Mahfoud and the Swing Time Dancers) after 6 pm, $25.
For tickets and information, visit us online at suncoastjazzfestival.com; or write: PO Box 395, Largo, FL 33779; (727) 248-9441.
39th ANNUAL SAN DIEGO JAZZ FEST (San Diego, CA) – Nov. 21-25
Headquarters: Town & Country Hotel and Convention Center. Invited Guest Artists: Stephanie Trick, Paolo Alderighi, Katie Cavera, Carl Sonny Leyland. Invited Bands & Groups: Cornet Chop Suey, Black Swan Classic J.B., Original Cornell Syncopators, High Sierra J.B., Dave Bennett Quartet, High Society J.B., Big Butter J.B., On The Levee Band, Night Blooming Jazzmen, Chicago Cellar Boys, Sue Palmer and her Motel Swing Orchestra, Grand Dominion J.B., Titanic J.B., Yerba Buena Stompers, Mad Hat Hucksters, Cash In Hand, Gino and the Lone Gunmen, Heliotrope Ragtime Orchestra, Katie Cavera Trio, Dawn Lambeth Trio, Sonny Leyland Trio, Champagne Dixie, Jazz Jammers, Uptown Rhythm Makers and the Mission Bay High School Preservationists. The Saturday Night Swing-X band will be Michael Gamble's Rhythm Serenaders.
All Event Badges: 5-Days $125 each; 4-Days $115 each; 3-Days $105 each. Daily badges available at the door. Contact: AFCDJS, P.O. Box 880387, San Diego, CA 92168-0387; 619-297-5277.
Email: [email protected]; Website: http://www.sdjazzfest.org/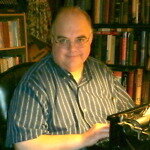 Andy Senior is the Publisher of The Syncopated Times and on occasion he still gets out a Radiola! podcast for our listening pleasure.