ARIZONA CLASSIC JAZZ FESTIVAL (Chandler, AZ) – Oct. 31-Nov. 3
This 30th annual event will take place at its home for the last 16 years, the Crowne Plaza San Marcos Golf Resort in beautiful Downtown Chandler, AZ. The Crowne Plaza is a co-sponsor of the Festival and a focal point of the vintage Downtown allure with plentiful restaurants and boutique shops only a few steps away. Among the many highlights of this Festival are the special educational sets presented by the bands. In conjunction with the Festival, the Phoenix Lindy Exchange hosts hundreds of dancers who Lindy Hop into the wee hours on Friday and Saturday. They love the "hot" live jazz played by the Festival bands.
The 2019 Festival begins on Thursday, October 31, at 5:30 pm and ends at 5:00 pm on Sunday, November 3, after a Grand Finale program by Stephanie Trick, Paolo Alderighi, and Nicole Pesce. The Festival will be followed by an Afterglow starting at 6 pm in the San Tan Room at the hotel; tickets for dinner and music must be purchased in advance at a cost of $30 per person.
Howard Alden will play both guitar and banjo with a few of the groups. The bands will be: "Big" B.A.D. Rhythm, Black Market Trust, Cheryl's Vintage Swing, Dan Reed's Dixieland Hotshots, Dave Bennett Quartet, Cheryl Thurston's Jammers, Queen City Jazz Band, St. Louis Rivermen, Sentimental Breeze, Slide & Strings, Stephanie Trick & Paolo Alderighi, Sun City Stomperz, Tom Rigney & Flambeau, Wildcat Jazz Band, Wolverine Jazz Band, and We 3 + 1.
All Event badge price is only $110 if purchased before August 15th, $130 thereafter. Co-sponsorship is $500 minimum per person after cost of badge. The mailing address for ACJF is 10918 E. Michigan Ave., Sun Lakes, AZ 85248; phone (480) 620-3941; email [email protected]; website azclassicjazz.org. Day badges will be available at the door only: Thursday $25, Friday $50, Saturday $60, Sunday $45. Send checks or credit card orders to ACJF, 10918 E. Michigan Ave., Sun Lakes, AZ 85248.Read about last year's festival: From The 29th Annual Arizona Classic Jazz Festival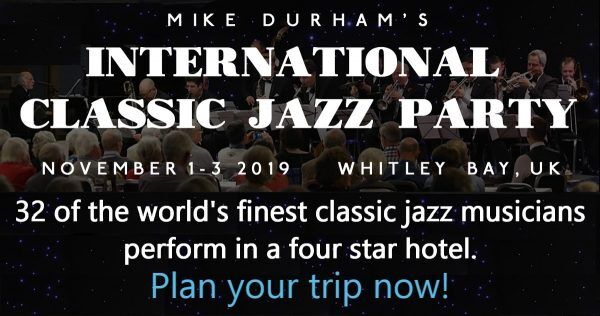 MIKE DURHAM'S INTERNATIONAL CLASSIC JAZZ PARTY (Whitley Bay, UK) – Nov. 1-3
The Party was first founded in 1990 by Mike Durham in Whitley Bay, near Newcastle-Upon-Tyne, UK, and has grown bigger and better with each successive year.
The jazz party will run from mid-day on Friday until late on Sunday evening at the four-star Village Hotel & Leisure Centre, Silverlink North, Cobalt Business Park, North Tyneside, some 70 miles south of Scotland in northeast Great Britain. The festival takes place in a luxurious setting with assigned seating of eight to a table, and tables are rotated twice daily. The program explores jazz from its first 40 years, with special jam sessions in the Victory Pub in the wee small hours.
This year's musicians include trumpeters/cornetists Enrico Tomasso, Andy Schumm, Malo Mazurie, Mike Davis, Torstein Kubban, Duke Heitger; reed players Claus Jacobi, David Horniblow, Stephane Gillot, Michael McQuaid, Matthias Seuffert, Richard Exall, Lars Frank; trombonists Alistair Allen, Graham Hughes, Dave Bock; pianists David Boeddinghaus, Morten Gunnar Larsen, Martin Litton, Andrew Oliver; banjoists/guitarists Thomas "Spats" Langham, Martin Wheatley, Jacob Ullberger, Henry Lemaire, Felix Hunot; percussionists Nick Ball, Nick Ward, Josh Duffee, Richard Pite; bassists/tubists Henri Lemaire, Malcolm Sked, Phil Rutherford, Richard Pite; violinist Emma Fisk; and vocalists Joan Viskant and Spats Langham.
Reservations for accommodations at the Village Hotel may be booked by calling (from the US) 011 44 191 338 5245 (Option 3) and quote Promotion Code JAZZ. (Book online through
www.villageurbanresorts.com using same promo code.) Places for the 2018 Party will cost £160 per person for the weekend, and may be paid for through PayPal via the Jazz Party website. (Exchange rates as of October 15: $1.28 US = £1 UK.) All bookings are 100% refundable in case of cancellation due to serious illness, bereavement, or other unavoidable cause.
For tickets and other information, please visit whitleybayjazzfest.com; [email protected] Read about this festival: Pleasure Mad: 'Live' Recordings from Mike Durham's International Classic Jazz Party
NEVERMORE JAZZ BALL (St. Louis, MO) – Nov. 7-10
Now in its ninth year, the Nevermore Jazz Ball of St. Louis is a one-of-a-kind celebration of dancing, music, and the ways in which they bring us together, whether it's on the street, a dance floor, or the neighborhood bar. As much a love letter to St. Louis as to swing dancing and jazz music, Nevermore shines a spotlight on what makes that city so special.
Nevermore features several beautiful, historically significant local venues in St. Louis City. Most venues will be near Cherokee Street Business District. You can find addresses, venue information, and parking details on the festival website.
Headliners this year include Miss Jubilee and the Yas Yas Boys, Paul Asaro's Chicago Rhythm, The Chicago Cellar Boys, Michael Gamble's Rhythm Serenaders, and Jonathon Stout and the Campus Six. The Jazz Crawl at downtown venues includes The Rum Drum Ramblers, Sweetie and Chase, Charles Creath and Jacob Alspach, Kaleb Kirby Qntet, Saint Boogie Brass Band, Tommy Halloran band.
Festival Pass: $145; Includes all main dances, late nights, and Jazz Crawl extras. That's six separate dances with live bands, plus 10+ bands at the Jazz Crawl. Note: this does not include dance classes. www.nevermorejazzball.com
SUNCOAST JAZZ FESTIVAL (Clearwater Beach, FL) – Nov. 22-24
The 29th edition of the Suncoast Jazz Festival takes place in five indoor venues at two adjacent resort hotels, the Sheraton Sand Key and the Marriott Suites, in Clearwater Beach on the Gulf of Mexico. New to Suncoast this year are Jason Marsalis & His Benny Goodman Quartet) Exploitation, Wycliffe Gordon, Harry Allen, and Molly Ryan. Returning bands include Adrian Cunningham & His Old School, Dave Bennett Quartet, Cornet Chop Suey, Tom Rigney & Flambeau, Queen City Jazz Band with Wende Harston, The Sierra Seven, Tom Hook and the Terrier Brothers, Wally's Warehouse Waifs, La Lucha. Featured guest performers are Nate Najar, Johnny Varro, Tommy Cecil, James Suggs, John Lamb, Heather Thorn, Bob Price, Dan Howard, Herb Roselle, Betty Comora, Mike Evans, and Pepper.
Sponsor packages $375+; Benefactors $250; 3 Day Weekend $155; Daily $50-60; Friday Swing Dance after 6 pm, $30.
For tickets and information, visit us online at suncoastjazzfestival.com; or write: PO Box 395, Largo, FL 33779; (727) 248-9441.
WEST COAST RAGTIME FESTIVAL (Rancho Cordoba, CA) Nov. 22-24
The West Coast Ragtime Festival will be staged for the sixth year running at the Sacramento Marriott Rancho Cordova, 11211 Point East Drive, about 15 miles east of Sacramento, just off Hwy 50 at the Sunrise Blvd exit. Six venues at the 33rd annual WCRF present live music nearly nonstop through the festival's three days.
Performers scheduled to date include Elliott Adams, Jade Anderson, Nick Arteaga, Clint Baker, Ramona Baker, Tom Barnebey, Jeff Barnhart, Tom Bopp, Chris & Jack Bradshaw, Buffalo Crossing. Diego Bustamante, Michael Chisholm, Crown Syncopators, Jared DiBartolomeo, Richard Dowling. Robyn & Steve Drivon, Richard Duree, The Easy Winners with Robert Armstrong, Marty Eggers, Free Badge Serenaders, Lisa Gonick, Jeff Green, Frederick Hodges, Brian Holland, Stan Isaacs, lvory&Gold®, Martin Jäger, Vincent Matthew Johnson, Carl Sonny Leyland, Frank LiVolsi, Peter Lundberg. Larisa Migachyov, Bruce Mitchell, Oliver Moore, TJ Müller, Pacific Coast Ragtime Orchestra, Ezequiel Pallejá, Terry Parrish, Will Perkins, Porcupines, Ragnolia Ragtette, Raspberry Jam Trio, John Reed-Torres, David Thomas Roberts, Jack Rummel, Donald Ryan, Anthony Sarginson, Christoph Schmetterer, Sean Sharp, Martin Spitznagel, Squeek Steele, Stanley Stem & Mario Ojeda, Sullivans/Drivons, Adam Swanson, Virginia Tichenor, Matt Tolentino, and Ryan Wishner.
All-events badges cost $105, and $115 after Nov. 1; Fri-Sat badges $95; Sat-Sun $85; Fri $50, Sat $60; Sun $40 through Oct. 31. As always, children 16 and under may attend FREE (no badge required) when accompanied by a paying adult. (916) 457-3324; westcoastragtime.com.
40th ANNUAL SAN DIEGO JAZZ FEST (San Diego, CA) – Nov. 27-Dec. 1
Headquarters: Town & Country Hotel and Convention Center. Invited Guest Artists: Dan Levinson, Molly Ryan, John Royen, Katie Cavera, Carl Sonny Leyland, Marty Eggers, Virginia Tichenor. Invited Bands & Groups: On the Levee Jazz Band, Holland – Coots Jazz Quintet, After Midnight Jazz Band, Chicago Cellar Boys, Dave Bennett Quartet, Grand Dominion Jazz Band, Gino and the Lone Gunmen, Yerba Buena Stompers, Big Butter Jazz Band, Night Blooming Jazzmen, Mad Hat Hucksters, Sue Palmer and her Motel Swing Orchestra, Titanic Jazz Band, Heliotrope Ragtime Orchestra, High Society Jazz Band and more to be announced. For badge sales, sponsor details and lodging, please visit sdjazzfest.org or call (619) 297-5277. AFCDJS, P.O. Box 880387, San Diego, CA 92168-0387. Read our review of last year: From the San Diego Jazz Fest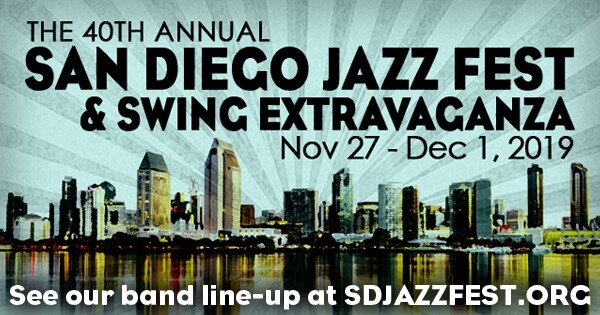 NORTH CAROLINA JAZZ FESTIVAL (Wilmington, NC) – Jan. 23-25
One of the oldest Traditional Jazz Festivals in the country, the North Carolina Jazz Festival, will celebrate its 40th anniversary Jan. 23, 24, & 25, 2020. This 3 day event, held in the ballroom of the Hotel Ballast (formerly Wilmington Hilton Riverside), features internationally known jazz musicians from across the United States, Australia, and Italy.
Thursday is Special Event Night featuring different styles of jazz. Opening the event will be Wilmington's Jon Hill Ensemble. The second set will showcase song stylist Veronica Swift accompanied by the Emmet Cohen Trio. Veronica, acknowledged as one of today's rising young stars, is often a headliner at New York's Birdland and Lincoln Center. Her repertoire is built on the Great American Songbook, plus bebop and vocalese classics. The Thursday Evening All-stars, led by Adrian Cunningham, will close out the evening with a bit of Traditional Jazz.
On Friday and Saturday nights we will have thirteen jazz all-stars playing seven sets of traditional and classic jazz each night, with a different leader on each set. Invited musicians include Champian Fulton, Chris Gelb, Ben Polcer, Houston Person, Chuck Redd, Rossano Sportiello, and Nicki Parrott. All concerts begin at 7:30 pm, Thursday is a three hour concert, while Friday & Saturday concerts go until midnight.
Ticket are $40 for Thursday, and $60 for Friday & Saturday. Each night $25 military, $15 students.
Patron tickets are $200, and include Fri. & Sat. evening concerts plus the special patron brunch at 10:30 Sat. morning, where the all-star musicians will play and socialize with patrons, then patron/musicians will be invited to "sit in" with the all-stars. Patrons receive preferred, reserved seating plus their names in the program. The $225 patron tickets include all of the above plus tickets to Thursday evening's Special Event. Tickets may be purchased from the festival website, E-Tix, or at the AudioLab at 5732 Oleander Dr., Wilmington. Read about last year: From the North Carolina Jazz Festival
For more information visit www.ncjazzfestival.org, e-mail [email protected], or call 910-793-1111.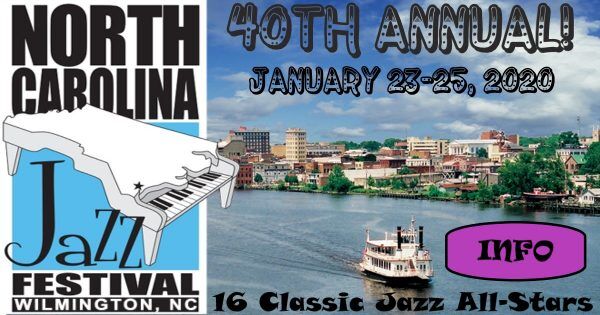 EAGLES & IVORIES WEEKEND (Muscatine, IA) – Jan. 26-28
The 26th Annual Eagles & Ivories Weekend is staged in Muscatine in southeast Iowa, at four different locations: Sunnybrook, 3515 Diana Queen Drive; Wesley United Methodist Church, 400 Iowa Ave.; Muscatine Art Center, 1314 Mulberry Ave.; and after hours at Merrill Hotel & Conference Center at 119 Mississippi Dr., W. Muscatine. A free eagle watch takes place Saturday morning at Pearl City Station, 200 W. Riverfront, in Riverfront Park, and visitors can also focus their binoculars at the Norbert F. Beckey Bridge, the only span over the Mississippi River nocturnally illuminated with LED lights. The ragtime tunes will be performed by Ivory &Gold® featuring Jeff and Anne Barnhart, D. David Majchrzak, Benjamin Loeb, Carl Sonny Leyland, Steve Pikal, Josh Duffee, Jim Radloff, the Mad Creek Mudcats, and the Locust Street Boys
An entire four-day concert package costs $70; individual event admissions range from $5 to $20; children ages 16 and younger are admitted free to all events; the Merrill offers a special rate of $119 for those attending the festival: 563-263-2600; for more information and tickets: muscatineartscouncil.org; (563) 263-9978; [email protected]
SOUNDS OF MARDI GRAS (Fresno, CA) – Feb. 6-9
The 2020 edition of this festive festival in Fresno kicks off at the Doubletree by Hilton with a Thursday evening pre-party. The schedule picks up Friday with a "Gangsters and Dolls"-themed parade, followed by the annual coronation of the Festival King and Queen, and a hot-jazz Swing Dance.
Attendees can meet-and-greet musicians Saturday morning before the Parasol Parade and Masquerade Party and Costume Parade in the grand tradition of Mardi Gras. Things wrap up on Sunday with a Wind Down Dinner and Dance.
Returning bands for 2020 include Blue Street Jazz Band, Bob Schulz's Frisco Jazz Band, Climax Jazz Band, Devil Mountain Jazz Band, Dick Williams' Jazz Sea Jammers, Gator Nation, Gino and the Lone Gunmen, Grand Dominion Jazz Band, Sierra Seven Jazz Band, Sister Swing, Stardusters Big Band, Tom Rigney & Flambeau, and Yosemite Jazz Band. Invited youth bands including River Rats, Hallmark School Jazz Band, and Dixie Dominus. This year's guest artist is Brian Casserly.
Four-day passes cost $140 before December 16, 2018 ($150 thereafter); Thursday Pre-Party included w/ Four Day Badge; admission prices for individual events range from $25 to $70; admission is free for those ages 18 and younger when accompanied by a paying adult; (209) 534-1924; fresnodixie.com; lodging reservations (for the Fresno Double Tree by Hilton) can be made directly through the festival website or by calling 559-268-1000.
TEAGARDEN JAZZ FESTIVAL (Sacramento, CA) Feb. 7-8
The joy of New Orleans-style jazz is at the heart of this scholastic combo festival, which is dedicated to fostering a better appreciation of this classic American art form. Each year, scores of young musicians gather at the annual Teagarden Jazz Festival (formerly named Traditional Jazz Youth Band Festival) for experiences that take their musical skills to the next level.
The 15th annual Teagarden Jazz Festival begins Friday night with a special concert at Sacramento's Rio Americano High School and continues Saturday with performances, clinics, a jam session, a jazz workshop, and awards. Clinicians for the Teagarden Jazz Festival include Dr. Steve Roach (TJF Director), featured guest artist Clint Baker, Brandon Au, Katie Cavera, Bill Dendle, Craig Faniani, Chloe Feoranzo, Steve Homan, Ron Jones, Mike McMullen, Dave Robinson, and Jason Wanner.
For band registration and tickets, call Patricia Jones at the SacJEF office: (916) 571-5533 or email: [email protected]; write PO Box 661763, Sacramento 95866; or visit the festival website: TeagardenJazzfestival.org.
SAN DIEGO JAZZ PARTY (Del Mar, CA) – Feb. 21-23
The 32nd annual San Diego Jazz Party is set to take place in Del Mar, Calif., 20 miles north of San Diego, at the Hilton San Diego/Del Mar.
In addition to Dan Barrett, performers at the 2020 Jazz Party will be Stephanie Trick and Paolo Alderighi, Harry Allen, John Allred, Evan Arntzen, Dan Barrett, Danny Coots, Jon-Erik Kellso, Rebecca Kilgore, Ed Metz, Nicki Parrott, Ken Peplowski, Houston Person, Jr., Ed Polcer, Vinny Raniolo, Chuck Redd, Richard Simon, Rossano Sportiello, Dave Stone, Jason Wanner, and Frank Vignola.
All-events badges cost $250 and includes Friday free-bar cocktail party and Saturday jazz brunch; Friday-evening passes cost $85; Saturday passes cost $145; Sunday passes cost $85; reservations for single sessions accepted after Jan. 1; email Jazz Party director Dan Reid at [email protected]; www.sandiegojazzparty.com; telephone (619) 787-8792; or write San Diego Jazz Party, 1632 Hillstone Avenue, Escondido, CA 92029-4332.
CHARLES H. TEMPLETON RAGTIME & JAZZ FESTIVAL (Starkville, MS) – Feb. 27-29
The 14th Annual Charles H. Templeton Ragtime and Jazz Festival & the Gatsby Gala will be held at the Mississippi State University campus at Starkville from Thursday, February 27 through Saturday, February 29. The Templeton Festival is the only one of its kind in the southeast that brings world-renowned artists and entertainers to campus to perform throughout the weekend, sharing their insights and love of ragtime, jazz, and blues music.
Multi-instrumentalist "Blind Boy" Paxton, who has an eerie ability to transform traditional jazz, blues, folk, and country music into the here and now, will make his debut Templeton festival appearance. Also making his first appearance at the festival is ragtime pianist, historian, and composer Bill Edwards. Stephanie Trick and Paolo Alderighi, who blend impeccable technique and mature musicality with humor and showmanship, will return this year to share their incredible repertoire of classic piano jazz music. Jeff Barnhart, an internationally renowned pianist, vocalist, arranger, bandleader, recording artist, ASCAP composer, educator and entertainer, will not only serve as the artistic director but also as a featured performer.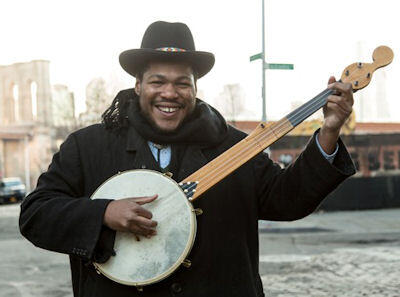 As in years past, the festival will begin with Gatsby Gala, a 1920's inspired fashion show that features clothing designed by MSU Fashion Design and Merchandising students. The clothing will be modeled by members of the MSU Fashion Board. For more information visit library.msstate.edu/festival. Read about last year: From Ragtime to Rockabilly The 2019 Templeton Ragtime & Jazz Festival
JUMP, JIVE, & JAZZ (Wilsonville, OR) Mar. 7-8
The second annual jazz and swing mini-festival has been finalized by the popular "Live at the Shrine" dance committee. The event, titled "Jump, Jive & Jazz," will expand to showcase five bands and two dance floors, with two days of continuous music.
Event Chairperson Earline Dawes said, "After the success of this year's event, the Al Kader Shrine committee agreed to expand "Jump, Jive & Jazz" to two days. We know that Pacific Northwest jazz audiences are eager for a fun mid-winter festival, and we now have the complete band line up in place."
Bands will perform from Noon to 7:00 pm on Saturday, March 7, and from Noon to 4:00 pm on Sunday, March 8. The band schedule will soon be announced. Featured bands include: Black Swan Classic Jazz Band with Marilyn Keller, Columbia Classic Jazz Band, Jass Two plus One, James Mason's Gypsy Hicks, and The John Bennett Dance Band.
Marilyn Keller will be the featured vocalist, and also will perform a Sunday noon Gospel service. Ticket price is $50 per person for both days. Food and beverages are available for purchase both days.
The event is a fund raiser to benefit the Al Kader Shriner's Oriental Band. The Al Kader Shrine Center is located at 25100 SW Parkway Ave, Wilsonville, OR, approximately 15 miles south of Portland near Interstate 5. Three hotels are located nearby.
Tickets are limited, so we recommend ordering soon. For more information on tickets and lodging, contact Earline Dawes (call/message) at 503-789-5608 or Sarah at Al Kader Shrine Office, 503-682-4420.Read a full preview: Second Annual Jump, Jive & Jazz Scheduled in Oregon, March 2020 
TRIBUTE TO BIX FEST (Racine, WI) – Mar. 12-15
Phil Pospychala announces a partial line-up for the 31st edition of his long-standing gem of a festival (held annually in Racine, Wisconsin), along with a substantial early-bird discount:
"Are you ready for another good time? The Tribute to Bix Fest 2020 is fast approaching, with the updated website coming soon. Mark your calendars for March 12th-15th, 2020, Racine, WI. Patron pass only $80 if paid before December 1st, enjoy everything! Andy Schumm's Cellar Boys, Marla Dixon's Shake 'em up Jazz Band, mystery band, Nicole Wood's Galaxie Girls and new tap dance treat by Duni, plenty more! Pay in advance through PayPal with [email protected] or the old fashioned way. We hope to see you there!"
Write Phil Pospychala, 15745 W. Birchwood Ln., Libertyville IL 60048-5101 or telephone (847) 996-0246. www.bixfest.com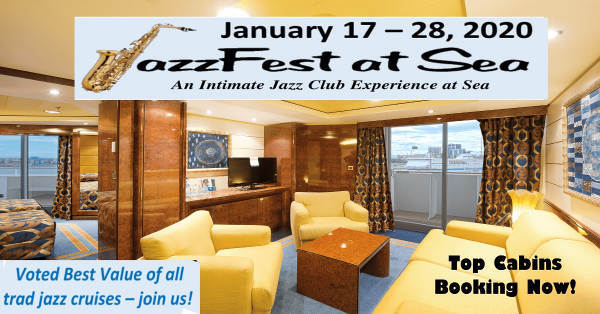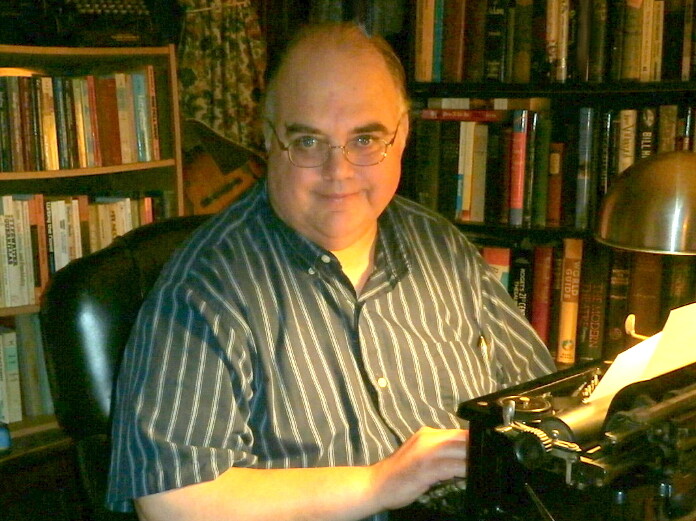 Andy Senior is the Publisher of The Syncopated Times and on occasion he still gets out a Radiola! podcast for our listening pleasure.